I sometimes find myself trying to plan my meals for the week and nothing I can think of sounds appealing. Has that happened to anyone before? This was one such week. I had a few things in the fridge but I wanted to whip up something new with them, not the same old stuff I've tried before. So I went off to scout on Pinterest (which, by the way is one of my most favourite sites in the whole world … lol) and the internet at large. After tossing up a few ideas, I found exactly what I was looking for. Turns out I wanted some good comfort food but didn't feel like spending all the time the traditional versions require.
This is a 2-part meal idea. Part one is all about the lemon orzo with asparagus. All I will say about part 2 is YUM. That's the next post. You should definitely come back for that one. Its a new favourite for me. This lemon orzo is a combination of some of my favourite things – pasta, asparagus and lemon. I love the vibrant colours and beautiful flavours. This is something you can serve up with a nice Sunday / holiday roast or as a side dish for your next lunch / dinner party. I can also see this working really well at your next backyard barbie (BBQ). Try it out and you'll be glad to have something so simple but so delicious to add to your recipe box.
I have tried to shop for Orzo before, but have never been able to find any. I did the next best thing and bought Risoni instead. From what I understand they are very similar except for a slight difference in the size. One is made to resemble an unprocessed grain or barley and the other rice. You could use either. I should have just titled this Lemon Risoni I guess, but I'll leave it as is, for now. I substituted the parsley with some fresh cilantro as thats all I had. Also, the next time I make these, I might either cut down or leave out the lemon zest. I love lemon zest in certain things but this time we personally found it too strong a flavour.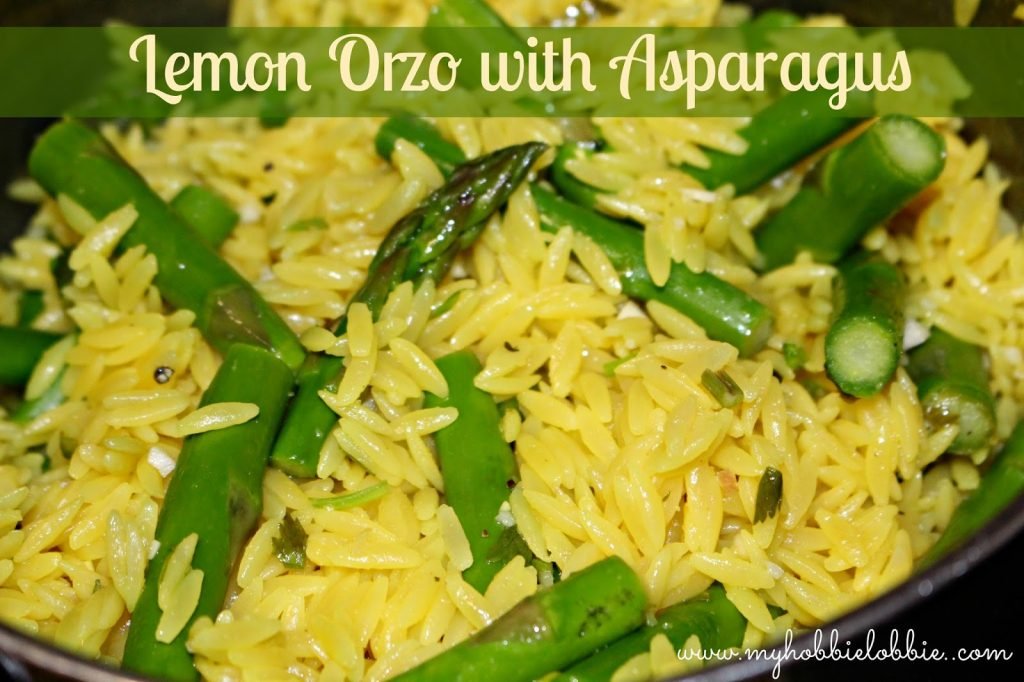 Lemon Orzo with Asparagus
Adapted from: Jo Cooks
Yields: 4 portions
1 bunch asparagus (about 1/2 lb or thereabouts)
1 cup chicken stock (use vegetable stock for a vegetarian version)
1- 1 and 1/2 cup water
1 tsp salt
A pinch of turmeric powder
1 cup dry uncooked pasta (orzo or risoni)
1/4 cup fresh cilantro, chopped
For the dressing –
Zest and juice of 1 lemon
3 cloves garlic, minced / grated
Salt, to taste
Freshly cracked black pepper, to taste
2 tbsp extra virgin olive oil
To cook the asparagus –
Trim the asparagus and lay the spears in a shallow dish (a baking tray works best), pour enough boiling water over it to cover it.
Season with a little salt, to taste.
Cover with some cling film or another tight fitting lid and leave aside to till the water is just warm to the touch. (You can cook your pasta and prepare your dressing in the meanwhile.)
Drain out the water and cut the spears into about 2 inch long pieces.
For the dressing –
In a bowl, place the zest and juice, garlic, salt and pepper.
Add the oil and whisk till it emulsifies a little into a nice dressing. Set aside.


For the pasta –
In a large pot, bring the stock and water to a boil.
Add the salt and turmeric and bring back to a boil.
Add the pasta to the pot and cook till the pasta is done. (I like to leave it a little al dente.)
Drain the pasta.
Place the hot pasta in a large bowl with the asparagus and cilantro.
Whisk the dressing a little, if needed and add to the bowl.
Mix well.
Top with a little butter. (This is optional.)
Enjoy!!!