This month the fun gang at the
Secret Recipe Club
have decided to do a themed reveal in the run up to Christmas – yup we're rounding up some amazing holiday treats. I almost missed out on this fun little event, but Sarah – our super awesome leader, kindly let me join in. I was assigned Camilla's blog –
Culinary Adventures with Camilla
. I've known Camilla as a blogger for a few years now – lovely lady with an amazing blog. She has two wonderful little helpers that make an appearance from time to time.
I decided to try out her Cayenne Truffles for this weeks reveal. It is a simple recipe to make with some stunning results. But if you live in Australia, be warned, do not make it on the hottest day of the season, like I did. I had a little trouble forming them because of the weather, so they may not look as good as her's did, but they were so tasty. The cayenne is not overpowering, but subtle and best of all, I was really pleased that I can now say I've made truffles at home. Thanks Camilla for a lovely recipe.
Cayenne Truffles
Yields: Approx 2.5-3 dozen truffles
8oz good quality bittersweet chocolate
1/2 cup heavy whipping cream
1-2 pinches of cayenne powder
Unsweetened cocoa powder, to roll the truffles in
Chop the chocolate into small pieces.
In a small heavy bottomed saucepan, bring the cream to a simmer.
Take off the heat, add the chocolate and the cayenne pepper to the pan and let it sit for about a minute or so and then stir together till everything has melted and mixed well.
Pour into a shallow bowl and refrigerate for a couple of hours.
Scoop out small truffle sized balls and place them on a plate and refrigerate till they firm up, about 15 minutes.
Take about 2-3 tablespoons of unsweetened cocoa powder in a little plate.
Roll the truffle mix into balls and toss them in the cocoa powder and ensure they cover the truffles well.
Refrigerate and enjoy!!!
Today I have a yummy little snack to share with you. Back in Bombay and in Goa, these puffs are legendary. You find loads of variants of the puff with a variety of the fillings – chicken, veg, mutton etc. They are pretty easy to find, though finding a good one might not be too easy. My favourites all came from stores in Bandra, namely my college haunt – Andora's Cafe, Hearsch's Bakery and a more pricey Candies. So eventually, when I learned to make my own at home, I was really excited. Back in Bombay I always made the puff pastry from scratch and it always turned out well. I hope to make it again someday and share the recipe here.
Here in Sydney, I was thrilled to find I could buy frozen puff pastry. That meant it was now possible to enjoy these little puffs with a fraction of the effort and time involved. Now don't get me wrong. I am all about cooking and baking from scratch, but everyone needs to be open to a few shortcuts every now and then, especially when life gets hectic. So today, we are going to use the store bought frozen version. That covers the pastry. For a tasty filling I use my Beef mince recipe, but leave out the potatoes. Also you need to make sure that the liquid has cooked out so that you don't have a runny filling. A runny filling will only result in a soggy pastry.
Now it's just a matter of assembling the puffs. I cut up each thawed sheet of pastry into 6 portions and place the filling on one side keeping away from the edge. Run a finger dipped in water along the edges and fold over to seal. Apply an egg wash and bake. You can make these in a larger batch and refrigerate them. Just bring them to room temperature and heat them up on a pan or in the oven and you can sit down to a nice little snack. Very often, I have these with some tomato ketchup and I can safely say, nothing beats it.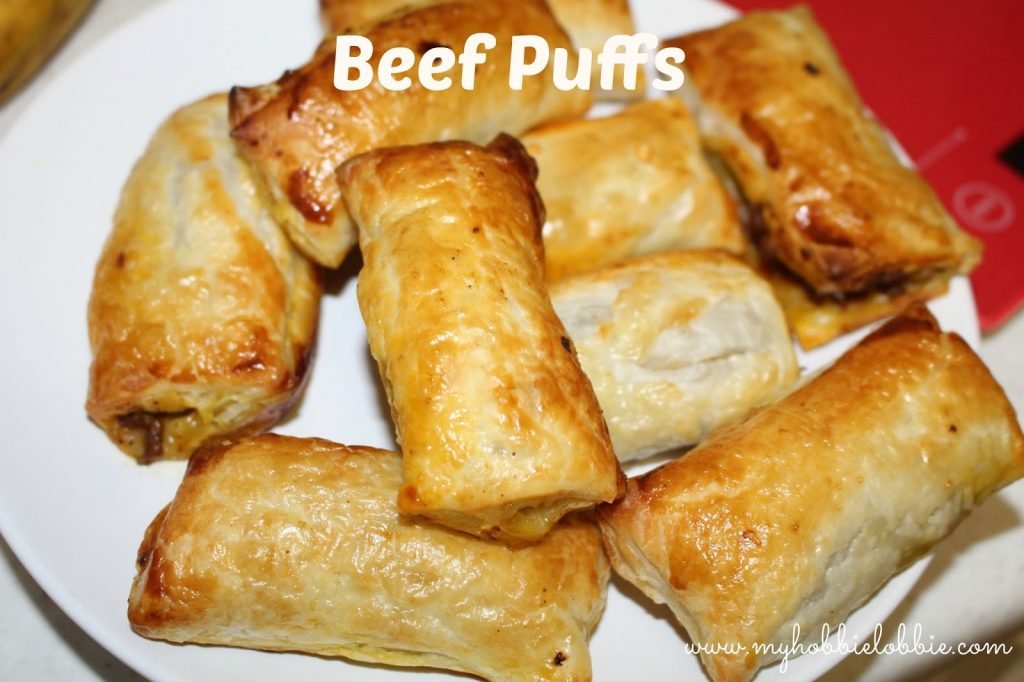 Beef Puffs


Beef mince (each puff requires a spoon of filling)
Frozen puff pastry sheets, as many as you need (Each sheet yields 6 pieces)
1 egg, for the egg wash
Preheat the oven to 220ºC (follow the package instructions if you're using puff pastry).
Place the thawed puff pastry sheet on a flat work surface and cut into 6 potions. Place a spoon of the filling on one side of each puff staying away from the edges like so –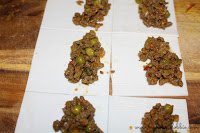 Keep a little bowl of water near your work surface. Dip a finger in the water and run on the edges of each puff.
Flip the empty half over onto the side with the filling and seal the edges. Place it on a baking tray lined with baking paper.
Crack an egg in another bowl and beat lightly. Using a pastry brush, lightly brush the egg wash over the puffs. This gives it a lovely golden brown glaze.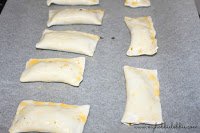 Bake for 15-20 minutes or till golden brown.
Enjoy them warm.
Every now and then I love a little snack. Yes, I snack between meals Dad. My Dad would be horrified that I still do. He is a strong believer that food should be restricted to meal time, unless you were at a party or something. However, I love my snacks. I've always tried to cook / bake from scratch and now I want to try and take that one step ahead and eat clean. It will take some getting used to, but I think it definitely is do-able and I hope to take that to my snacks as well. Does this mean you'll stop seeing desserts, bakes and other slightly indulgent food on my blog. Most definitely not. I will still do that, but will try and be more mindful of the kind of food I eat on a regular basis. Do you have any clean eating recipes that you love? I would love to try them out too. Leave me a comment and let me know 🙂
So back to this salad. I love cucumbers – continental, lebanese, baby cukes – all of them. One of my favourite ways to eat cucumber is straight up sprinkled with a tiny bit of salt. I usually serve some up with lunch or dinner. I wanted to try and change it up a little. So after a little looking around on the internet I came across this recipe. It was quick and easy and sounded delicious. I could definitely snack on some of this too. I'm very glad I stumbled across this recipe.
I did this a tiny bit differently. I didn't drain out the liquid and to make it work as a fresh salad, toss salad in the dressing and serve immediately. If not, it will get soggy. You can make the dressing ahead of time and just chop the cucumber and toss it up just before serving.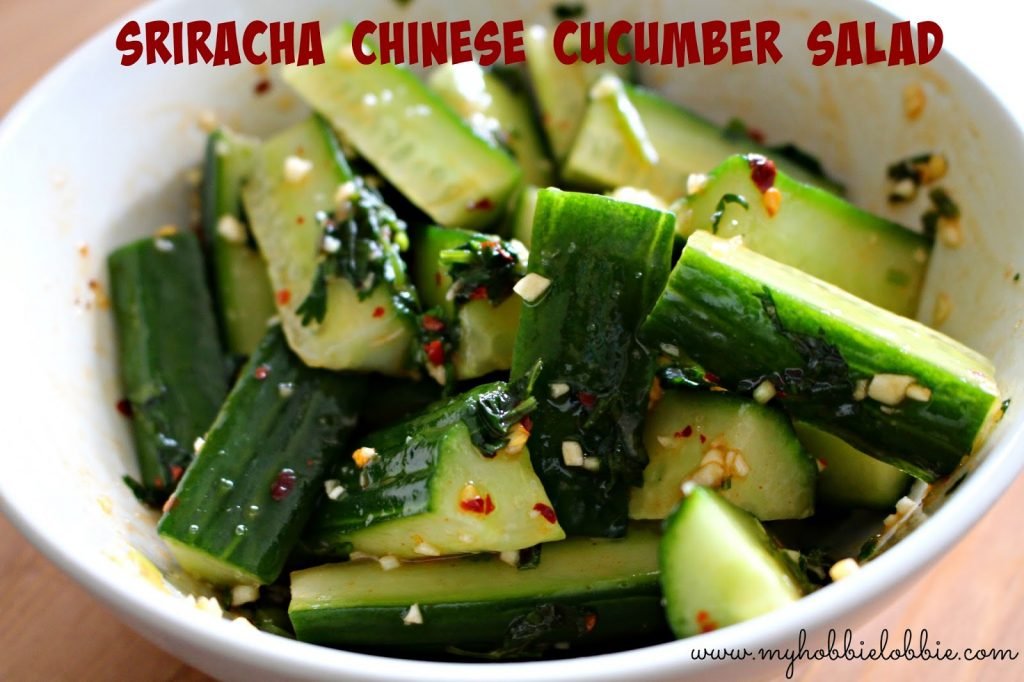 Sriracha Chinese Cucumber Salad
1 continental cucumber, cut into batons
1 clove of garlic, minced
1 tsp sesame oil
1/4 – 1/2 tsp sugar
1 tsp sriracha sauce
1/2 tsp fresh coriander leaves and stalks, chopped
1/4 tsp red chilly flakes
Lemon / lime juice, to taste
Mix all the ingredients except the cucumber pieces together in a bowl.
Add the cucumber pieces to the bowl and toss well.
Serve immediately.
For quite a few months now, I've been yearning for some good Chaklis (Savoury Indian rice crackers). I have made them at home in Bombay using my late Mother-in-law's recipe and they are fantastic. I bought a couple of different packets from the Indian grocery stores here in Sydney, but it just never hits the spot. So why am I not making them here? I didn't have this –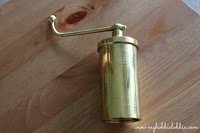 I know for those of you who haven't seen this before, it must look like something straight out of an alien space craft but just wait till you see what you can do with it. This is what it looks like on the inside –
In some ways it is similar to a spritz cookie press. You slide in a plate from the assortment on the right into the barrel. For this recipe I used the one with the single star shaped perforation. Place your dough in the barrel and top it with the spiral press. All you do it rotate the lever on the top and that lowers the press and presses out the dough through the perforation. If that doesn't make sense yet, don't worry, it will shortly.
My dear blogging friend Manu of
Manu's Menu
had posted some recipes featuring this press. So I asked her where she got her's from and she very kindly directed me to the shops in Harris Park. So last weekend that's where we went and finally bought one. I've hunted for this press for so long here and am so thrilled that I now have one. No more buying those unsatisfying packets of cruchy, but still hard like stone chaklis from the store for me.
The very next morning, we set out making a batch of chaklis. The dough comes together quick and easy and makes a decent sized batch. Stored in an airtight container should give us something to much on for atleast a week with a cup of afternoon tea. And that thought makes me very happy indeed.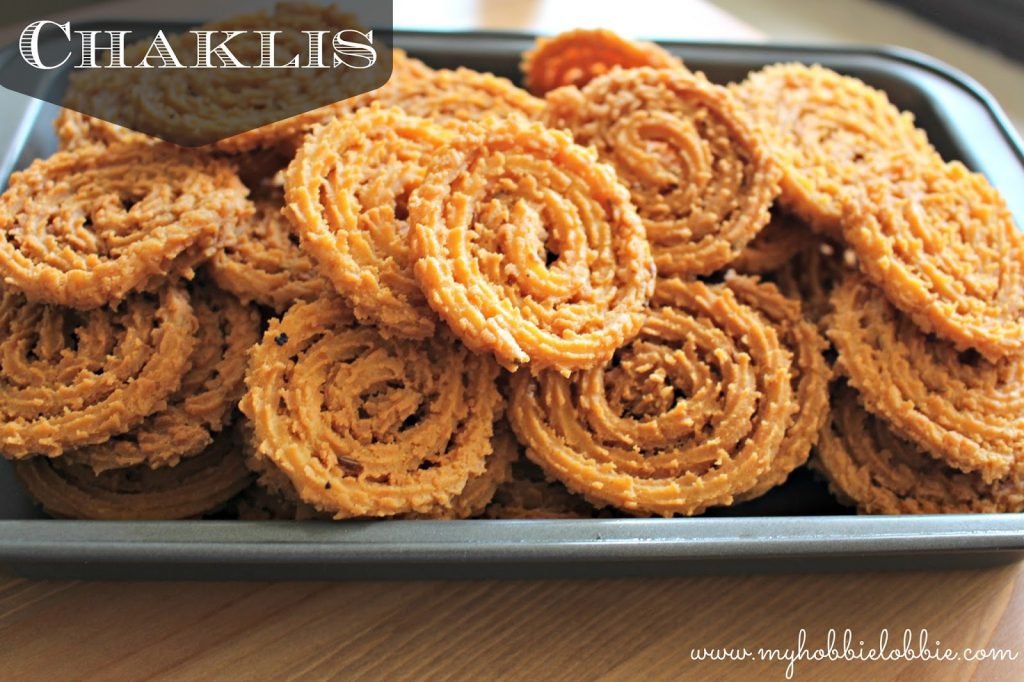 Chaklis
3 cup rice flour (fine)
1/2 cup all purpose flour
1/2 cup ghee
1 tsp salt, or to taste
1 tsp. red chilly powder
1/4 tsp turmeric powder
1 tsp sesame seeds
1 tsp cumin seeds
Oil for deep frying
Place all the ingredients in a large bowl and rub the ghee into the flour till everything is well mixed.
Gradually add little water to knead to a dough.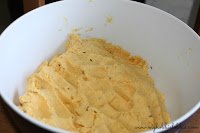 Heat the oil. Test with a tiny pea sized piece of dough. When added to the oil, it should rise to the surface quickly. If it browns really fast, the oil is too hot and needs to be cooled a little. If it settles to the bottom, the oil is not hot enough and needs to be heated a little more.
The oil temperature is important, if its too hot, the chaklis will brown but stay raw on the inside and if the oil is not hot enough, it tends to absorb a lot of oil and wont have the right texture.
Take portions of dough and add to the chakli press.
Shape the chaklis on some baking paper.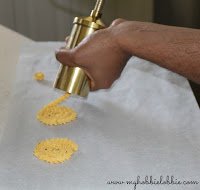 That's my wonderful husband cranking out the chaklis while I fry them, just incase you were wondering if that was my hand 😉
Carefully using a flat spatula, life the chaklis off the paper and place into the oil. Let it cook on medium flame till golden brown. Drain on some absorbent kitchen paper.
When it has cooled completely, store in an air tight container.
Enjoy!!!
For this month's
SRC
reveal, I was assigned Anna's blog,
Cheese with Noodles
. I love that name. It combines two of my favourite foods. Anna sounds like someone I could be great friends with. Apart from cooking up really yummy food, she loves indulging in her crafty hobbies like crochet, which we have in common and sewing, which I'm hoping to spend more time on soon. We share the love of gardening too. And she lives is Alaska. Oh how could I forget her pets – she has bunnies, cats and dogs, which could only mean that she is a super busy woman.
While looking for a recipe to make for this month's reveal, I narrowed it down to her Buttermilk Cheddar Chive Bread, a very interesting Fruit Pizza, these droolworthy Garlicky Bacon & Cheddar stuffed Burgers and this refreshing Greek Pasta Salad. However, when I saw this Brownie Pudding post, my mind was made up. I love pudding and I love Brownies, so I new I had to try this Brownie Pudding.
It was easy to put together and requires just a few pantry staples. My favourite part of this recipe was not having to wait for it to cool down. You can enjoy it warm with some Vanilla ice-cream, which is exactly what we did. These puddings have the most delicious crusty top that is beautifully chewy and a warm, gooey centre, perfection. I was thrilled, because until today I'd only seen gooey centres on the television and here I was sitting with an individual pudding with the perfect gooey centre. Thanks Anna for a lovely recipe.
I stuck to the original recipe, only I made them in individual ramekins and I agree with her on the portions. I made 3 individual portions, but 4 would have been much better. That's just something I'll have to make note of for when I make this again.
Brownie Pudding


115g butter, melted
2 eggs
1 cup sugar
1/3 cup cocoa powder + 1 tbsp
1/4 cup flour
1 tsp Vanilla extract
Vanilla ice cream, to serve with (optional)
Preheat the oven to 180ºC.
Grease 3 individual ramekin bowls and set aside.
Beat the eggs and sugar, till thick and creamy, light yellow.
Sift the cocoa powder and flour together.
Add this to the eggs and sugar mix and mix together until combined.
Add the melted, cooled butter and again mix until just combined.
Pour the batter into prepared ramekin bowls or a larger bowl that has been greased.
Place these bowls in a water bath (A water bath is a larger baking dish filled with hot water that reaches about halfway the height of the bowls.)
Carefully place in the oven and bake for about 45 minutes if you are making one large bowl. If you are making individual portions, like I did, bake for about 30-35 minutes.
Test by inserting a toothpick near the edge of the bowl. When it comes out mostly clean it is done. Don't overbake as you want to have the middle a little gooey.
Let it cool for about 15-20 minutes and serve with vanilla ice-cream, if desired.
Here's the pudding bowls, just out of the oven –
Just so you know, you too can get the perfect gooey centre 🙂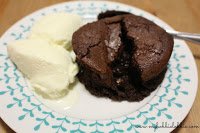 Don't forget to check what the other members of Group A posted –