One of my favourite seasons is Fall and stemming from that, I love all things Fall – the days getting cooler, the leaves turning colour, apples, pumpkins, Halloween, love it all. You see, right upto this time, I'd only every used a pumpkin to make a savoury side dish, I'd never used it for anything sweet. For years now, I've sat back and watched so very many blog posts from all across the globe using pumpkins for desserts and sweet bakes. I've always been curious to see what that would turn out like but strangely enough, not so curious as to actually try it out myself. Go figure, right! A while ago, while pumpkins were at the peak of their season, I bought myself a little Kent pumpkin to finally use in a sweet bake. I hadn't quite decided what I was going to make. I knew there would be plenty of inspiration on the internet. (Gosh, I really can't imagine life without the internet anymore – can anyone else relate to this or is that just me?) Anyway, so after staring at my pumpkin for a few days as it sat on the kitchen counter I came across this recipe for pumpkin muffins.
It was the perfect choice for me. I got to use the pumpkin in a sweet bake. And it made for the perfect breakfast on the go option, since I start work at 7 am now. (Gasp!) It keeps really well in the fridge too. This batch actually kept for a little over a week. All I did was take out the one or two we needed at the time and popped in the microwave for a few seconds to get the chill off and I ended up with a nice, warm, moist, flavourful muffin. I was more than pleased with this recipe and I can safely say I'll be trying my hand at some more sweet recipes with pumpkin in the future. This recipe makes quite a few muffins. I made some in the muffin moulds and the rest I poured into a bundt pan and got a little cake out of it.
You will notice that the muffins look a little different. Well, I forgot to add stir in the fruit and nuts before pouring the batter in the pan so I just added a few to each muffic. The ones on top with the raisins and nuts visible clearly are those ones. That was the time I added the fruit and nuts to the batter and the muffins on the lowest row are made from that batter. I think I like the ones where I can see the raisins clearly better visually. So I've decided the next time I make these, I will stir in most of the fruit and nuts but reserve a few to place over each unbaked muffin so the look like they're studded with little jewels. 🙂
The original recipe calls for canned pumpkin. I can't find canned pumpkin at the local supermarket, so I used a whole Kent pumpkin and made my own puree.
Country Pumpkin Muffins
Adapted from: Taste of Home
Makes about 26-28 muffins
(I got one dozen muffins and a little bundt cake)
2 cups sugar
1/2 cup vegetable oil
3 eggs
1 1/2 cups pumpkin puree
1/2 cup water
3 cups all purpose flour
1 1/2 tsp baking powder
1 tsp baking soda
1/2 tsp ground cloves
3/4 tsp ground cinnamon
1/2 tsp ground nutmeg
1 tsp salt
1 raisins (the original recipe calls for 1 1/2 cup)
1 cup chopped pecans (the original recipe uses walnuts but I didn't have any)
To make the pumpkin puree –
Cut the pumkin in quarters / wedges.
Don't worry about the skin. Leave it on for now. Its easier to take it off after baking.
Take out the seeds and membrane. You can roast the seeds to snack on. Discard the membrane.
Place the pumpkin skin side down on a lined baking tray and baked it in the oven at 180ºC for about 30-40 minutes or till the flesh of the pumpkin is tender. Test with a fork or a knife.
Let it cool. The skin just peels off. You may need to peel the skin off gently with a knife, but it comes off pretty easily.
Mash the flesh using a potato masher or you could puree it in a food processor, if you like. I just used the potato masher.
I used a smallish pumpkin and ended up using all the puree for this recipe, but any excess you may have can be frozen to use later.
To make the muffins –
Preheat the oven to 200ºC.
In a large bowl, mix the sugar, oil, eggs, pumpkin puree and water till combined.
In another bowl combine the dry ingredients, the flour, baking powder, baking soda, spice powders and salt.
Add the dry ingredients to the pumpkin puree mix and blend well. Don't overmix.
Fold in the raisins and chopped nuts.
Spoon batter into a lined muffin pan.

Without the raisins & nuts —- with them added on top — a combination of both
Bake for about 15 minutes or till done.
If you are baking the batter as a larger cake, it will take longer. My bundt cake baked for about 50 minutes.
Is it too early to be starting with Holiday goodies? Is a milkshake even an appropriate holiday treat? Well the answer is 1) Its never too early to start trying out Holiday goodies and 2) Yes – especially when you live in a place that has a Summer Christmas.
This month for the SRC reveal, I was assigned Nicole's blog, Daily Dish Recipes. I've admired Nicole's blog for years and then somehow in the recent past I lost touch with it. I was so excited to learn that I was assigned her blog this month. Choosing a recipe to make for the reveal was not easy. After shortlisting a few, I was left with 23 recipes and after tossing to and fro between them for a few days I was no closer to picking one. The only thing that helped me decide this month was the weather Gods. We're smack bang in the middle of our first heat wave of the season, and we still have 2 months of Spring to go, Yikes!!! I needed to pick a recipe the would cool us down and would involve little or no cooking. I quickly looked through my shortlist and I was down to 2 recipes – Homemade Fruit Irish Cream Sodas and Gingerbread Milkshakes. I had pinned the Irish Cream Sodas to try a couple of years ago and I fully intend trying it out. But in the end, my love for Christmas won and I went with the Gingerbread Milkshakes. I wanted to have a nice cool drink to serve up around the holiday season. This milkshake was really delicious, I can see myself serving this at other times of the year too. There are just two components to this recipe, making the gingerbread syrup and then blending everything together. Making the syrup was really easy and my whole house smelled like Christmas. The flavours were beautiful, but I will make the syrup stronger the next time, that way I wont need to add too much and will be able to control the sweetness. But its an absolute winner of a recipe. Thank you Nicole 🙂 I halved the recipe and those are the quantities mentioned below. I made absolutely no changes (except leave out the whipped cream for the topping) and was very happy with the result.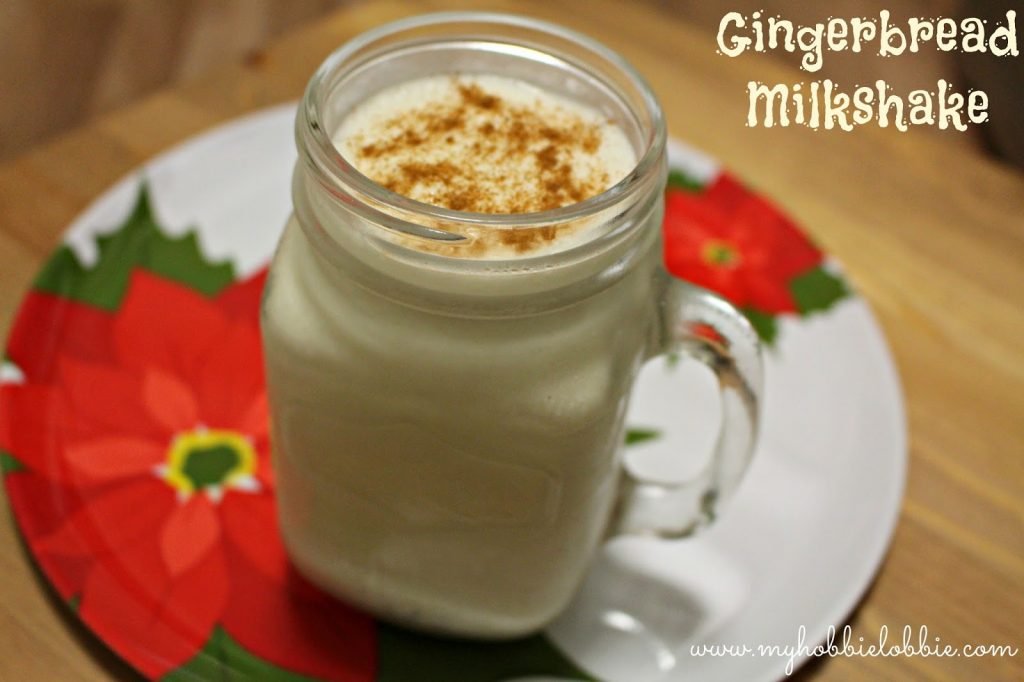 Gingerbread Milkshake


For the syrup:
1 cup water
3/4 cup sugar
1 1/2 tsp ground ginger
1/4 tsp vanilla extract
1/4 tsp ground cinnamon
For the milkshake:
30 ml milk
210 ml French Vanilla ice cream
Ground cinnamon, to sprinkle over
In a large saucepan, mix the water, sugar, ground ginger, vanilla and ground cinnamon and bring the mixture to a boil.
Once it has started boiling, lower the heat to a simmer and let the syrup simmer for about 20 minutes, stirring occasionally.
Store in syrup in a jar as you will have syrup left over.
In a blender, mix 1-2 tbsp gingerbread syrup, the milk and the ice cream and blend well. Taste and add more syrup if needed and blend well.
Pour into glasses and spinkle ground cinnamon on top to pretty it up.
Serve up!
Don't forget to check out what the other Group A members have posted this month.