Let me start by saying this has got to be "the best way to eat cauliflower" and this is my favourite soup recipe so far, ever. That is high praise for a recipe that's as humble as this Wisconsin Cauliflower Soup.
I'd been seeing a lot of cauliflower puree's popping up all over the place and I was quite eager to try making some myself. That's what originally prompted me to buy a head of cauliflower. We happened to be at the Flemington markets that weekend and I came across the most gorgeous heads of cauliflower being sold by the the grower himself, a lovely gentleman. I got a pretty great deal on a beautiful head and I was extremely pleased. I was pleased because cauliflower happens to be on the slightly pricey side in Sydney. I paid a fraction of what the prices usually are.
Now let's talk about the soup. Surprisingly easy to make, I was a little apprehensive about how it would turn out. But I shouldn't have been. Once this soup was blitzed and finished off, we sat down to a nice bowl of it. Both, my husband and I were amazed at the flavour of this soup. The mustard does wonders for the flavour and you can't go wrong with a little cheese thrown in. I'm pretty sure that this will be one of our absolute favourite ways to enjoy cauliflower apart from these baked cauliflower poppers. I am so happy to have found another spectacular recipe and can't wait to share it with you. So if you aren't too crazy about cauliflower, or have a picky eater at home, try this recipe out and I'm pretty sure they will be converted.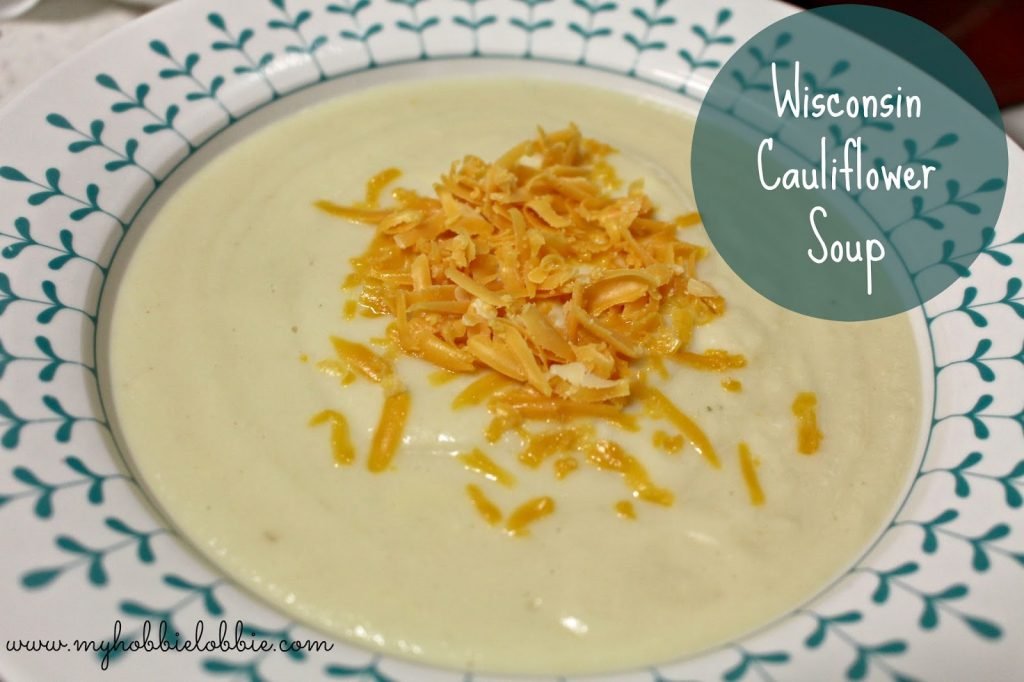 Wisconsin Cauliflower Soup
Recipe from: Butter with a Side of Bread
2 tbsp butter
1 onion, chopped
1/4 cup all-purpose flour
1/2 tsp salt
2 cups milk
1 1/2 cups water
400 ml chicken stock
1 head cauliflower, cut into chunks / florets (2 1/2 pounds)
1 tsp Dijon mustard
1 cup cheddar cheese, grated
1 cup Red Leicester cheese (original recipe uses sharp cheddar and Pepper Jack), grated
In a large saucepan, over medium heat, melt the butter.
Add the onion and cook till golden. This should take around ten minutes.
Whisk in the flour and salt. Cook this off for a couple of minutes, making sure that the flour does not stick to the bottom of the pan.
Gradually stir in the milk, water and the chicken stock.
Add the cauliflower pieces and bring to a boil over high heat.
Cover and simmer over low heat for about 15 minutes or till the cauliflower is tender.
Now, if you have an immersion blender, consider yourself lucky and use it to blend the soup. If you're like me and don't own one, don't worry. Use your regular blender and blitz the soup in batches, while keeping the middle portion of the cover open to let the steam escape. I use a tea towel to cover this opening to prevent splatter.
Blitz the soup till smooth and return the soup back to a saucepan.
Return to medium heat till it has heated through, stirring occasionally.
Take the saucepan off the heat and stir in the mustard and the cheddar cheese and 1/2 cup of the red Leicester cheese, till smooth.
Serve the soup topped with some of the remaining Red Leicester cheese.
** A little freshly cracked black pepper on the top is also really nice.
**For a vegetarian version, use vegetable stock instead of the chicken stock.