If you have more zucchini than you know what to do with, yesterdays savoury
Cheesy Garlic Zucchini Bread
and this vegan chocolate  cranberry zucchini bread should give you a couple of options. It is amazing how versatile zucchini is. It lends itself to both sweet and savoury recipes really well.
I was happy to find a vegan bake recipe, because I have quite a few readers / followers that would love an eggless bake like this. That coupled with the fact that it is so easy to make, makes this a must try recipe. I was glad I tried this recipe and it is a keeper for sure. The bread is nice and moist, light and chocolatey.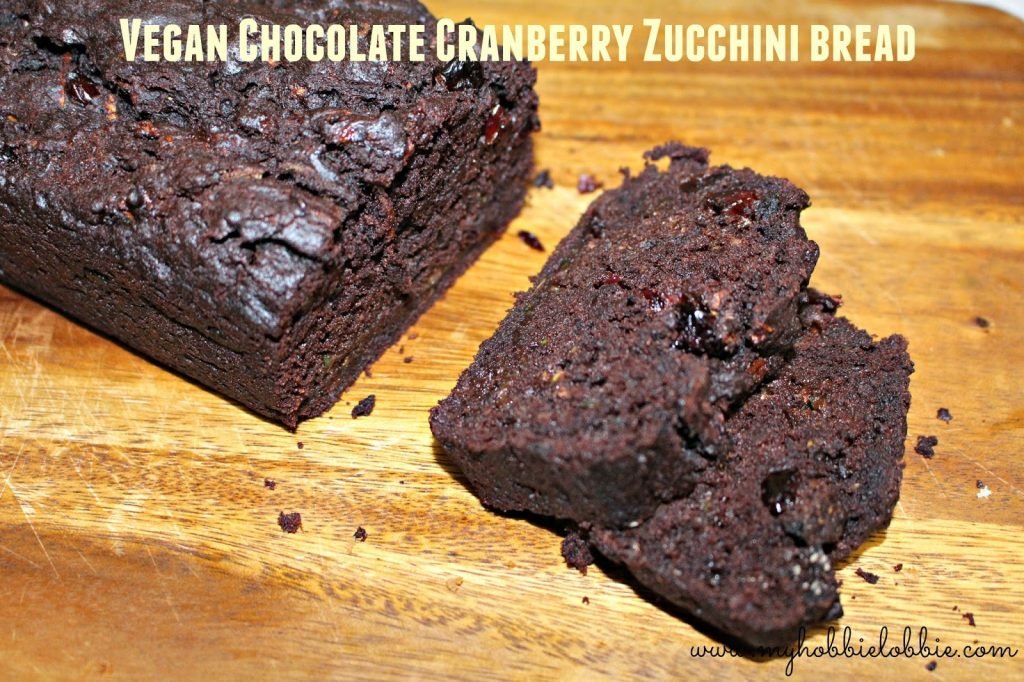 Vegan Chocolate Cranberry Zucchini Bread
Recipe from: Popsugar
1 1/2 cups zucchini, grated
1 cup whole wheat flour
1/2 cup unsweetened cocoa powder
1 tsp baking soda
1/4 tsp baking powder
1/4 tsp salt
1/2 tsp cinnamon powder
1/4 tsp allspice powder
1 large ripe banana
1/2 cup white sugar
1/2 cup canola oil
1 tsp vanilla extract
1/2 cup dried cranberries
Preheat the oven to 180ºC and lightly grease a lined loaf tin.
In a large bowl, mix the flour, cocoa powder, baking soda, baking powder, salt and spices and set aside.
In another bowl, mash the banana and mix in the sugar, oil and vanilla. Fold in the grated zucchini.
Stir in the dry ingredients while being careful not to over mix.
Fold in the cranberries.
Pour the batter into the prepared loaf tin and bake for 40-50 minutes or until a toothpick inserted comes out clean.
Those of you who follow me on
Facebook
, know that I've been meaning for this post to go live for over week now. Well, I've finally gotten to it and let me tell you, it's worth the wait. Recently I picked up some zucchini at a bargain price from Paddy's market at Flemington and was eager to try something different from the
zucchini fritters
I usually make. Don't get me wrong, we still enjoy the fritters every time they are made, but I'd seen so many other recipes around, I was eager to try something new. I went through all my bookmarks and pins and after a little looking, I found 2 recipes that I was going to work with – one savoury and the other sweet. This is the savoury one.
From personal experience, I knew I could not go wrong with a recipe that had cheese and garlic in it. And I was right. This is an easy loaf recipe that is so flavourful. It goes well with a nice big bowl of soup. I found that this bread was best eaten slightly warm. I tried warming the required slices in the microwave as well as on a pan. Both work well. The pan gives you light toasty edges, which I personally find quite yummy. Not to mention, it looks pretty. I love the green flecks throughout the loaf. I followed the recipe to the letter with the exception of swapping the green onion for some chopped onion and was very happy with the result. The only thing I did differently was bake a whole loaf instead of mini loaves. This increased the baking time and when I make this recipe again, I'll make sure I have a mini loaf tin. I think they would be perfect in the smaller sizes.
Cheesy Garlic Zucchini Bread
Recipe from: Emily Shares
3 cups all-purpose flour
4 tsp baking powder
1 tsp salt
1/2 tsp baking soda
1/2 tsp garlic powder
1 cup zucchini, grated
3/4 cup cheddar cheese, grated
1/4 onion, finely chopped (the original recipe calls for 1/4 cup finely chopped green onion)
2 tsp dry dill (or 1 tbsp fresh dill)
2 large eggs
1 cup buttermilk
4 tbsp butter, melted
Preheat the oven to 180ºC.
Line a loaf tin with parchment paper and spray with non-stick baking paper.
In a large bowl, whisk together the dry ingredients – the flour, baking powder, salt, baking soda and garlic powder.
Then add the zucchini, cheese, onion and dill to the bowl and toss to coat them with the flour mix.
In another bowl, whisk the eggs, buttermilk and the cooled, melted butter.
Add the wet ingredients to the flour mixture and gently stir through until the ingredients are just moistened. The batter will still be lumpy and that's alright. Do not over mix the batter.
Pour into the prepared loaf tin and bake for about 50-60 minutes or till a toothpick pierced through the center comes out clean.
If you choose to bake these as mini loaves, bake for 20-30 minutes or till a toothpick comes out clean.
And you have yourself a beautiful loaf of bread.
Let me start by saying this has got to be "the best way to eat cauliflower" and this is my favourite soup recipe so far, ever. That is high praise for a recipe that's as humble as this Wisconsin Cauliflower Soup.
I'd been seeing a lot of cauliflower puree's popping up all over the place and I was quite eager to try making some myself. That's what originally prompted me to buy a head of cauliflower. We happened to be at the Flemington markets that weekend and I came across the most gorgeous heads of cauliflower being sold by the the grower himself, a lovely gentleman. I got a pretty great deal on a beautiful head and I was extremely pleased. I was pleased because cauliflower happens to be on the slightly pricey side in Sydney. I paid a fraction of what the prices usually are.
Now let's talk about the soup. Surprisingly easy to make, I was a little apprehensive about how it would turn out. But I shouldn't have been. Once this soup was blitzed and finished off, we sat down to a nice bowl of it. Both, my husband and I were amazed at the flavour of this soup. The mustard does wonders for the flavour and you can't go wrong with a little cheese thrown in. I'm pretty sure that this will be one of our absolute favourite ways to enjoy cauliflower apart from these baked cauliflower poppers. I am so happy to have found another spectacular recipe and can't wait to share it with you. So if you aren't too crazy about cauliflower, or have a picky eater at home, try this recipe out and I'm pretty sure they will be converted.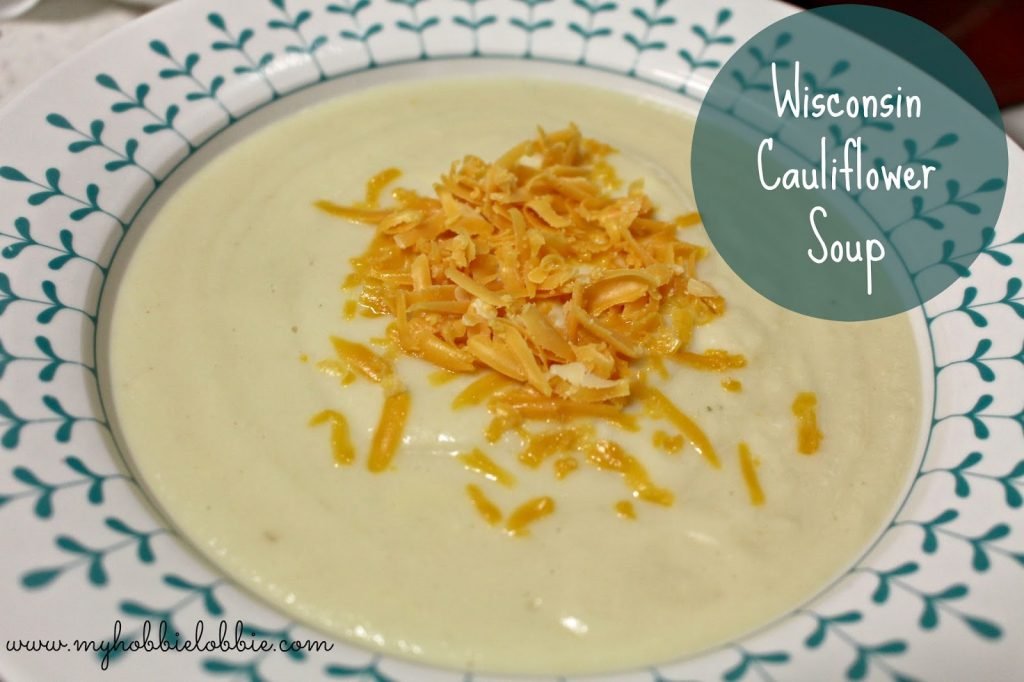 Wisconsin Cauliflower Soup
Recipe from: Butter with a Side of Bread
2 tbsp butter
1 onion, chopped
1/4 cup all-purpose flour
1/2 tsp salt
2 cups milk
1 1/2 cups water
400 ml chicken stock
1 head cauliflower, cut into chunks / florets (2 1/2 pounds)
1 tsp Dijon mustard
1 cup cheddar cheese, grated
1 cup Red Leicester cheese (original recipe uses sharp cheddar and Pepper Jack), grated
In a large saucepan, over medium heat, melt the butter.
Add the onion and cook till golden. This should take around ten minutes.
Whisk in the flour and salt. Cook this off for a couple of minutes, making sure that the flour does not stick to the bottom of the pan.
Gradually stir in the milk, water and the chicken stock.
Add the cauliflower pieces and bring to a boil over high heat.
Cover and simmer over low heat for about 15 minutes or till the cauliflower is tender.
Now, if you have an immersion blender, consider yourself lucky and use it to blend the soup. If you're like me and don't own one, don't worry. Use your regular blender and blitz the soup in batches, while keeping the middle portion of the cover open to let the steam escape. I use a tea towel to cover this opening to prevent splatter.
Blitz the soup till smooth and return the soup back to a saucepan.
Return to medium heat till it has heated through, stirring occasionally.
Take the saucepan off the heat and stir in the mustard and the cheddar cheese and 1/2 cup of the red Leicester cheese, till smooth.
Serve the soup topped with some of the remaining Red Leicester cheese.
** A little freshly cracked black pepper on the top is also really nice.
**For a vegetarian version, use vegetable stock instead of the chicken stock.
This month I had the pleasure of being assigned, Mellissa's blog,
A Fit and Spicy Life
. That's one thing I really love about the
Secret Recipe Club
, each month you are introduced to a blog you are not necessarily familiar with. I had so much fun looking through Mellissa's blog. If you are a dog lover like me, you have got to go over and check out the doggie cuteness on her blog. And yeah, while you're there stay a little longer and check out her recipes. There's something for everyone.
There were two recipes that I was very eager to try. Strangely enough, they were very similar recipes – both munchies. I've been surrounded by sweet food. If you go to a supermarket here, you're bombarded by sweet stuff – cakes, cookies, pies, pastries and so much more. But it is practically impossible to find good savoury treats that are slightly on the spicier side. So when I saw these recipes for Spiced Pumpkin seeds and these Sriracha Peanuts, I was sold. So by now, you've figured that I chose to make the Sriracha Peanuts and I'm so very glad I did. These were super easy to make and they are so addictive, I had to put them in a container and tuck them away before I finished the whole lot. I made a few minute changes to the spice mix, but that's only because the blend called for in the original recipe, is not available in my part of the world. But the resulting peanuts are crunchy and tasty and I'm sure I'll be making many more variants, now that I've figured how to add a spicy glaze to nuts. Thanks Mellissa for the inspiration.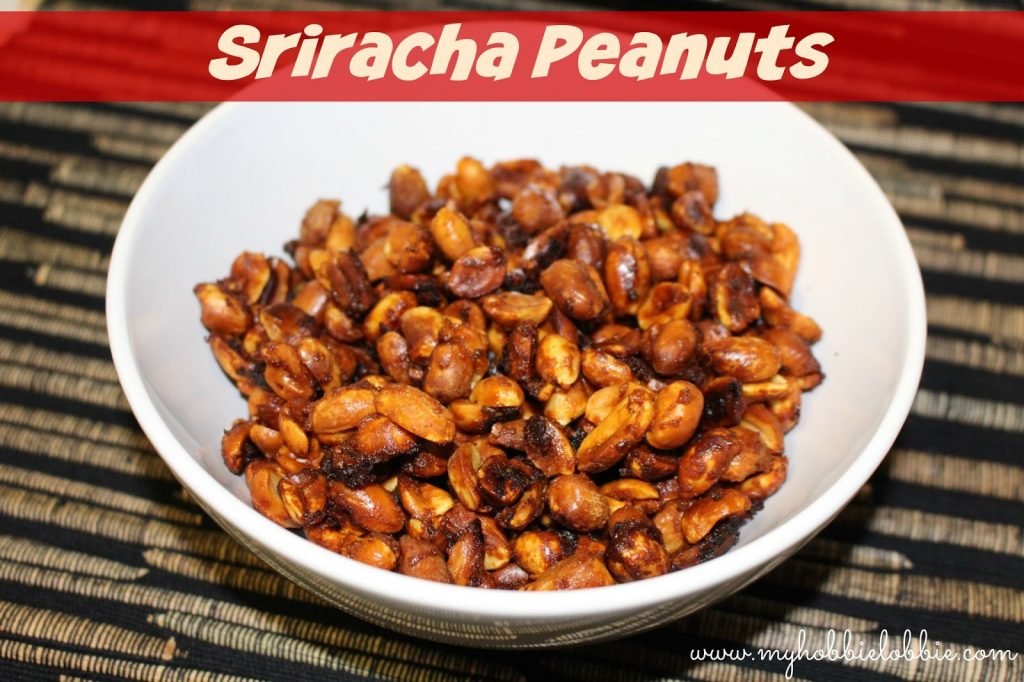 Sriracha Peanuts


2 cups salted peanuts
1 tbsp olive oil
2 tbsp Sriracha sauce
1 tbsp Smokey barbecue sauce
1 tsp Cajun spice blend
1/2 tsp garlic powder
Preheat the oven to 180ºC.
Line a baking sheet with foil and spray with a non stick spray.
Combine all the ingredients together in a bowl and stir to make sure all the peanuts are well coated with the sauces and spices.
Pour the nuts onto the lined baking sheet and spread so that they form an even single layer of nuts.
Bake for about 12-15 minutes till they're toasted. Carefully stir them through once at about the 10 minute mark.
Let the nuts cools completely.
You could either pack these up in an airtight container and nibble on it over the next few days, or serve them right up. If you put a bowl of these nuts in front of company, trust me, you will need to make a double batch and might still not have any left over.
Today's recipe is like most of the recipes I share here – quick, easy and of course, dee-licious. I love a good salad recipe. Here in Sydney, it seems like the coldest days of winter have passed. The days are now feeling more like Spring and we can once again enjoy a lovely salad for lunch.
For the last couple of days, I've been feeling like whipping up a salad with a different flair and so while looking online for inspiration, I came across an easy to make Thai salad recipe. I knew that this was the recipe I was looking for. How? you ask. Well, the latest season of Masterchef Australia (which ofcourse, is my favourite source of food inspiration) had a challenge dedicated to Thai food and a lot of the contestants whipped up their versions of a Thai salad. When I saw this recipe, it seemed like a good opportunity to try my hand at a Thai recipe 🙂 I'm all for new experiences and new flavours and cuisines. And this recipe did not disappoint. It had lovely flavours, a range of textures and I was in love with it. Even my husband, who might not agree with all my opinions on food, loved this salad. So if you have a hankering for something a little more complex than a basic salad, try this recipe out. You'll be glad you did. The original recipe called for green papaya in the salad, but I didn't have any and just decided to leave it out.
So basically this salad is just what its name suggests, you chop up a bunch of ingredients, whip up this really yummy dressing, toss it together and sit back and enjoy a really scrumptious bowlful. 🙂 This salad is definitely going to make an appearance atleast a few more times this spring and summer and every one from now on. Feel free to switch up the greens based on what you have. I used some leftover roasted chicken, which I chopped up roughly, but you could use some poached chicken or if you have leftovers of store-bought rotisserie chicken that would work too.
For a vegetarian version, leave out the fish sauce and the chicken and it would be just as good.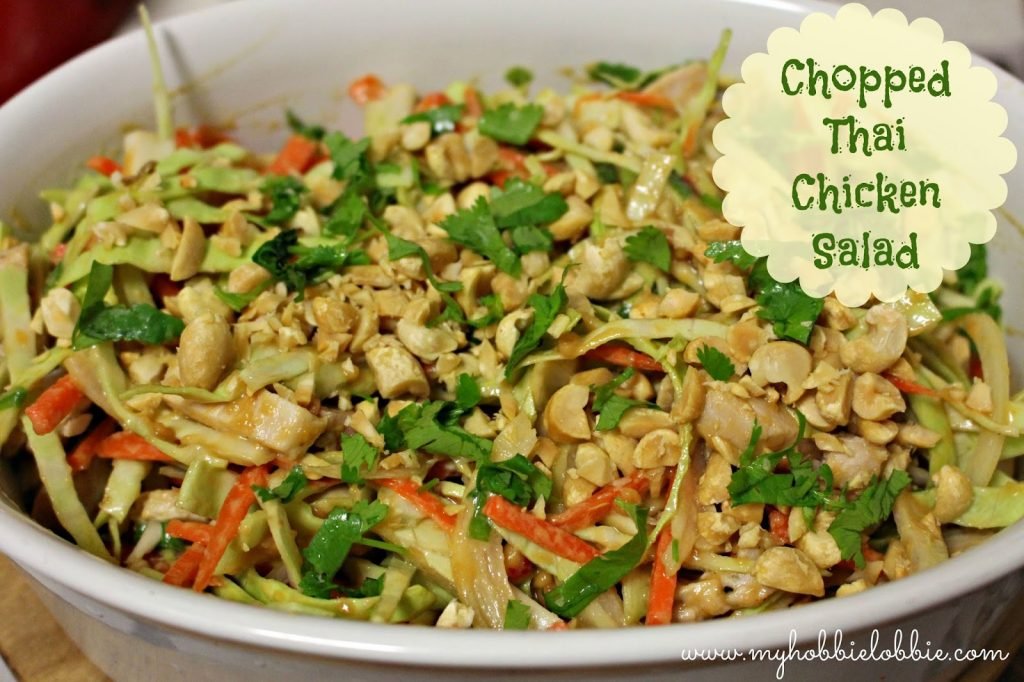 Chopped Thai Chicken Salad
Adapted from: Pinch of Yum
For the salad –
1/2 cup shredded / chopped (cooked) chicken
1 cup finely chopped cabbage (like you cut for a cole slaw)
1 carrot, julienned
1/4 onion, finely sliced
2 spring onions, sliced
2 tbsp fresh coriander, chopped
1/4 cup salted peanuts, coarsely chopped
For the dressing –
1 clove garlic, minced
1 – 2 hot chillies, finely chopped (to taste)
1 tbsp soy sauce
1 tbsp apple cider vinegar
1 tbsp sugar
1/2 tbsp fresh lime juice
1/2 tbsp vegetable oil
1/4 tsp fish sauce
2 heaping tbsp peanut butter
Toss all the salad ingredients in a bowl after keeping aside a little coriander and some peanuts for garnishing the salad.
In another bowl, whisk together the ingredients for the salad dressing until smooth and creamy. The original recipe suggests the use of a little water to thin down the dressing. I just added a little more lemon juice instead. Please note if you are using lemon juice, taste while you gradually add it. You don't want the dressing to be too sour,
Pour the dressing over the salad and toss well to coat the salad with the dressing. Sprinkle the reserved crushed peanuts and chopped coriander over the salad to garnish.
Enjoy!!!