Today's post is a special one. Camilla, one of my blogging friends is celebrating her 15th wedding anniversary today and in keeping with the fact that they had a cheesecake instead of a traditional wedding cake, invited us to celebrate with her by making a cheesecake. I jumped at the opportunity because I love cheesecake, but haven't made too many myself, apart from this
Japanese Cheesecake
, a yummy no-bake
Strawberry Cheesecake
and this
Blackcurrant Cheesecake
. I've always wanted to try out a Chocolate Cheesecake and this seemed like the perfect time.
I initially intended using a Nigella Lawson recipe, but saw that she used custard powder. I didn't have any and didn't want to buy something I'd use for just one recipe. So I looked for another recipe and I found this one. I pretty much stuck to the recipe with the exception of the base. I used some Digestive biscuits instead of the Oreo cookies. The recipe was simple to put together and full of chocolaty goodness. If you know a chocolate lover, they'd love this treat. I used a combination of milk and 70% dark chocolate and it was divine. If you prefer Milk chocolate, just use that instead. It had a beautiful silky texture and wasn't too sweet as a result of the mix of chocolate I'd used. I'm happy I tried this recipe out; it sure is a keeper.
So this one is for you and your husband, Camilla – Happy Anniversary!!!
Chocolate Cheesecake
Adapted from: Kraft
8-10 Digestive biscuits (1 1/2 cups), finely crushed
2 tbsp butter, melted
3 boxes Philadelphia Cream Cheese (each one is 8oz.), at room temperature
1 cup sugar
1 tsp Vanilla
4 oz. Semi sweet chocolate, chopped into small pieces, melted and cooled
3 eggs
Heat the oven to 160ºC.
Mix the biscuit crumbs and melted butter till the mixture resembles wet sand.
Press the mix down into the base of a 9″ springform pan. (I used a 7″ one and made a couple of individual portions)
Bake for 10 minutes.
Beat the cream cheese, sugar and vanilla till combined.
Add the chocolate and mix well.
Add eggs one at a time and beat between each addition till incorporated.
Pour over the baked crust.
Bake for 45-55 minutes or until the centre is almost set.
Refrigerate for about 4 hours.
Serve with some strawberries.
This month's
SRC
assignment was an absolute doozy. I was assigned Erin's blog,
Making Memories with Your Kids
. I was really happy with this assignment, not to mention excited. I've known and admired Erin's blog since 2010. That was when I first came across her blog; we were both participating in the "12 Weeks of Christmas Cookies" bake along. Go over and have a look at all the fun she's got going there. Not only does she have some awesome recipes, but she's also got heaps of fun foods for kids, craft activities and some really amazing gift ideas for pretty much any occasion. I love looking at all the ideas she comes up with.
For this month's SRC reveal, I decided to try out her Deep Fried Zucchini with Garlic Aioli Sauce. Mainly, because that Garlic Aioli sounds so amazing I had to try it out and I needed something to have it with. Enter – Deep Fried Zucchini. Both really simple recipes, but oh so very good. I know I will be making these time and again 🙂
The Aioli is nice and flavorful, but the real star, to my utter surprise was the zucchini. I expected the aioli to be my favorite. The zucchini was so good, it didn't need a dipping sauce. I have some more zucchini in the fridge and I'm going to make another batch for dinner this evening. That's how good it is. Don't take my word for it, go ahead and try it. Erin, thank you so much for this recipe. I LOVE it.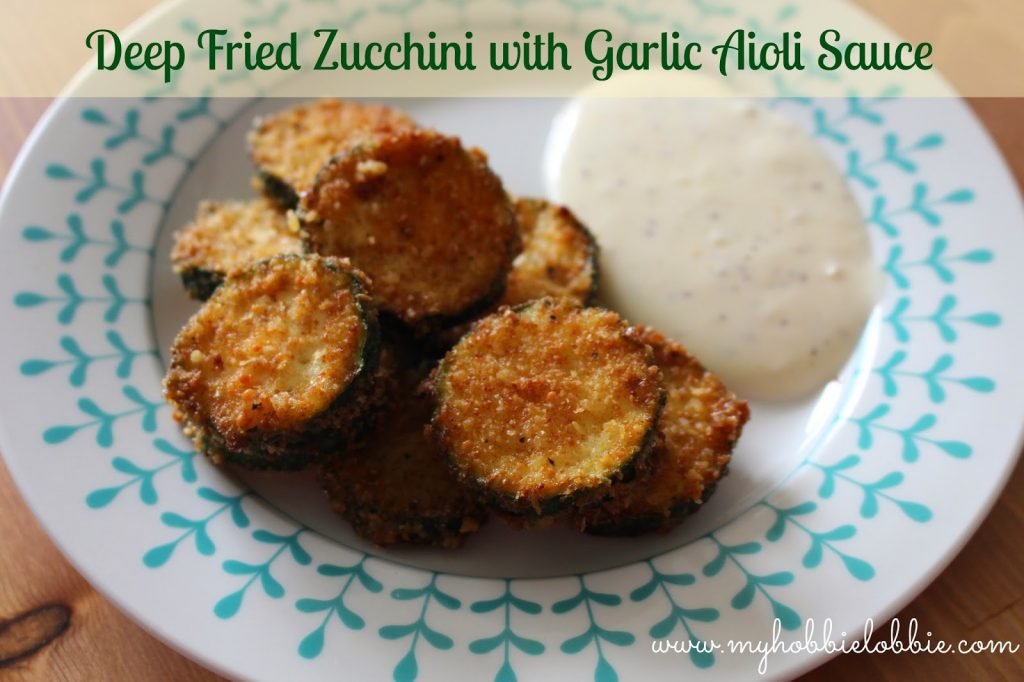 Deep Fried Zucchini
Zuchinni
2 eggs
1/4 cup buttermilk
1 cup breadcrumbs
1/2 cup Parmesan cheese
Salt and pepper, to taste
Oil, for deep frying
Heat the oil for deep frying.
Cut the zucchini into slices about 1/4 of an inch thick.
In a bowl, beat the eggs and the buttermilk.
In another bowl mix the breadcrumbs, parmesan cheese, salt and pepper.
When the oil is hot, dip the zucchini in the egg dip and then in the crumb mixture and then carefully place in the oil.
Fry for a couple of minutes on both sides on a medium flame, till golden brown.
Using a slotted spoon, remove the slices from the oil and place on some kitchen paper to drain any excess oil.
Serve hot.
Garlic Aioli


1 cup mayonnaise
1 tbsp lemon juice
3-4 cloves of garlic, minced / crushed.
Mix it all together and serve.
Here's something I haven't done before – I made dessert too. Nothing fussy but an absolute treat. When I saw this post on Erin's site, I couldn't go past it. I've seen this ages ago and always wanted to try it out. They just look like so much fun. I had absolutely no excuse to not make it. The next time I make these, I will have to leave the soda out a lot longer. I did it this time but evidently it needed to sit out longer. So when you try these out, if you think your soda has been out long enough to cut down the carbonated effect, keep it out a little longer 😉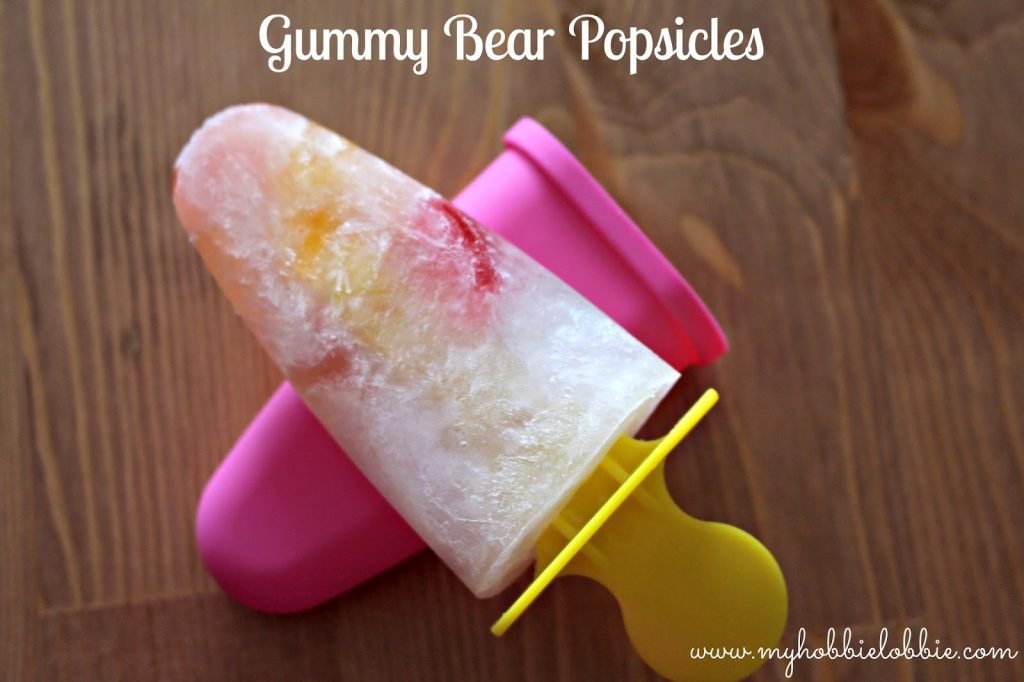 Gummy Bear Popsicles


Sprite
Gummy Bears
Let the soda sit out for a while to let some of the fizz die out.
Drop some gummy bears into your popsicle mould. You can use as many or as few as you like. I went for about the half way mark.
Top up with the Sprite.
Freeze.
Enjoy on a hot summer's day or as it turns out on the first day of autumn here 🙂
The kids will love it and so will the adults.
There are no kids in our household and I still made it and we loved it.
Do stop by and check out what the rest of Group A whipped up this month.