Welcome to a special edition of the Secret Recipe Club. As some of you know, I've been a part of this super fun club for a couple of years now and needless to say I love every minute of it. This month you would have noticed, this is my second post for the club. This post is a little different. Our brave leader, Sarah of Fastantical Sharing of Recipes came up with the brilliant suggestion that in time for Christmas, we should get together across our 4 groups and do a Cookie post. I can't wait to see what everyone comes up with.
For this special reveal of the SRC, I was assigned Lauren's blog 'Sew You Think You Can Cook' – what a clever name; I do love a good pun. Get this Lauren is an aerospace engineer and hopes to become a caterer one day. Not only does she cook, but she also crafts – quilting, cross stitch and scrapbooking, to name a few. I like that because I love to dabble in a few crafts myself. Like me she loves Holiday decorations. I think we'd get along very well. I enjoy cross stitch but have never tried my hand at quilting. But after checking out a few tutorials on Lauren's blog, I am so tempted. I think I will soon try my hand at it. 🙂
For now however, I will have to be satisfied just baking one of her cookie recipes. And when I saw her recipe for Ginger Molasses Cookies, I knew I was going to make it. I love a good Gingersnap cookie, have loved them since I was a child, and the mild spices seem perfect for Christmas.
Just a couple of changes to the recipe. The original one uses unsalted butter and 1/2 tsp salt. I just used salted butter, since thats all I had, and I left out the salt. Also, I used treacle instead of molasses. I couldn't find molasses in any of the local store here; shocking (I think) at this time of the year.
The cookies were lovely. Crunchy on the outside and slightly chewy on the inside, with just the right amount of sweetness. The only change I will make the next time I make these cookies, will be to cut down on the ground cloves. It was a little strong for me. But overall, this recipe is a keeper. Thank you Lauren, for sharing this recipe.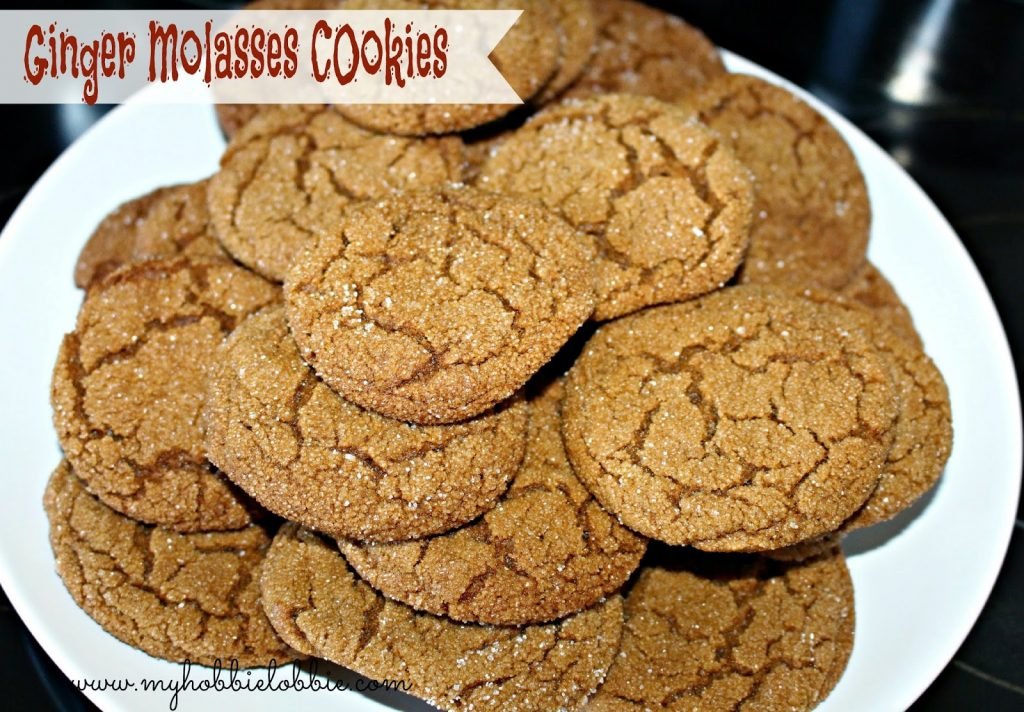 Ginger Molasses Cookies


115g butter
1/2 cup sugar, plus more for rolling the cookies in
1 cup brown sugar
1/3 cup molasses
2 egg whites
2 1/2 cups flour
1 1/2 tsp baking soda
3/4 tsp cinnamon
1 tsp ground ginger
Preheat your oven to 180°C.
Beat the butter and sugars till combined.
Add the molasses and mix.
And the egg whites and mix till combined.
In another bowl, mix the dry ingredients, namely the flour, baking soda and spices.
Add the dry ingredients to the butter-sugar mix in two parts, mixing well between each addition.
Roll the dough into 1″ balls.
Roll the balls in some granulated white sugar.
Place on a parchment lined baking sheet.
Bake for about 10-12 minutes.
Leave the cookies to cool off on the tray.
Enjoy!
NOTE:
If you find the dough too sticky to handle, refrigerate the dough for about 5 minutes and then try.
Welcome to this months edition of the
Secret Recipe Club
. This month I was assigned Claire's blog –
Claire K Creations
. Claire is from Australia and it is so much fun teaming up with another Aussie blog. She has loads of recipes, posts on local farmers markets and some posts on crafts and gardening that I really enjoyed reading. I must start off by saying I love-love-LOVE Claire's blog. I wanted to make every single recipe I saw. I had such a hard time picking a recipe for this month's reveal. Check out her recipe index and you'll see what I'm talking about. I love Claire's posts on snacks and food that people usually pick up in the freezer aisle that can be made at home and honestly, looks (and I'm very sure, tastes) so much better than store bought. I've bookmarked her recipes for
Party Pies
,
Healthy Savory Mince Pies
,
Ham Cheese & Chive Quiche
and this
Ham & Vegetable Fritata
to try out soon. Oh, and did I mention that I have a list of other bakes and treats that I've bookmarked too. Thanks for the inspiration Claire! You've found a new follower in me 🙂
For this months reveal, I decided to try out her recipe for Macadamia toasted muesli. Very recently, I had tried out some muesli with pecans in it and I quite liked it. So I decided to swap in pecans for the macadamia. My next batch will be a macadamia one for sure. I have made muesli at home before. But what I really like about this recipe is that there is no added sugar. It just uses a bit of apple juice for sweetness and moisture. I used a juice without added sugar. It was really easy to whip up a batch. I don't know why I haven't been making my own muesli more often. Just four easy steps and pop it in the oven.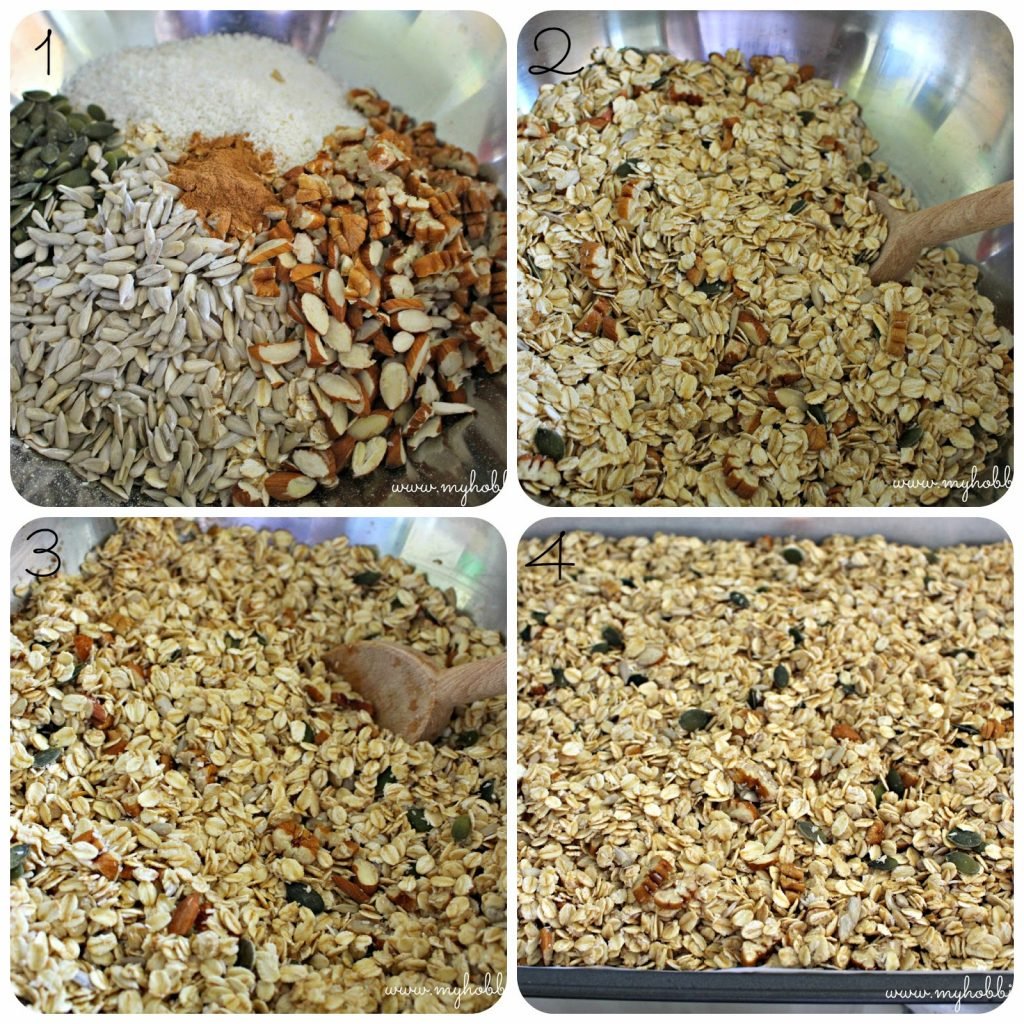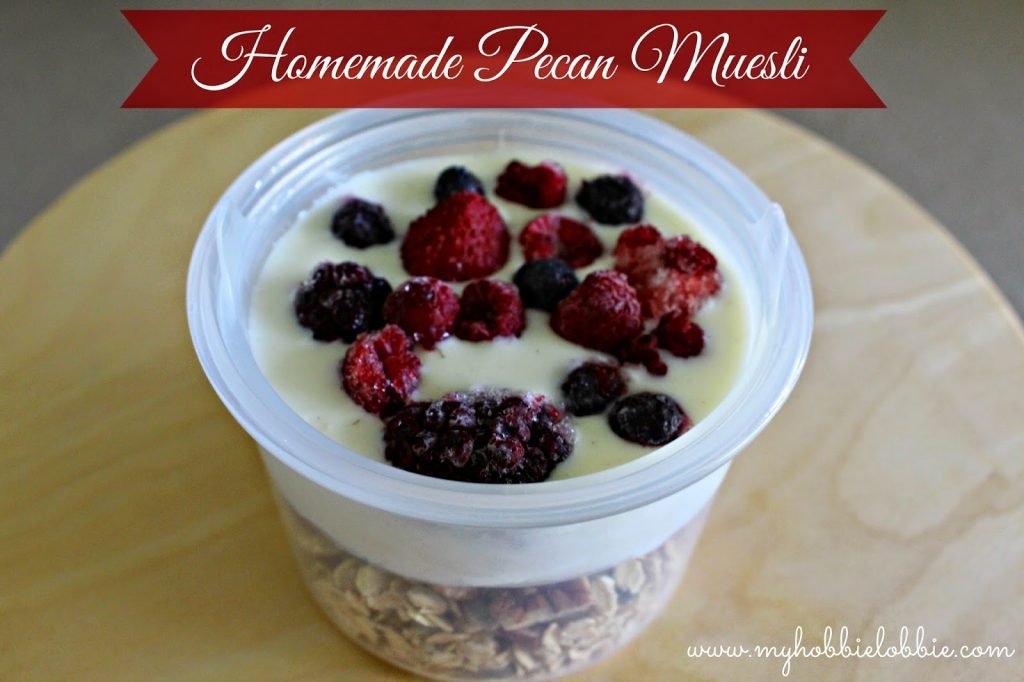 Homemade Pecan Muesli
3 cups rolled oats
1/4 cup dessicated coconut
1/2 cup mixed seeds and nuts (I used equal quantities of pepitas, sunflower seeds and chopped almonds)
1/4 cup chopped pecans
1 tsp cinnamon powder
1/2 cup apple juice
1. Measure out your dry ingredients in a large mixing bowl.
2. Mix the dry ingredients in the bowl.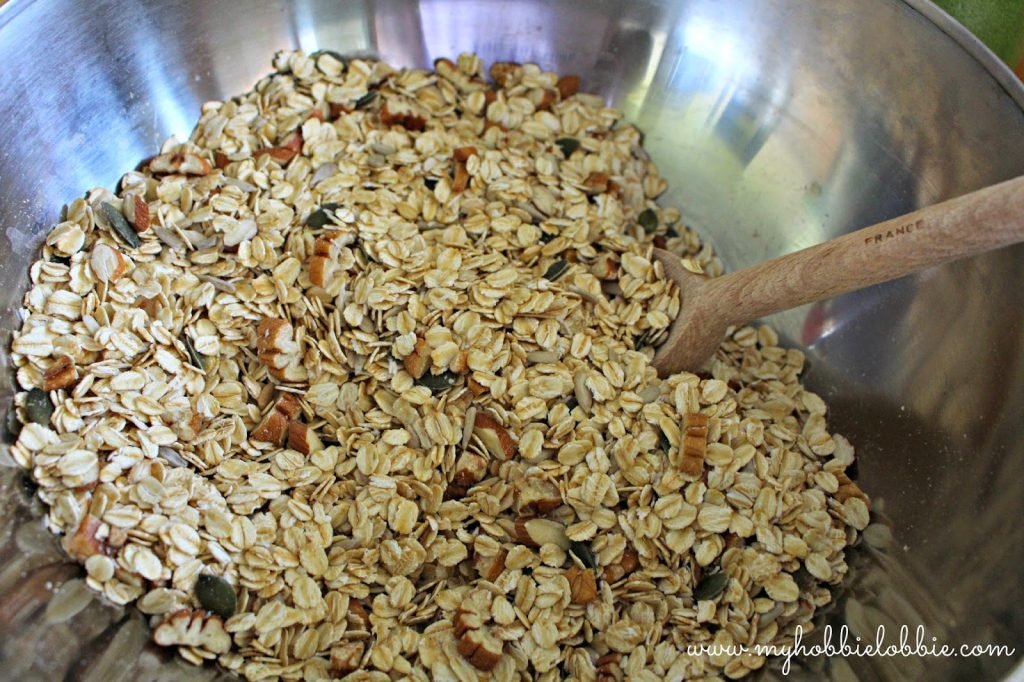 3. Add the apple juice to the dry ingredients and stir through.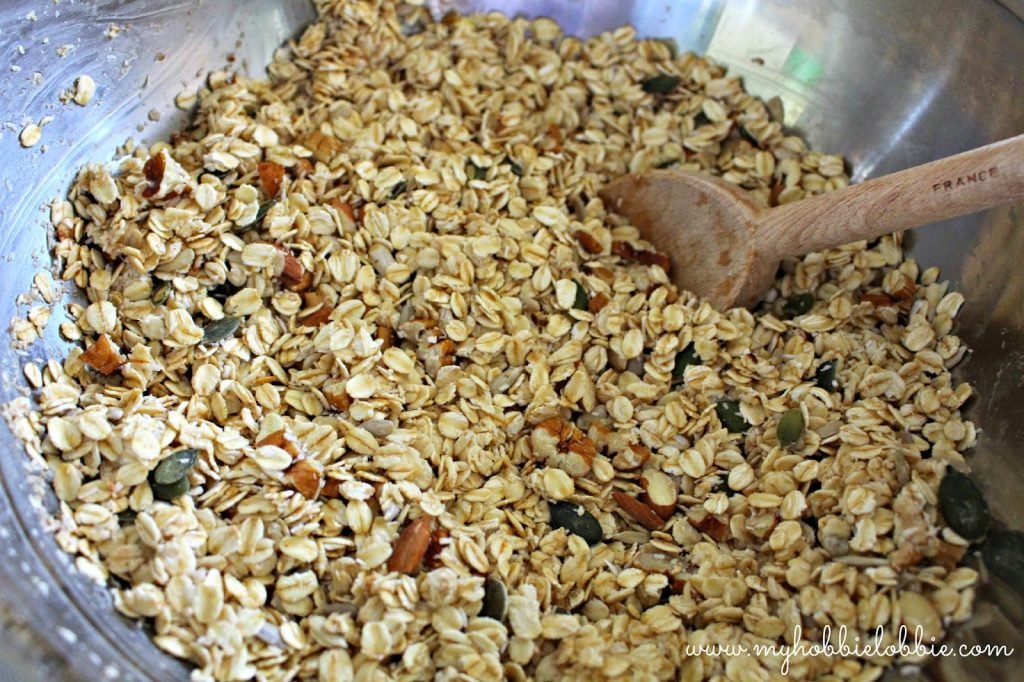 4. Place the m
ix o
n a baking tray that has been lined with baking paper and bake @120°C for an hour. Stir through with a fork every 15 minutes while it is baking to make sure the ingredients at the bottom get their time on the top to toast off nicely.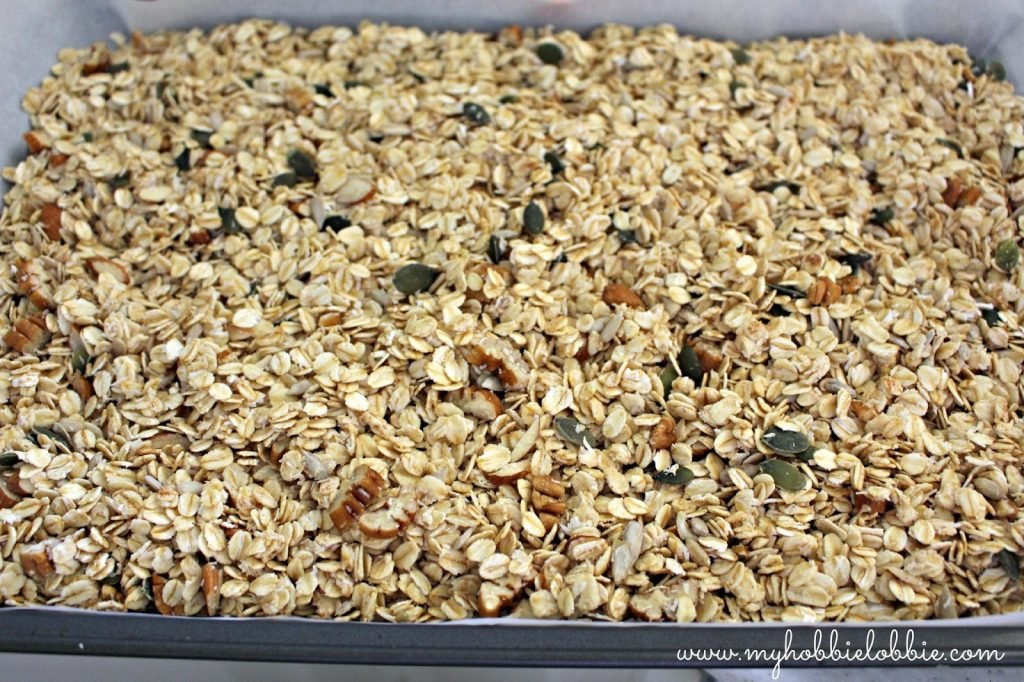 Let the muesli cool down completely before you store it.
A little jar of this homemade muesli prettied up with some ribbon and a little gift tag would make such a nice little gift / hostess gift this holiday season.
For a good breakfast to go option, serve up this muesli with yogurt and some berries. Look at what I found at the store recently; a little Sistema container that lets you keep your muesli and yogurt with berries separate so that it doesn't get soggy. And the little yogurt container has a slot for a spoon too. I'm so glad I found it. I need to pick up one of these for hubby too.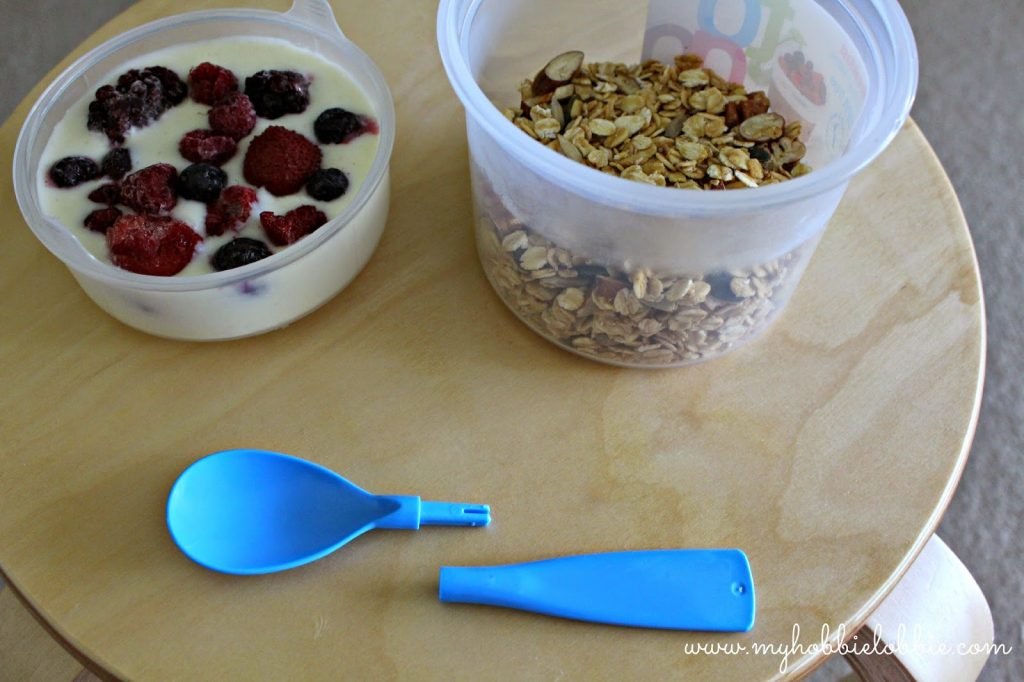 DISCLAIMER: This is NOT a sponsored post. I'm sharing a product that I find amazing with you.
If you'd like to be a part of the Club and join in the reveals, you can read all about it and sign up here.