So, on one of my previous trips to the Sydney markets (Paddy's Markets) at Flemington, I got a really good deal on zucchini. After the success with the
zucchini fritters
, I decided to try and use them in other recipes too. Ofcourse, I made another batch of the fritters, but I also decided to try out these oven baked zucchini fries. I've seen them so often on other blogs and was curious to see how they'd turn out.
Lets get something straight, a zucchini is no potato. Obviously if you're expecting this to taste like the more familiar French Fries, it won't. That being said, these are pretty good in their own right. They made an interesting side and you know they're healthy. These were served with some ketchup and they were gobbled up. 🙂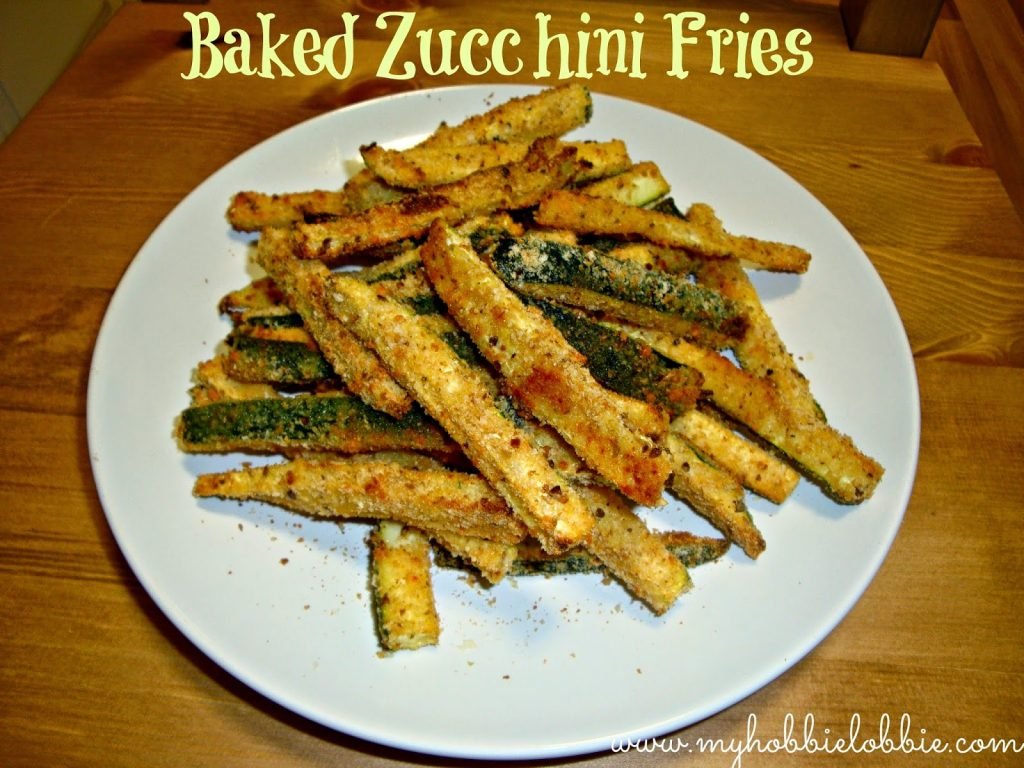 Oven Baked Zucchini Fries
Adapted from: Six Sisters' Stuff


3 zucchinis (weighing about 1lb.)
1/2 cup bread crumbs (approx.)
1/4 cup Parmesan cheese (the recipe recommends the crumbly not the shredded type)
2 eggs
A little salt, to taste
Freshly crushed black pepper, to taste
Preheat the oven to 200°C. Line a baking tray with some aluminium foil.
In a wide and shallow bowl or plate, combine the bread crumbs, cheese, salt and pepper.
In another shallow bowl, whisk the eggs lightly.
Wash the zucchini and trim the ends. Cut into fries. Remember the larger fries will be softer, the thinner fries will have more flavor and be crunchier. I tried to keep them thin. The thinner ones were the best.
Once you've cut them all up, dab with some kitchen paper to absorb all the moisture.
Next, set up a little assembly line starting with the zucchini, the whisked eggs, an empty plate (for the crumbs) and the prepped baking tray.
Work with 2-3 spoons of the bread crumbs at a time to avoid the whole lot getting soggy while you dip the zucchini in it. Put 2-3 spoons of the crumbs into the empty plate.
Working with a few pieces of zucchini at a time, dip them into the egg, shake off the excess, dip into the crumbs and make sure they are well coated and then place them on the baking tray.
Once you are done with all the zucchini, bake for 10-12 minutes. Flip the pieces over and bake for another 10-12 minutes or till the fries are golden brown and crispy.
Serve hot with some ketchup (optional).
I've been craving some good old Indian food, and not just anything, but something along the lines of Chicken Tikka or Tandoori Chicken. So I picked up a 'heat & eat' version of Chicken Tikka at the local supermarket and let me tell you, it was awful, just awful. It looked like the real thing, but tasted nothing like it. It was so disappointing. I knew the only way I was going to get a decent version was to try making it myself. Now I don't have a coal fired barbecue pit yet, so I would have to make do with the oven. Next, I looked around for a while on the internet till I found a recipe that looked and sounded interesting enough to try.
I marinated the meat in the morning and baked it in the oven that evening. Now I know you're thinking, isn't Chicken Tikka usually in the kebab form, cubes of boneless chicken meat on a skewer? I had a couple of pieces of chicken leg (drumstick and thigh attached) in the freezer and I decided to use that. The marinade is a Chicken Tikka one, but the cut of meat used is more a Tangdi kebab (Tangdi = leg). I loved the way this turned out. The meat actually had a little char on the outside but was moist and tender on the inside. That marinade was fantastic, the flavors were perfect. I was thrilled with the result. Now I don't have to rely on the store bought stuff.
My husband loves a good tandoori chicken, or kebabs of any sort really. He was so excited to see this on his dinner plate. He considers himself a connoisseur of kebabs, of sorts and he loved it. So I know I'm onto something good here. This recipe is a keeper. Serve this with some
naan
and a
raita
and treat yourself to a good homemade Indian meal.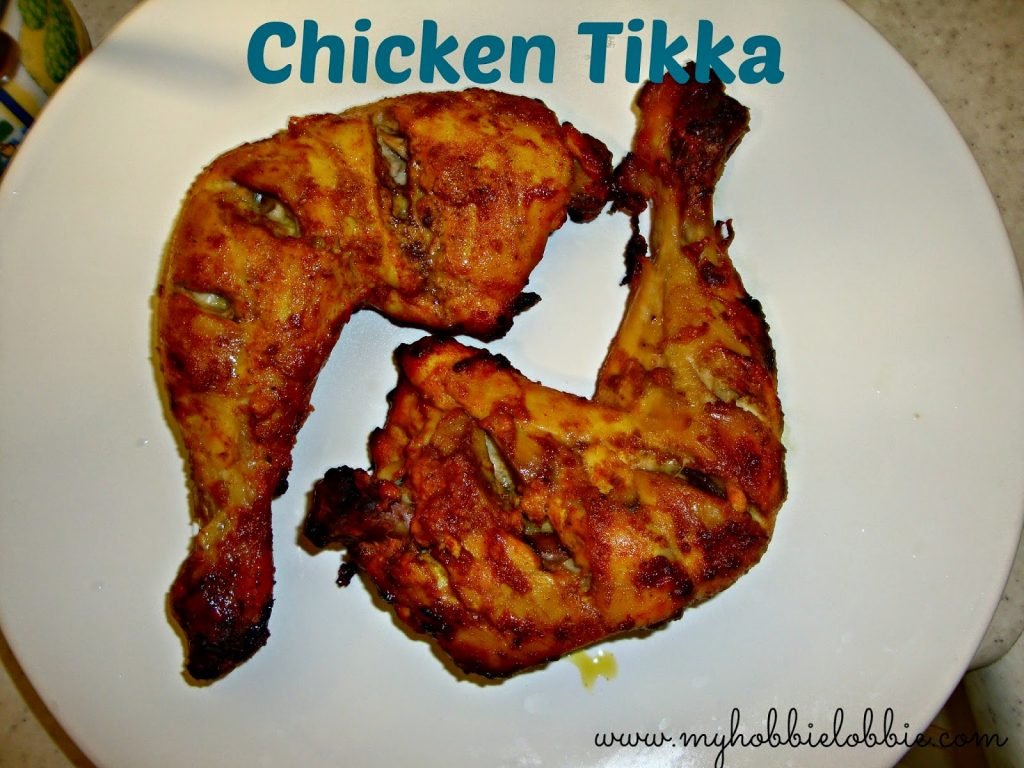 Chicken Tikka
2 chicken legs (you could also use boneless chicken cubes)
1/4 cup plain yogurt
1 tsp garlic, finely chopped
1 tsp ginger, finely chopped
1 tsp coriander powder
1/2 tsp cumin powder
1 tsp Kashmiri chilly powder (or used a mild red chilly powder)
1/2 tsp salt
1/4 tsp garam masala
1/4 tsp turmeric powder
Mix all the spices with the yogurt.
Make a couple of deep slits with a sharp knife in the thigh and the drumstick on both sides. Marinade the chicken with the yogurt and spice mix. Cover with some cling film and leave it in the refrigerator overnight.
When you are ready to cook it, preheat the oven to 180°.
Discard the excess marinade and place the chicken on a foil-lined baking tray, for easier clean up. Bake for about 20 minutes. Baste the chicken with a little olive oil.
Turn over and cook for another 15-20 minutes or till the juices run clear (the time will depend on the size of the chicken pieces), when the flesh near the joint is pierced with a knife. (The internal temperature of the chicken should have reached 165°, if you are using a meat thermometer). Baste midway if needed.
Enjoy!!!
Notes:
1) If you are using boneless chicken cubes, and you intend using bamboo skewers, soak the skewers in cold water for about half an hour to prevent it from burning in the oven.
2) Also, the cooking time for the cubes will be lesser.
With another month simply flying by, we find ourselves at yet another
SRC
reveal. I still can't believe it is June already, the first half of this year has sure gone by really fast. Is anyone else thinking about Christmas? I am, see its winter here in Sydney and my brain still hasn't gotten used to a Summer Christmas. So with this beautiful cooler weather, I find myself thinking of Christmas more often than I should.
Anyway, back to SRC. This month I was assigned an amazing blog called "The Pajama Chef", written by Sarah. Please go over and say Hi to Sarah. She loves cooking, baking and running. Along with her husband Ben, she has 2 precious kitties, Sheba Genevieve and Misty Morning Fog. How cute are those names! And just wait till you see their pictures. 🙂
Sarah has some wonderful recipes. I was truly inspired. She has a bunch of quick, healthy packed lunch ideas, and since I've just started a new job, I know I'll have a chance to try them soon. I had a wide variety of recipes to choose from, but I was drawn to her coffee cake recipes, like this Royal Berry Coffee Cake, and this Lemon Blueberry Bread and this Cinnamon Sugar Apple Cake. I had some apples at hand from my last trip to the Flemington Markets, so I decided to try out the Cinnamon Sugar Apple Cake and you can imagine how wonderful my house smelt while this cake was in the oven. That was a good start but what came after was better than I could ever imagine. The cake was beautifully moist and light and the topping flavorful and crunchy. This one is a definite keeper. I'm happy I can use apples for something other than my usual Apple Pie. Thank you Sarah, for sharing this wonderful recipe.
Like Sarah, I didn't have any buttermilk. I thought I did, but I was wrong. Anyway, I did the next best thing, in a one cup measuring cup, put in one tbsp fresh lemon juice and top with milk to fill the one cup. Let it stand for 2 minutes and use it in the recipe.
Also I didn't have a 9×13 pan so I used a smaller pan. It resulted in a taller cake and slightly longer baking time. But I think the 9×13 pan would result in a nice sheet cake.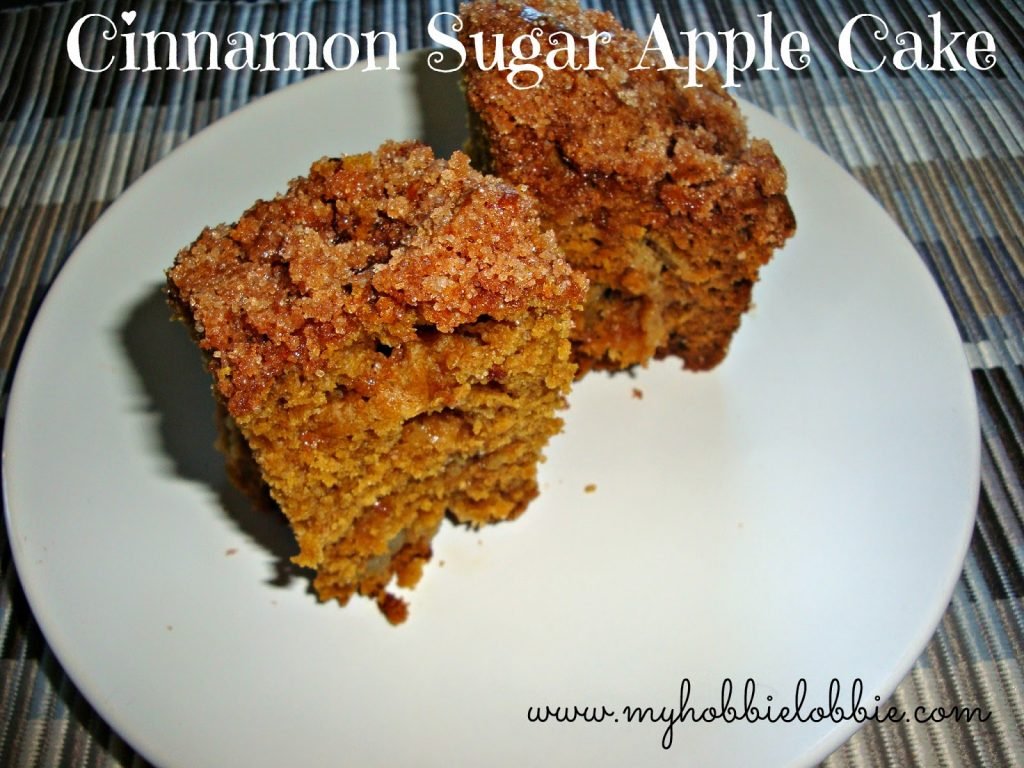 Cinnamon Sugar Apple Cake


For the cake –
1 1/2 cups brown sugar
1/3 cup Canola oil
1 egg
1 cup buttermilk (I was out, so I used the substitution mentioned above)
1 tsp Vanilla
1 tsp baking soda
2 1/2 cups all-purpose flour
1 1/2 cups chopped apples (I used 1 large Granny Smith with the skin on)
A pinch of salt (The original recipe doesn't use it, but I think it makes the flavors pop)
For the topping –
1 tbsp butter, melted
1 tsp cinnamon powder
1/2 cup sugar
Preheat the oven to 180°. Lightly grease the cake pan you are using.
In a large mixing bowl, whisk together the brown sugar, oil, egg and buttermilk and salt.
Add the vanilla and baking soda.
Fold in flour and chopped apples.
Pour the batter into the prepped cake pan.
To make the topping, in a small bowl mix the sugar and cinnamon. Add the melted better and mix through with a fork. Evenly sprinkle over the batter.
Bake for about 40-45 minutes or till done.