We're at another delicious reveal for the
Secret Recipe Club
– Group A. This month, my assigned blog was
Renee's Kitchen Adventures
. I had such a fun time looking through Renee's blog which is full of great recipes that are both, delicious and healthy. She is part of the Weight Watchers group and has had a lot of ongoing success with it. I've been trying to add such recipes to my repertoire so it was almost like destiny to receive this blog. For the reveal, I was torn between the
Grilled Jerk Chicken Thighs
, these
Mini NY Style Cheesecakes
, her mouth watering
Lightened up Salisbury Steak
and these little gems called
Almond Joy Shortbread Cookies
among many more. But when I saw her post on these
Bursting Berry Muffins
, I was sold. With a name like that and a picture to go with it, there was no way I could turn it down.
I happened to have some mixed frozen berries on hand and apart from smoothies, I was looking forward to using them in other recipes. This one was perfect. One thing I should mention before we begin is while Renee's recipe is a low fat one, I used the regular versions of yogurt, buttermilk etc. since I already had them on hand and didn't want to let them go to waste. So if you are looking for a healthier take on this recipe, please follow the original recipe on her blog. Also, the recipe calls for almond extract. I didn't have any so I used vanilla instead. I loved how simple and easy these muffins were to put together. The batter came together really quick and after spending 15-20 minutes in the oven, I had a batch of pretty muffins ready. We tried these with a nice hot cup of coffee in the afternoon and they were perfect for the cooler weather setting
in here. They were delicious. They were not too sweet either, just perfect.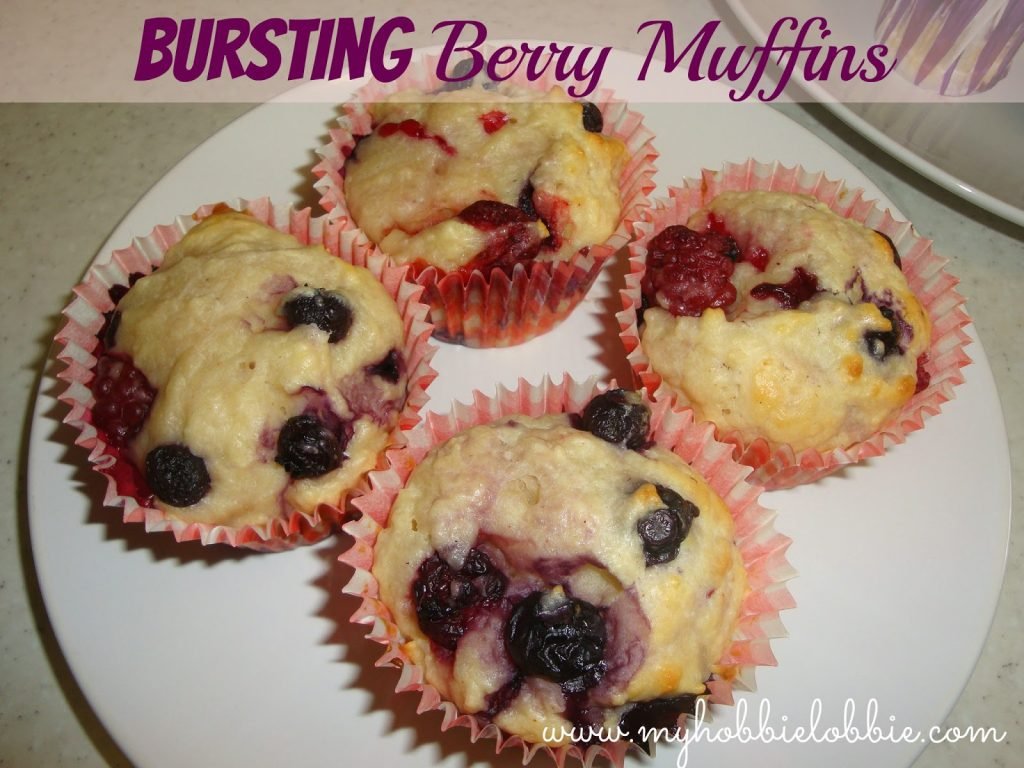 Bursting Berry Muffins


2 cups all purpose flour
1/2 cup sugar
1 tsp baking powder (the original recipe calls for 1 tbsp, but I wasn't sure about adding that much)
1/2 tsp salt
1/2 tsp cinnamon powder
2 eggs
1 cup Greek yogurt
1/4 cup buttermilk
2 tbsp Canola oil
1/2 tsp vanilla extract
1 cup frozen mixed berries (I had a pack of Nanna's mixed berries, but I left out the larger strawberries)
Preheat the oven to 180°C.
Place paper liners in a muffin tin.
Place the flour, sugar, baking powder, salt and cinnamon powder in a large mixing bowl.
In a smaller bowl, add the eggs, Greek yogurt, buttermilk, oil and extract and whisk well till combined.
Gently mix the wet ingredients with the dry. Do NOT over-mix. (Overmixing results in a tougher product.)
Fold in the frozen berries lightly.
Spoon the batter into the muffin tins and bake for 15-20 minutes or till a toothpick inserted in the center of a muffin comes out clean. (If you happen to pierce a berry, wipe the pick and try another spot, you are checking for the doneness of the batter.)
Enjoy!
I also made some mini muffins. They look kinda groovy, don't they? I love the color that the berries add to the muffins. So pretty!