I was so excited when I received my blog assignment for this
SRC
reveal. I mean, who wouldn't be? Especially when the blog you've been assigned has a name like –
Searching for Dessert
. The lovely Shannon, authors this blog, and boy, does she have an impressive background – she's recently graduated from Le Cordon Bleu College with a bachelor's degree in Culinary Management. She also has an associate's degree in Baking & Pastry Arts. I've got to be honest, when I read this, I was more than a little nervous, I wanted to do her recipes justice, and wasn't sure if I would.
Anyway, I figured, this would be a huge learning experience for me. So off I went to try picking out a recipe. I was spoiled for choice, ranging from breads to cakes and cookies, to desserts as well as some savory meatless dishes, I had a lot of options, making my decision a really hard one. That being said, there's something for everyone. So do go over and say Hi to Shannon, will you? But be warned, that impressive recipe index is not for the faint hearted 😉
After a lot of looking and considering and re-considering and then considering some more, I settled on these little pretties for this months reveal. Some of you already know, I love me my apple pie. And when I saw this cute little version of it, I was sold. I already had all the ingredients on hand, so one afternoon, I decided that we were going to have apple pie with our evening tea. These pies are so easy to make, but they do take a little time, since they are individual portions. I made a few of these dainty sized ones and then, embarrassing as this may sound, I got lazy and decided to go with some that were larger than the others. By the time I got to the larger ones, I realized that the filling had no cinnamon in it. I simply had to add cinnamon, you see, for me the smell of cinnamon IS apple pie and I couldn't see myself having apple pie without it, so I simply sprinkled some cinnamon powder over the filling before sealing it up. Within no time, I had the pies in the oven and waited eagerly for them to be done. We tried a few of them when they were still warm and I have to tell you, I was so happy with them. The crust was beautiful (maybe even the best I've had or made so far), the filling was mildly sweet (just the way we like it), they looked lovely and made for easily portions without the bother of cutting. These are definitely going to make an appearance on more than a few occasions. Thanks Shannon, this one's a keeper.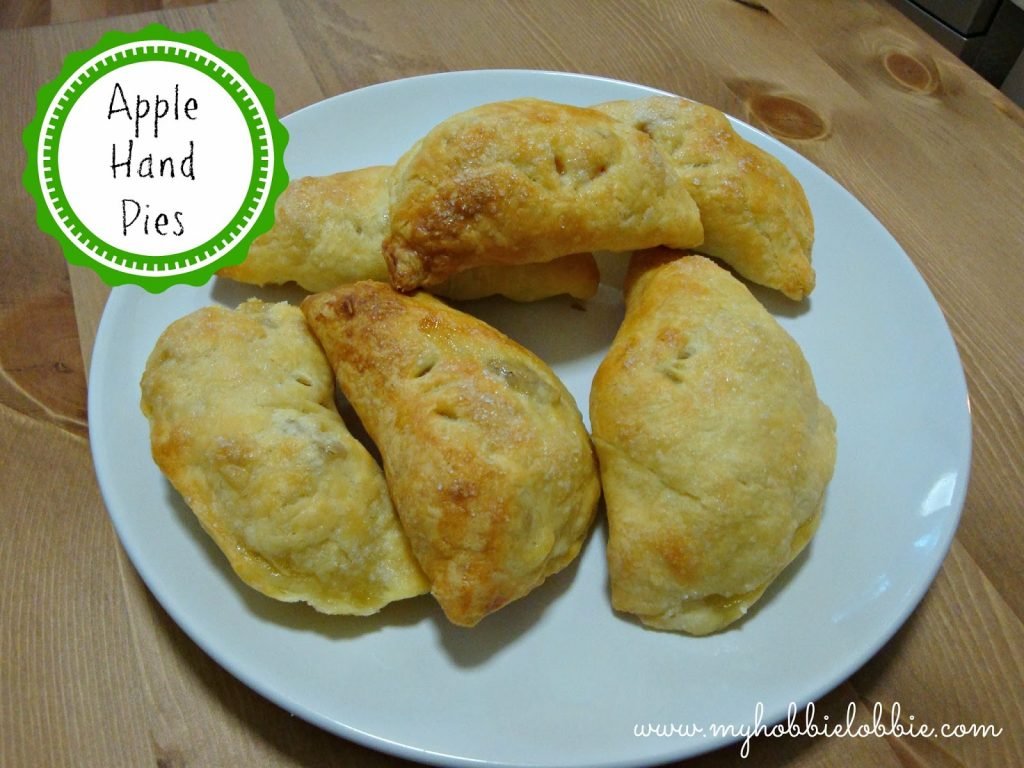 Apple Hand Pies
For the crust –
1 1/2 cups all-purpose flour
1/2 tsp salt
1/2 cup + 2 tbsp cold unsalted butter, cubed
1 egg
1 1/2 tsp vinegar (I used apple cider vinegar)
2 1/2 tbsp water
For the filling –
1 1/2 cups apples (I used 1 1/2 local Aussie apples)
2 tbsp granulated sugar
3/4 tbsp all-purpose flour
1/8 tsp salt
1/4 tsp lemon juice
Cinnamon powder, to taste
Some milk
Granulated sugar
For the crust –
Sprinkle the salt into the flour and mix well.
Rub the butter into the flour till it resembles coarse, wet sand.
Mix the egg, water and vinegar in a bowl.
Add to the flour and mix gently till it just about comes together. Do not knead too much or heavily – or you wont get a short pastry.
On a lightly floured surface, turn the dough over and lightly bring it together. Wrap in cling film and flatten to a disc. Refrigerate for about half an hour.
Preheat the oven to 180ºC.
Dice the apples into 1/4″ pieces and place in a bowl along with the lime, salt, flour and sugar. Stir well, making sure the apple pieces are well coated. You could add some cinnamon powder to the mix at this stage. Since I forgot to, I just sprinkled some over the filling before sealing the pies.
Place a cooling rack onto a cookie tray lined with foil. This ensures you get a lovely crisp crust and quick cleanup. Brush some butter on the cooling rack.
When the dough has been in the fridge for about 30 minutes, roll out to 1/4″ thickness and cut into 3 1/2 " circles.
Place some filling in the middle of the disc and fold the dough over to form a half moon shape. Seal the edges well and place the pies on the cooling rack on the pan. Repeat with the other hand pies.
Brush the hand pies with a little milk and sprinkle some sugar over it. Make 3 little slits on the top of the hand pies.
Bake for 30 minutes or till the crust is beautifully golden brown.
Remove from the oven and gently loosen from the rack. Cool.
Enjoy!!!
If anyone wants a peek at the slightly bigger version of these hand pies, here it is –