Welcome to a special edition of the Secret Recipe Club. As some of you know, I've been a part of this super fun club for a couple of years now and needless to say I love every minute of it. This month you would have noticed, this is my second post for the club. This post is a little different. Our brave leader, Sarah of Fastantical Sharing of Recipes came up with the brilliant suggestion that in time for Christmas, we should get together across our 4 groups and do a Cookie post. I can't wait to see what everyone comes up with.
For this special reveal of the SRC, I was assigned Lauren's blog 'Sew You Think You Can Cook' – what a clever name; I do love a good pun. Get this Lauren is an aerospace engineer and hopes to become a caterer one day. Not only does she cook, but she also crafts – quilting, cross stitch and scrapbooking, to name a few. I like that because I love to dabble in a few crafts myself. Like me she loves Holiday decorations. I think we'd get along very well. I enjoy cross stitch but have never tried my hand at quilting. But after checking out a few tutorials on Lauren's blog, I am so tempted. I think I will soon try my hand at it. 🙂
For now however, I will have to be satisfied just baking one of her cookie recipes. And when I saw her recipe for Ginger Molasses Cookies, I knew I was going to make it. I love a good Gingersnap cookie, have loved them since I was a child, and the mild spices seem perfect for Christmas.
Just a couple of changes to the recipe. The original one uses unsalted butter and 1/2 tsp salt. I just used salted butter, since thats all I had, and I left out the salt. Also, I used treacle instead of molasses. I couldn't find molasses in any of the local store here; shocking (I think) at this time of the year.
The cookies were lovely. Crunchy on the outside and slightly chewy on the inside, with just the right amount of sweetness. The only change I will make the next time I make these cookies, will be to cut down on the ground cloves. It was a little strong for me. But overall, this recipe is a keeper. Thank you Lauren, for sharing this recipe.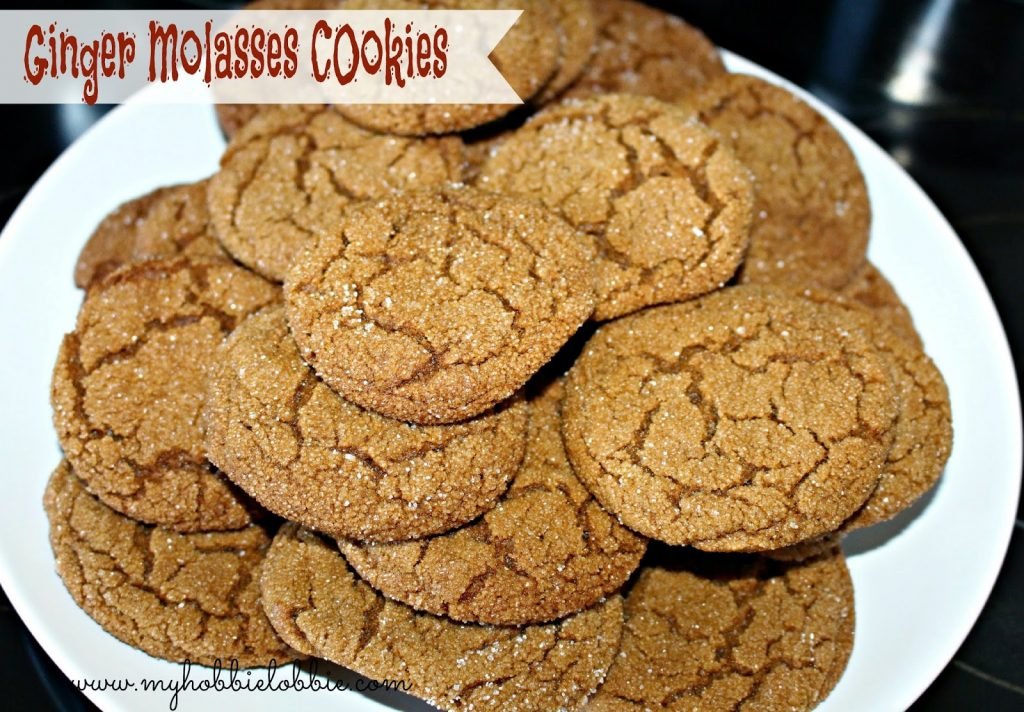 Ginger Molasses Cookies


115g butter
1/2 cup sugar, plus more for rolling the cookies in
1 cup brown sugar
1/3 cup molasses
2 egg whites
2 1/2 cups flour
1 1/2 tsp baking soda
3/4 tsp cinnamon
1 tsp ground ginger
Preheat your oven to 180°C.
Beat the butter and sugars till combined.
Add the molasses and mix.
And the egg whites and mix till combined.
In another bowl, mix the dry ingredients, namely the flour, baking soda and spices.
Add the dry ingredients to the butter-sugar mix in two parts, mixing well between each addition.
Roll the dough into 1″ balls.
Roll the balls in some granulated white sugar.
Place on a parchment lined baking sheet.
Bake for about 10-12 minutes.
Leave the cookies to cool off on the tray.
Enjoy!
NOTE:
If you find the dough too sticky to handle, refrigerate the dough for about 5 minutes and then try.
Welcome to this months edition of the
Secret Recipe Club
. This month I was assigned Claire's blog –
Claire K Creations
. Claire is from Australia and it is so much fun teaming up with another Aussie blog. She has loads of recipes, posts on local farmers markets and some posts on crafts and gardening that I really enjoyed reading. I must start off by saying I love-love-LOVE Claire's blog. I wanted to make every single recipe I saw. I had such a hard time picking a recipe for this month's reveal. Check out her recipe index and you'll see what I'm talking about. I love Claire's posts on snacks and food that people usually pick up in the freezer aisle that can be made at home and honestly, looks (and I'm very sure, tastes) so much better than store bought. I've bookmarked her recipes for
Party Pies
,
Healthy Savory Mince Pies
,
Ham Cheese & Chive Quiche
and this
Ham & Vegetable Fritata
to try out soon. Oh, and did I mention that I have a list of other bakes and treats that I've bookmarked too. Thanks for the inspiration Claire! You've found a new follower in me 🙂
For this months reveal, I decided to try out her recipe for Macadamia toasted muesli. Very recently, I had tried out some muesli with pecans in it and I quite liked it. So I decided to swap in pecans for the macadamia. My next batch will be a macadamia one for sure. I have made muesli at home before. But what I really like about this recipe is that there is no added sugar. It just uses a bit of apple juice for sweetness and moisture. I used a juice without added sugar. It was really easy to whip up a batch. I don't know why I haven't been making my own muesli more often. Just four easy steps and pop it in the oven.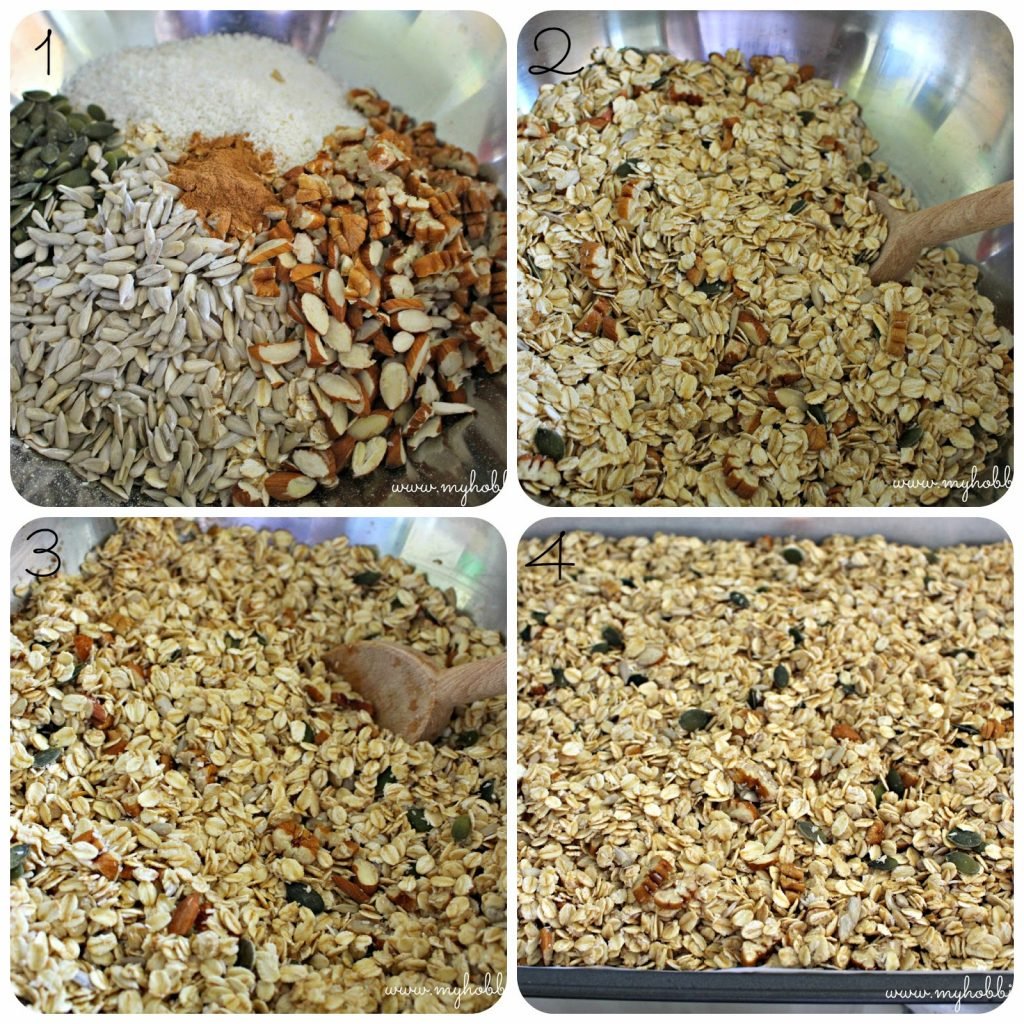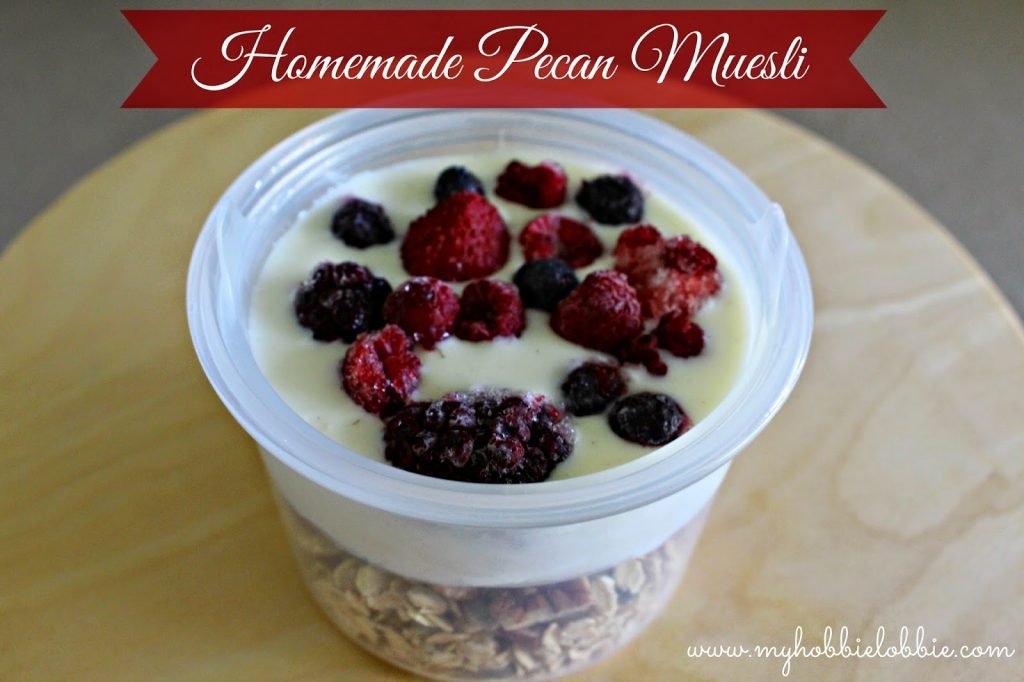 Homemade Pecan Muesli
3 cups rolled oats
1/4 cup dessicated coconut
1/2 cup mixed seeds and nuts (I used equal quantities of pepitas, sunflower seeds and chopped almonds)
1/4 cup chopped pecans
1 tsp cinnamon powder
1/2 cup apple juice
1. Measure out your dry ingredients in a large mixing bowl.
2. Mix the dry ingredients in the bowl.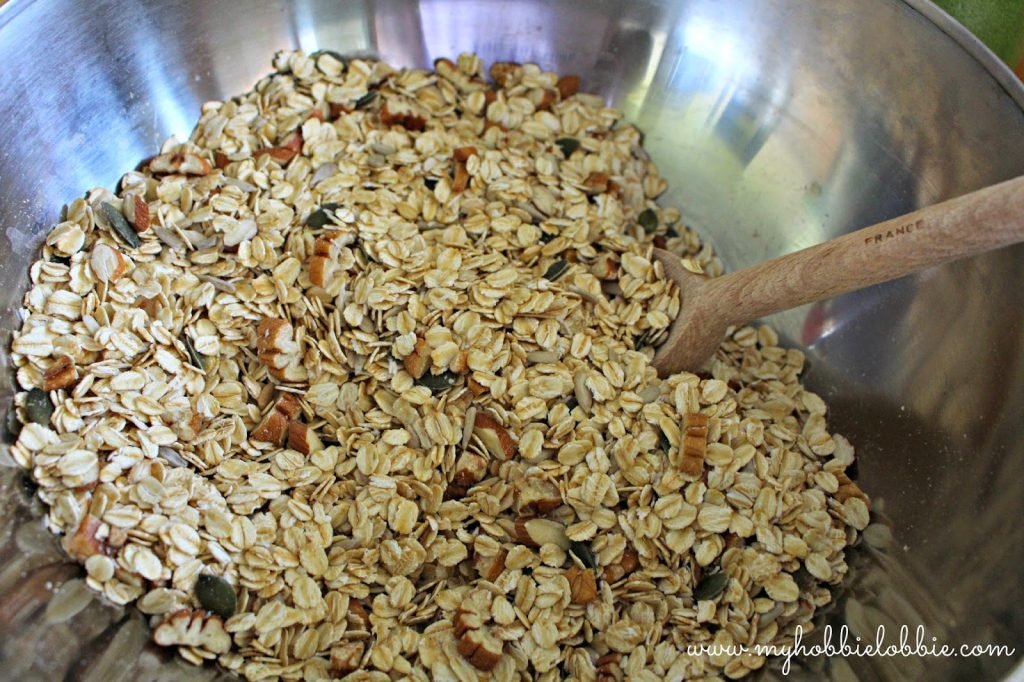 3. Add the apple juice to the dry ingredients and stir through.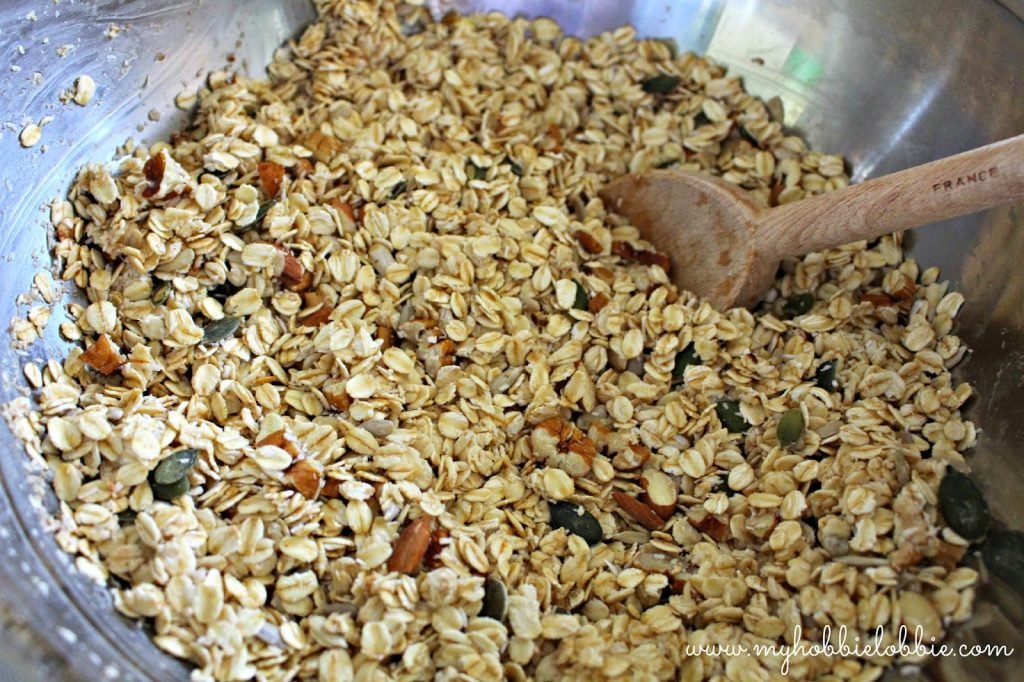 4. Place the m
ix o
n a baking tray that has been lined with baking paper and bake @120°C for an hour. Stir through with a fork every 15 minutes while it is baking to make sure the ingredients at the bottom get their time on the top to toast off nicely.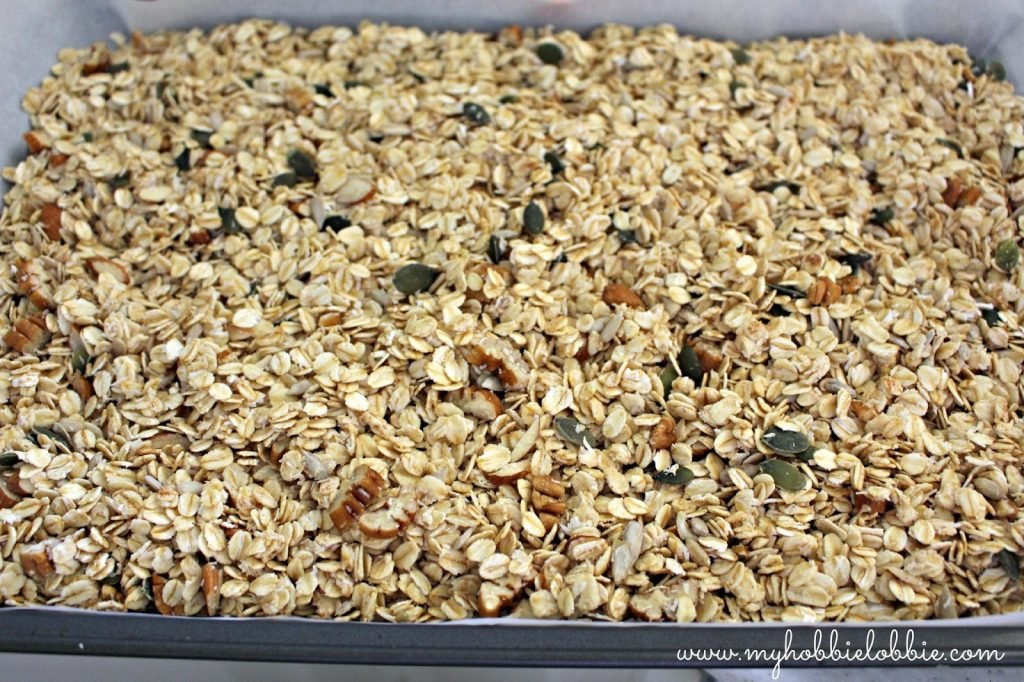 Let the muesli cool down completely before you store it.
A little jar of this homemade muesli prettied up with some ribbon and a little gift tag would make such a nice little gift / hostess gift this holiday season.
For a good breakfast to go option, serve up this muesli with yogurt and some berries. Look at what I found at the store recently; a little Sistema container that lets you keep your muesli and yogurt with berries separate so that it doesn't get soggy. And the little yogurt container has a slot for a spoon too. I'm so glad I found it. I need to pick up one of these for hubby too.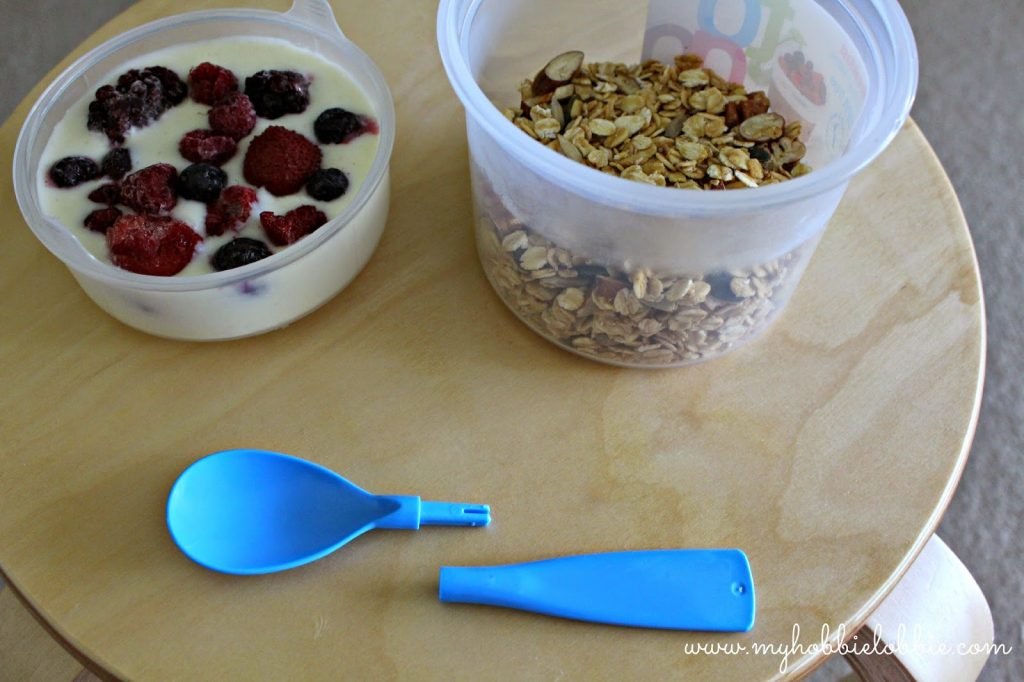 DISCLAIMER: This is NOT a sponsored post. I'm sharing a product that I find amazing with you.
If you'd like to be a part of the Club and join in the reveals, you can read all about it and sign up here.
You're probably wondering why I'm posting an apple crisp recipe in the middle of Spring. Well, you know the last few months have been super busy and I haven't been regular with the posts here. Today, I have a little time on my hands and was looking through some of the pictures I've taken of posts I'm hoping to get done soon and this one jumped out. I realized I hadn't shared this recipe with you yet and I thought it would be a good opportunity to do that. You see, like I've said in the past, I have been cooking and baking, I just haven't gotten around to posting yet.
I know while we're enjoying the slight warming of the weather, most of you are in the middle of autumn / fall and you should have plentiful access to some apples. Now, I've had my share of apple cobblers and pies before, but this little dessert is in a league of its own. The crisp almond topping adds a whole new dimension to the apple-cinnamon mix. Its adds some crunch and pairs with the apples so well, you have to eat it to believe it. In the picture, I've only captured the crisp, but you could serve it up with some vanilla custard or some lovely vanilla bean ice cream.
The only thing I did differently, is I left the skin on the apples. But if you don't like it, you could peel them. Oh yeah, I also left out the nutmeg. This recipe is a sure keeper. I see myself making this over and over again.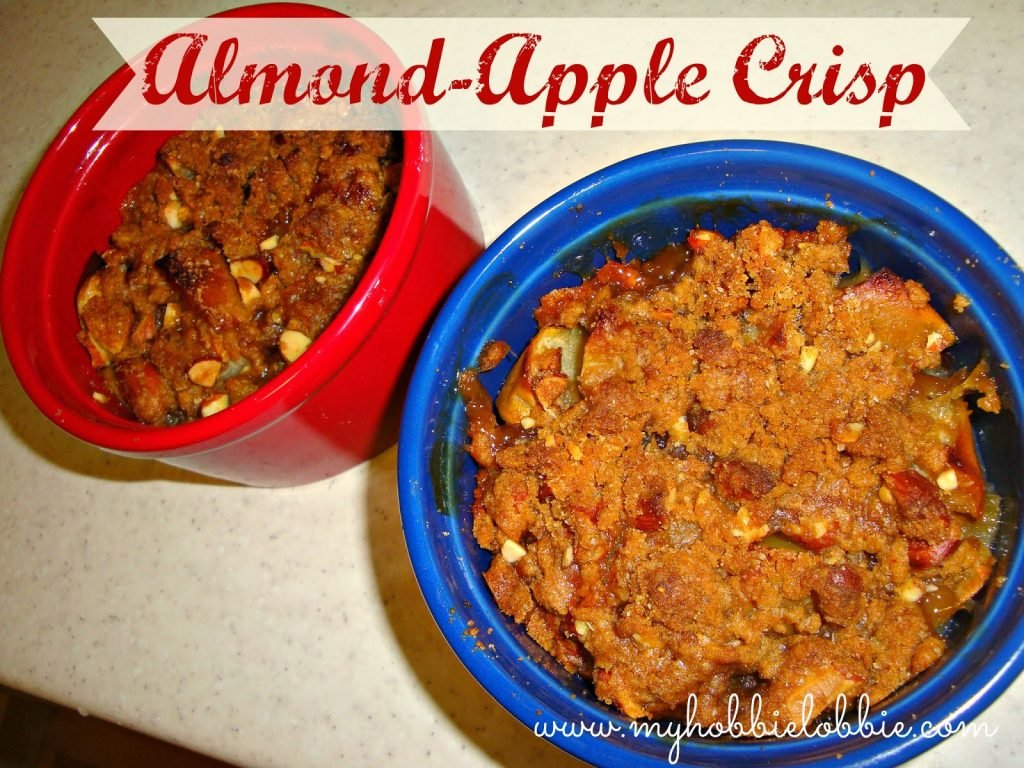 Almond-Apple Crisp
(Recipe from: Brown Eyed Baker)
For the apple filling –
1 1/2 pounds Granny Smith apples, cored and chopped into small pieces
1 1/2 pounds Red Delicious / Gala apples
1/2 tsp cornstarch
4 tsp lemon juice
2/3 cup sugar
A pinch of salt
A pinch of cinnamon powder
For the Almond Crisp topping –
3/4 cup all purpose flour
3/4 cup light brown sugar
1/2 cup slivered almonds, crumbled with your fingers
1/2 tsp salt
1 1/2 tsp cinnamon powder
1/2 cup cold butter, cut into small cubes
Preheat the oven to 180°C.
To make the filling –
Stir the cornstarch and the lemon juice in a large bowl till it dissolves.
Add the apples, sugar, salt and cinnamon and toss well to combine.
Pour the mix into and 8″ square baking dish. I did that and had some left over so I used a couple of ramekins.
To make the topping –
In a medium bowl, whisk the dry ingredients together.
Rub the butter into this mix, by using your fingers till it resembles coarse crumbs.
Sprinkle the topping evenly over the apple mix.
Bake for 50-55 minutes or until the topping is golden brown.
Enjoy!!!
For some more apple inspiration, try these recipes –
Apple Pie
Baked Apple Chips
Cinnamon Sugar Apple Cake
Apple Hand Pies
This has got to be one of the quickest recipes I've come across. Its taken me longer to write up this post than to make this fresh salsa. If you haven't realized by now, I really like my tortilla chips and nachos. You might remember my homemade version from
here
. Even though tortilla chips are easily available all over the place here in Australia, I somehow still prefer the homemade version. For this post, you'll see a store bought option pictured. I just need a little time to whip up a homemade batch, it is so much better; tastier and you know exactly whats in it.
But today we're here to talk not about the chips, but this really yummy salsa dip. A while ago, I'd picked up a jar from the local supermarket, that claimed to be 'Hot'. I love spicy stuff, so I thought this would really hit the spot. What I love about Mexican food is the spice from the chillies and peppers and the tang from the lemon and tomatoes. Much to my disappointment, this store bought salsa was neither 'Hot' nor tangy. I knew I had to figure out a way to get my hands on something better. So when I came across this recipe for a blender version of Salsa, I decided to try it out. It was too quick and easy a recipe to pass up. And am I glad I tried this out. The salsa was fresh, packed full of flavor, you can easily adjust the spice levels to your liking. It was everything a good salsa should be. I sure hope you try it out.
The picture doesn't do it much justice. It was fairly late in the evening when it was taken. I hope to get a better picture up sometime soon.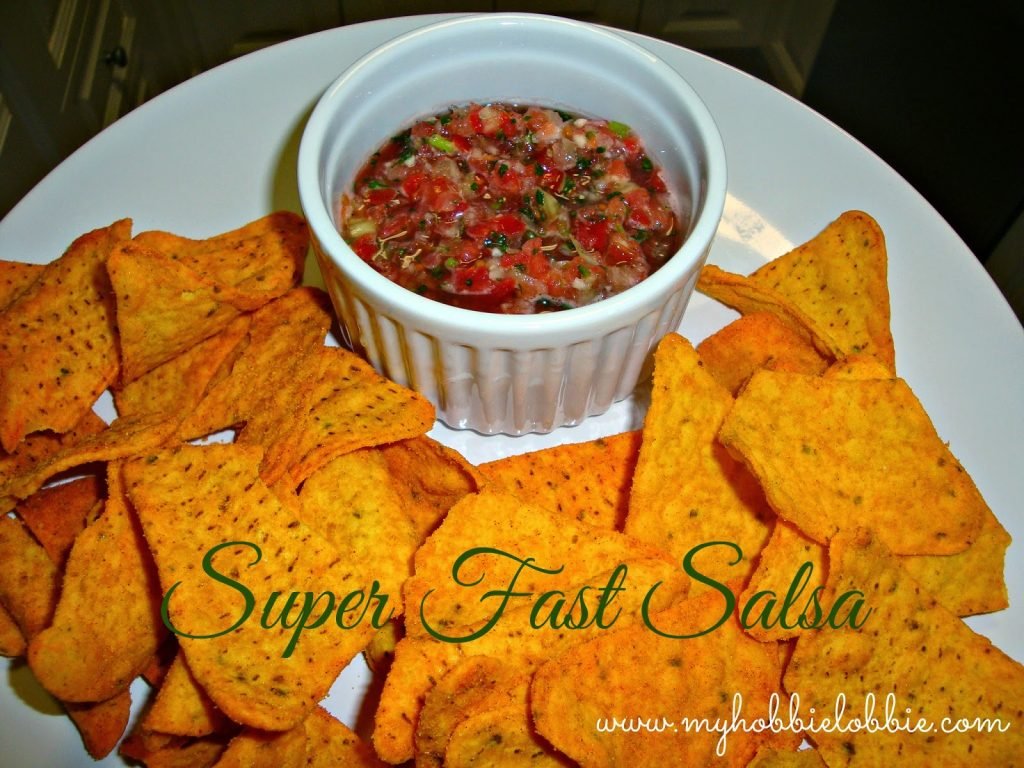 Super Fast Salsa
(Adapted from: Barbara Bakes)
1 clove of garlic
1/4 onion, roughly chopped
2 -3 tomatoes, roughly chopped
Fresh coriander leaves with stalks
Lime juice, to taste
Salt, to taste
Place all the ingredients in the food processor.
Pulse till it reaches the consistency you like and is combined.
Adjust the salt and lime if needed.
Enjoy!
Welcome to this month's edition of the
Secret Recipe Club
, what we lovingly call the SRC. For those of you visiting my site for the first time, SRC is a fun group of bloggers that come together once a month, and prepare one recipe from a pre-assigned blog and write up a post about it on the reveal day. Its sort of a Secret Santa for food bloggers.
This month, I was assigned the blog,
BC Mom's Kitchen
. What a fun blog. Anna, aka BC mom is a girl after my own heart. She looks for recipes that are quick and easy to make, without compromising on flavor. That is my food mantra, the kind of food I love to cook. After looking around for a bit, two recipes caught my eye, one was her recipe for
Stuffed Chicken Breasts
(which I will try soon, I've picked up all the ingredients for it) and a curious recipe called
Iced Caps
.
With summer kicking in here, I decided to go for a nice chilled treat – the Iced Caps. I've never heard of it called by that name before, but it looked like an interesting twist on the good old Cold Coffee, one of my all time favorites and its been that way for a long time. I've just not had one in ages. I couldn't let an opportunity like this pass me by. I had all the ingredients I needed at hand and chances are you will too. So if you're looking for a nice cool treat, you could be sitting down with a nice cool glass in sheer minutes. While it is simple to make, not to mention quick, don't let it fool you. I've made this a couple of times already and I get the feeling that I will make this a few more times, atleast, this summer. I've made it with and without the vanilla and I like it both ways. It turns out surprisingly creamy, yet not too heavy, with a nice kick of coffee. Thanks Anna, for the inspiration. This one is a keeper in my books.
I stuck to the recipe but I did make a double portion, because I knew my husband would want to try it out too. And try it he did. Let's just say we're really happy to have tried this recipe out.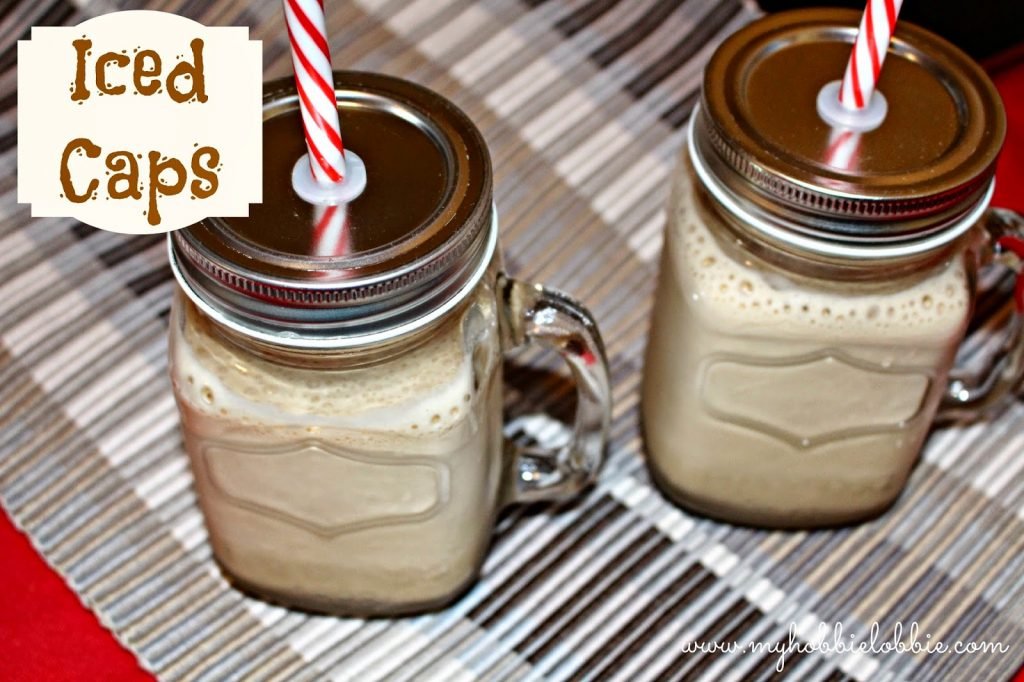 Iced Caps
(2 serves)
2 cups of milk (I used full cream)
2 tsp instant coffee
1 tsp vanilla
8 tsp sugar
12-15 ice cubes
Place all the ingredients in a blender and blitz till the ice has crushed.
Serve up chilled.
Enjoy!!!
2 posts in 2 days …. your probably wondering if thats even possible. I know I am. But I am going to find the time to catch up with my posts from now on. So, thank you for sticking around and being so patient. You will find more regular posts here from now on, compared to the last couple of months. I have been cooking and baking a whole lot, I just haven't had the time to share it with you. But fingers crossed, thats going to change.
Okay, so yesterday, I shared with you a treat that I've only recently learned to make, the humble cruchy vadas or
deep friend lentil fritters
. We enjoyed these so much, I decided to try and use these in another popular Indian treat, the Dahi wada. (Dahi-meaning yogurt and wada – fritters). Essentially, Dahi wadas are little fritters dunked in some seasoned yogurt with a little flavoring to take it to that next level of yum.
I know that the dahi wada purists will frown on my method, but it works for me and it is really delicious. Delicious enough to have converted an aunt of mine who was visiting. She never has dahi wadas when it is up for grabs at parties, buffets or at Indian restaurants because of a couple of unpleasant experiences she's had previously. She claimed that these looked fantastic and she couldn't go past it without trying some and turns out she loved it. I even gave her some to take home and enjoy later.
What I did was, made up one batch of the the
lentil fritters
. We had half of it with some chutney and I used the other half to make these dahi wadas.
This is not an exact recipe, but some guidelines. You need to tweak it to suit your liking. Its a little sweet, a little savory and a little tangy all at the same time.
In this instance, I used some store bought freeze dried coriander since I could not get my hands on any fresh coriander. But use fresh if you can. I'm happy to have found this little treasure pot. I keep one at hand for times when I can't find the fresh stuff.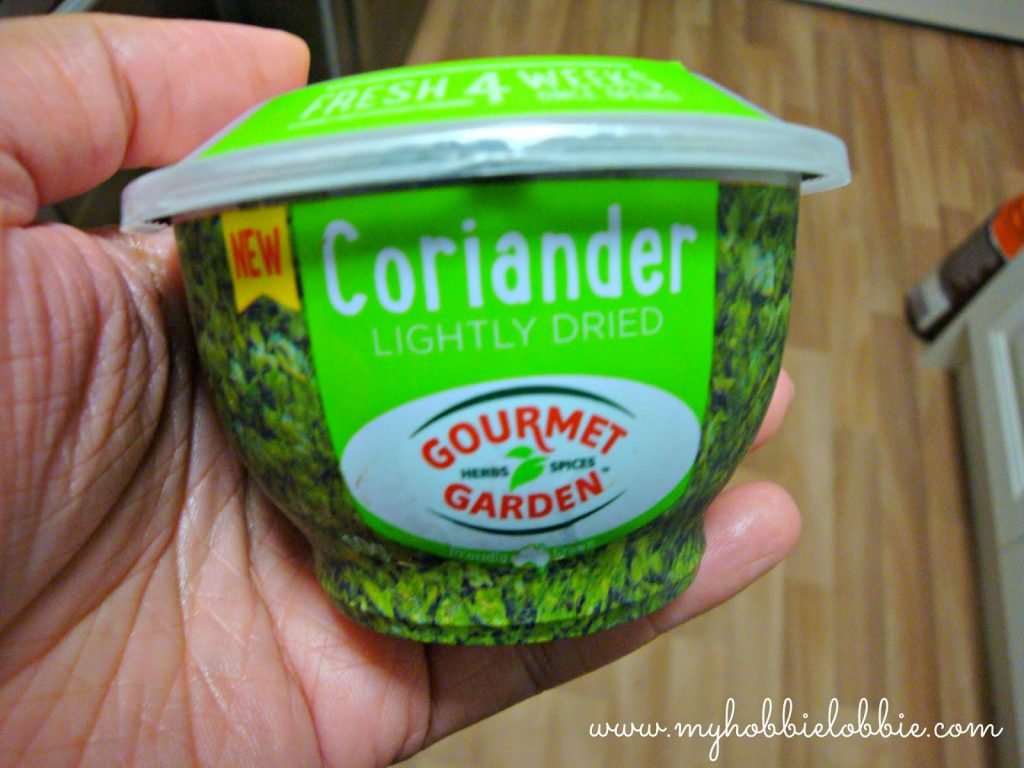 Another time saver is this bottled Date and Tamarind Chutney, found at any Indian store in Sydney. Again, I'd prefer to use a home made variant, which is tastier and has better consistency, but if you're in a pinch, this will work fine. If you'd like to make your own little jar at home, you can find the recipe here –
Tamarind and Date Chutney
.
Now on to the Dahi wada. Here's what the end result will look like – delish!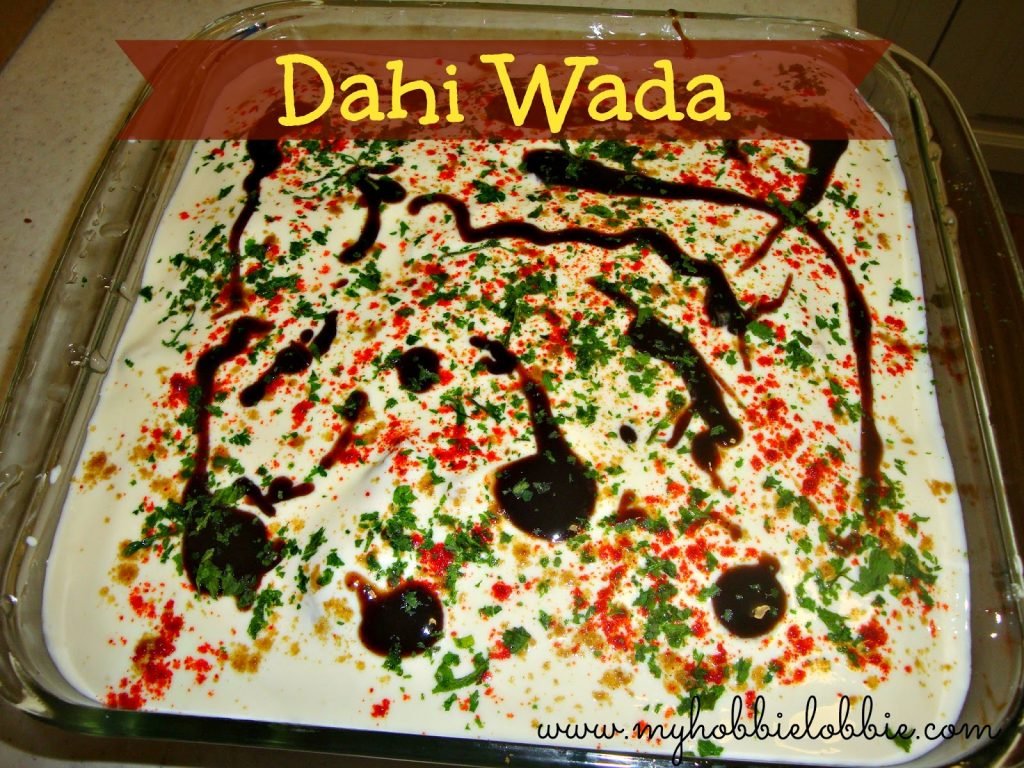 Dahi Wada
Deep-fried lentil fritters
A bowl of hot water
1 tub of Greek yogurt
Salt, to taste
Sugar, to taste
Red Chilly powder, to taste
Cumin powder, to taste
Tamarind Date Chutney, to drizzle over, to taste
Fresh coriander chopped/ freeze dried coriander, to garnish
Mint Chutney
(Not used here, but can be used, if desired, to taste)
Take hot water in a large bowl.
Dunk the warm wadas in the water and keep it submerged in the water for a little while (1/2 a minute or so) till it has absorbed a fair bit of water.
Place the soaked wada between the palms of both hands and press firmly to drain all the water out. (We do this to get rid of any excess oil as well as to make the wada more absorbent – that way it takes in more flavor of the yogurt.) Continue with the rest of the fritters. Place in the serving dish or platter in a single layer.
In a large bow, beat the yogurt. Add salt to taste and some sugar. It should lightly sweeten the yogurt but not make it too sweet. Add a splash of water and whisk the yogurt. You need to add the water gradually till you get a thick pouring consistency. (Somewhat like a pouring custard consistency.) In all, you need enough yogurt to cover the fritters completely and generously.
Pour this yogurt over the fritters till you have covered them well.
Sprinkle some red chilly powder, cumin powder and drizzle some Tamarind Date Chutney and Mint Chutney (not used here but can be added if desired) over.
Garnish with a sprinkling of chopped coriander.
Refrigerate for a little while, atleast half an hour to let the flavors build and then serve chilled.
This makes a nice refreshing snack for a warm summers day, or if you are like me, its perfect any day of the year.
Enjoy!
NOTE: This is NOT a sponsored post. I haven't been approached or compensated by Gourmet Garden or Pattu or any stores that stock them. These are just products that I happen to be using at the moment and work well for me.
After what seems like forever, I'm back in the blogosphere. And I just have to share this little treat with you. It is a South-Indian delight. We've been missing the readily available street food in Mumbai an awful lot lately, so I've decided that instead of whining about it, I was just going to have to put my big girl pants on and learn how to make it myself.
So off I went, to scour the internet for recipes easy enough for a beginner in South Indian food to get right. You might wonder what I'm on about. You see I love South Indian treats, but a lot of them call for the perfect ratio of ingredients, overnight fermentation and consistency of the batter, to name a few pressure points you might come across in a recipe. I wanted something that wouldn't take as long. After a little looking, I found a recipe for Deep-fried lentil fritters. It requires a little planning in advance, since the lentils have to soak for a while (you could make the Chutney and the prep the other ingredients in the meanwhile), but other than that its fairly simple to prepare. The fritters turned out fantastic. Crunchy on the outside, fluffy on the inside and they packed some lovely flavor. I should tell you at this point, that the first time I made these fritters, the batter was a little thinner than it should have been. The resulting fritters were tasty but absorbed a little oil while they were being fried. I knew at once that I needed to make some changes. When I made these a second time and watched the water content closely. The batter was a lot thicker than the previous time.
And since then I've made these a couple of times and they hit the spot every single time. So until I learn to make a few more Indian street food delights, I will make these bite sized treats everytime the we're hit with the craving for some South Indian food.
I've used a bit of chillies with the seeds since we like our food with a little bite. But you can either cut down on the chillies or leave them out completely. Serve this hot with some
Coconut Chutney
on a wet / cold day or any other day really coupled with a piping hot cuppa tea and you're in for a real treat.
Come back tomorrow and I'll show you how to use these fritters to make another yummy snack.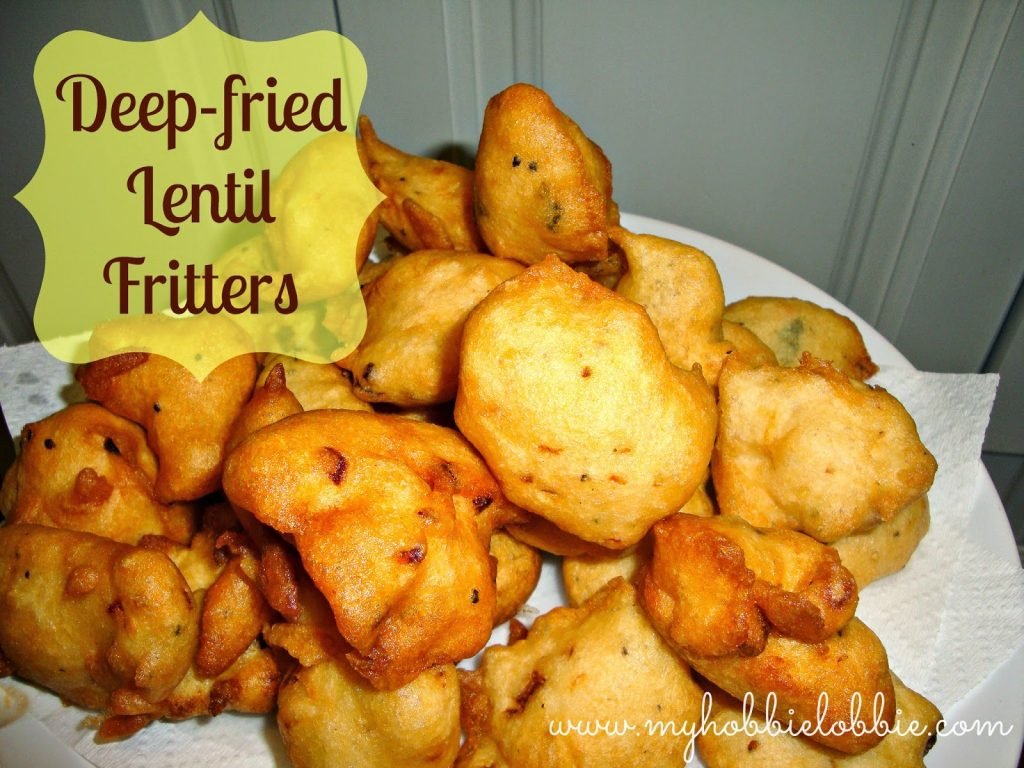 Deep-fried Lentil Fritters
1 cup Urad Dal, black lentils (skinned and split)
1/4 onion, finely chopped
2 green chillies, finely chopped
1/4 tsp. freshly crushed black pepper
1 sprig curry leaves, roughly torn or chopped
2 tbsp rice flour
Salt, to taste
Oil, for deep frying
Wash the dal a couple of times in water and drain.
Soak the dal in water for 20 minutes.
Drain the water. Rinse the dal through with fresh water again and drain.
Grind the dal with a tiny bit of water to a smooth paste. Remember, to not add too much water. You don't want a thin runny batter.
In a bowl, mix the paste, salt and rice flour. Add the onions, chillies, pepper and curry leaves and stir through, to mix the ingredients evenly.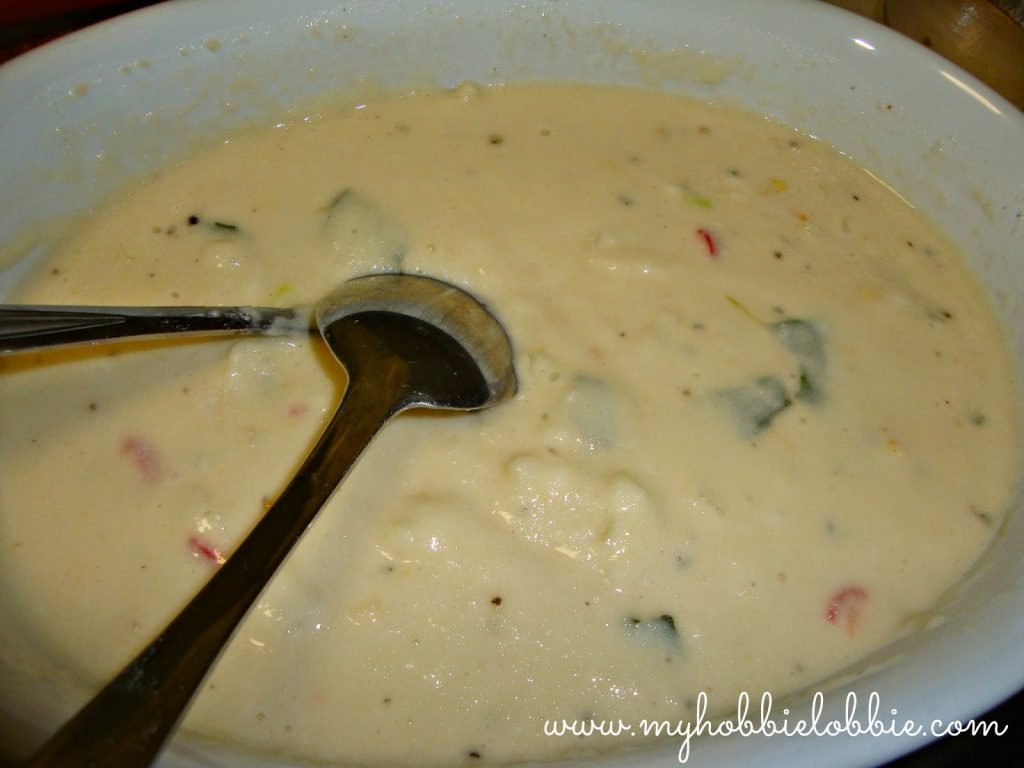 Heat the oil in a wok to deep fry.
When the oil is hot, ladle the batter carefully into the oil one tablespoonful at a time and keep the oil on a medium heat. Fry the fritters till golden brown.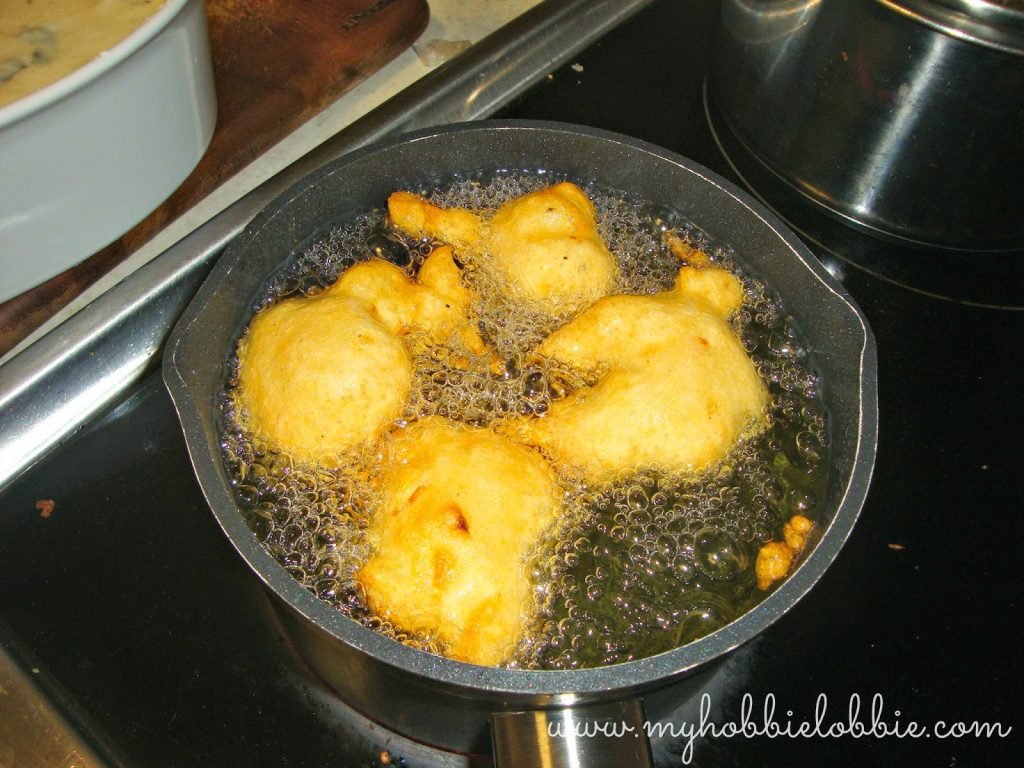 Drain the fritters onto some kitchen paper to absorb any excess oil.
Enjoy hot with some Coconut Chutney and a hot cuppa tea.
This month for my
SRC
reveal, I was assigned Leslie's blog,
La Cocina de Leslie
. If you haven't visited her blog yet, let me ask to go over right now and check it out. Don't worry, this post will still be here when you get back. I was amazed at the collection of delicious recipes on her blog. I found myself drooling at all the Mexican fare on her blog. I can't wait to try a few of them out. The way things worked for me was there were a few things at play – work is super busy at the moment, that coupled with the usual chores at home, I haven't have the time to stop and breathe. At the same time, the weather has warmed up quite a bit at the moment. We seem to have jumped from winter to summer in about a week. I would've liked a longer Spring. But this means we have lots of delicious berries to work with. I needed something yummy and quick to make. So when I saw Leslie's post on
Strawberry Oat Smoothies
, I knew I had to try it.
Usually my husband is the one who whips up the smoothies in our house. I have also consciously started taking some juice or a homemade smoothie to work over the last couple of weeks. Its been a nice change and has helped me lay off the coffee and give me a burst of energy that I need. I just made a couple of changes to the recipe for this smoothie like leaving out the cinnamon and I also cut down the honey to half. You could adjust the sweetness to your liking. I would like to try it soon with the cinnamon and see how that turns out. Let me tell you a little about this smoothie. Even though it didnt have any cream, yogurt, ice cream or avocado, it turned out nice and creamy and that was a pleasant surprise. I reckon I have the oats to thank for that. They also give the smoothie good substance and a glass of this great stuff will keep you going for a while. I have a punnet of blueberries that I will use to make another batch of these smoothies. Thanks Leslie for introducing me to a great new twist on the smoothie. 🙂


Strawberry Oat Smoothie
(Makes 2)
1 1/2 cup cold milk
12-15 strawberries
4 tbsp. dry oats
2 tbsp. honey
Place all the ingredients in the bowl of a food processor and puree till smooth.
Pour out into a glass and enjoy!!!
What a crazy month it has been! My last post was for last months
SRC
reveal. Heaven only knows where the whole month went. I can't complain though, its been busy with work as well I have a new project in the pipeline that I am so very excited about. I can't wait to share more about that soon. Stay tuned!!!
Today, I'm very excited to share with you the recipe I picked and recreated for the reveal. I was assigned Ilona's Kitchen. I was excited when I learned I was paired with this wonderful blog and on spending some time going through the wonderful recipes here, I wasn't disappointed. Ilona's blog is choc full of yummy recipes. She has a ton of citrus desserts. I love citrus desserts and I have a few of her recipes earmarked to make soon. But when I saw her post on a coconut pie, I was sold. I love coconut in all its many forms in chutneys, coconut based curries, in my veggies and of course in the sweet form. If you love a Bounty bar or a Cherry Ripe (minus the cherry, of course), you will love this. This recipe reminded me of a Goan recipe for coconut cake, which I happen to love and will share on this blog soon. I stuck to the recipe but just made one little change, it wasn't a choice, but a little bit of a necessity. You see I thought I had some frozen shortcrust pastry in the freezer, but it turned out I didn't. I did however have some puff pastry and decided to give it a go and see what happened. Oh and I used unsweetened desiccated coconut, because no matter how hard I looked, I couldn't find the sweetened version.
With the ingredients on hand, this pie is a dream to put together. It is simple and quick with no fussy process involved. Of course, I could barely wait for this to cool. I didn't get a picture of a cut piece of this pie. But it was so very good. The pastry was flaky and crispy and the filling was just right. Using the unsweetened desiccated coconut worked well and the filling wasn't cloyingly sweet. My husband really liked the pie, but he didn't care for my puff pastry base and I agree. The next time I make this, it will have a homemade shortcrust pastry base.
If you'd like to make your pastry from scratch, you can refer to my shortcrust pastry recipe here.
Coconut Pie


For the filling –
1 stick of butter, melted
1 1/2 cups sugar
3 eggs
1 cup desiccated coconut
1 tsp vanilla essense
1 tsp white vinegar
Whisk the eggs in a large bowl till frothy.
Add the sugar and stir well.
Add the melted butter and stir to incorporate.
Add the vanilla and vinegar and stir well.
Add the coconut and stir till well incorporated.
Here's what it looks like just before going into the oven
For the pie –


Preheat the oven to 180°C.
Place the pastry in a pie dish and pour the filling in the unbaked pie base.
Bake for 45 minutes or until golden brown.
Enjoy!!!
Notes:
1) I left the edges of the pastry on since it was just for us at home, you could trim the edges if you'd like
2) Also, I think I've let this bake for a couple of minutes more than I should have, so it looks darker than golden brown. We tend to like our pastry a tiny bit over. Feel free to take the pie out of the oven when you are satisfied with the color.
I've just about recovered from a bout of fever, and while the fever seems to have left me, what I seem to be stuck with are the blues. So while I was researching my assigned blog this month,
Love and Flour
, I came across LeAndra's post on Blueberry Muffins. Oh they looked good! Imaging my surprise when I read her post and realized that she whipped these up on a day when like me, she was a little blue. I loved the idea of the warmth that the ginger and cinnamon added to the recipe. So I decided, then and there, that this was going to be my post for the
SRC
reveal this month.
Mind you, with a blog like Love and Flour, LeAndra has a ton of recipes that will take you by the hand, lead you to the kitchen and urge you to make them. Before I decided on these muffins, I was considering the Banana Rum Cake, Marbled Chocolate & Vanilla Quick Bread, Tiramisu Bread Pudding (I still intend making this soon), or on the savory side this Corn Pudding and these Crab Cakes. I was torn between these choices so I was really glad when the Blueberry Muffins spoke up 🙂
The muffins were easy to make. The batter came together really quick and then all it took was 20 minutes in the oven. I pretty much stuck to the recipe except for the cinnamon powder. I used it but just reduced the amount compared to what the original recipe called for. I couldn't seem to figure where it went, so I just added it to the sugary topping mix. Another thing I noticed was that the ingredient list had white sugar mentioned twice, I considered that a typo. Also, something I was really excited about was, for a change, I managed to get the actual yield that the recipe suggested. Happy days!!!
On another note, check out these cupcake liners I picked up at the supermarket a couple of days ago. They look like so much fun. I baked the muffins in these liners and I think it would be a fantastic way to add muffins to a kids birthday party dessert spread.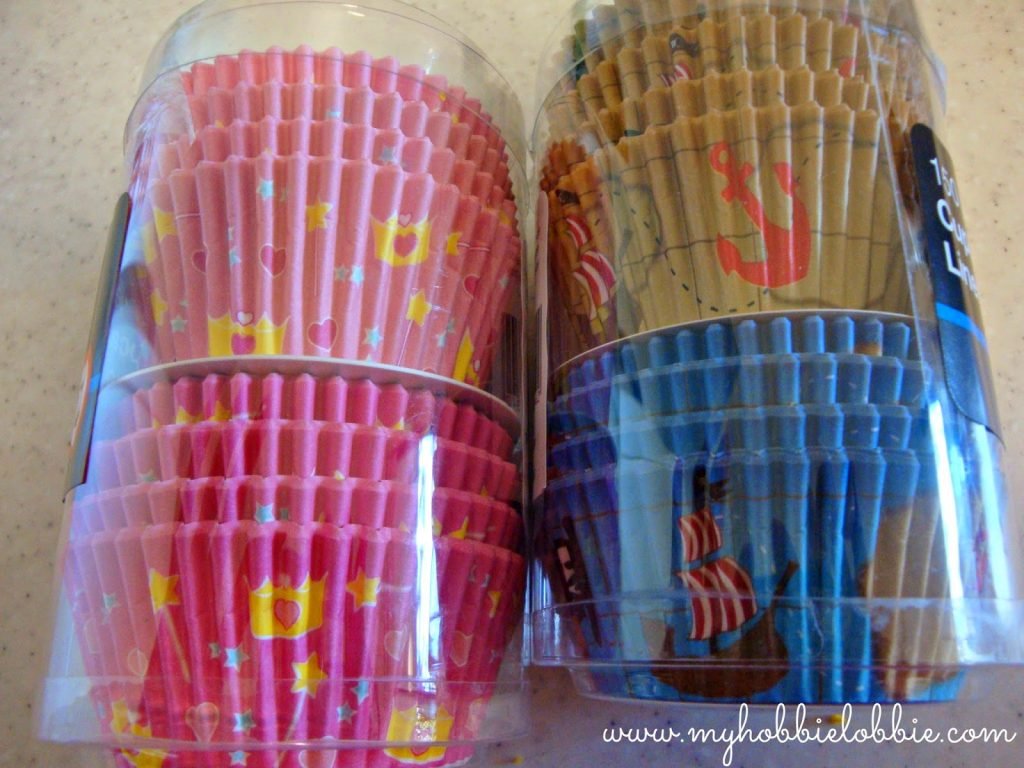 Back to the muffins. These blueberry muffins were amazing. They weren't too sweet, just the way I like it. I loved the flavor that the cinnamon added. And those bursts of delicious berries with the light crunch of the sugary topping were something else altogether. In all, I'd consider this the perfect muffin. Its everything I look for in a muffin and so much more. Do yourself a favor and make them soon.
And don't forget to hop on over to LeAndra's blog and say Hi.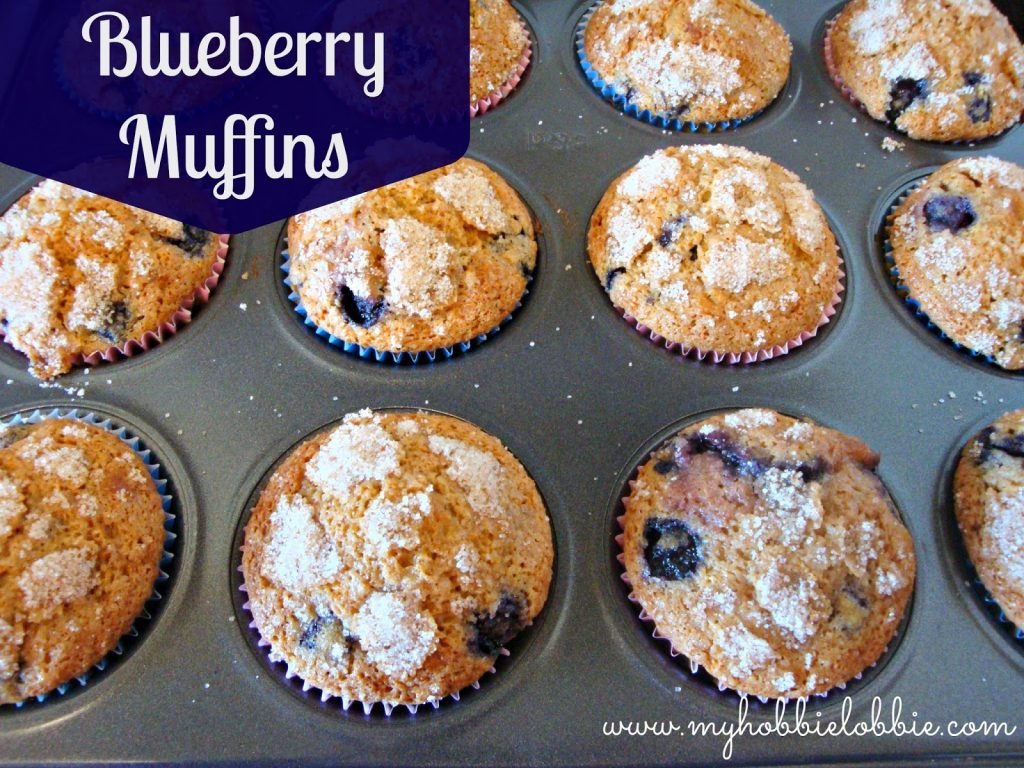 Blueberry Muffins
Makes 12
1 1/2 cups All purpose flour
1/2 cup brown sugar, packed
1/2 cup granulated sugar, divided in half
2 tsp baking powder
1/2 tsp salt
Zest of 1 lemon, divided in half
1/3 cup vegetable oil
1/3 cup milk
1 egg
1 1/2 cup frozen blueberries
1/2 tsp cinnamon powder
Preheat the oven to 200°C. Line a muffin pan with paper liners.
In a small bowl, mix the topping ingredients – 1/4 cup granulated sugar, the cinnamon powder and half the lemon zest.
In another bowl, mix the dry ingredients – the flour, brown sugar, 1/4 cup granulated sugar, baking powder, salt and 1/2 the zest.
In a large bowl, whisk together the wet ingredients – the milk, oil and egg.
Stir in the dry ingredients till combined.
Fold in the blueberries.
Spoon the batter into the lined muffin tin, filling almost to the top.
Sprinkle with the topping mix.
Bake at 200°C for 20 minutes or till a toothpick pierced through the middle comes out clean.
Enjoy!!!