Yay …. its another delicious edition of 12 Weeks of Christmas Treats (12WOCT). I look forward to this linky party every year. And each year, the participants come up with such fabulous treats, it never ceases to amaze me. I know, you're wondering
"why on earth is she talking about Christmas, its barely the end of September!"
Trust me, before you know it, it will be the week before Christmas and I'd like to have a collection of yummy treats and ideas handy for you to try out, whether you choose to start whipping them up early on or not.
I was seriously doubting if I'd be able to participate in this years 12WOCT party. As you know, I've only just moved to Sydney and am just about getting settled in. More importantly, I don't have an oven at my disposal. Can you imagine that? I'm feeling a little lost without one at the moment. But I decided to prove to myself that I can have an equally delicious Christmas platter with just a microwave and a stovetop. This year, look out for easy, quick and fun options that you can belt out, even if all you have is a little kitchenette, like I do. Every week for the next 12 Weeks I'll post something yummy that should give you a few options for your own Christmas platter. If you don't want to miss out on the fun, you can follow my blog on Bloglovin' (button on the right), and yeah, we're on Facebook too, you can follow us here.
This week, I decided to kick-off the festivities with some home made Honeycomb. It's a Nigella Lawson recipe which she refers to as Hokey Pokey. Whatever you decide to call it, you have to give this a try. And you know why? It will take you less than 30 minutes from start to finish to whip up a batch of this deliciousness. Also, you don't need any fancy ingredients or equipment to make it. With just 3 ingredients and a stovetop, you'll end up with some really delicious, golden Hokey Pokey. This will be a sure hit for folks who like their candy really sweet. It was a little sweet for my liking, but I know a few people who would devour the whole lot. I think this Hokey Pokey would be great crushed over some ice cream or dipped in some dark chocolate. I gotta try that soon. If this lasts, this candy is best stored in an airtight container.
This batch turned out a little darker that it should have and hence had a slight bitter touch to it, but we like a darker caramel anyway, so it worked out well for us. However, when I make my next batch, I will take it off the heat a little earlier.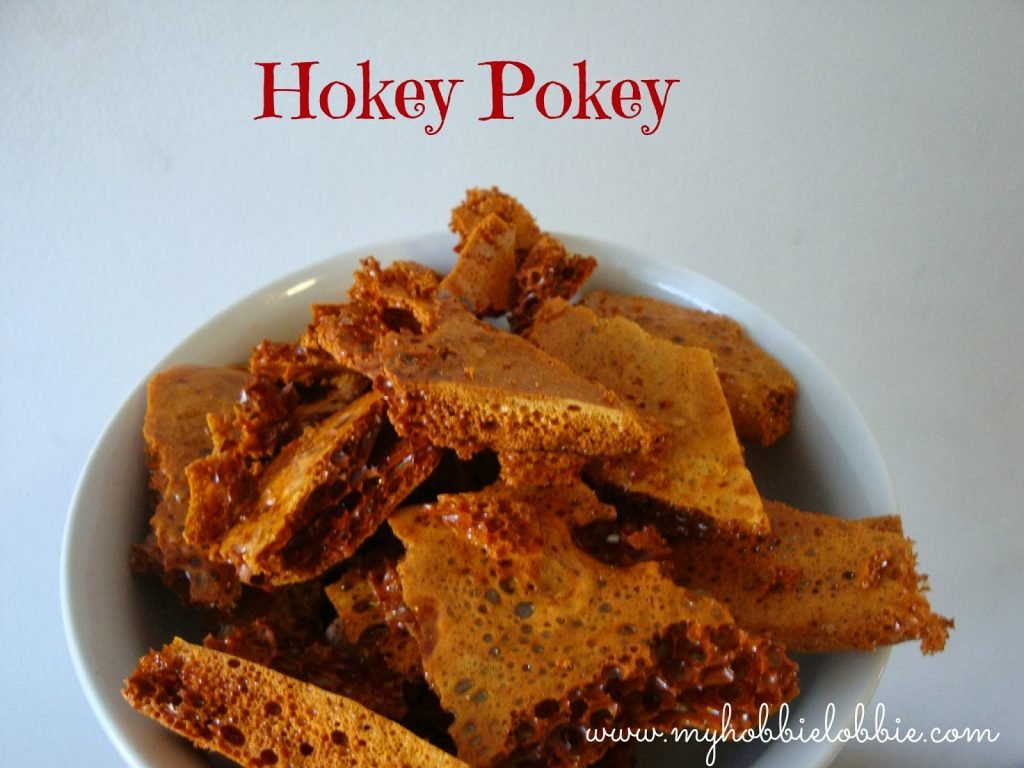 Hokey Pokey
Recipe by: Nigella Lawson


1/2 cup caster sugar
4 tbsp golden syrup
1 heaped tsp baking soda
Put the sugar and syrup in a saucepan an stir lightly to combine, before you can put in on the heat.
Do not stir once it is on the heat, or it'll turn gritty and grainy, and you don't want that to happen.
Place on the heat and let it melt and turn to a caramel-like gooey consistency.
You may swirl the pan if you'd like but please don't stir.
Once the sugar has melted completely, take the pan off the heat and add the baking soda and quickly whisk it in.
Immediately turn it out onto some baking paper and leave it to set for about 15-20 minutes. (It may take longer depending on the temperature.) You can also pop it into the fridge once it has cooled down, to finish setting up.
Once it has set, roughly break it up into pieces, and there you go. You have some delicious homemade Honeycomb.
Don't forget to stop by and check out what the other have whipped up this week. Also, if you'd like to participate in this 12 Weeks of Christmas Treats edition, stop by our lovely host, Brenda's blog, Meal Planning Magic and fill out the form available here.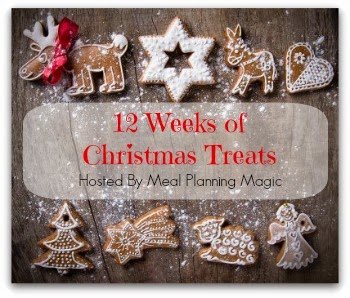 This is my first food post from Sydney. However, its not the first thing I cooked here, if it were, it would've been an awesome coincidence. Up until now, I've been sharing a few recipes with you that we made when I was in Mumbai, but didn't have the time to put up. There still are a couple more, but I'll probably save those for a rainy day. There's so much wonderful produce available here, its really hard to decide on what to pick up.
For this months SRC assignment, I got to go through the very delicious blog, Crumb, authored by Isabelle, a girl after my own heart. It seems like we have a lot in common and I know we'd probably have been best buds if we knew each other in person. I've visited this blog for a while now, and each time drooled over the amazing posts I saw there. If you haven't been there yet, you have to head over now and say hi to Isabelle. I cannot tell you how difficult it was to choose a recipe for this months reveal. There was so much baked goodness, I was more than a little upset that I don't have an oven at my disposal. But I know I'll head back to Crumb ever so often. I spent many days looking through the wonderful fare Isabelle dishes out every single time and when I saw her post on Chorizo hash, I know I had found the one. I love Chorizo. In the past I've posted the Goan – Portuguese version of a spicy chorizo chilly fry. Every true Goan loves these sausages in one form or another. Haven't seen it, head over here. This post on a very humble Goan delicacy has been extremely popular, to my astonishment.
This post was so meant to be. I happened to pick up a bunch of Chorizo sausages even before our assignments were sent out this month. We enjoyed our Goan take on the sausage and had some sausages to spare. So when I decided on this recipe, it was very convenient. I had everything on hand and was sitting down to a delicious weeknight meal within no time at all.
Here's what it looked like –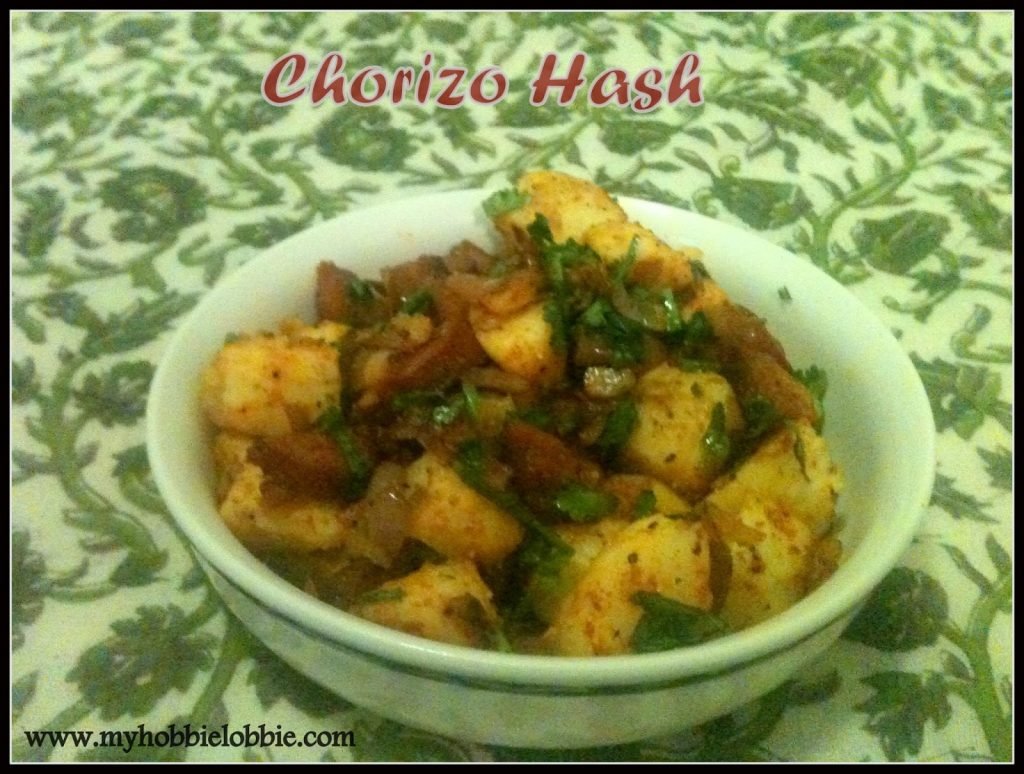 Delicious, atleast I think so. This was my first time playing around with Picasa photo editing and am still getting the hang of it, so please bear wit me while I get into the swing of things. Do you have any tips of using Picasa? I'd love to hear from you, leave me a comment and tell me what I can do to better my skills.
Back to the reveal, here's how to put together a quick delicious bowl of Chorizo Hash. Thanks Isabelle, for sharing a wonderful recipe.
Chorizo Hash


1/4 cup Chorizo sausage, diced
1 tsp olive oil
1 onion, chopped
1 large potato, boiled and cubed
1 tsp red chilly powder
Salt and pepper, to taste
2 tbsp fresh coriander, chopped
Heat oil in a pan and fry off the chorizo for a couple of minutes, till it starts lightly browning.
Stir in the onion and the potato and continue cooking for about another 8-10 minutes, stirring occasionally. By now the potatoes will have turned golden and crispy. This is what we are looking for.
Sprinkle the chilly powder over and season to taste with salt and lots of freshly crushed pepper and stir well to mix.
Just before serving, sprinkle the chopped coriander over and lightly mix.
Enjoy!!!
document.write('