Those of you who've followed my blog for a while are familiar with the fact that I regularly participate in the SRC or what we call the Secret Recipe Club. I'm sure you're wondering if you're seeing a typo in SRS. No you're not.
A couple of weeks ago when I was jumping around from one blog to another, taking a look around, I came across
SRS
– Surprise Recipe Swap hosted by Jutta of Hungry Little Girl. I was so excited when I was accepted to participate in this group. You are assigned a blog and you pick up a recipe from there to try out and everyone posts on the 20th of the month. Oh! and another thing, you're not allowed to inform the author of the blog you're assigned that you have them for them month. Its a surprise. I like linkies like this.
For my first SRS reveal, I was assigned Sheena's blog –
Hot Eats and Cool Reads
. Sheena reads and posts reviews on loads of books and you'll find some pretty interesting recipes there too. Like this
Savory French Toast
. This was a quick little number to put together with hardly any fussing around. Chop up a few things, place them in a baking dish, pop them in the oven to bake and in a little while, you'll be sitting down to a lovely, warm and hearty breakfast. Its a winner in my book. We heated up some leftovers in a pan the next morning and it tasted fantastic. So you can make this in advance too. I made half of the original recipe and those are the quantities I've listed below.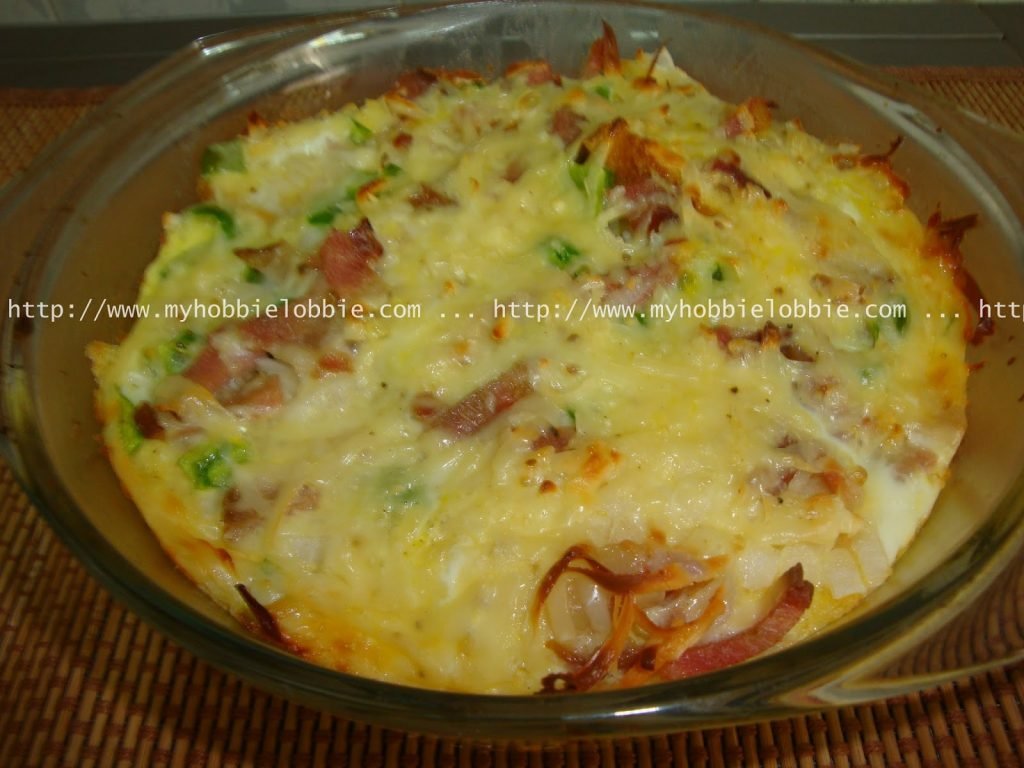 Savory French Toast Breakfast Bake
1 tsp. butter
3 slices of bread, torn into cubes
3 slices of bacon, chopped
1 medium white onion, chopped
1 green pepper/capsicum, chopped
1/3 cup grated cheese
3 eggs
3/4 cup milk
Salt, to taste
Freshly crushed black pepper, to taste
Preheat the oven to 170ºC.
Grease a glass baking dish with the butter and layer the pieces of bread at the bottom.
Sprinkle the chopped onion, capsicum, bacon and cheese over the bread to distribute well.
Whisk the eggs, milk, salt and pepper and pour this mix into the baking dish.
Bake for about 30 minutes or till the egg has set.
Enjoy it warm!
If you'd like to join the Surprise Recipe Swap too, fill up the form
here
and you will receive the necessary details. I hope you join in next month 🙂 Thank you Jutta for hosting this wonderful party and for letting me be a part of it.
Today's post is my first as part of a fun baking group that I recently came across called "Baking Partners". Read all about it and join up
here
. The idea is a small group of people come together and improve their baking skills by targeting a common recipe / technique each month. I loved the sound of it and immediately signed up. Thank you, Swathi, for letting me be a part of this group.
Their goal for this month was attempting to make a New York Style Pizza from scratch at home. We love pizzas and I enjoy making them from scratch too and yet somehow, I've never blogged about if before. Strange, I know. I figured this would be a great way to add to my baking repertoire and I pretty much stuck to the recipe except for not using fresh basil in the sauce as it wasn't available. But I did instead add some mixed Italian herbs to develop a better flavor profile for the sauce. I halved the recipe and made 3 pizza pies of different sizes. This was enough for dinner for 2 with enough leftover for another meal coupled with a salad.
It was a good learning experience and I can't wait to see what this group decides to bake next. For now, here's a peak at the pizzas I made. They tasted wonderful and I was very pleased with the fact that it was made at home and not just ordered for. One thing that I will do the next time is pay more attention to presentation. Other than that, this recipe is great.
This is the veggie one we enjoyed. Toppings include red onion rings, green peppers and corn. I used a combination of Mozzarella and Cheddar cheese.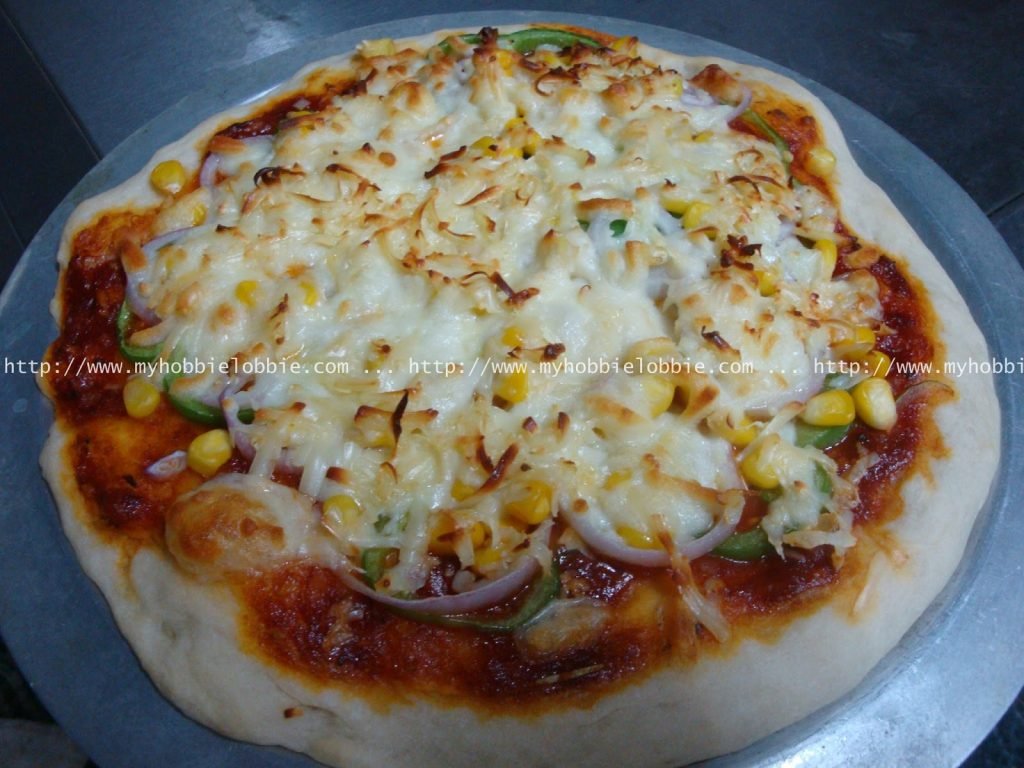 Here's a snapshot of the non-veg version. Toppings include red onion rings, green peppers and spicy pork sausage slices. I used the same combination of Mozzarella and Cheddar cheese for this one as well.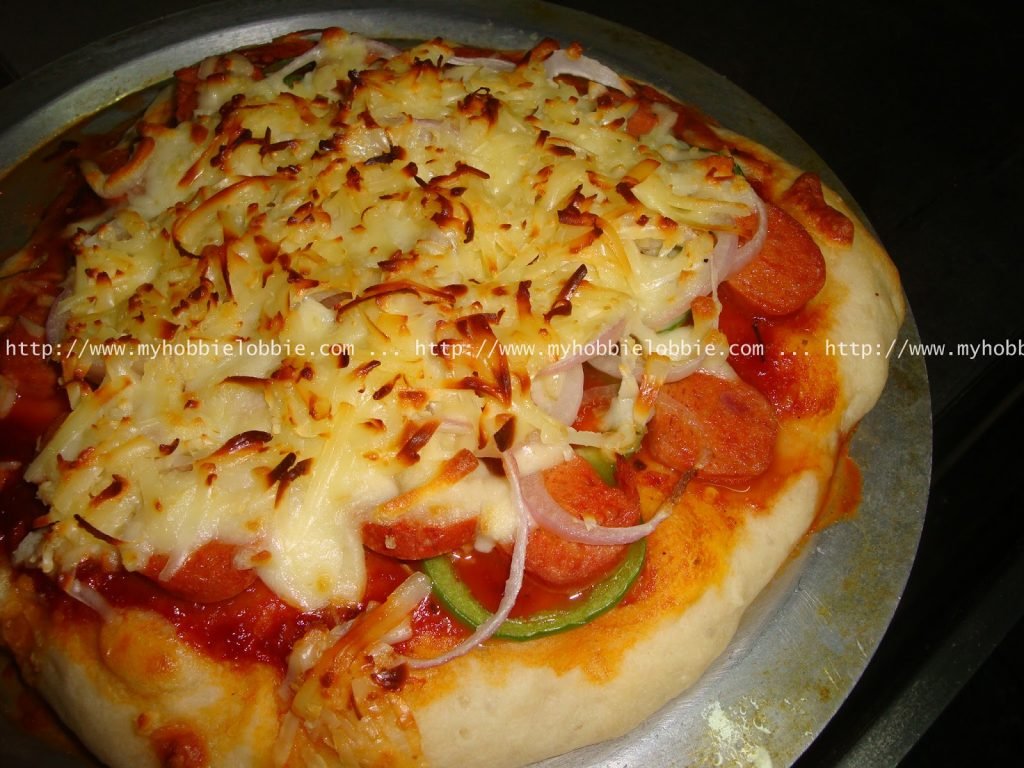 New York Style Pizza
Adapted from: Serious Eats
Shredded cheese of your choice – I used a mix of mozzarella and cheddar
Toppings of your choice – I used Veg (Onion rings, Green pepper rings and corn kernels) and Non-veg (Onion rings, green pepper wings and spicy pork sausage slices)


For the Dough –


2 1/4 cups all-purpose flour
3/4 tbsp sugar
1 1/2 tsp salt
1 tsp instant yeast
1 1/2 tbsp EVOO
7 1/2 ounces lukewarm water
Place the flour on your workstation.
Make a well in the center and place the yeast, sugar and water in the center.
A water gradually and work the flour from the center working in a little bit of the flour at a time, till all the flour is used up. You may or may not need all the water.
When you've got a soft, pliable dough, place it on one side.
Spoon the salt on the workstation and pour the oil over the salt. Rub down on it using the base of your palm.
Work the oil into the dough. Round it off to a smooth ball, cover with a damp cloth and keep aside in a warm place for about an hour or till the dough has doubled in size.
In the meanwhile you can start working on the sauce.


For the sauce –


1 (200g) pack tomato puree (non availability of canned tomatoes)
1/2 tbsp olive oil
1/2 tbsp butter
2 cloves garlic, minced
1 white onion, finely chopped
1/4 – 1/2 tsp. Dried oregano
1/4 – 1/2 tsp. Mixed Italian herbs
Salt, to taste
A pinch of red chilli flakes
Freshly cracked black pepper, to taste
1/2 – 1 tsp. sugar
Heat the oil and butter in a pan.
Tip in the garlic and saute for a few seconds to release the aroma.
Tip in the onion and saute till the onions have softened.
Tip in the spices and herbs and stir it in.
Add the tomato puree and stir in. Let it simmer for about 10 minutes.
Season with some salt, pepper and sugar. Stir and let it continue simmering till it thickens and the flavors develop, about another 15-20 minutes. Be careful to not burn it. Check on the sauce at about the halfway mark. If you're happy with the flavors, take it off the fire.
To assemble –


Preheat the oven to 180ºC.
Lightly drizzle some olive oil on the baking sheet and spread it on the pan.
Divide the dough into 2-3 portions. Roll into balls and using your fingers flatten it out to form a disc, keeping the outer edge a little thicker. Drape the dough over your knuckles and gently stretch till the crust is about 1/4″ thick.
Place on the greased sheet. Spread the sauce over it. Add your toppings and finally the cheese.
Bake for about 10-15 minutes till the cheese is all melty and has a few brown specks on it.
Take out of the oven, slice and serve hot.
Note: The original recipe has you rest the dough for about 24-72 hours. But when I did that the last time I made pizza, I was treated to a big disastrous mess in the fridge. So I made these the same day.
Here we are – Its already the month of May and the Indian Summer hasn't been kind to us at all. With ever soaring temperatures and insane humidity levels, we've been reeling with the heat. I can't wait for the rains to kick in. However, if there's something that can take my mind of the weather, its got to be the
Secret Recipe Club
. Month after month we have 4 reveals by 4 incredible groups of bloggers, each Group headed by a hostess, Jane, Suzanna, Angela and Sarah for Groups A, B, C and D respectively, and at the head of this massive project, we have our fearless leader April. Thank you ladies for the huge effort you make each month to add this wonderful element of fun to our lives.
For this month's assignment, I had Nicole's blog
The Daily Dish Recipes
. Nicole is a mom to 5 teenagers and a bunch of furbabies – 4 dogs, 2 cats and a hedgehog. I've wanted to be a part of a big family for as long as I can remember. You've got to head on over and check them out. The kids are adorable and do check out the pets – they're cutey-pies too. You think Nicole would have her hands full, just taking care of the household. No can do. Besides cooking, writing, blogging and photography, she does scrapbooking, crafting, DIY and home improvement projects. She also enjoys reading, music and movies. I'll let you in on a personal secret – I think I've partnered with Superwoman for this months SRC. 🙂 🙂 🙂 Nicole, you are my role model. How you get all this done, I can't begin to fathom, but you have inspired me to try getting a few more things done with my time. Its just the nudge I needed, so thanks a ton.
I had such a wonderful time going through this blog. Nicole's got so much to choose from. I'm dying to try out so many things from her blog. You won't believe it, but I've had her post on
Homemade Fruit Irish Cream Sodas
pinned months ago. I was so glad to bump into her blog again, since I'd almost forgotten about these beauties. I'm so gonna try them this summer. She has so many other wonderfully cooling drinks listed that its no surprise that I decided to go with one of her smoothies for this month's reveal. I made a couple of changes to the smoothie based on availability of ingredients. I subbed almond milk for regular dairy and I don't have access to sweet basil, homegrown or otherwise, so I left that out altogether. The recipe below reflect the changes I made. What I ended up with was so good. Healthy and perfect for this never ending heat wave we seem to be going through. I know this drink will make an appearance a few time again before the summer is done.
Melon – Cucumber Smoothie
(Serves about 4)
1 small Cantaloupe, skinned, deseeded and cubed (about 2 1/2 cups)
2 fresh cucumbers, skinned and thickly sliced
1 cup milk
2 tsp honey (you can add this to taste)
2 cups crushed ice
Blend all the ingredients except this ice, till smooth.
Add the ice cubes and blend again.
Pour into glasses and chill out!!!
document.write('