REMINDER: I'm hosting a giveaway and would love for each of you to be a part of it. Up for grabs are gift vouchers from Amazon / Flipkart. For details and to participate click here. Giveaway closed.
Today I am going to share with you a wonderful recipe for which I can take absolutely no credit at all. Yup, you heard that right. This is a recipe that my husband remembers and has committed to memory from watching his mother and Nan cook. Can you believe that!!! I love him to pieces and its things like this that earn him extra brownie points. 🙂 I remember the first time he whipped up this beauty was a few years ago. I was out of town for a couple of weeks on work. I had a few things cooked up and kept in the fridge for him to just heat up and eat while I was away. I knew he was good with puddings, breakfast and the like, but wasn't too sure if he'd manage mains for lunch and dinner. To my delight, when I got back from my trip, waiting for me was a pot of this beautiful fragrant stew. To say I was pleasantly surprised would be an understatement. Long story short, we both loved it and from then on, each time we have this stew, my husband actually makes it himself.
This is such a simple recipe and it requires just a handful of ingredients. If you use a pressure cooker to cook your meat, its comes together faster, which is what I did. Unlike typical Indian food, this stew is not spicy but is beautifully flavored. You can serve this up with a couple of slices of hearty bread or croutons or even over steamed rice. I personally think it tastes better on the next day, so we always make a little extra to enjoy for even 2 to 3 meals.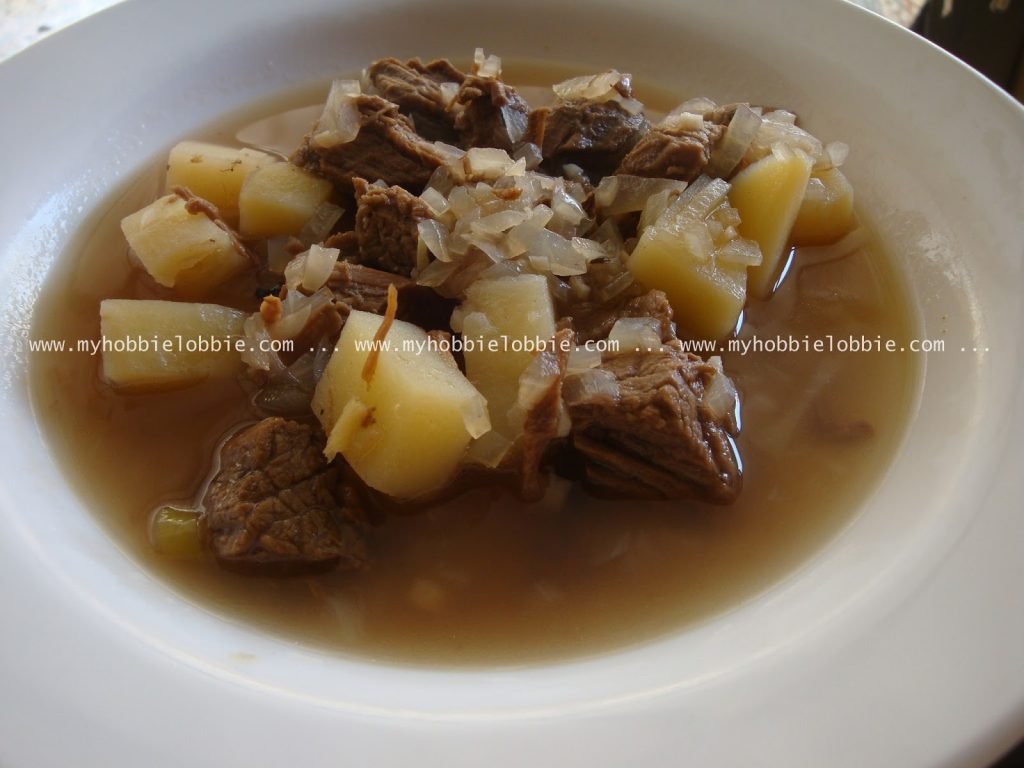 Nana Braganza's Beef Stew
1lb. beef, boneless (I use what we call undercut, very flavorful n tender, cooks up really fast, but you can use what you have on hand)
4-6 cloves
2″ cinnamon
8 pepper corns
Salt, to taste
Juice of half a lime
2 tbsp. Worcestershire sauce
2 onions, finely chopped
2 potatoes, cut into small cubes
1-2 fresh green chillies, finely sliced
4 cloves garlic, finely chopped or minced
3/4″ ginger, finely chopped or minced
1/2 cup of red wine
2-3 rashers of bacon, skin taken off and chopped into small pieces (optional, but yum)
1/4 tsp crushed black pepper powder
1 tbsp. vegetable oil
Cut the beef into 2-3 large pieces.
Sprinkle salt, lime juice and Worcestershire sauce over the meat. Add the cloves, cinnamon and pepper corns and toss well making sure the meat is marinated in this for about 10-15 minutes.
Pressure cook with a couple of cups of water till tender. I cooked it on low for 30 minutes after the first whistle. Let the pressure ease of on its own. Cut the beef into cubes. Reserve the stock.
Heat the oil in a pan and add the bacon. Let the bacon fry a little and release its fats. If you're using bacon you may want to reduce the amount of oil a little. If your not using bacon, simply move on to the next step.
Add the chopped onions and chillies and saute them.
When the onions have softened a little, add the chopped ginger and garlic and continue sauteing.
After a minute or two add the potatoes and continue sauteing.
Add some pepper powder and stir.
When the onions have slightly started to brown, add the wine to deglaze and add the stock that the beef was cooked in with the whole spices.
Let it come to a boil and simmer for about 10-15 minutes.
Add the meat and let it all heat through.
Check for seasoning and adjust if needed. Let it simmer for another 10 minutes or so. Once the flavors have fully developed, take it off the fire.
Serve hot.
This recipe has been linked to –
Show me you Plaid Mondays
Wonderful Food Wednesday
Back for Seconds
Wow Me Wednesday
Cast Party Wednesday
What's Cookin Wednesday
Chef's Day Off
Update: This giveaway is now closed.
The winner will be announced shortly.
The winner is Annamaria @ Bakewell Junction. Congratulations Annamaria! Your Amazon voucher has been emailed to you.
A big "Thank you" to everyone that participated.
After a bout of spring cleaning, I was amazed at how things collect in the kitchen over a period of time, specially if you are invested in food or baking, as a food blogger, a hobby baker / cook etc. I came across a bunch of things that I've picked up over the past few years, some I use regularly and some are still waiting to be used. The ones I've used have all made my life in the kitchen a little easier and I'm all for that and I know the ones patiently waiting their turn will also be put to good use soon. I guess my motivation to pick these things up when I see them, is the fact that they're not always available, so I pick them up when they are. These instances are usually followed by a little happy dance in my head 😉 I wouldn't dare do that in public 🙂
Back to my favorite things. Like I said, I tend to collect kitchen stuff over time, but if I had to pick my top 5 favorite things, they would be –
1) Wooden spoons – I have loads of these in different shapes and sizes. You can't have too many wooden spoons.
2) My silicone pastry brush and spatula – These are perfect for baking and candy making and cleaning up after use is a breeze.
3) Measuring cups and spoons – I wouldn't be able to bake without them.
4) My electric hand beater and whisks – These are indispensable.
5) My silicone bake-ware
These are things that are fairly basic and regularly used in my kitchen.
Anyway you've often heard me rant about scarce or no availability of good quality bakeware or cookware in India before. I was thrilled to know that those days are now behind me "sort of". I was recently contacted by www.CupoNation.in and was quite pleased when I went over their site. Not only have they tied up with a number of vendors that have varied collections for the kitchen and home among others, they're all at discounted rates. They have also very kindly offered a giveaway for all you lovelies that keep reading this blog and take time out of your busy day to leave a comment. I love hearing from you. Psst! You wanna know something ….I've already got my eye on a few things from their stores.
Up for grabs are gift vouchers that can be used on Flipkart.com (in India) and Amazon.com (globally). Follow these simple steps and the voucher can be yours. It can be used to purchase anything of your choice from these sites.
How to participate –


This giveaway is open to all. Participation in this giveaway is very simple.
1) You need to follow this blog, subscribe to the Cuponation newsletter and comment on this post and let me know that you're a follower. If you already follow the blog, simply subscribe to the newsletter and leave a comment and let me know. Don't forget to include the name / details of your favorite kitchen tool / gadget in your comment.
2) You can increase your chances of winning by –
a) Following me on twitter @MyHobbieLobbie and tweeting about this giveaway.
b) Following My Hobbie Lobbie on Facebook and sharing the details of this giveaway, and
c) Blogging about this giveaway.
Once you've done this, please leave me a separate comment for each of these. This allows you 3 additional chances to win.
3) The giveaway ends on 30th April 2013. The winner will be randomly picked and announced soon after. Please make sure I can get in touch with you. If you don't have a blog, please leave me an email address so that I can contact you.
Good Luck!!!
Hey, I'm back with
SRC
this month. After last months technical goof-up ended up with me having to sit out, I can't tell you how happy I was to receive this months assignment. I can tell you this much, once you've been with SRC this long, having to sit out even for a month while the others play on can be a little bit of a dampener. It however was a lot of fun visiting the others. Thank you
Jane
for making it happen for us month after month here in Group A.
To check out my previous SRC assignments, click here.
Anyway, on to this month's assignment. This was the first time ever I've been assigned an Australian blog, actually, I think its probably the first time I've spent this much time on one. My assignment this month was Leigh's Chit Chat Chomp. What a fun name! And what a beautiful blog. Hi Leigh! I really enjoyed looking through your blog space this month. Leigh is from Melbourne and loves travelling and food. Her travelogues are very interesting. Though I didn't have the time to go through them all, with Easter prep and stuff, I've bookmarked them to read through later. I think I could plan a lovely trip to Australia with tips from this lovely blog. Go on and visit her! You'll have fun!!! Not to mention you'll be drooling over her lovely food clicks and recipes. It was fun having so many lovely options to choose from. Oh did I mention that Leigh has a little weekend catering venture that she runs. I have a more than a few recipes I want to try out and I'm sure once you head on over there you'll be in the same boat with me 🙂
For my assignment this month, I was on the lookout for some feel good food. I just got back from a 3-day weekend trip to Panchgani. More on that later. But coming back to the city had me down with a severe case of the blues. So when I saw Leigh's caramel popcorn, I knew I was going to make it. Popcorn and caramel – two of my favorite things in one. Its tried and tested comfort food that makes you feel better instantly. Who am I to disagree? Its simple and quick to put together and I enjoyed every bit of it. I halved the recipe this time around since I knew I'd have no problem polishing off the whole lot and didn't want to be faced with that kind of temptation. And I was right to do so! What a treat this caramel popcorn is! I had to try really hard to keep myself from finishing it off. Lovely caramel flavor, with a tiny hint of honey! I'm so glad I now have a recipe like this in my arsenal. This will be perfect for parties and around Christmas!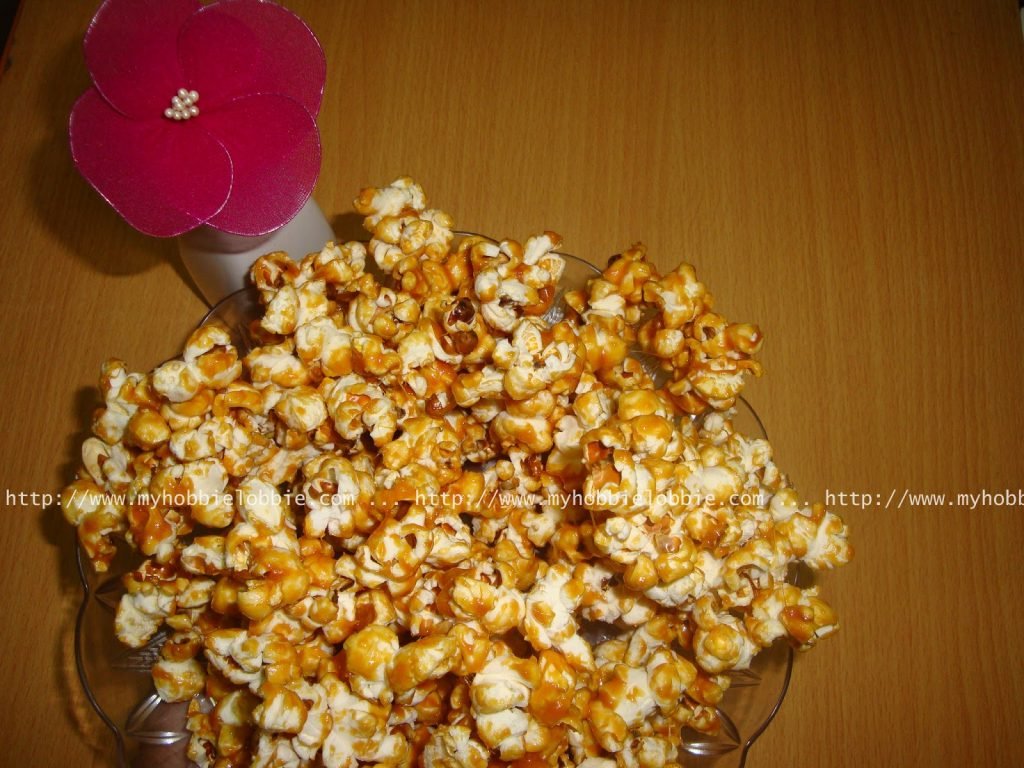 Caramel Popcorn


40g popcorn kernels (I used a pack of Act II – classic salted)
1 tbsp butter
1/8 cup honey
1/4 cup caster sugar
1/8 tsp bicarbonate of soda
Cook the popcorn according to the manufacturers instructions.
For the caramel sauce, place the butter, honey and sugar in a saucepan over low heat and stir it till the butter melts down.
Turn up the heat to a medium and bring the mixture to a boil for 3-4 minutes or until it turns golden and has thickened.
Take off the heat and add the bicarbonate of soda and stir well to combine.
Pour the sauce over the popcorn, mix to coat the kernels well and spoon onto a lightly greased baking tray to set.
Break into pieces and serve.
Check out these little chunks of deliciousness!!!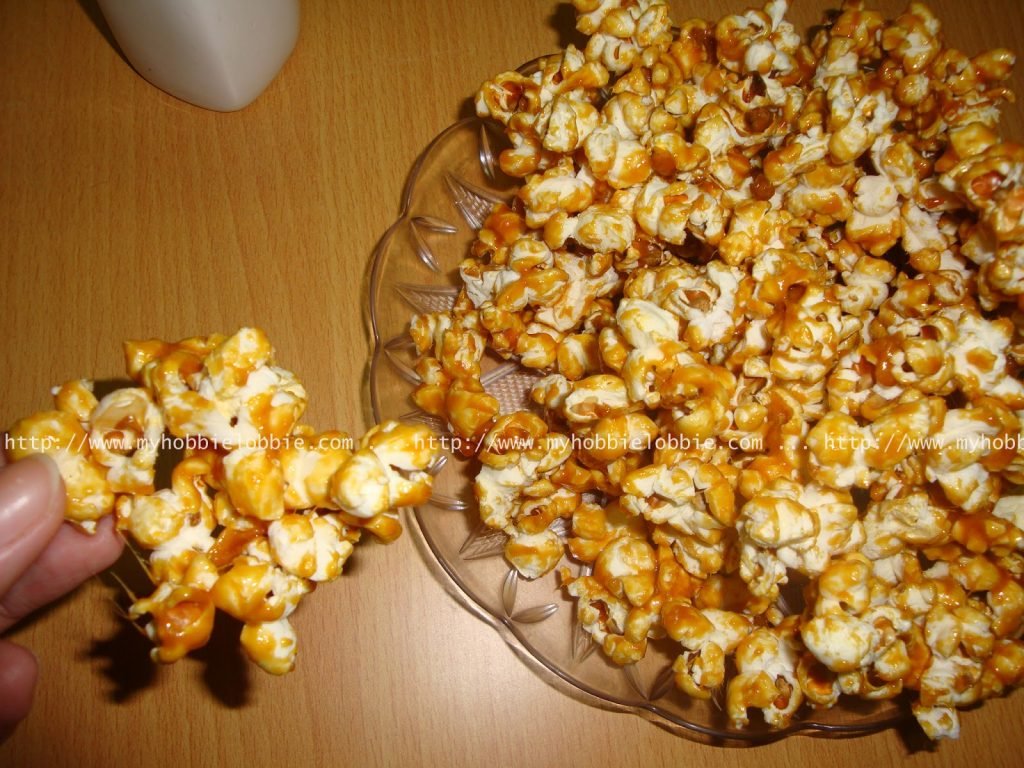 document.write('