Today, I'm going to share with you a wonderful Indian sweet. This little gems make an appearance at every Indian festival. I love them so much that I can have them anytime of the year. I'm talking about none other than the famous Besan ke ladoo – famous in India atleast 🙂 A "besan ka ladoo" is a little ball made out of sweetened chickpea flour, some clarified butter or ghee and flavored with some cardamom. Though this is not typically made for Christmas, I see no reason why it can't be included on the platter. Moreover, its simple to make and really quick to put together. The best part is that there is absolutely no wheat flour, this treat uses only chickpea flour, so even those on a gluten free diet should be able to enjoy them. They have a wonderfully nutty taste, they're creamy in texture and can be topped either with raisins or a piece of cashew nut or really anything else of your choice. I went with raisins this time.
Besan ke Ladoo
Recipe from: Cumin and Cardamom
1 1/2 cup tightly packed Chickpea flour (besan)
3/4 cup ghee (clarified butter), melted
1 1/4 cup icing sugar
1/4 tsp cardamom powder
Some raisins for topping
In a nonstick pan, over low heat melt the ghee and then tip in the chickpea flour (besan). Mix well and cook for about 7-8 minutes on low heat or till the mixture starts smelling nice and nutty. Keep stirring all the while so that it doesn't burn.
Take off the heat and leave it to cool completely.
Add the sugar and cardamom powder. Mix well and let the mixture sit for about 15 minutes.
Divide into 24 portions and roll into small balls (ladoos). Place a raisin on top and this yummy treat is ready.
Note: If the dough feels too soft when shaping into balls, don't worry. Shape them anyway and leave them to stand for about 15-20 minutes. The mixture should dry out a little during this time. Then re-shape them into balls and they should hold their shape now.
I placed them in little brown paper cups. You can then easily place them in little boxes to give them away.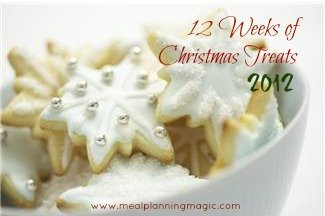 Don't forget to check what the others have put together for this weeks edition of 12 Weeks of Christmas Treats hosted by Brenda of Meal Planning Magic.
Week 4 is here and this week I decided to finally get my act together and try out some delicious biscotti. Can you believe I've been eyeing biscotti posts and saving recipes for about 2 years now and still hadn't made it at home? Thats something I tend to do, there's so many yummy posts and sources of inspiration out there that I end up saving tonnes of recipes but its usually a while before I try some of them 🙁
Anyway, I am so glad that I finally tried these out and needless to say, I'm hooked. I loved this recipe. It was simple to make and resulted in a nice crisp cookie, studded with little green jewels in the form of the pistachio. It tasted pretty great too, chocolaty and not too sweet. I think that's what I like about it the most. If you tend to like your cookies sweeter, you may want to add more sugar. I think I'll keep these just the way they are. And I know I'll be making more of these. They'd be perfect for the holidays.
Chocolate Pistachio Biscotti
Recipe from: Skinny Taste
1 2/3 cup all purpose flour
1/2 cup unsweetened cocoa
1 1/2 tsp baking powder
A pinch of salt
3/4 cup whole pistachios
1/4 cup butter, softened
3/4 cup superfine sugar
2 large eggs
Preheat the oven to 180ºC. Prepare a cookie tray. I used my brand new silicone mat. 🙂 It was perfect, no more greasing tins or paper for me atleast while making cookies.
Combine the flour, cocoa, salt and baking powder. Add the nuts and stir.
Cream the butter and sugar for 1 1/2-2 minutes on medium speed. I used an electric hand blender.
Add the eggs, one at a time, mixing between each addition.
Add the dry ingredients and mix on low speed until just combined to make a dough.
Divide the dough into 2-3 pieces and shape them into long, flattish logs about 8″ long and 1 1/2-2″ wide.
Place these logs on the prepared baking sheet and bake for 20 minutes.
When its cool enough to handle, using a sharp knife, gently cut the loaf at an angle into thin slices. (If you don't use a sharp knife, your loaf will end up crumbling all over the place.)
Place the slices on the baking sheet, fitting as many as you can on the sheet. Bake it for about 4-5 minutes on each side. (Little shorter time if you like a softer cookie.)
Enjoy them with a hot cup of coffee.
Do check out what the others have made this week and will continue to do so every Thursday for another 8 weeks 🙂 If you'd like to join in on the baking fun, visit our hostess Brenda's blog – Meal Planning Magic and fill out this form and she'll send you the details.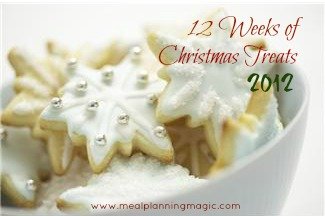 Would you believe how time has flown by? We're already at week 3 of our 12 week series where a group of wonderful bloggers posts about some yummy treat they would like to add to their Christmas platter of goodies or use as gifts etc. This week I am a little late, however I have a super quick, super easy and super yum treat to share with you. I came across this post while researching Raina's blog for my last month's assignment for the Secret Recipe Club. I was itching to try it out and it worked out wonderfully well that 12WOCT gave me an opportunity to do just that. I made it in typical Christmas colors – Red and Green, but you could simply use whatever color you'd like and use little packets of these as party favors as well. With a little pretty packing, ribbons and some embellishment, they'd made a pretty addition to a gift basket. Let's talk about the taste, shall we? Its a lovely slightly salty popcorn flavor coupled with the sweetness of the sugary coating. So yes, it is sweet but it is hard to stop munching on them. So what are you waiting for? Go on then, and fix yourself a batch of candied popcorn. You'll be enjoying them in about all of 15 minutes, 10 minutes if you have no patience and don't mind trying them out while they're still hot (like me 😉 ). Yes, they're that quick to put together.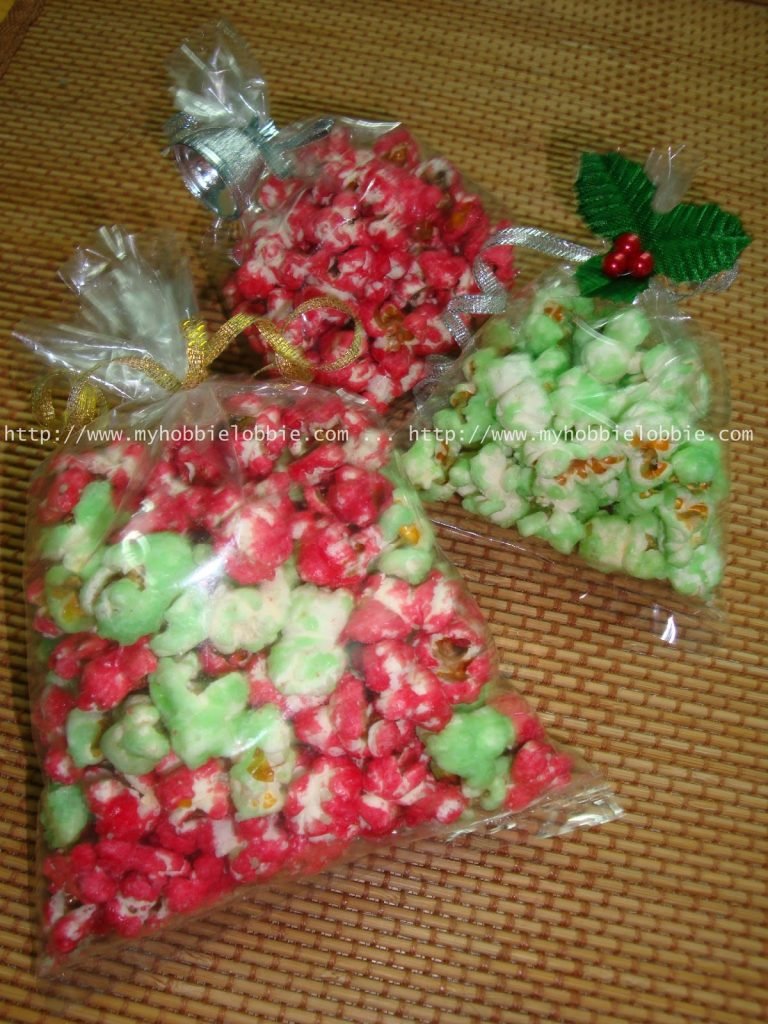 Candied Popcorn
Recipe from: Connor's Cooking
1/2 cup popcorn kernels, unpopped
Salt, to taste
1 cup sugar
2 tbsp butter
1/2 tsp. vanilla extract
3 tbsp water
1/2 tsp food color of your choice
Pop the popcorn kernels, salt to taste and set aside.
In a pan large enough to fit the popcorn and toss them, place the sugar, butter, vanilla, water and food color and bring to a boil on medium heat, stirring continuously.
Cook for 1 minute at a rolling boil and remove from the heat. Add the popcorn to the pan and toss using a spoon to coat well.
Leave to set for about 10 minutes.
Serve or pack and store.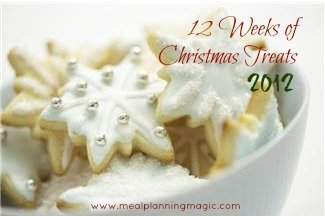 If you'd like to be a part of our 12 WOCT series, drop by our hostess Brenda's blog, Meal Planning Magic and fill out this form and she'll send you the details you need.
Don't forget to check out what the others cooked up.
For this month's installment of
SRC
, I was assigned Raina's blog
Connor's Cooking
. Now this doesn't happen to me very often, infact this would be a first. Usually I'm torn between a multitude of options that I could try out for SRC and I just can't make up my mind. However, as soon as I started looking though this blog, there was one thing I knew I had to make ASAP. There was so much yumminess listed there, but I had a surprising clarity about what I was going to make – why the
oreo balls
ofcourse! I've seen similar treats all over the place in the form of cookie pops or cake pops but just never got around to trying them out. I knew for a fact that this was the month that I would hop onto the pop bandwagon. There was just one little thing – I don't really like Oreo all that much, but we have another company here that manufactures a packet of biscuits called 'Pure Magic' – these are very similar to the Oreo cookies but I think they're much tastier. So I decided I was going to make these pops by simply switching the biscuits.
Making these couldn't have been easier or simpler. I'm so glad I decided to make these treats. Now I'll have a sweet treat in my arsenal that I can whip up without even breaking a sweat. I see these creeping into my Christmas goodies platters too. You might want to make a few extras. Even though they're fairly indulgent, they're very more-ish, it's hard to stop at just one. I found myself reaching out for another one after a couple of minutes. With a tall glass of milk, these will disappear for sure.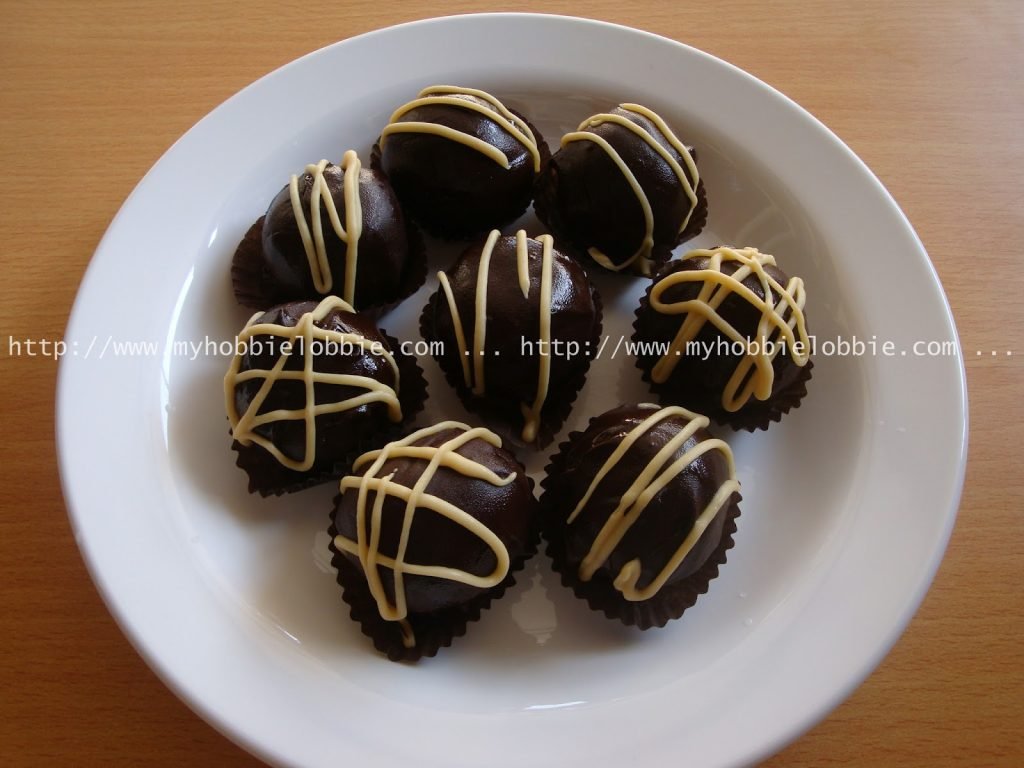 Pure Magic Truffles
(Makes 1 dozen)
2 packets of Pure Magic biscuits (200g in all)
60g cream cheese
Melted chocolate (Dark / White)
Pulse the cookies in a food processor till they reach a fine crumb stage.
Stir in the cream cheese and mix well.
Roll into balls. Refrigerate them for about an hour.
Melt some chocolate and dip these cookie balls in them, shake off the excess and leave to set.
Decorate as desired. I just used contrasting chocolate but I think sprinkles would be cute too.
Don't forget to check out what the others in Group A have made this month. Thank you Jane Bonacci for hosting Group A month after month. You're the best!!!
document.write('
** This post contains affiliate links.
It is indeed Week 2 of our 12 week party. I think this ones going to fly by faster that the previous ones. This week, I used a recipe from "The Cookie Book
", the original one being a Pecan Toffee Shortbread. Well pecans aren't available here, so I used the next best thing – Walnuts. I've wanted to try this recipe for a while. It has a hint of coffee, some toffee, some nuts for crunch and is in all quite a treat. This is quick and easy to put together. A few things I will do when I make these next is chop up the walnuts into smaller pieces and probably cook the toffee for a couple of minutes more, I would've liked it a little thicker. But overall, I like the cookie, it goes well with my afternoon cup of tea. My sister in law and her husband dropped by the day after these were made and I served these bars up with a hot cup of tea and they were wiped off – isn't it the best when that happens? If you like walnuts, you'll like these.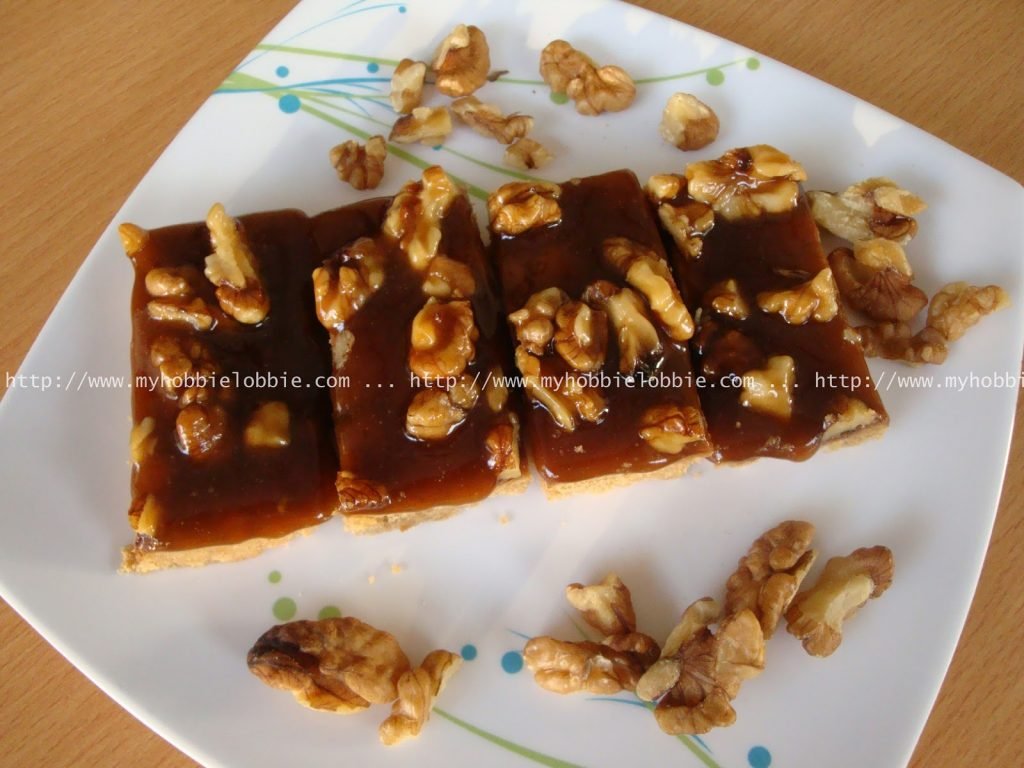 Walnut Toffee Shortbread
Makes 20
For the cookie base –
1 tbsp coffee powder
1 tbsp recently boiled water (still hot)
1/2 cup butter, softened
1/2 cup castor sugar
2 tbsp creamy peanut butter
2/3 cup cornflour
1 2/3 cup all purpose flour
Preheat the oven to 180ºC. Grease and line a 7″ x 11″ pan with grease proof paper.
Pour the coffee powder in a small bowl and pour the water over it and dissolve. (I used instant coffee, if using ground coffee, leave to steep for 4 minutes, then strain and keep aside.)
Cream the butter, peanut butter, coffee and sugar until light. Sift in the flour and cornflour together and mix well to make a smooth dough.
Press into the base of the tin evenly and prick all over the base with a fork. Bake for 20 minutes.
For the topping –
3/4 cup butter
3/4 cup soft light brown sugar
2 tbsp golden syrup / light corn syrup
1 cup shelled walnuts, chopped
Put the butter, sugar and syrup in a pan and heat until melted.
Bring the mixture to a boil and simmer for 5 minutes.
Stir in the nuts and spread the topping evenly over the cooked base.
Leave to cool in the tin itself.
Cut into bars or squares, remove from the tin and serve.
12 Weeks of Christmas Treats is hosted by Brenda of Meal Planning Magic. We'd love for you to participate with us. If you'd like to join up, please fill up this form and Brenda will send you the necessary details.
Today's post for me is a bittersweet one. One of our dear members of the
SRC
, Daniel Saraga of
The Haggis and The Herring
, passed away recently. His demise was an unexpected one. His wife Meredith posted a very touching
eulogy
which gives you an insight into the lovely person Daniel was. His passing came as a great shock to our group of bloggers. Even though I'd never met him personally, I teared up as soon as I read about this. It is amazing the bonds that blogging forms and nurtures. Daniel was a cheerful spirit and I know he will be greatly missed. As part of a tribute to honor him, the SRC members have come together and decided to showcase a recipe from his blog.
I was pressed for time, but I wanted to be a part of this tribute. So I picked a sandwich for today's reveal. Even though this humble sandwich is so simple to put together, it is absolutely delicious. Further more, it is extremely versatile, so you can easily switch things up to suit your preferences. I made this for breakfast today and I know that this sandwich will feature now and again at our breakfast table. So here's to Daniel and his wonderful family. Meredith, our thoughts and prayers are with you and your family during this trying time.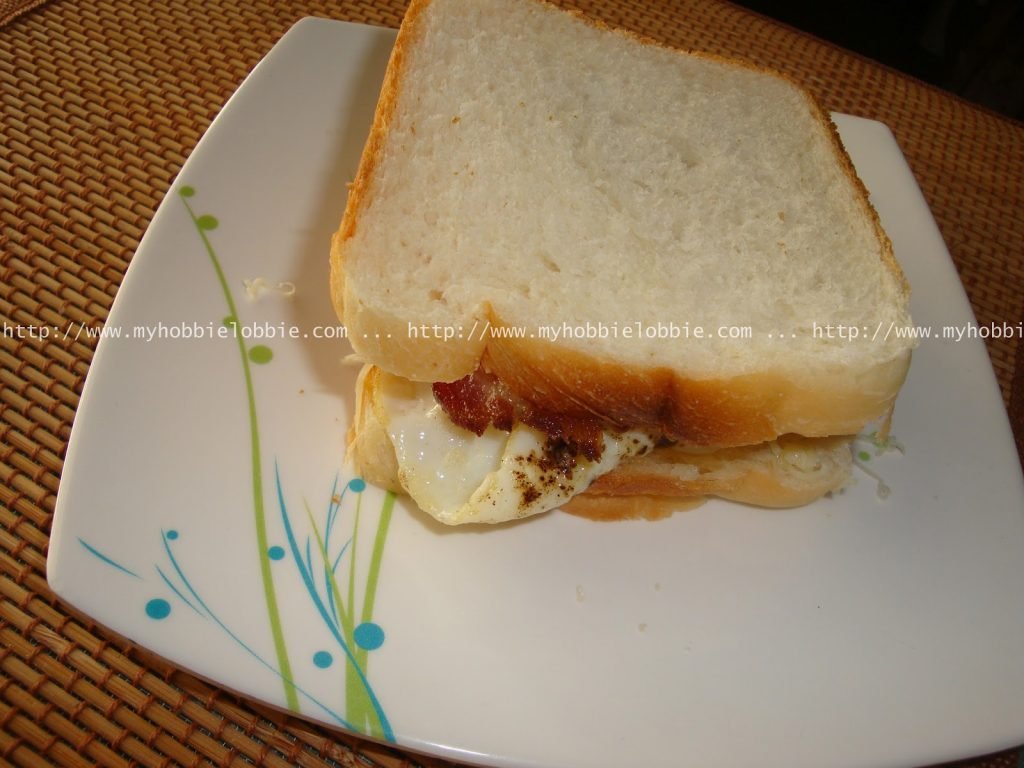 Breakfast Sandwich
Makes 1
2 slices of fresh white bread
2 rashers of bacon, fried to your liking
1 egg, fried easy over
Salt and crushed black pepper, to taste
A small knob of butter
Grated cheese (Use whatever you like)
Tomato ketchup
Thai Sriracha sauce
Spread a little butter on one slice of bread.
Place the egg and the rashers of bacon over it.
Place the grated cheese over the eggs and bacon.
Pour a few drops of Thai Sriracha sauce over it. Use this hot sauce to taste.
On the other slice, spread some tomato ketchup and top the sandwich with it.
Sit back and enjoy with a steaming hot mug of coffee.
document.write('