Welcome to this years edition of 12 Weeks of Christmas Treats (12WOCT). This will be my third year participating and its always been heaps of fun. Christmas is my most favorite time of the year. I wait very eagerly all through the year for it. For the past two years I've posted recipes both old and new, some all time favorites and some that have joined that league right from the get go. This year I want to do something a little different. I'm hoping to make and post about treats and recipes that are a little out of my comfort zone, stuff I've never tried before.
This brings me to my first post for the year. I decided to 'go nuts' right at the start 😉 I've always loved these little munchies, either plain roasted or spiced, but have never tried making them at home. So I decided it was the perfect time to give these a go. And am I glad I did! These candied nuts are so easy to put together. With minimal time and effort you can whip up a batch of this and I know I'm going to add these to my platters of goodies that I'll be sending out to friends and family this year. I'll probably use some festive cellophane packing and dress it up with a little bow. I'll try and get a picture up for when I do that later this year. For now, I'm gonna enjoy having a little jar of these to snack on. Oh, did I tell you that these are really delicious and addictive.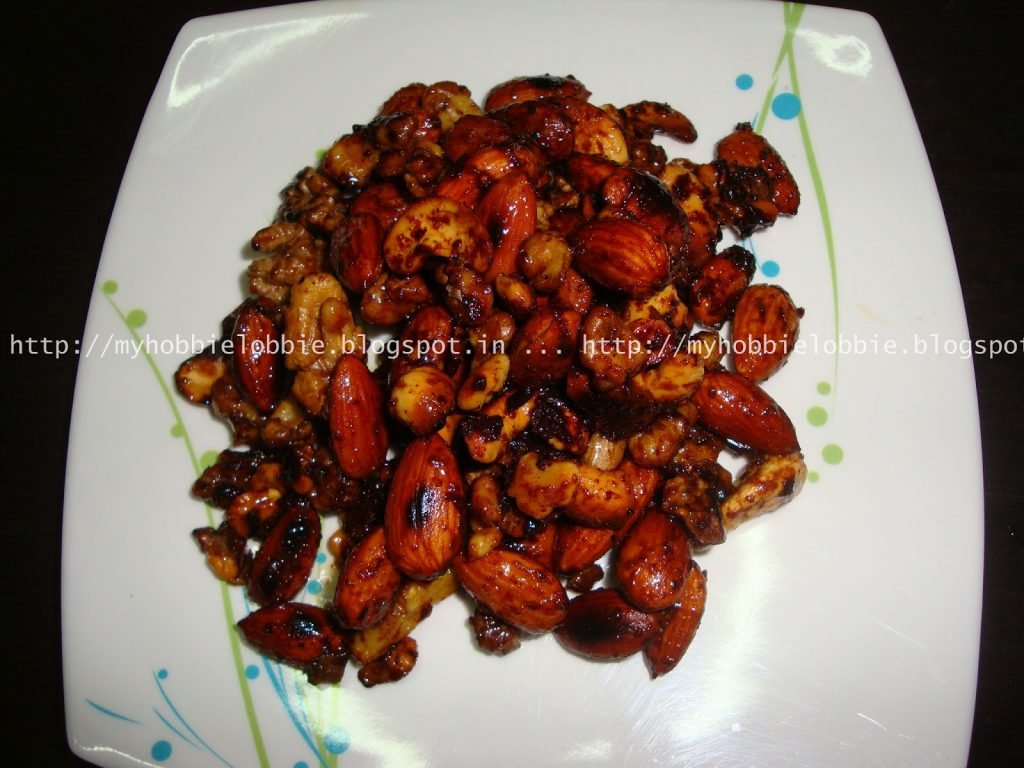 Candied Spiced Nuts
Recipe by: Emeril Lagasse
2 cups mixed nuts (I used a mix of almonds, cashewnuts and walnuts)
2 tbsp butter
1/4 cup light brown sugar
2 tbsp water
1/4 tsp cumin powder
1/4 tsp red chilly powder
1/4 tsp cinnamon powder
1/2 tsp salt
Mix the spice powders and salt and set aside.
Heat nuts in a dry skillet to roast lightly, stirring to prevent them from burning for about 4 minutes. Transfer to a bowl and set aside.
Add the butter, sugar, water and spice mix to the hot skillet and cook, stirring frequently to make a lovely glaze. This should take about 1 minute.
Tip the nuts back into the skillet and toss to coat the nuts with the glaze. Cook for about 1-2 minutes or until the nuts are glazed and golden brown.
Take the skillet of the heat and transfer the nuts to a baking sheet lined with aluminium foil, separating them with a fork. Leave it till cool and the sugar has hardened. This should take roughly 10-15 minutes. Store in an airtight container.
I'd like to say "Thank you" to Brenda of
Meal Planning Magic
for hosting this years 12WOCT. If you'd like to be a part of this delicious merriment, get in touch with Brenda and she'll include you in the group. Hope you can join us!
Don't forget to check out what the other fabulous bloggers have made –
Its
SRC
reveal time again. What a ride The Secret Recipe Club has been! I've been a part of it for more than a year now and have had a blast. I've been a part of Group B since the member were first split into groups and have gotten to know some wonderful people there. This month though, is my first month with Group A and at the helm is Jane Evans Bonacci a.k.a
The Heritage Cook
. I'm looking forward to meeting all the wonderful folks in Group A; I can't wait.
This month, I was assigned Noelle's blog – Opera Singer in the Kitchen. Hi Noelle!!! You can head over to check out some of her performance videos. She is mommy to the gorgeous little Julianne and is currently expecting her 2nd little bundle of joy. Oh and she blogs regularly. I'm in awe of her ability to do it all. I had the most wonderful time going through her blog this month and have made a nice little list of things I'd like to try. For this months reveal, I picked the Double Chocolate Scones. Things have been insane around here lately and I needed a chocolate fix. This seemed perfect. It was so simple to put together and in no time I was sitting back with some lovely warm scones.
I didn't make any changes to the recipe except for swapping the heavy cream for yogurt, since I was out of cream and cut down on the amount of chocolate chips. The scones still turned out really well. As a personal preference, I think I will make these with Vanilla extract the next time and maybe add some toasted chopped hazelnuts to switch things up.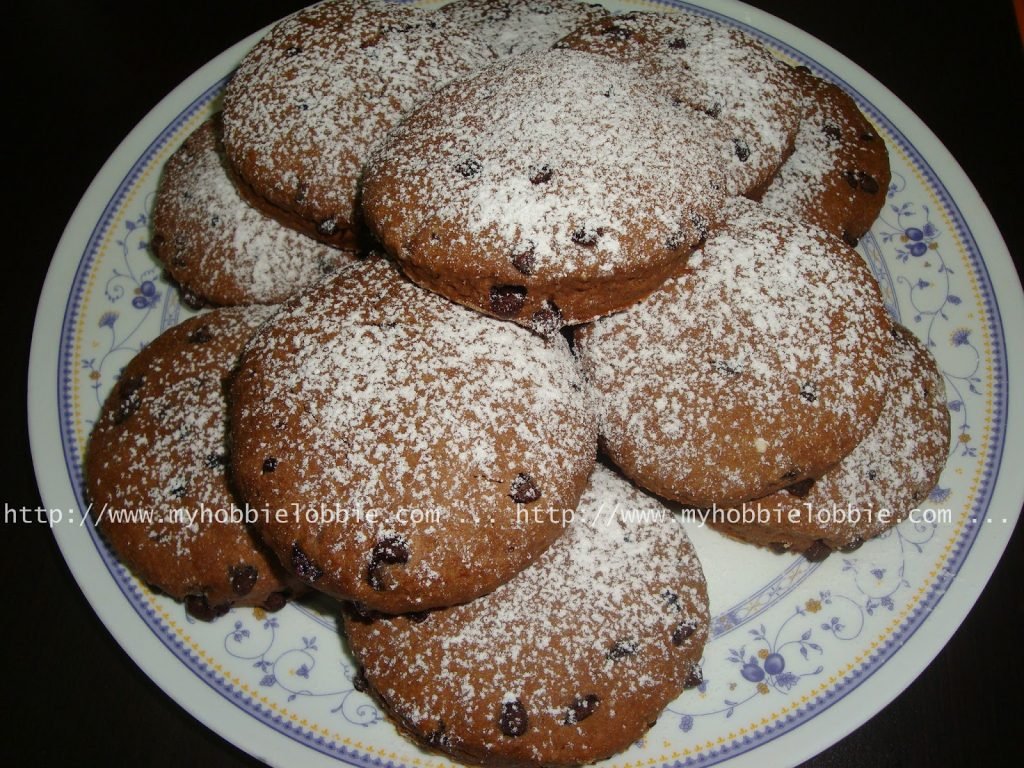 Double Chocolate Scones
Makes 8
1 3/4 cups all purpose flour
1/4 cup cocoa, unsweetened
1 tbsp baking powder
A pinch of salt
1/3 cup cold butter, cubed (I used salted and reduced the amount of salt)
1/2 cup sugar
1 large egg
1/2 cup yogurt, unflavored (The original recipe calls for cream)
1 tsp almond extract
1/2 cup bittersweet chocolate chips
Icing sugar for sprinkling, optional
Line and grease a cookie sheet with baking paper.
Preheat the oven to 180ºC.
Sift the flour, cocoa, salt, baking powder together to make sure they've mixed well.
Place these dry ingredients in a bowl and add the sugar. Stir to incorporate well.
Rub the cold butter into the dry ingredients till it reaches a crumb stage.
In a separate bowl, whisk the eggs, yogurt and the extract to blend them well.
Pour the wet ingredients over the dry ones, add the chocolate chips and stir with a wooden spoon to form the batter.
On a floured surface, roll out the dough to an 8″ disc and cut into 8 wedges or cut using a biscuit cutter. Place on the prepared cookie sheet and bake for 12-15 minutes.
Serve them warm or cool completely and store. Sprinkle with icing sugar (if using) when the are cool.
Do you wanna see what they look like on the inside? Absolutely yummmmm!!!