This week, you're in for a visual treat – my first attempt at a zebra cake. I fell in love with these stripes ever since I first saw them. However, months passed till I actually got down to making this beauty. The cake was simple to make. I was a little anxious during the process, but was very happy with the end result. This cake does not use butter. I'll be honest, I'm not a big fan of cakes without butter – I'm not too crazy about the taste. However, I read in a few places that this cake is all about the consistency of the batter and since this was my first time trying it, I didn't want to experiment. I stuck with the original recipe and now that I know what to expect, I'm going to experiment with my tried and tested (not to mention – much loved) sponge cake recipe.
If you like the way it looks, you should try it out sometime. You'll be amazed at how simple it is. Once you've tried it out, you can switch the recipe if you wish to. Have fun!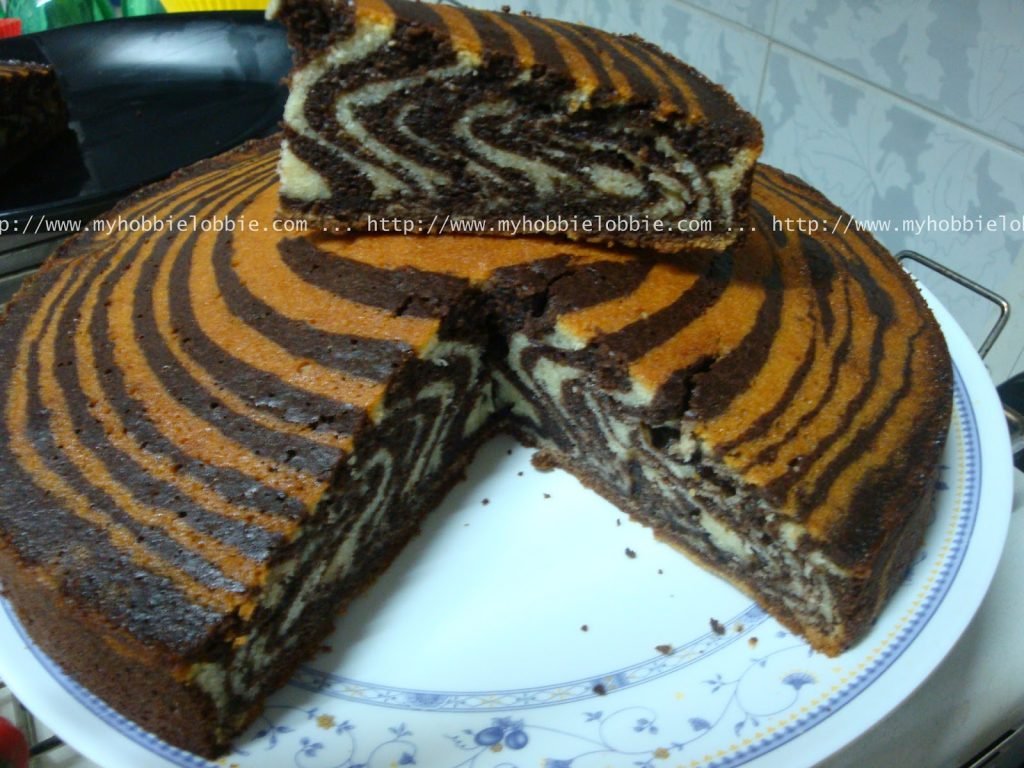 Zebra Cake
Recipe from: AZ Cookbook
Makes one 9″ cake
4 eggs
1 cup sugar
1 cup milk, at room temperature
1 cup veg. oil
2 cups all-purpose flour
1 tsp vanilla extract
1 tbsp baking powder or 1 tsp baking soda
2 tbsp cocoa powder
Grease and line the cake pan and keep aside.
Preheat the oven to 180ºC.
Cream the eggs and sugar till light and fluffly.
Add the milk, vanilla extract and oil and continue beat till it is well combined.
In another bowl, sift the flour and the baking powder. Gradually add the dry ingredients to the wet ones, mixing till incorporated. Do not overbeat.
Divide the batter into 2 equal portions. Keep one as it is and add the cocoa powder to the other and mix well.
To assemble the cake, remember that you need to work quickly. Start by spooning 3 heaped tbsp of the plain batter in the middle of the prepared cake pan. Then spoon the same amount of cocoa batter over this batter in the middle. DO NOT TILT OR TWIRL THE PAN. JUST KEEP SPOONING THE BATTER ONE OVER THE OTHER ALTERNATING THEM. The batter will spread out on its own. Don't try to help it do that or you'll interfere with the lines. Continue till all the batter is done.
Carefully place the pan in the oven, trying not to disturb the layers. Bake for about 40 minutes or till done.
Remove from the oven and take the cake out of the pan and transfer to a wire rack to cool.
You'll have yourself a gorgeous looking cake. Stand back and admire.
NOTE – For step-by-step pictures stop by AZ Cookbook.
Now, aren't these pretty –
Time sure does fly by real fast when you're having fun. And it is time for this months
SRC
reveal. This month I was
Secrets from the Cookie Princess
. Such a pretty name and such a pretty blog. I've spent hours going through The Cookie Princess' a.k.a Colleen's blog. I've had my eye on this blog for a while. Colleen has a huge collection of cookie posts. When I say huge, I mean HUGE. Saying "I was spoiled for choice" would be an understatement. I had such a hard time narrowing it down to one recipe for reveal day. In addition to her cookies, she has some other yummies too. I can wait to try this
Pita Bread
, her
Roasted Garlic Flatbread
and these
Mini Fritttatas
. However, since her blog is called
Secrets from the Cookie Princess
I knew from the start that I was going to try out a cookie recipe to being with. Also, its been ages since I made cookies at home. One glance at the Recipe Archive and I knew I was in trouble. I have a whole list of cookies and bars that I want to try out.
Coming back to today's post, I decided to try out Colleen's Cinnamon Bars. I'm not too sure if they're supposed to be softer like a blondie or crisper like a cookie. Mine ended up more on the crisper side like a cookie. Don't get me wrong, I'm not complaining, just curious. Either way, the kitchen smelled wonderful while these were baking. These bars tasted wonderful. We absolutely loved them. The original recipe calls for pecans and I wanted to use almonds, but ended up using walnuts. I can't wait to see what these will be like with almonds. I know I'll be making these every now and then. Maybe the next time I'll try baking them for a slightly shorter while and see what they turn out like. Maybe I'll add some chocolate chips or even drizzle them with melted chocolate. The possibilities seem endless. All I know is that I've found a good base recipe and I intend keeping it. Thank you Colleen.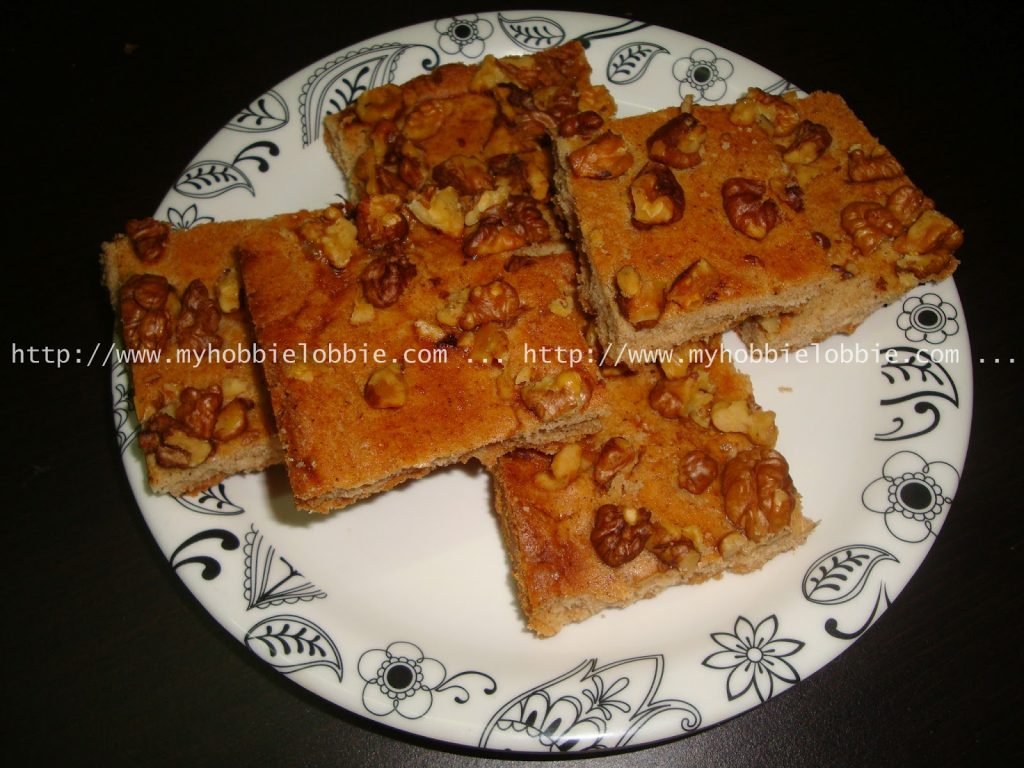 Nutty Cinnamon Bars
(Yields 24 bars)
1 cup butter, softened
1 cup sugar
1 egg, separated
2 cups flour
1 1/2 tbsp cinnamon powder
1 cup walnuts, chopped
Preheat the oven to 170ºC.
Grease a 9″ x 13″ pan and keep aside.
Cream the butter and sugar in a large bowl till light and fluffy.
Add the egg yolk and the cinnamon powder and mix well, scraping down the sides of the bowl.
Sift the flour and add it to the bowl 1 cup at a time and mix until combined. You should end up with a crumbly dough.
Press the dough evenly into the greased pan.
Pour the egg white over it and spread it around making sure it has coated the entire surface. Drain off any excess.
Sprinkle the chopped walnuts over this base and lightly press into the dough.
Bake for about 25-30 minutes.
Let it cool in the pan itself. When cool, cut into bars.
document.write('
Even though I'm not British or Australian for that matter, or have never been to these countries, Fish N Chips has established itself as comfort food in my household. A lot of times when we'd go out for dinner, especially to Pop Tate's (now Jughead's – near Movietime, Malad), one of our favorite things to order had to be their Fish N Chips. What hooked me onto this was their tartar sauce. It was so good, I could literally enjoy it by itself. After quite a few dinner's there and spending quite a buck, I wondered if it would be possible to try and replicate this at home. So after going through a few searches on the internet, I had a rough idea of what would go into the sauce and I decided to wing it from there on.
The results were amazing. I was astonished at how simple the entire meal was to put together. We were feasting on Fish N Chips in no time at all. Would I dare compare it with the one from Pop Tate's. This time around, hell yeah! My version was just as good, if not better and my husband agrees. Now we no longer have to go out to tuck into a platter. Every single element on this plate can be made from scratch. Isn't that wonderful.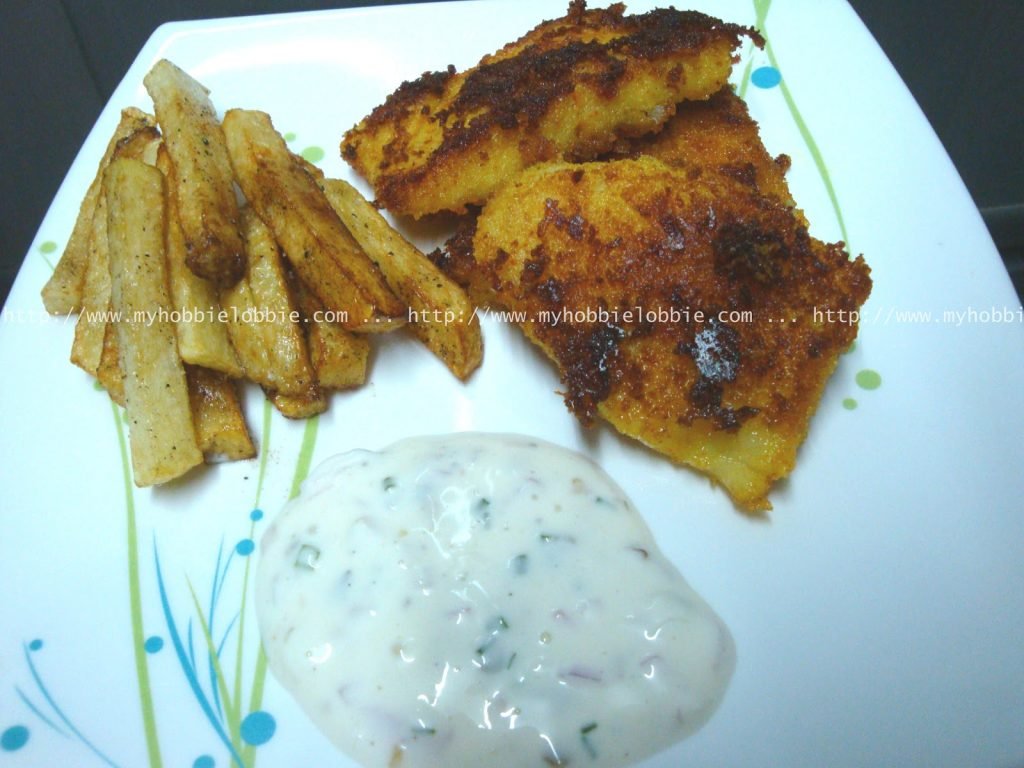 Fish N Chips
Serves 2


For the fish:
4-6 fillets of fish depending on the size (I used 2 Premium Basa fillets from Hypercity and cut it into smaller pieces. You can use any fish you like, preferably not the tinier ones.)
I simply crumb fried these fillets. I used the same recipe like the one for Crumb Fried Prawns.
Try not to fidget with the fish while it is frying as it is fairly delicate. Once it develops a nice golden brown crust on one side, flip it over and let the other side cook.
For the chips:
Use 2 potatoes, more if you'd like a larger portion of chips. I used the recipe for my Homemade French Fries.
For the tartar sauce:
1/3 cup Mayonnaise (This time around I used some store bought Mayo, that I happened to have on hand, but you could just as easily whip up some on your own. Click here to find out how.)
1/2 small onion, finely chopped
Some chives, chopped (I didn't have any fresh chives at hand, so I used dried chives)
A spoon of Pickled Sweet Cucumber Relish (I had a jar of this so I used it, otherwise I would've just thrown in some finely chopped cucumber)
A large squirt of lime juice
Place all these ingredients in a bowl and stir to mix.
Check for seasoning and adjust the ingredients as required to suit your taste.
Keep refrigerated till you're ready to serve. Stir before serving.
This recipe is linked to –
Real Food Wednesday
It's a Keeper Thursday
Full Plate Thursday