UPDATE: The giveaway is now closed and the winner will be announced shortly. Stay tuned.
Thanks everybody for participating. The winner for this giveaway is –


Comment #16 – Miz Helen – "Hi Trisha,Congratulations on your 200th post! I have followed your blog for a long time and always enjoy your post. This is a great cookbook that would be a perfect addition to my collection of well over 200 hundred cookbooks. My favorite of all of those is the one that my Grandmother wrote in her own hand writing, it is awesome! Thanks for sharing with us!
Miz Helen"


Congratulations Miz Helen!
Can you believe it? This is my 200th post. I'm pleasantly surprised. When I started out, I thought I would be able to keep going for a while, but was wondering how long that would be. Turns out I ♥ blogging. I also absolutely love checking out other blogs, getting to know the bloggers and checking out their wonderful creations. Its been really inspiring.
Of course, my primary source of inspiration comes from the piles of recipe books that I own. I can tell you that this habit started a long time ago. I remember right from my college days, I would gather my pocket money and spend it on recipe books, specially the ones with fabulous pictures. In those days, I didn't really check the index out too keenly. I must also tell you that back then, I wasn't too keen on cooking. I took special interest only in sweets and cakes. So my first few books were mostly about desserts. I still remember my Mum getting frantic each time I came home with yet another book. I could spend hours admiring them but never really got into the kitchen to whip up something. So her concern was "what ever was I going to do with my ever growing pile of cookbooks, considering I never used them?" Well Mum, I'm glad to report that I now use every single one of them and I'm really happy that I picked them up when I did.
Its now more than 10 years later and I still have a thing for cookbooks. Needless to say, there is also loads of information, recipes and pictures on endless sites and food blogs. So my growing stack of recipe books is in check, though I still add to it regularly.
I thought I would take this occasion to give something back. I want to say "Thank you" to each and every one of you who stop by regularly or just the once, those who follow my blog publicly or silently – in the shadows – I would really like to know you better, so if you are one of those who just stops by once in a while or leaves me anonymous comments, its time for you to step out of the shadows 🙂 and also all you wonderful folks that take time out to leave me comments, I do love comments, so please keep the love coming. And it doesn't end at that. I'm going to give you the opportunity to participate in my first ever giveaway. I recently came across this beauty of a book on desserts and one lucky ready will have their very own copy.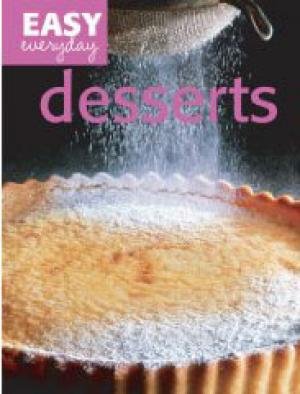 This gorgeous book is something one should have handy. Its filled with wonderful dessert recipes covering a wide variety of goodies like meringues, souffles, mousses, pies, chocolate desserts, puddings, frozen desserts, fruit desserts to name a few, complete with gorgeous pictures and all.
How to participate –


This giveaway is open to all. Participation in this giveaway is very simple.
1) You need to follow this blog, and comment on this post and let me know that you're a follower. If you already follow the blog, simply leave a comment and let me know.
I'd also love to hear a little about you. So please include the answer to this question in your comment – How many cookbooks do you have and which one is your favorite? I can't wait to hear from you. If you don't want to answer the question, you can still participate, just leave a comment on this post. 🙂
2) You can increase your chances of winning by following me on twitter and tweeting about this giveaway, following My Hobbie Lobbie on Facebook and blogging about this giveaway. Once you've done this, please leave me a separate comment for each of these. This allows you 3 additional chances to win.
3) The giveaway ends on 10th June 2012. The winner will be randomly picked and announced soon after. Please make sure I can get in touch with you. If you don't have a blog, please leave me an email address so that I can contact you.
Good Luck!!!
Disclaimer: This is NOT a sponsored giveaway.
Every summer, our consumption of ice cream, yogurt and other frozen yummies goes up like clockwork. I guess its just natural. Given that every summer is exponentially hotter than the last, or atleast seems like it, I'm not surprised. This year as summer kicked it, I knew what was in store. And right enough, we are now in what perhaps is the hottest month of the year. Last year, I'd tried my hand at a couple of ice creams – a delicious
mango ice cream
and a
honey and roasted almonds ice cream
, both no churn, made without an ice cream machine. They were a big hit and this year I wanted to try out a few more. When I checked online there were so very many options, it was impossible to pick. So I went by what I had on hand. I made some vanilla bean ice cream and this yummy blueberry ice cream. More on the vanilla bean ice cream later.
It just so happens that I love blueberries. I think a lot of folks do. But you see, here in Mumbai, finding fresh blueberries is impossible. And its the same with frozen ones too. Back in Goa, these little gems grow wild and till date I remember our annual vacation trips to Goa and how we'd go berry picking every once in a while. I used to look forward to it all year. We don't go there as often anymore, not in the summer atleast. So when I was in Panchgani on one of our weekend getaways, I spotted a Blueberry crush at a Manama factory outlet. I was elated and picked it up at once. I knew this was as close to the real thing that I would get for a while. It tastes divine and even has little berry pieces. And this crush is what I used for this no churn ice cream. However, if you are fortunate enough to have access to the berries, fresh or frozen, I would suggest using it, I can only imagine how much better it would make this ice cream. I didn't use any sugar, since I used Rich's sweetened soya cream.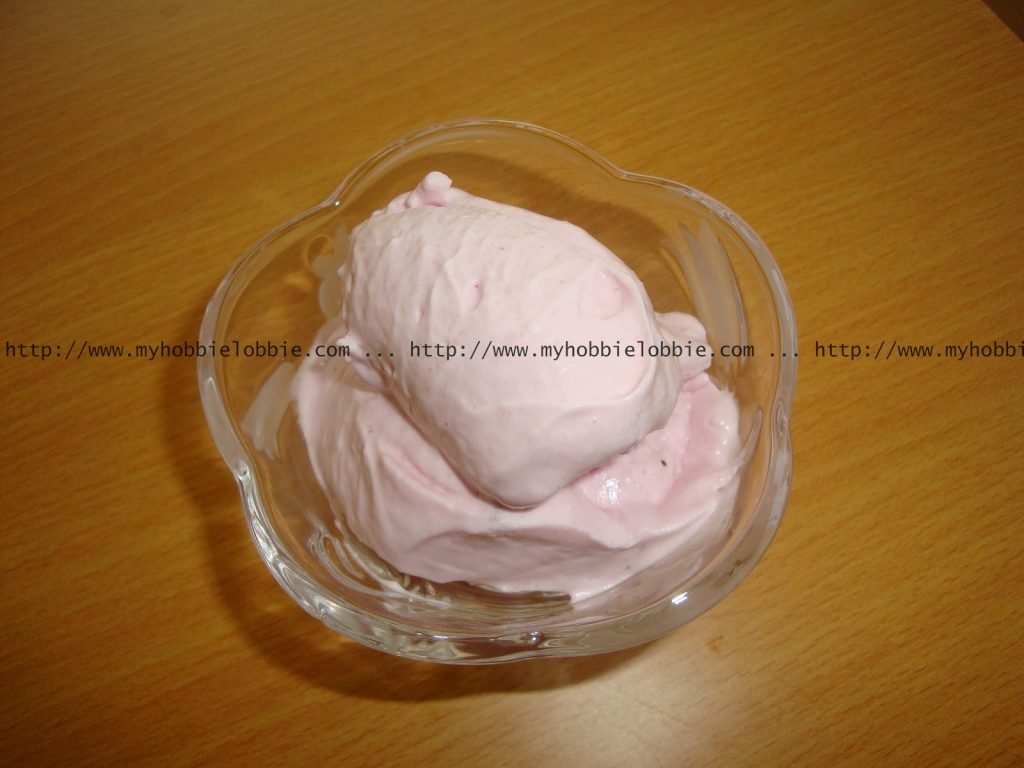 No Churn Blueberry Ice Cream
200g Rich's sweetened soya cream
Manama's Blueberry crush, to taste
Whip the cream till it is nice and light and fluffy.
Add the crush to the cream and stir well to incorporate thoroughly.
Taste and add more crush as required and mix well.
Refrigerate.
This recipe is linked to –
Sweet Tooth Friday
Sweets for a Saturday
Weekend Potluck
My Meatless Mondays
Savory Sunday
Mix it up Monday
Mangia Mondays
Disclaimer – This is not a sponsored post. All views and opinions are my own.
At the start of this year I honestly thought I would be able to dedicate more time to this blog. I had a few plans and unfortunately, they've still remained plans. I intend getting to work on those plans soon, so fingers crossed, you should see more frequent posts here. It seems like the stars seem to have something else in mind for me altogether. I've been awfully busy with work and some medical issues – my husband had to get knee surgery done week before last, and that didn't allow me to spend more time here. But I'm really glad to be a part of the
Secret Recipe Club
, because month after month, this blog party makes sure that I post, no matter what. So "Thank You" Amanda of
Amanda's Cookin
' for keeping me on track, atleast once a month. Also, our wonderful hostess Suzanne of
Thru the Bugs on My Windshield
makes sure we remember to get our posts up and running on time.
My blog partner this month was
From Arepas to Zwetschgen
. I was delighted to be partnered with a blog with so much culinary diversity. German Mama has a wonderful selection of food from all over the globe. She has a wonderful ongoing event, or project, as she likes to think of it, called "Cook Around the Globe" where every month you get an insight into the cuisine of a certain region. What a wonderful way to get familiar with the culture and food of other countries! Do stop by and go for a trip around the globe, right from the comfort of your own home.
This month, I decided to try out something sweet. After all the running to the hospital and back, I figured we could do with a little treat. So I picked out these lovely chocolate fudge tarts. I love the way these turned out. The original recipe serves these up with some whipped cream, but I just dusted some icing sugar over these. These tarts have just the right amount of sweetness for me. They're not too sweet and that suits me just fine. Next time I think I'll try topping these with some toasted almond flakes or chopped, roasted hazelnuts. I think that'll be really good too. This recipe yields 5-6 4″ tarts.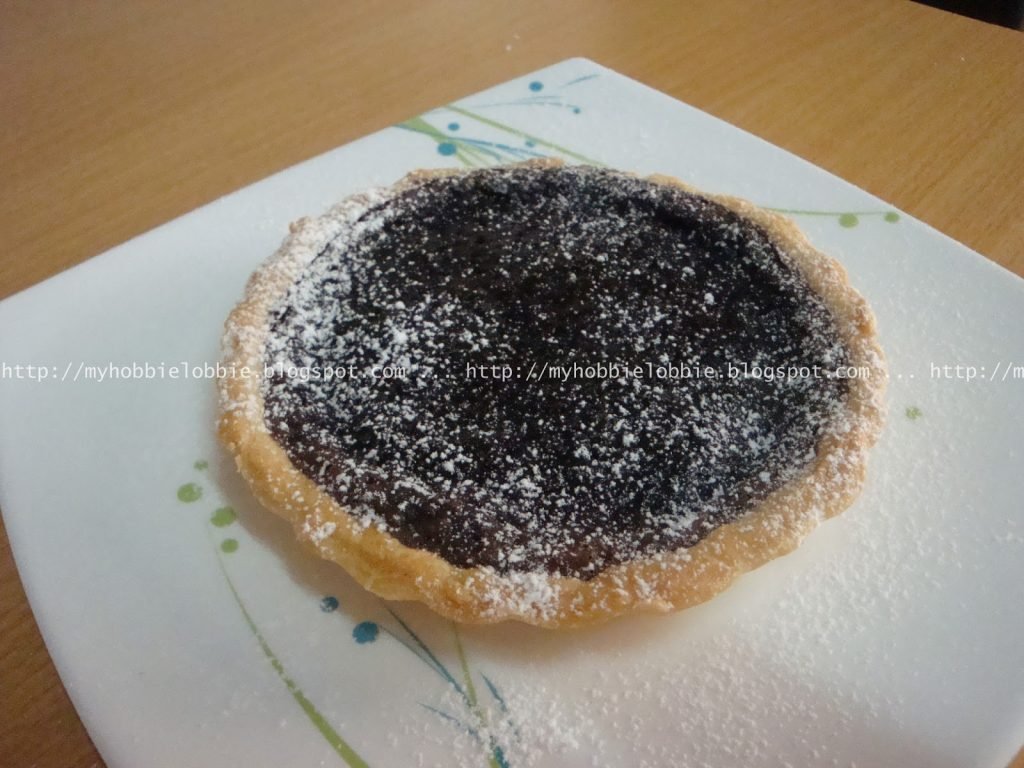 Chocolate Fudge Tarts
4 tbsp unsalted butter
125g dark chocolate
125g heavy cream
1 large egg
1 egg yolk
1/4 cup sugar
1 tsp vanilla extract
Icing sugar, for dusting over
Preheat the oven to 200ºC.
Roll out the shortcrust pastry and line the tart moulds with the pastry. Pierce with a fork and bake for 10-12 minutes till lightly browned.
Let the shells cool off and while this is happening prepare the filling.
Melt the butter and chocolate over a double boiler or on very low heat. (I didn't use a double boiler.)
Add the cream and stir well to incorporate. (The original recipe adds the cream to the chocolate and butter and melts them down together. I added the cream after the chocolate had completely melted to bring down the temperature of the mix so that I didn't have to wait to add the egg mix.)
Whisk the egg, the yolk, vanilla extract and the sugar till it is well combined and add to the chocolate mix.
Stir well to incorporate.
Preheat the oven to 130ºC.
Pour the filling into the pre-baked tart shells and carefully place them back in the oven and bake for about 25-30 minutes or till the fudge has set.
Once the tarts have cooled, you can serve it with your choice of topping.
Don't forget to check what the others have chosen to make for this month's reveal.
document.write('