This month, through Amanda's (
Amanda's Cookin'
) brainchild –
SRC
, I had the opportunity of getting to know Rebecca of
A Dusting of Sugar
. As soon as I ran over to check out options for SRC, I saw her post on
Chocolate Chips Banana Bread Scones
. I've been meaning to try making scones for a while now, and this seemed like the perfect opportunity. Also, my options this month were rather restricted, since I'm abstaining from meat, fish and eggs this Lent. I was thrilled that such a yummy sounding treat was an eggless one. When I made these scones, I was in for a real treat. They were moist and had some yummy, gooey, melted chocolate goodness ever so often. The original recipe included a glaze, but these were so yummy that we had them straight, without the glaze. I made a few minor changes to the recipe and my version is noted below. You can visit 
A Dusting of Sugar
 for the original one. Thanks Rebecca, for introducing me to something so simple, yet absolutely delicious. I'm making another batch of these scones this evening.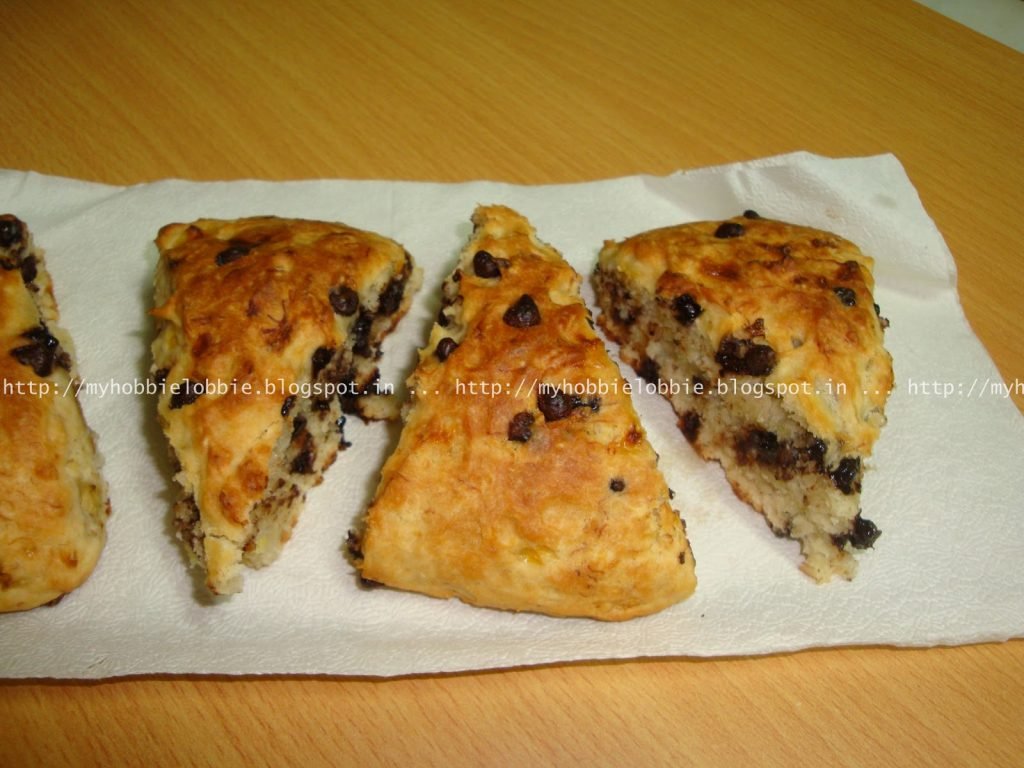 Chocolate Chip Banana Bread Scones
Makes 8 wedges
Adapted from: A Dusting of Sugar
2 very ripe bananas (you should have 1 cup when mashed. You may need another banana depending on size.)
2-4 tbsp milk
1/2 cup yogurt
2 1/2 cups all-purpose flour
2 tbsp sugar
2 tsp baking powder
4 tbsp cold butter, cubed
3/4 cup semisweet chocolate chips
1 tsp vanilla extract
Mash the  bananas in a bowl. Add the milk, vanilla extract and yogurt. Mix well and keep aside.
In a large bowl, sift the dry ingredients, the flour and baking sugar and add the sugar and mix well.
Rub in the cubes of cold butter till the mix resembles coarse wet sand.
Pour the banana mix into the dry ingredients and stir well until just thoroughly incorporated.
Fold in the chocolate chips, making sure they are distributed throughout the batter.
Tip the batter onto some plastic wrap. Flatten it to a disc about an inch thick and freeze for 30 minutes.
Preheat your oven to 200ºC.
Place the cooled disc onto a baking sheet that has been lined with some greased baking paper and cut into 8 equal wedges.
Bake for 25-30 minutes or until golden brown.
Don't forget to check what the other members of Group B have whipped up. Thanks Suzanne for hosting our group.