Those who know me well, know that I love all good food, but dessert is my absolute weakness. I love all kinds of sweets, candies, bakes and Indian sweets too. The thing is, I can bake some wicked stuff, but I've never attempted too many traditional Indian sweets at home. I usually just go to an Indian sweets shop and pick up stuff over there. In a way, thats a good thing because a lot of these divine treats are usually high on the sugar and ghee (clarified butter). Atleast that's the notion I have. I have made a few before like this slightly healthier version of
Sheera
,
Gaajar ka Halwa
and Gulab Jamuns which I'd made a long time ago before I'd started blogging (I should make those again). Today's treat is a slightly healthier one. It is a sweet Indian flatbread called Puran (Poo-run) Polis (Poh-lees). These are usually made for the Holi and Gudi Padwa festivals. We enjoyed these for breakfast, had some with our afternoon cup of tea and enjoyed every bite of it. My husband loved it, for him these were perfect. That's always great to hear.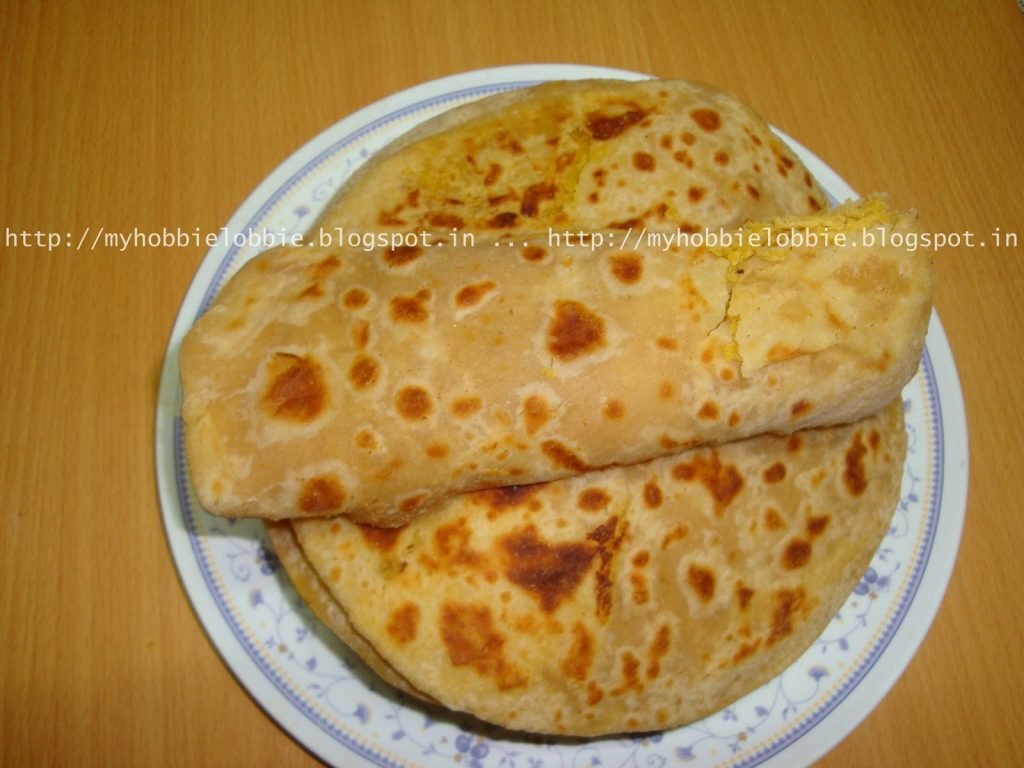 Puran Poli
Recipe by: Tasty Treats
Makes 10
For the flatbread –
100g whole wheat flour
100g all purpose flour
1/4 tsp salt
Milk, for kneading the dough
2 tbsp vegetable oil
For the filling –
200g chana dal
1 cup water
225 gms jaggery, roughly chopped
8 green cardamoms – seeds crushed
A little ghee / clarified butter, to smear on while cooking
Mix the flours and salt and knead it to a soft and smooth dough using milk as needed.
Incorporate the oil into the dough by kneading in 1 spoon at a time. Knead well till all the oil is incorporated.
Keep the dough aside in an airtight container for an hour.
Wash the dal a couple of times and pressure cook it with a pinch of salt and 1 cup of water for 2 whistles.
Turn off the heat and when the pressure has dropped completely, drain the excess water and spread the dal on a plate to cool off.
Add the jaggery and cardamom seeds to the dal and mix well. I put it in the mixer and pulsed it a little till it turned to an almost smooth paste.
If the paste is too wet, cook it off on medium heat till the moisture dries out a little, till it can be rolled into little balls.
Cool it off, divide it into 10 equal portions and roll them into balls and keep aside.
Divide the dough into 10 equal portions and roll into balls.
On a lightly floured surface, roll out the dough to about 4″ in diameter (just approx large enough to contain the filling and a little extra around the edge for sealing), place the filling in the centre and cover with the dough, sealing it off (sort of like a stuffed dumpling).
Flatten this ball out gently and ever so gently roll it out as thin as possible without exposing the filling. If it remains on the thicker side too, its no problem. From here on, you have to handle the flatbreads very gently or they will break.
Place them on a hot griddle and let it cook on a medium flame till it lightly browns on one side. Flip over to achieve the same result. Smear a little ghee on top and flip over and let it cook till done. Smear a little ghee on the other side as well and flip over and cook off.
I like to eat these a little warm. They refrigerate well too. Simply reheat them on the griddle and you're good to go.
This recipe is linked to –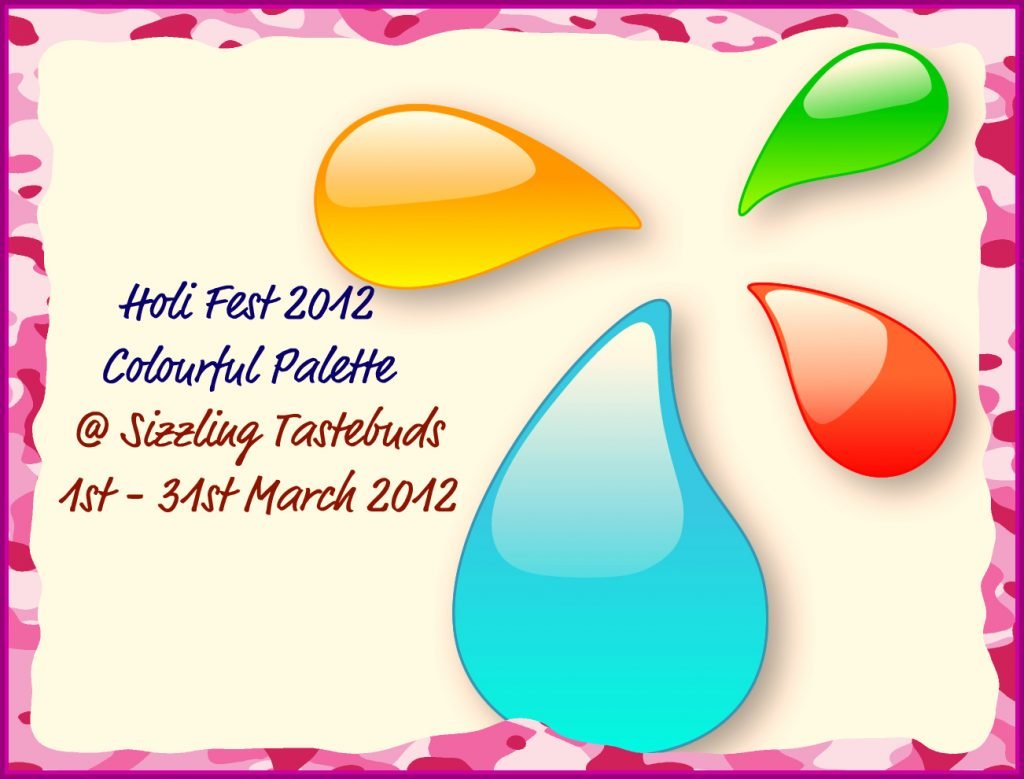 Is anyone up for quick, easy, one pot meals? I though so! Like so many of you, I too am constantly on the look out for one pot meal wonders. For me, its a tad easier when I have the option of using meat or seafood to flavor it up. This tava pulao took me by complete surprise. Tava means griddle and pulao means a savory rice preparation, so the name doesn't really talk about how wonderful this vegetarian one pot meal is. Tava pulao is also considered street food and can be found at street food carts in most parts of the city. I've seen a couple of such carts, and although I'm not a snob where street food is concerned (I love chaat), I just haven't been able to get myself to eat a portion. However, I did manage to sample this a few times at the office cafeteria. Those of you who've been subject to cafeteria food atleast in Mumbai, know exactly what I'm talking about. While being edible, their version of this pulao wasn't spectacular or even flavorful. You need a curry to go through it.
While I was on the hunt for some vegetarian recipes that I could add to my arsenal, I came across a recipe for Tava Pulao. I hadn't thought about this in a while and when I saw it, I decided that this was as good a time as any to try it out. So this was our Sunday lunch a while ago. Looking at the ease of putting this together, initially, I was a little skeptical about how it would turn out. But we enjoyed this so much, that I've made it on two other occasions since then. It has a lovely assortment of vegetables and is beautifully spiced. You can use whatever assortment of vegetables you have at hand. As far as the spices go, the original recipe calls for Pav Bhaji Masala. I didn't have any, so I just left it out and it turned out fine. I was questioning the practicality of having to buy an ingredient to use in just one dish and that kept me from buying it for a while. But I now want to try making my own Pav Bhaji (which is another favorite in our house), so I picked up a box of the masala yesterday. I'm eager to see how it impacts the flavor of this dish. So stay tuned to see how my Pav Bhaji making endeavor fares, but in the meanwhile, here is the recipe for the Tava Pulao.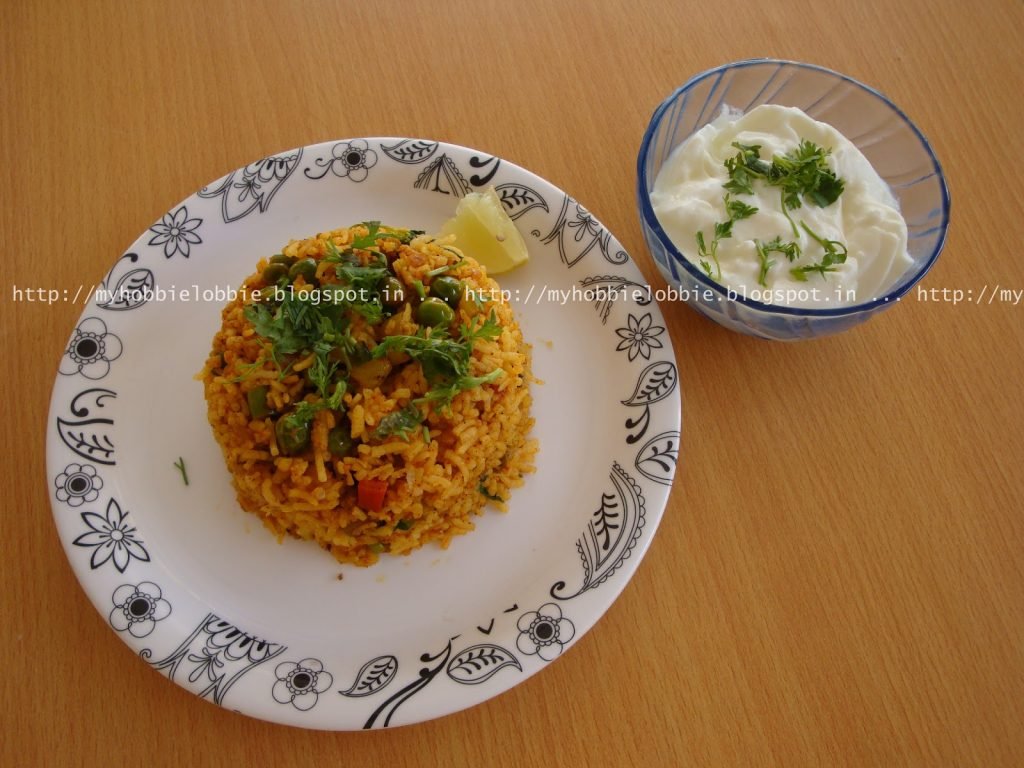 Tava Pulao
Adapted from: Sizzling Tastebuds
Serves 2
1/2 cup long grained rice
2 tbsp vegetable oil
1/2 tsp cumin seeds
1 large onion, finely chopped
1 cup mixed vegetables (I used green peas, diced carrot and chopped up french bean)
Salt, to taste
1 tsp coriander powder
1/2 tsp red chilli powder
1/2 tsp turmeric powder
1/2 tsp amchur powder (dried mango powder)
1 tsp garam masala powder
Lemon juice, a few drops over the rice
1 tbsp fresh coriander leaves, chopped
Wash and soak rice for about 10-15 minutes, then boil the rice till done. Don't overcook it, you don't want it to turn mushy. Using a fork, fluff up the grains of rice and let it cool down a little.
In a large pan (originally a tava is used, but I didn't have a large enough one, so I just used a pan instead), heat some oil and tip in the cumin seeds. Let them sputter while making sure they don't burn.
Add the onions and stir fry till slightly browned.
Add the chopped vegetables and saute for about 5 minutes. They should be cooked about 3/4 the way now.
Add the powdered spices and mix well, taking care that you don't mash the vegetables while stirring.
Add the cooked rice to the veggies and toss well to mix.
Add a dash of lemon juice and coriander leaves to finish off.
Serve this with some raita. I served it with a plain yogurt sprinkled with some chopped coriander leaves, but you could also serve a mixed vegetable raita instead.
This recipe is linked to –
Hearth & Soul
Trick or Treat Tuesday
Totally Tasty Tuesdays
Tempt My Tummy Tuesday
Here's something I came up with on the go. In the spirit of complete disclosure, I must admit that I got this sauteed mushroom beauty from my brother who had whipped these up to serve along with some barbecued beef strips at out last barbecue. It was delicious and everybody loved it (even the mushroom haters.) This is so simple and easy to put together and even if you aren't planning on barbecuing anything, this would work really well as a side dish. A few days ago, I was feeling completely uninspired about what to cook up for dinner. Yes, that does happen to me sometimes. And as a last minute light bulb that sprang to life in my head, I realized that I had some yummy button mushrooms in the fridge. Immediately I thought of the sauteed mushrooms, but it struck me that I didn't want to do anything fancy besides this. I simply toasted some bread and served the mushrooms with the bread and a nice fresh salad alongside. That was a simple, yummy weeknight meal for us.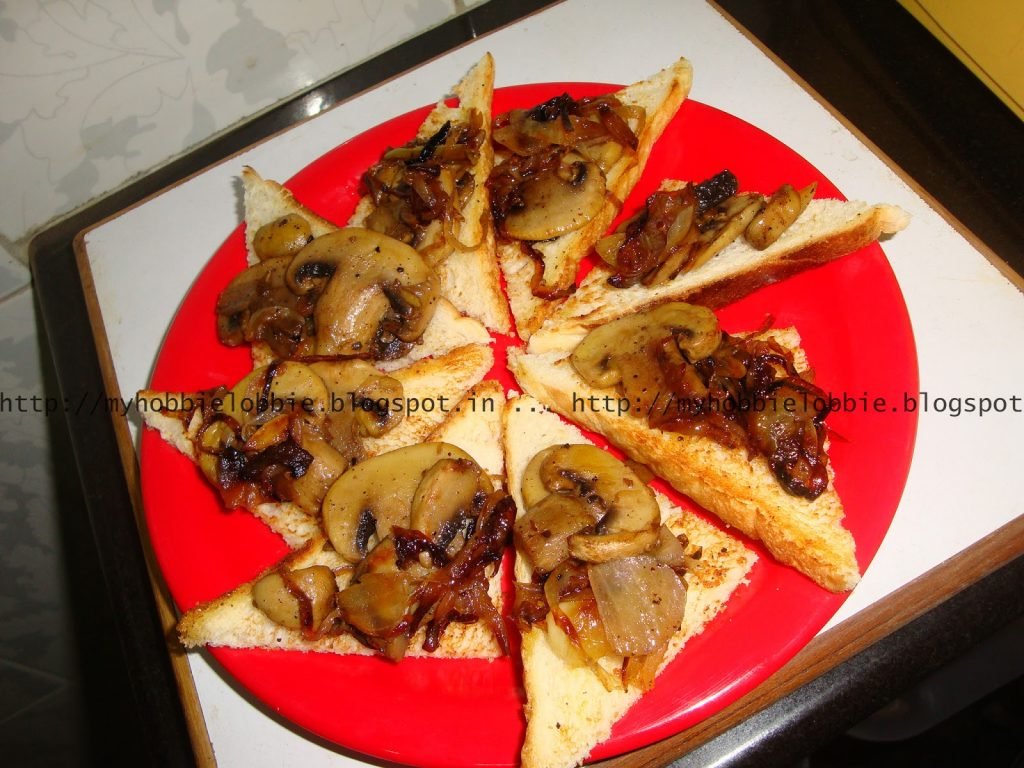 Mushroom Toast Bites


200g packet of button mushrooms, cleaned and sliced thickly
2 onions, sliced
1-2 green chillies, slit
1 tsp olive oil
A knob of butter
3 cloves of garlic, lightly crushed to release flavor
Salt, to taste
Crushed black pepper, to taste
Place the oil and butter in a pan over medium heat.
Add the mushrooms and saute till they're done. Don't overcrowd the pan as the mushrooms will just stew in their juices. Do this in stages if you're using a small pan. Drain the mushrooms and keep aside.
Using the same pan, add a dash more oil / butter, if needed and tip in the garlic and onions and saute them on medium heat till they're lightly caramelised.
Add the chilies and the mushrooms. Season with salt and pepper to taste. Stir to mix well.
Take off the heat.
You can add some chopped coriander leaves at the end. I didn't have any that evening, so I just left that out.
Lightly toast slices of bread and cut in halves and place the stir fried mushrooms over it.
Arrange on a platter and serve.
This recipe is linked to –
Savory Sunday
My Meatless Mondays
Mix it up Monday
Recipe Sharing Monday
Just Another Meatless Monday
Mouthwatering Monday
Mangia Mondays
A Little Birdie Told Me
Can you tell that I absolutely love bananas? They've always been one of my favorite fruits. If you're new here and don't believe me, check out these beauties – Banana Bread, Bananas Foster, Stuffed French Toast, Monkey Business and Chocolate Chip Banana Bread Scones. See I wasn't kidding. Today I have yet another banana treat for you. And let me tell you that these were absolutely wonderful. Even though they were an eggless bake, they were light, moist and super yum. I made mini muffins this time just as an excuse to have a second helping, maybe even a third 😉 These were so great that the next time I whip these up, I'm going to make them the regular muffin size. I think that tells you how much we enjoyed them. I hope you do too! Oh, I love my new silicone mini muffin cups. They are so gorgeous, they just brighten up my day. Am I crazy to want them in every color available 🙂 ? Unfortunately I forgot to use them while baking the muffins but they do make a pretty picture. Can't wait to bake with them.


Mini Eggless Banana Walnut Muffins
Yields 12 mini muffins
2-3 over ripe banans, mashed
3/4 cup all-purpose flour
1/4 cup natural unflavored yogurt
1/4 cup walnuts, roughly chopped
1/3 cup sugar
1/4 cup vegetable oil
1/2 tsp baking powder
1/2 tsp baking soda
1 tsp vanilla extract
1/4 tsp salt, or to taste
Preheat the oven to 180ºC and prepare your muffin mould
Mash the bananas in a bowl and add the oil, yogurt, sugar and vanilla and mix well.
Mix the flour, salt, baking powder and baking soda in a large bowl. Mix well.
Add the mashed banana mix and fold it into the flour till incorporated. Don't beat the batter.
Add the walnuts, reserving a few and stir them in gently.
Spoon the batter into paper lined muffin tins and sprinkle the reserved walnuts on top of them.
Bake for 20-30 minutes or till done.
This recipe is linked to –
Sweet Tooth Friday
Sweets for a Saturday
Savory Sunday
Mix it up Monday
My Meatless Mondays
Bake Fest
Sometimes, when I'm just not in the mood to cook something elaborate, I like to opt for easy and quick meals with pack maximum flavor with minimum fuss. I'd rather have something home cooked than have to order out. Once such meal is Nigella's Sesame Peanut Noodle Salad. Its not just a salad, but a slightly larger portion can make it a meal in itself, and a very satisfying one at that.
The dressing is super easy to make and the only actual cooking involved in boiling some noodles. You can pretty much alter this salad to accommodate the salad veggies that you have at hand. In the past I've also added some leftover grilled pork and it was fabulous. I think shrimp or even chicken would make good additions to this salad. This time around, I kept it vegetarian.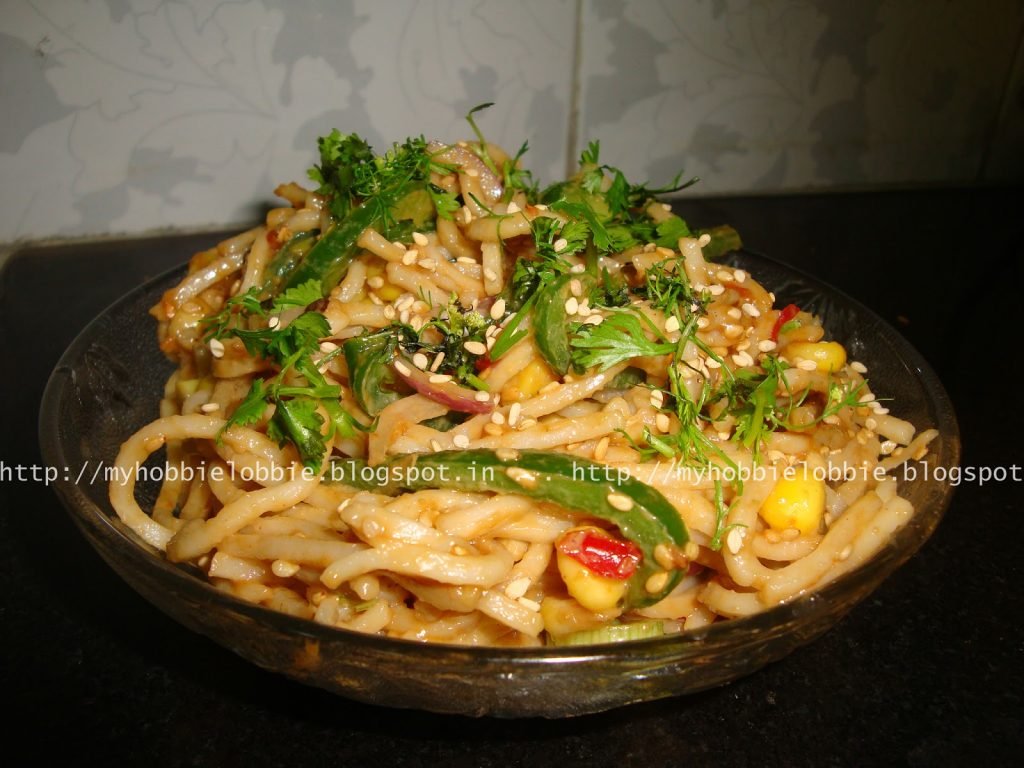 Sesame Peanut Noodles
Recipe by: Nigella Lawson
1 packet noodles, boiled, drained and cooled
A handful of bean sprouts (I didn't have any so I used corn kernels. Learn how to make you own bean sprouts here.)
2 spring onions, finely sliced (If you don't have any, use 1 finely sliced onion)
1 green pepper, sliced (the original recipe calls for red pepper)
4 tsp white sesame seeds
4 tbsp fresh coriander leaves, chopped
For the dressing –
1 tbsp sesame oil
1 tbsp garlic infused olive oil (I din't have this so I used some extra virgin olive oil instead)
1 tbsp soya sauce
2 tbsp lime juice
2 tbsp sweet chilli sauce
3 tbsp smooth peanut butter (chunky works just as well)
Mix all the ingredients for the dressing together.
Toss all the salad ingredients in a large bowl reserving a little chopped coriander and some sesame seeds for garnishing.
Add the dressing and toss well to make sure that the noodles are coated well.
Garnish with some of the chopped coriander leaves and sesame seeds and serve.
Any leftovers can be refrigerated and had the next day as well.
This recipe is linked to –
Full Plate Thursday
A Little Birdie Told Me
It's a Keeper Thursday
Weekend Potluck
Truth be told, I've been craving pancakes for the longest time ever. I couldn't use my favorite pancake
recipe
, since it used eggs and I'm staying off eggs for a while. And I thought that was the end of that. How wrong was I? The other day it seemed like fate when my hankering for pancakes was at an all time high and I came across a wonderful recipe for a vegan pancake. I've never baked anything vegan or made vegan pancakes before, so I was a little skeptical at first. However, I am a very visual person and the pictures looked very convincing. So I decided to go for it. And I'm so glad I did. My version was not quite vegan since I used a dairy milk and not soy milk like the original recipe required. But that being said, the pancakes turned out wonderful. If I hadn't made them myself, I would have never figured that they were eggless. I enjoyed a stack of these pancakes with some honey and a huge mug of steaming hot coffee and had myself a wonderful Sunday breakfast. Do try these out, they are quick to put together and so very tasty.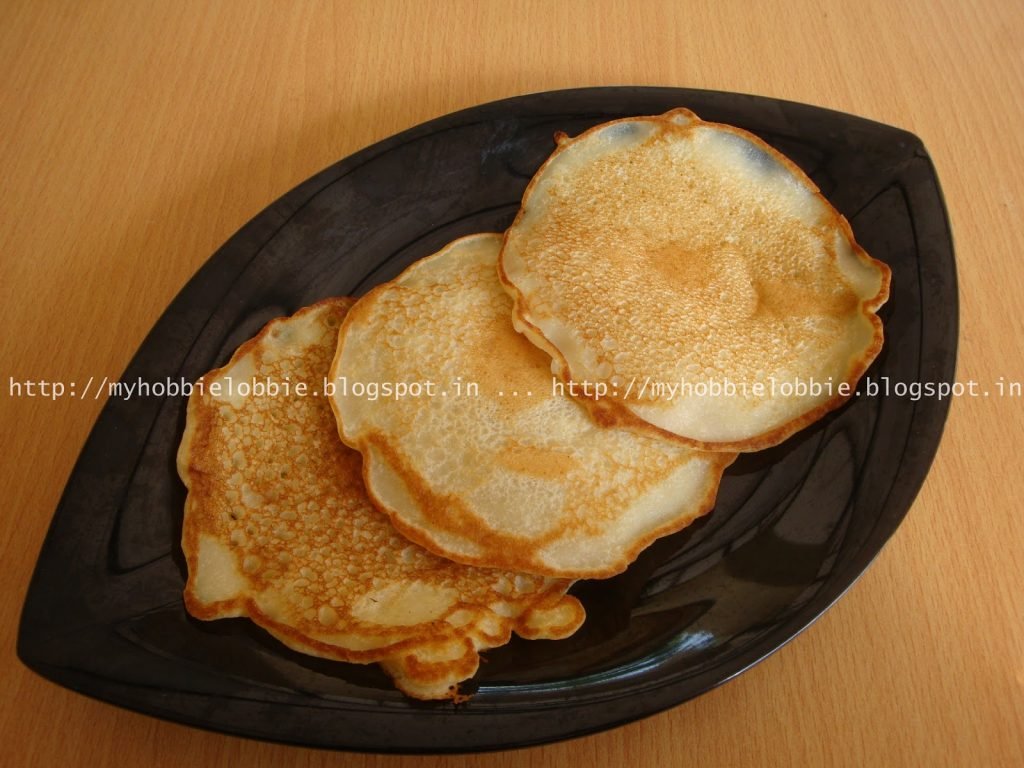 Almost Vegan Pancakes
Adapted from: Vegan Yum Yum
Make about 8-10 pancakes depending on size(4-5″)
1 cup all-purpose flour
1 1/2 cup milk
2 tbsp sugar
2 tbsp oil
1 tsp baking powder
1/4 tsp salt
1 tsp Vanilla extract
1-2 tbsp water to thin the batter, if needed
Dissolve the sugar in the milk and add the rest of the ingredients to the bowl and mix till the the batter is smooth and there are no lumps.
Heat a pan over medium heat.
I lightly greased the pan before ladling the batter to make the pancakes. But I've read that using an ungreased pan makes perfect pancakes. I'm definitely going to try that next time. I'd love to have pancakes with ever so perfect edges.
Cook the pancake on medium heat till it has lightly browned. Flip over and cook on the other side till browned as well.
Continue this process till all the batter is used up.
Serve warm with a drizzle of honey.
This recipe is linked to –
Meatless Mondays
Recipe Sharing Monday
Just Another Meatless Monday
Mix it up Monday
Mouthwatering Mondays
Mangia Mondays
Crazy Sweet Tuesday
Tempt My Tummy Tuesday
I have a soft spot for dips – I don't know if I like them all (I've tried a few that weren't my cup of tea – but I think its just because of how it was made and if it were made well, I'd probably have liked them too), but there are a few that I really, really like. This hummus is one such dip. I don't know what it is about dips, but I love having something to dip breadsticks, crackers, chips, vegetable sticks etc. in. This month I chose to do a post on Hummus – a chickpea dip, since we're at the C & D stage of the Eating The Alphabet series, hosted by Brenda of
Meal Planning Magic
. Chickpeas have a host of health benefits. They are high in fibre, help regulating blood fat and lowering blood sugar levels. You can read more about the health benefits of these little gems
here
,
here
and
here
.
I'd usually serve this hummus with pita bread, but the day I made the hummus, it completely slipped my mind to pick some up. I did the next best thing and made do with what was available in my kitchen, sliced bread which was lightly toasted and cut up. And it tasted great. I spiked the hummus a little by garnishing it with some red chilly powder, but if you don't care for spicy food, you can simply leave it off. The recipe mentioned below is more of a guide than a recipe, I would suggest that you keep tasting as you go along and adjust the seasoning as required. Also, I hear that Tahini is an essential ingredient for a good hummus dip, I didn't have any so I simply added some sesame seeds to the mix before blending. In the event I try using Tahini, I will update this post with my observations.
Hummus
1 cup chickpeas, boiled and drained (You can use the canned variety if you'd like. You can find the method to boil your own chickpeas
here
. If you are boiling it yourself, reserve some of the liquid.)
1- 1 1/2 tbsp lemon juice
1 tbsp sesame seeds
1-2 tbsp olive oil
1-2 cloves garlic, minced finely
1/4 tsp cumin powder
Red chilly powder, to garnish
A spring of fresh coriander, to garnish
Salt, to taste
In a blender, blitz the chickpeas, sesame seeds, garlic, and cumin powder using a little of the reserved liquid to aid the process. Don't use too much as you don't want it too runny.
Add the lemon juice and blitz again, scrapping down the sides of the bowl as needed. With the blender running, gradually add in the olive oil and blend till everything is smooth and creamy.
Taste the dip and adjust the seasoning as required. At this stage, if you need to add salt, please do so.
Transfer to a serving bowl and garnish to your liking.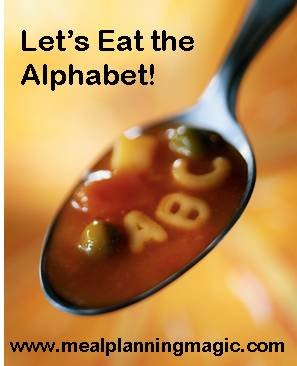 If you'd like to join in on the fun, just comment and let me know and I'll get back to you with the details.
This month, through Amanda's (
Amanda's Cookin'
) brainchild –
SRC
, I had the opportunity of getting to know Rebecca of
A Dusting of Sugar
. As soon as I ran over to check out options for SRC, I saw her post on
Chocolate Chips Banana Bread Scones
. I've been meaning to try making scones for a while now, and this seemed like the perfect opportunity. Also, my options this month were rather restricted, since I'm abstaining from meat, fish and eggs this Lent. I was thrilled that such a yummy sounding treat was an eggless one. When I made these scones, I was in for a real treat. They were moist and had some yummy, gooey, melted chocolate goodness ever so often. The original recipe included a glaze, but these were so yummy that we had them straight, without the glaze. I made a few minor changes to the recipe and my version is noted below. You can visit 
A Dusting of Sugar
 for the original one. Thanks Rebecca, for introducing me to something so simple, yet absolutely delicious. I'm making another batch of these scones this evening.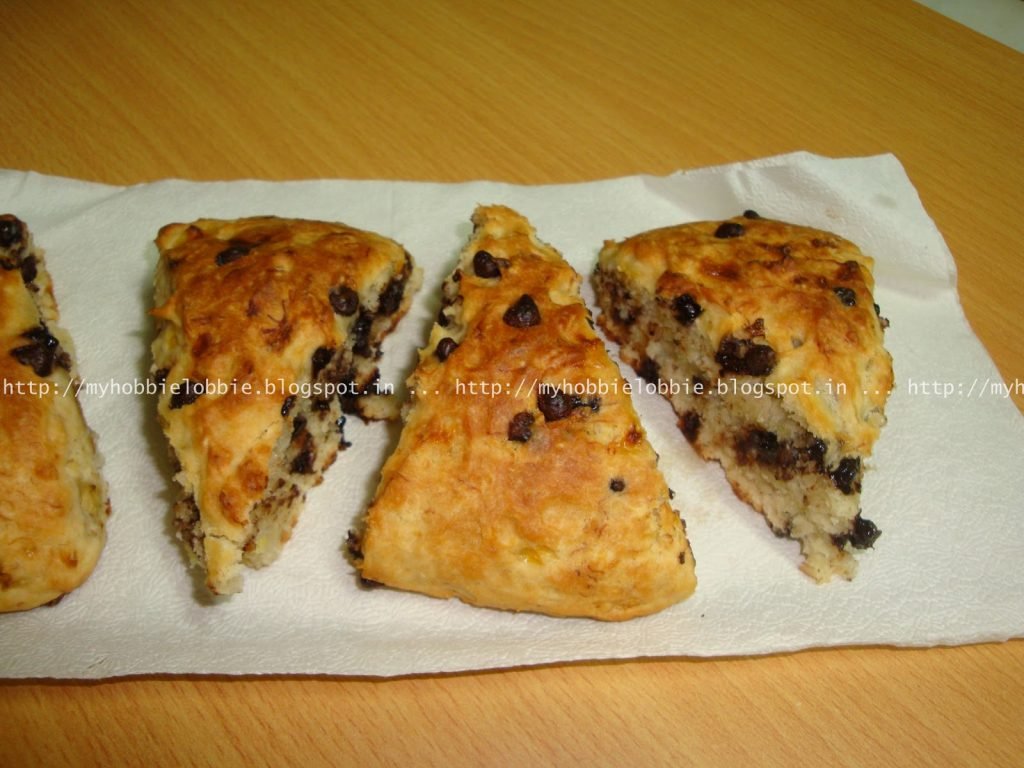 Chocolate Chip Banana Bread Scones
Makes 8 wedges
Adapted from: A Dusting of Sugar
2 very ripe bananas (you should have 1 cup when mashed. You may need another banana depending on size.)
2-4 tbsp milk
1/2 cup yogurt
2 1/2 cups all-purpose flour
2 tbsp sugar
2 tsp baking powder
4 tbsp cold butter, cubed
3/4 cup semisweet chocolate chips
1 tsp vanilla extract
Mash the  bananas in a bowl. Add the milk, vanilla extract and yogurt. Mix well and keep aside.
In a large bowl, sift the dry ingredients, the flour and baking sugar and add the sugar and mix well.
Rub in the cubes of cold butter till the mix resembles coarse wet sand.
Pour the banana mix into the dry ingredients and stir well until just thoroughly incorporated.
Fold in the chocolate chips, making sure they are distributed throughout the batter.
Tip the batter onto some plastic wrap. Flatten it to a disc about an inch thick and freeze for 30 minutes.
Preheat your oven to 200ºC.
Place the cooled disc onto a baking sheet that has been lined with some greased baking paper and cut into 8 equal wedges.
Bake for 25-30 minutes or until golden brown.
Don't forget to check what the other members of Group B have whipped up. Thanks Suzanne for hosting our group.
I was looking at putting together something savory for a tea time treat and I thought of this Indian version of the cracker that one of my Mother's neighbors had made many years ago while we watched on. I don't really remember the recipe she used. All I remember her saying is to make sure that the oil used in the dough needed to be warm. So with that in mind I just put a few things together and tried it out and it wasn't too bad. Turns out we really enjoyed these crackers. The traditional version is called Mathri and is deep fried, though I'm sure they'd bake well too.
Crushed Black Pepper Crackers
2 cups all-purpose flour
1/2 cup vegetable oil, warm
Salt, to taste
Freshly crushed black pepper, to taste (leave it coarse)
1/4 – 1/2 tsp carom seeds
Approx. 1/2 cup warm water
Oil, for deep frying
Mix the flour, salt, pepper and carom seeds in a bowl.
Add the warm oil and mix well to incorporate into the flour evenly.
Add warm water gradually to knead into a dough. You may not need all the water. The dough shouldn't be too soft or too hard either.
Roll out into thick-ish discs and use a round cookie cutter and cut out into smaller circles. Prick each circle a couple of times with a fork to ensure that it doesn't puff up while frying.
Repeat till all the dough is used up.
Heat oil in wok for deep frying. Carefully fry a few crackers at a time on medium low flame till they turn golden brown.
Let them cool off completely before storing in an air-tight container.
Enjoy them with your afternoon cup of tea.
This recipe is linked to –
A couple of years ago when we were in Hong Kong, we had dinner a couple of times at BLT located at Tsim Sha Tsui. I found this place a little pricey but the set up was lovely and the food was good. Altogether a great dinning experience. We'd usually have a milk shake with our burgers and a side of fries or onion rings. When it comes to milkshakes, I tend to lean towards fresh fruity ones while my husband prefers something chocolatey. We tried out a few of their amazing concoctions and loved every one of them. I miss those kind of milk shakes and so I figured I might as well try and replicate them at home. I mean, its a milk shake! It can't be that hard. Right? And you know what, I was right. My first attempt was to replicate this milk shake called Monkey Business – fun name, don't you think? You can't go wrong with chocolate, bananas and peanut butter. Thats right! With a few basic ingredients on hand, you can treat yourself to this delicious shake in minutes.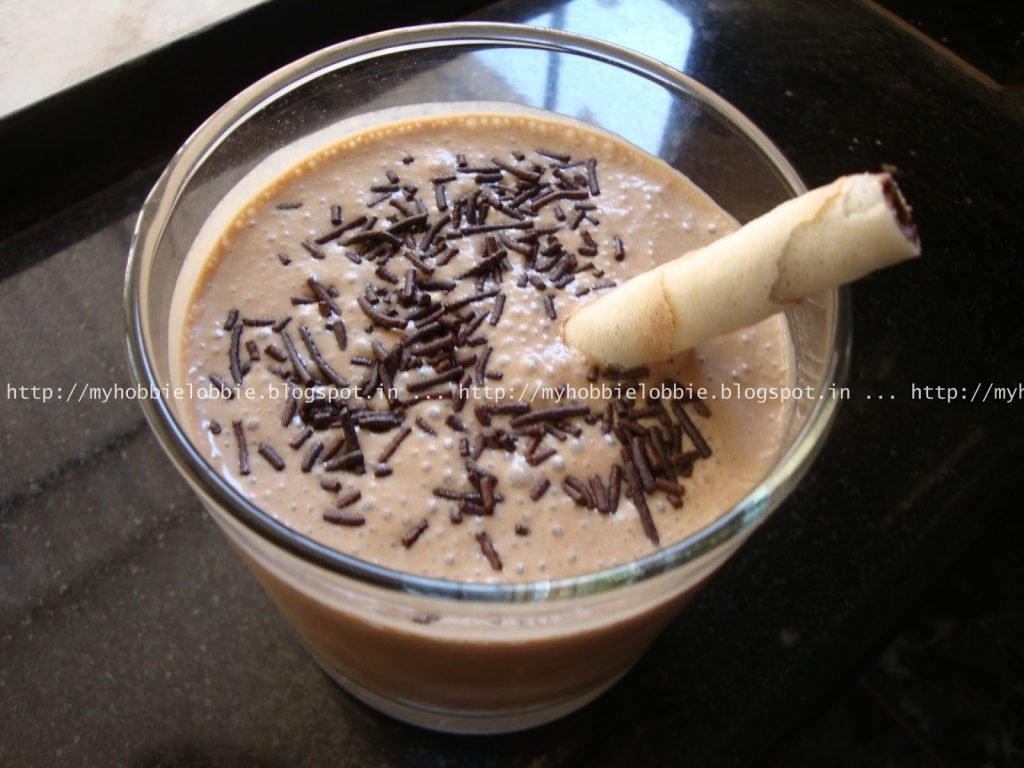 Monkey Business


1 cup approx. chocolate ice cream
1 ripe banana
2 tbsp peanut butter
Blitz everything in a blender until smooth. Taste and adjust the flavors to your liking. Serve in a glass
I used some chocolate sprinkles and a chocolate wafer to dress it up.
This recipe is linked to –
This Week's Cravings
Sweets for a Saturday
Mix it up Monday
My Meatless Mondays
Recipe Sharing Monday
Just Another Meatless Monday
Mangia Mondays
Crazy Sweet Tuesday
Tempt My Tummy Tuesday