Here's a quick post and an even quicker recipe. Khichdi is a rice dish cooked in a pressure cooker for about 10 minutes and seasoned in many different ways, depending on which part of the country your eating it in. I've eaten a Dal Khichdi which is a rice and lentil dish and a Paalak khichdi, a spinach and rice dish. I've not yet tried making the Paalak Khichdi at home. If you have I'd love if you could share the recipe with me so that I can try it out too. The Dal Khichdi, however, I've tried multiple times. This khichdi should be served with some aachar or pickle. You could also serve it with a side of salad or yogurt, if you'd like. I've tried a few takes on this and the one that I made a couple of days ago, I think, was my best attempt so far.
Dal Khichdi


1 onion, finely chopped
1 green chilly, cut into 1/2″ pieces
1/2 tsp cumin seeds
3-4 garlic peels, finely chopped
1 tbsp veg. oil
1 tbsp. ghee or clarified butter
1/4 tsp turmeric powder
3/4 cup rice
1/4 cup split lentils (I use whatever I have on hand usually moong or masoor dal. This time I used a combination of both)
1-2 tbsp fresh coriander leaves and tender stems, chopped
Salt, to taste
Wash the rice and the lentils together and let them soak for 10-15 minutes. You can start prepping the rest of the ingredients in the meanwhile.
Heat the oil in a pressure cooker and add the cumin seeds and let them sputter, taking care not to burn them.
Add the chilly and the onion and saute till the onions are soft and pinkish brown.
Tip in the turmeric powder and stir till well mixed.
Drain the rice and lentils that have been soaking and add them to the cooker. Stir gently to mix everything.
Add salt to taste and 4 cups of water.
Stir gently. Cover the pressure cooker and add the stopper.
Cook on high flame. After the first whistle, cook on low flame for 10 minutes.
Turn off the heat and let the pressure drop on its own.
Once the cooker can be opened, add the chopped coriander and stir to mix.
Prepare the tempering. In another small frying pan, place the ghee and the chopped garlic. Let it saute gently on low fire till it turns fragrant. Don't burn the garlic as you'll lose all the flavor. Add this ghee and the garlic to the cooked rice and stir to incorporate.
Serve pipping hot.
I love peas pulao! There, I said it. This mildly flavored rice dish adorned with little green peas is something that I can eat by itself with a fresh garden salad on the side. Having said that, this rice is usually whipped up in Catholic homes all over Mumbai and Goa for a special meal, be it a festive occasion or a birthday or any other gathering. It pairs amazingly well with a variety of meat curries, like pork sorpotel, chicken cafreal and many, many more, and I can tell you it is a real treat. I look forward to sharing my family recipes for these meat curries with you soon.
For now, we'll get back to the peas pulao. The preparation is really simple and the few spices used add a fragrant warmth to the rice rather than a spicy heat. Don't let the simplicity of this dish undermine its flavors. Try it out and see for yourself.
A lot of folks seem to have trouble with the rice ending up very soft and mushy. This happens for a number of reasons like wrong amount of cooking water, too much stirring while the rice is cooking etc. I've made this rice hundreds of times and have never encountered such a problem. So I think if you stick to the measures, you should be good to go.


Peas Pulao


2 bay leaves
1-2″ cinnamon sticks
2 pods green cardamom
4-5 cloves
6 black peppercorns
1/2 large or 1 small onion, chopped
1 tbsp oil
1 cup long grained rice
2 cups water
1/4- 1/2 tsp turmeric powder
A handful of green peas
Salt, to taste
If you're using frozen peas, keep them out to thaw for a while.
Wash the rice and leave it to soak in some water for about 15-20 minutes while you prep the rest of the ingredients.
Heat the oil mildly in a vessel and add the bay leaves, cinnamon, cardamom, cloves and peppercorns and let them warm up and infuse the oil with their aromas and flavors, taking care not to burn the spices.
Add the chopped onion and saute till the onions and soft and translucent and start taking on a little colour.
Add the turmeric powder and stir well.
Drain the water that the rice was soaking in and tip the rice into the vessel.
Stir gently making sure you don't break the grains down while stirring.
Once the rice is well coated with the spices in the pan, add the water, salt to taste and the green peas.
Cover and let it cook on a low flame, till all the water has been absorbed.
Fluff up the rice using a fork and not a spoon so that you don't mash the grains.
Serve hot with your favourite curry.
Please remember that if you'd like to change the quantity of rice used, the rice to water ratio should always be 1:2. That is 1 measure of rice to 2 measures of water to cook it in.
This recipe is linked with –
My Meatless Mondays
Mouthwatering Mondays
Mangia Mondays
A Little Birdie Told Me
My parents came over for dinner last night. I was excited to have them over, but ran into a bit of a dilemma. Those of you who've been following this blog for a while will know that I intend going vegetarian this Lenten season. I was determined to not let this visit come in the way. So using my previous post as inspiration I got to work and I'm glad to report that we had the loveliest dinner. I whipped up some of this
Paalak Paneer
and a platter of
Eggplant Patties
. The original eggplant patties recipe uses egg in the batter, but yesterday I just left the egg out and they turned out really well even without it. To round it off, I made some baked naans and that's what I want to highlight in today's post. This is just the second time I've made these naans but I can swear by them, they're that good. Those of you who've ordered from local eateries will be used to the rubbery and extremely chewy pieces of cooked dough they call naans. Friends, you have no idea what you've been missing. Try making these naans at home and I know you'll be as amazed as I am. But don't take my word for it. Try it out for yourself and let me know what you think.
These are really easy to make. I made the basic butter naans yesterday, but you can use an array of toppings of your choice ranging from herbs to garlic to cheese, pretty much anything you fancy. Serve these up with your favorite Indian food. While savoring these yesterday, I realized that they'd be ideal for making wraps as well. So when we resume meat in our diets, I'm gonna try that out for sure. I couldn't get a picture of the whole batch of them as they we disappearing faster than they came out of the oven. This is one I managed to get a shot of. Maybe, I'll have better luck next time. Till then I guess this one will have to do.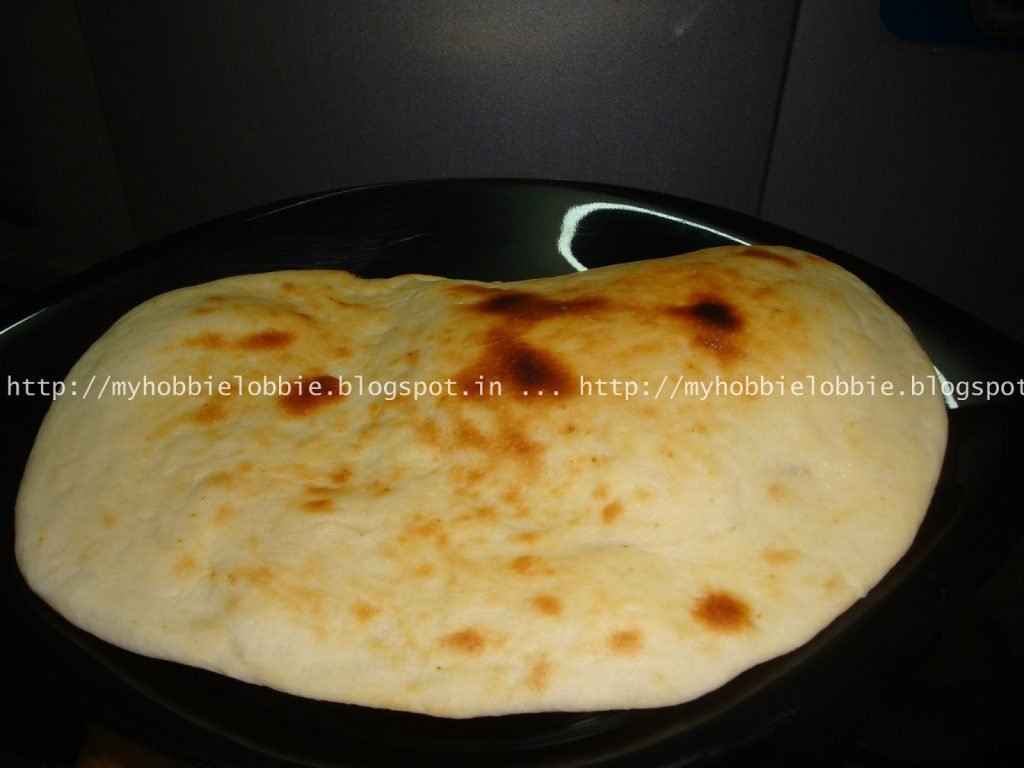 Baked Naan
Yields 11-12 depending on size
500g all purpose flour
4 tsp. sugar, powdered
1 tsp. salt
1 tsp. baking powder
220-260 ml milk
4 tbsp. oil, plus a little extra for greasing
A little butter, for the topping
Mix the dry ingredients together and set aside.
In another bowl mix the milk and oil and use this mixture to knead the flour to a pliable dough. This should take about 8-10 minutes. You can use a little more milk, if needed, to knead the dough, if its too dry.
Cover with a damp tea towel and keep in a warm place for about 15 minutes.
Preheat the oven to about 170ºC on the grill mode and place a baking tray high in the oven under the grill.
Divide the dough into 10-12 portions depending on the size of the naans you'd like to make.
Roll the portion out to form the naans. (At this stage you need to add any toppings over the naan and press them into the dough.)
Drizzle a couple of drops of oil on the baking tray. I did this just this one at the onset to prevent sticking.
Place the rolled out dough on the baking tray under the grill for 2-3 minutes till they puff up and lightly brown. Flip them over and let them get a few brown spots on the other side as well. Take them out of the oven and brush them lightly with some butter. Keep an eye on them as they can start to burn in the blink of an eye.
Serve them hot.
With the start of the Lenten season, I decided that we would go vegetarian for the duration. With these noble intentions in mind, while planning a few meals ahead, I realized that my vegetarian food repertoire was highly lacking. This is something that needs to be rectified if I am to go vegetarian for the month and a half or so. So join me as I try out new recipes and ideas from blogland and other sites. I will post regularly through this time frame. If you've decided to go meatless as well and need a place to start off, here are a few of the vegetarian recipes I've posted before. Click on the recipe name to be taken directly to the recipe.
Hope this gives you a head start with vegetarian food. Keep checking back for more.
Wish you a holy and blessed Lenten Season!
Have you ever found yourself in a situation where you're expecting company and have put in so much time and effort to prepare a wonderful meal, but somehow have either forgotten to make dessert or just don't have enough time to make something elaborate? I have. And that too, not just once. Each time though, these little bowls of chocolaty goodness come to the rescue. The batter is simple and comes together in a couple of minutes and since they're individual portions, baking time is very short. The chocohotopots are so delicious, its sure to please everyone, chocolate lover or not. Its like a brownie in a bowl. The top layer is slightly crusty and, if cooked for the correct amount of time the center is still molten and oh so gooey. To your guests, you'll be a rockstar. They'll never know how simple and easy this was to put together, unless you tell them. I like to put these in the oven before we sit down to lunch or dinner, so that they're still nice and warm by the time we get down to dessert. I like to have these while they're still a little warm. However, they keep well and are pretty good cold as well. So go ahead and treat yourself this weekend.
Have a lovely weekend everybody!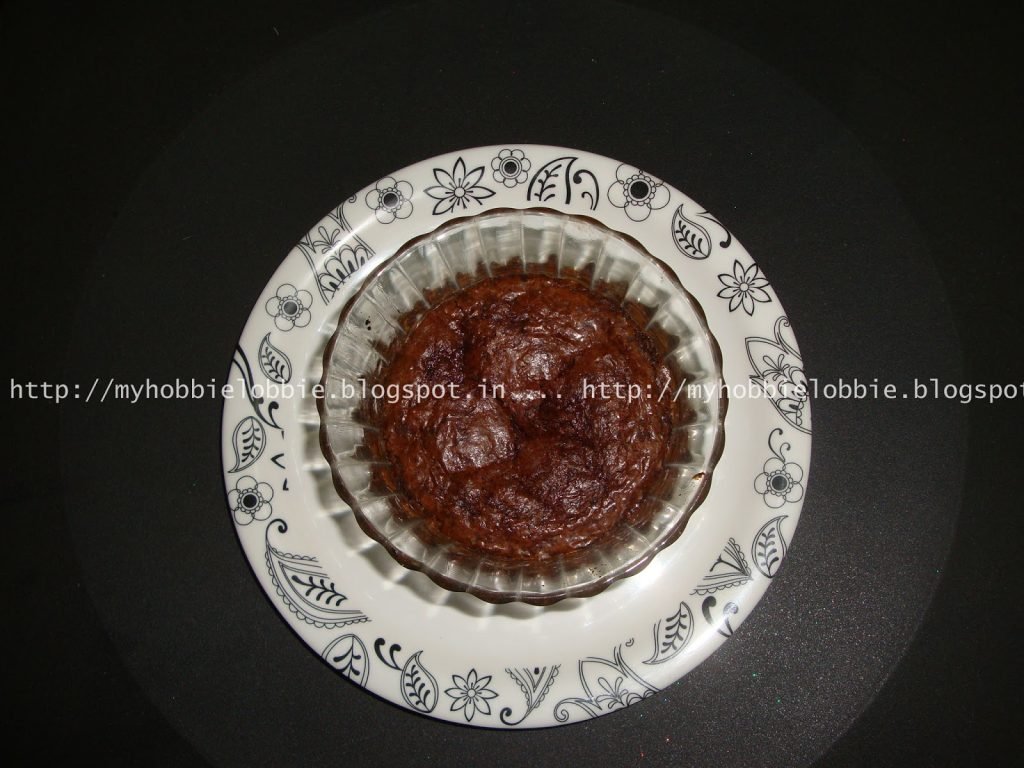 Chocohotopots
Recipe by: Nigella Lawson
125g semisweet chocolate, roughly chopped
125g butter
2 eggs
150g sugar, powdered
3 tbsp flour
Melt the chocolate and the butter over a double boiler. If you chop your chocolate to smaller pieces, this will hardly take a few minutes. Keep aside.
Break 2 eggs in a bowl and whisk them along with the sugar.
Add the flour to the egg mixture and mix well.
Fold in the melted chocolate and butter mix.
Pour into greased bowls or ramekins.
Bake at 200ºC for about 20 minutes. (You can tell they're done when the top appears cracked. Take them out of the oven when that happens. If you overcook them, they wont be nice and molten inside. They'll still taste good though 😉 )
Serve warm. You can serve some good vanilla ice cream with this if you like.
This recipe is linked to –
Sweet Tooth Friday
Sweets for a Saturday
My Meatless Mondays
Forever Nigella
I struck gold with this one. These are healthy, tasty and so very addictive you can't stop munching on them. I decided to participate in "Eating The Alphabet Series" hosted by Brenda of
Meal Planning Magic
. Its a meatless event and I think its a fun way to include more veggies and fruits in our meals. If you'd like to join in, you can find the details and sign up
here
. This month its we're working with A or B. I'd seen these apple chips a long time ago and this was the perfect opportunity to try them. With minimal prep work and a little patience you can have yourself a little box of these yummies.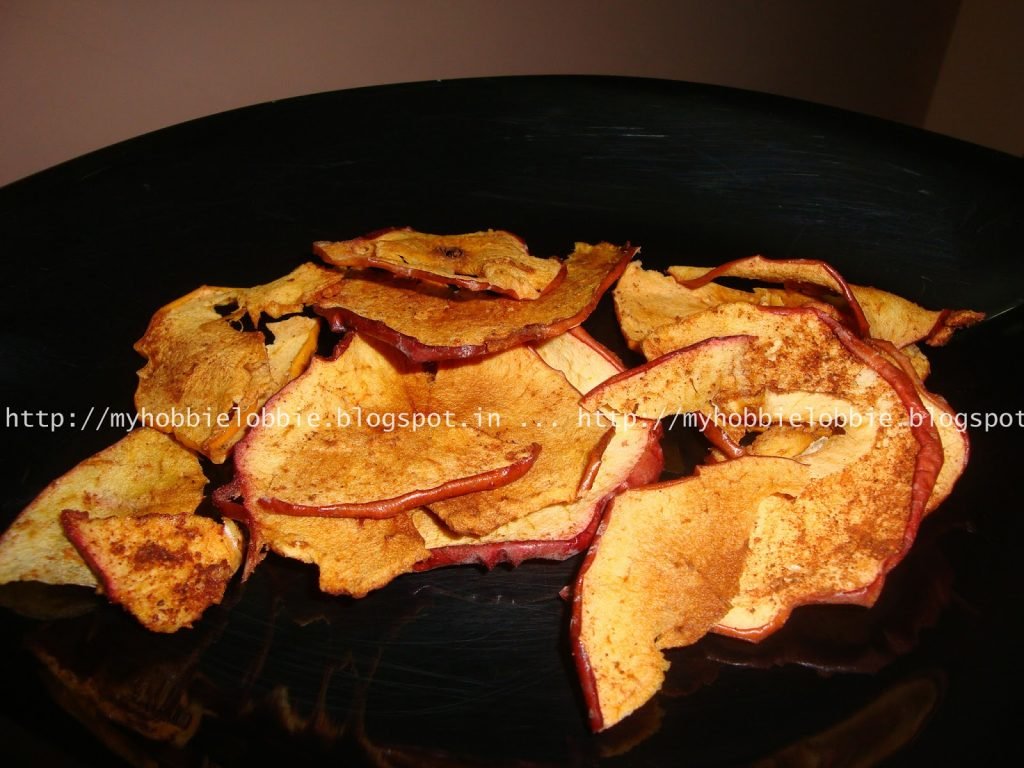 Baked Apple Chips
Adapted from: Half Squeezed Lemon


2 apple, any crisp and slightly tart variety
1 tbsp granulated sugar
1 tsp cinnamon powder
A pinch of salt
Wash the apples thoroughly and slice thinly. (If your slices are not thin, they won't crisp up.) Discard both ends of the apple and the seeds.
Mix the sugar, cinnamon and salt thoroughly and sprinkle on the sliced apples.
Toss well to make sure that there's some of that sweet cinnamon goodness on all the slices.
Place the slices in a single layer on a parchment lined baking sheet, making sure that there is no overlap.
Bake at 100ºC for about 30 minutes. Flip the slices over and bake for another 30-60 minutes or till they crisp up. Keep a watch, you don't want these to burn.
Let them cool down and get ready to enjoy them.They will continue to crisp up as they cool.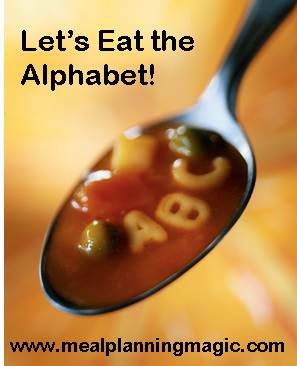 Check out what the others have cooked up this month –
Today's treat is something a lot of you will definitely be familiar with. It is my husband's favorite snack. It is a delicate, buttery treat that can be put together really quick and can be tweaked to suit your tastes. What's amazing is that these crackers are made out of scraps of shortcrust pastry. Yup, you heard me. Everytime I make some shortcrust pastry for a pie, I double the quantity and use the spare pastry to make these crackers. I usually make them plain, just the way they are, but this time I decided to dress them up a little. I made a bunch of them some plain, some with a sprinkling of chopped rosemary, some with a sprinkling of red chilly powder, some with carom seeds and others with sesame seeds sprinkled on them. The possibilities are endless. You can top these little treats with almost anything. So feel free to experiment. It was fun trying out each of these varieties.
You can check out the recipe I use for shortcrust pastry here. I sure hope you try making these crackers sometime. Let me know what you topped your crackers with. I'd love to hear from you.
Here's what my platter of crackers looked like –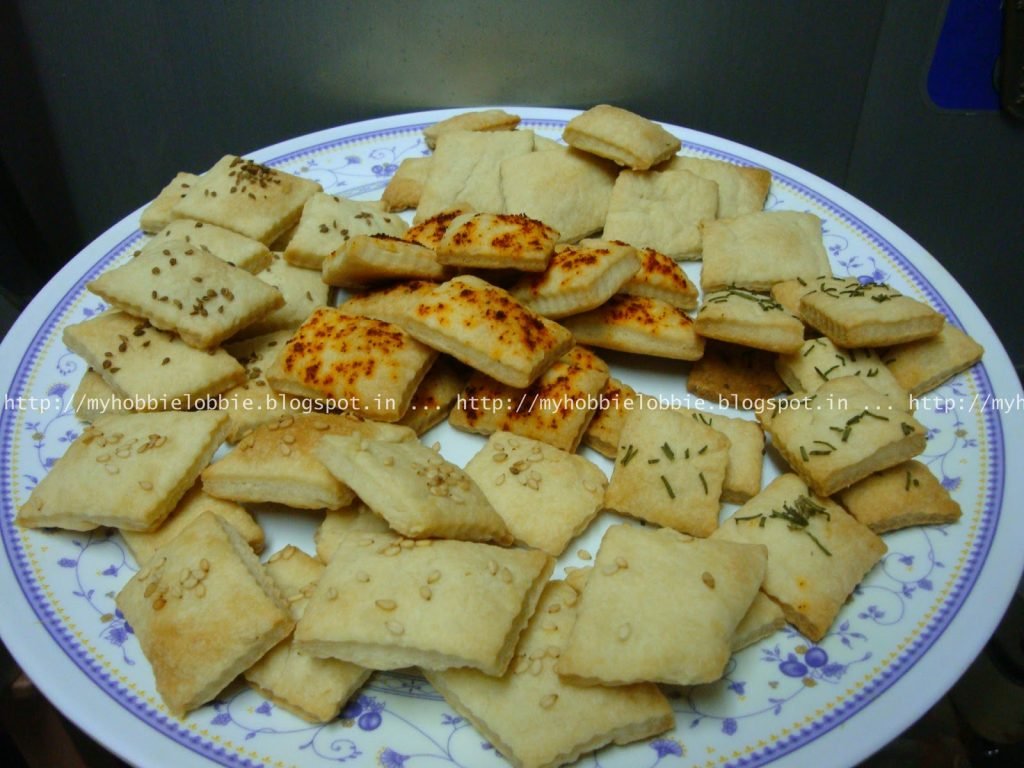 Savory Crackers


Shortcrust Pastry
Toppings of your choice (I used sesame seeds, carom seeds, red chilly powder and chopped fresh rosemary)


Roll out the shortcrust pastry and cut into diamond shapes or any other shape you fancy.
Sprinkle the herbs or seeds of your choice and lightly press them down into the dough using your hand.
Place on an ungreased baking sheet at bake at 170ºC for about 10 minutes or till lightly browned on the edges, making sure not to let them brown too far.
Cool and store in an airtight container.
This recipe is linked to –
A Little Birdie Told Me
My Meatless Mondays
Bake with Bizzy
Mangia Mondays
Mouthwatering Mondays
Full Plate Thursdays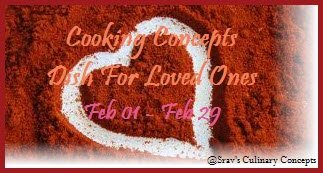 After a month long break, we're back to our monthly
SRC
reveals and that makes me very happy. This month onwards, we in group B have a new hostess, Suzanne of
Thru Bugs on my Windshield
. If it wasn't for the wonderful idea that Amanda of
Amanda's Cookin'
had a while ago, we wouldn't have been here in the first place.
I can't wait to share this months assignment with you. I was assigned Heather's lovely blog this month, Join Us, Pull Up a Chair. What a warm, welcoming name, isn't it? Hi Heather!!! And I tell you you should listen to her. When you stop by you'll be spoilt for choice. She has so many wonderful recipes there, I had the hardest time trying to pick one for this months reveal. She has the cutest little helper, Madeline who makes guest appearances every now and then. Do stop by. There's something for everyone. For this month's reveal, I picked a classic, the Oatmeal Raisin Cookie and yes, this was my first time making an oatmeal raisin cookie. I know, where have I been all this while? Stuck under a rock, I think! 🙂 Anyway, I'm glad I finally got around to trying these because these were awesome. The oats keep you going for a while, the raisins in it are just yummy and there's cinnamon in it and that's always, always a good thing. My brother who'd come over a couple of days after I whipped these up, couldn't stop even after wolfing down a few. He actually had me take them away, warning me that I may not have another one left if it was upto him. They were seriously that good. I love how you have the option to leave them soft and chewy or make them a little more crisp, based on how you like your cookies. They tasted better the next day – it seems like the flavors had time to come together overnight. Even though this recipe makes a huge batch, I'm down to my last 2. My husband being the chocoholic that he is, thinks I should thrown in a few chocolate chips the next time around and I just might. Thanks Heather for sharing this wonderful recipe. It's definitely a keeper.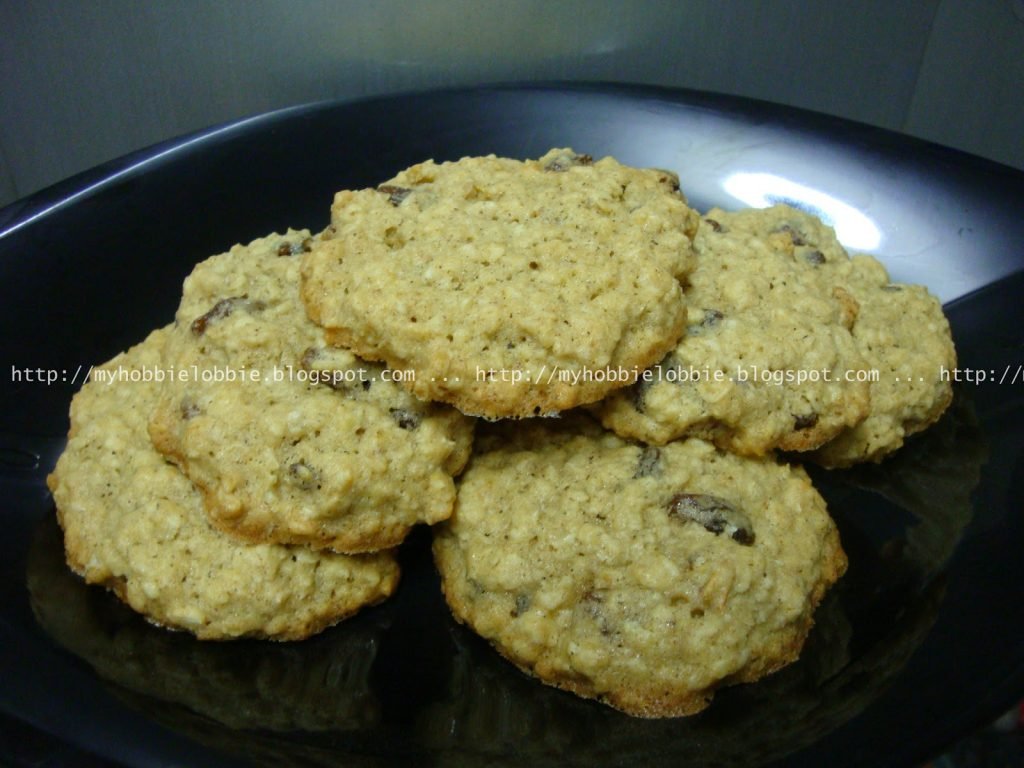 Oatmeal Raisin Cookies
Yields 36 to 40 cookies
1 1/4 cup all purpose flour
1 tsp baking soda
1/2 tsp salt
1 tsp cinnamon powder
1 cup butter, softened
3/4 cup granulated sugar
3/4 cup brown sugar
2 eggs
1/2 tsp almond extract
1 tsp vanilla extract
3 cups quick oats
1 1/2 cups raisins
Preheat the oven to 180ºC.
In a bowl, combine the flour, baking soda, salt and cinnamon powder and keep aside.
In another large bowl, beat the butter, sugars, eggs and extracts well until blended.
Gradually add the flour mix to the wet ingredients stirring to incorporate.
Lastly add the oats and the raisins and mix well to make sure they're well distributed through the batter.
Drop the batter by rounded tablespoonfuls onto an ungreased baking sheet. (I flattened these out a little to make sure they cooked through.)
Bake for 7-8 minutes for chewy cookies or for 9-10 minutes for a more crispy version.
Cool on the baking sheet for a couple of minutes and then move the cookies to a cooling rack to cool off completely. Store in an airtight container.
Don't forget to check what the rest of the group has prepared for today's reveal.
document.write('
This is a recipe I wanted to post a long time ago, back when I'd posted the
Chole
recipe. They go amazingly well together. I hope you try these out. These bhatures are simple to make and are well worth the effort. They look similar to the pooris but are different in taste and texture. We enjoy these so much, we can eat them plain when they're piping hot.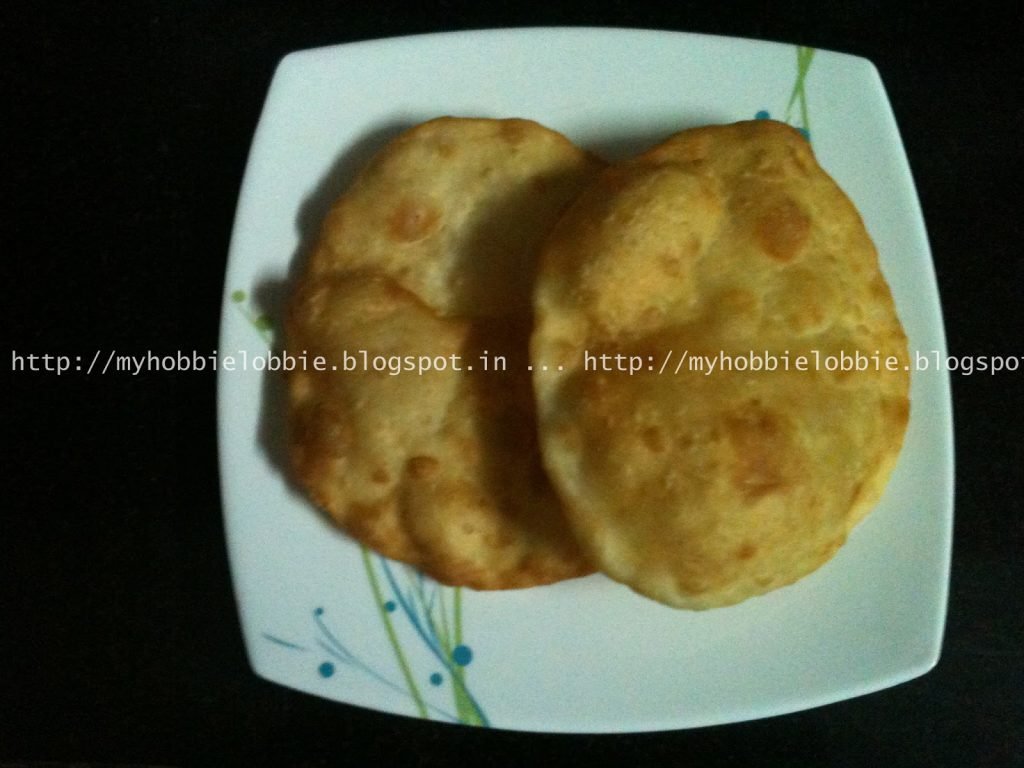 Bhature
Recipe by: Sanjeev Kapoor
2 1/2 cups all purpose flour
A pinch of baking soda
1/2 tsp baking powder
1/2 cup natural unflavored yogurt
1 tsp salt
2 tsp sugar, powdered
2 tbsp vegetable oil
Oil, for deep frying
Mix the dry ingredients – flour, baking soda, baking powder, salt and sugar in a bowl making sure you mix well.
Add the yogurt, oil and enough water to knead into a soft dough.
Cover with a damp cloth and let it rest for half an hour.
Heat the oil for deep frying and as it is heating, grease your hands and divide the dough into portions the size of golf balls (You can change the size of the portions to suit your liking) and roll out into a disc.
Deep fry in the hot oil and when browned, drain on absorbent paper.
Serve hot.