UPDATE: I've added a new, better picture for the milk cream and the video recipe for it at the end of the post. The recipe is still the same great recipe. 
As promised in last weeks post, this week as well, I'm sharing 2 lovely treats. One is a little time consuming, the other far quicker. Both of these can be found on the traditional Goan Christmas sweets platter. These are none other than Milk Cream and Coconut Toffee. I simply love them both very much. I remember when I was a kid, my Nana (may she rest in peace), would be solely responsible for whipping up the coconut toffee and to this day I remember, she would tinker about the kitchen for about 15-20 minutes at the most and voila, the coconut toffee was ready. We then simply had to wait for it to cool. I've always been a big coconut toffee lover (Bounty being one of my favourite candy bars) but since my Nana passed away, we never made this any more. I wonder why. This year that is about to change.
Now the Milk Cream was a completely different story. You see, neither my Nana or my Mum knew how to make milk cream, but my Aunt used to make some of the best milk cream I've ever had to this date. She guarded her recipe with her life. Eventually, I managed to persuade her to share the recipe with me and she obliged. So I came home and decided that I was going to make Milk Cream that Christmas. And make it I did. Little did I know how fickle sugar was. The recipe seemed fairly simple and I figured like the rest of the traditional sweets, it wasn't done till your arm fell off from all the stirring. How wrong I was. I ended up with nothing close to the perfect Milk Cream that my aunt used to make but with some milk cream crumbs, some really delicious crumbs. I figured that while this couldn't be shared with friends and visitors, there was no reason why we at home couldn't enjoy it. So once my crumbs cooled off, I bottled it and we enjoyed this strange version of the Milk Cream for quite a while. When I called my aunt later and told her about it, she told me that my only error was I had overcooked it and thats why the mix had crystallized. She asked me to have a go at it again, but being the teenager I was, once was quite enough. I wasn't as persistent back in the day. I figured I would just enjoy the generous portion she usually gave us, since she knew it was my favourite.
Years later, with some much needed guidance, I attempted making this again and this time it worked out. I've never looked back since. I hope you try this out when time permits you won't be sorry. It's a lovely little bite that simply melts in your mouth.
Last week we started with the more time consuming treat first. This week, I'm starting with the quicker one.
Coconut Toffee


1 1/2 cups sugar
1/2 cup water
2 cups desiccated coconut (unsweetened)
A pinch of ground cardamom seeds
A couple of drops of food colour of your choice
Clarified butter for greasing the plate
Place the sugar and water in a heavy bottomed saucepan and place on a medium flame. Cook till it reaches 235ºF on a candy thermometer.
Grease a steel / aluminium plate or cookie sheet using ghee / clarified butter.
When the sugar solution reaches the desired temperate, add the coconut, cardamom powder and food colour. Mix well and take it off the fire.
Pour the mix onto the greased pan and flatten out evenly.
Let it cool for a while and then cut into squares.
Enjoy your coconut toffee!!!
Moving onto the milk cream. It is a time consuming recipe and you will be tempted to turn up the gas. Please don't. You get a lighter coloured end result if it is cooked on a slow flame. Do not leave it unattended.
Milk Cream


100g cashew nuts, ground to a powder
Boil the milk in a heavy bottomed vessel and continue cooking till is reduces to half the quantity on a very slow flame, stirring occasionally and ensuring that the milk that's on the sides of the vessel is stirred into the rest of the milk and not allowed to brown there. 
Add sugar and keep on stirring. 
When thickened, add the cashew nut powder. Keep stirring over a very slow flame till it starts leaving the vessel. 
Pour the mixture onto a steel plate and stir to cool a little.
Knead it into a dough while still warm. Mould into desired shapes.
NOTE:
If the dough turns out too sticky add a little icing sugar and knead.
Watch the video recipe here –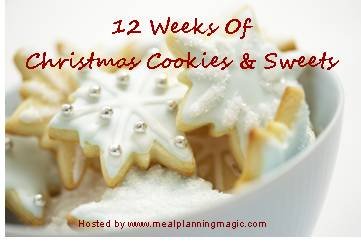 Don't forget to stop by next week for the 3rd issue of Double Treats.
I can't wait to see what the others have brought to the table this week. Go ahead and check it out –
EDITED: The recipe is the same great recipe. I've just taken better pictures and add a video version of the recipe too.
Happy Thanksgiving everybody! Its nice to take a moment to be thankful for everything in our lives. I hope you have a wonderful time with family and friends!
Today, I'm going to share with you my Apple Pie recipe. It is a very basic one but it's a real favorite. Just in case you are still scrambling getting things together for your Thanksgiving dinner, I'd suggest trying this out. It comes together really fast and served with some good vanilla ice cream, its a real winner.
Apple Pie
Makes 1 x 8″ pie
For the shortcurst pastry –
250g all purpose flour
125g cold butter cubed
A pinch of salt
A little cold water (about 60ml)
Add a pinch of salt to the flour and mix well.
Rub the cold butter cubes into the flour till it resembles wet sand or coarse bread crumbs.
Adding very little cold water, bring the dough together. Do NOT work the dough too much. If you do you'll be stuck with a dense pastry, not a light, flaky, buttery one.
Lightly bring the dough together and press into a disc. Wrap in cling film and refrigerate for about half an hour, during which you can prepare the filling.
For the filling –
5 large apples (I prefer using apples that are crisp and a little tart or you can also use a combination of apples)
1/2 tbsp lemon juice
1/2 teacup water
4 tbsp sugar
1 tsp cinnamon powder
A little milk for glazing (you can also use an egg wash if you'd like)
Add the lemon juice to the water and keep aside.
Peel, quarter, core and slice the apples and add it to the lemon juice and water solution.
Add the sugar and cinnamon powder and mix well.
Cook till you're left with a nice stew. It should be nice and pulpy but not a mash. Be gentle while stirring. Cook till all the water evaporates.
To make the pie –
Divide the dough into two parts.
Roll it out on a lightly floured surface. Place in the in pie dish and trim the edges. Pierce the base randomly with a fork, to ensure that it doesn't puff up.
Bake at 220ºC for 6 minutes.
Remove from the oven and fill it up with the prepared filling.
Roll out the other part of the dough and place on top of the filling to cover the pie.
Seal the edges by crimping it with a fork.
Using a sharp knife make a few slits on the top to let the steam escape.
Brush with a little milk or beaten egg.
Bake it at 220ºC for 12-15 minutes.
Cool the pie, cut into wedges and serve with some vanilla ice cream.
Watch me make my Apple Pie here –
This recipe is linked to –
Pretty in pink, aren't they? I've seen flamingoes before, but always the pink ones. This was the first instance I'd seen them in a different color. This one is from our trip to Ocean Park – Hong Kong.
You read that correctly. This post will feature not one but 2 holiday treats. I've missed out on week 5, 6 and 7 of the 12 Weeks of Christmas Cookies blog hop hosted by Brenda from
Meal Planning Magic
, since I was busy enjoying my holiday. But I intend making it up to you by posting 2 treats this week, the next week and the week after that as well.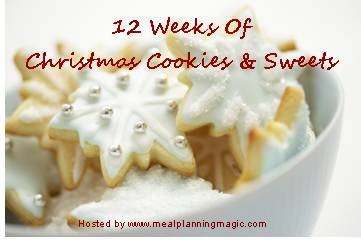 The first treat I'm going to share with you today is a traditional Goan Christmas sweet called Perad (pronounced Peraad)or Guava Cheese. This is one of my favorites. But then again, I think I enjoy all the traditional Christmas sweets. I hope to share a few with you this year. What I love about this is the same recipe can be used to make the most amazing guava jam as well. As you cook this recipe when its still a loose consistency, you can use it as a guava jam and on cooking it further, what you end up with is guava cheese. When I was younger, my grandmother would faithfully make both, the jam as well as the sweet every year. We would have it with bread, chapatis and even spoonfuls of it just by itself. I haven't made the jam for quite a while so I don't have a picture. But I do have a picture of the guava cheese or Perad from 2 years ago – before my blogging days. I will try and get a few better pictures this year. Don't let the pictures fool you, this is good stuff.
Perad (Guava Cheese)


250g ripe guavas (Guavas should be ripe but slightly firm, not mushy)
350g sugar
Juice of 1 big sour lime or 2 small sour limes
1 tbsp ghee (clarified butter)
Red color / caramel color (optional)
Wash the guavas and cut out the stalk portion. Take off any brown portions of the skin as well. Cut into halves breadth-wise.
Bring some water to a boil in a steel vessel. Add the guavas and make sure that the water covers the guavas after you put them in. Cook till the seeds are just about popping out.
Drain and keep aside. Scoop the seeds out. Dice the fruit into cubes. Weigh it and grind it to a pulp.
Sieve the seedy portion to extract some more pulp. Place the pulp, sugar and lime juice in a thick bottomed vessel on a slow flame and cook till it starts leaving the vessel. You have to stir continuously and thoroughly, making sure none of the mix is sticking to the bottom of the vessel. If you stop stirring, the mix gets agitated and you'll end up with a bubbling mix that is difficult to handle and may burn.
(If you want to make guava jam, when it has taken on a good jam like consistency, you can take it off the fire, cool and bottle it. If you're making Perad or guava cheese, continue cooking.)
Test to see if done. (Use water test – Place some cold water in a small bowl and drop a teaspoon of the sweet on it. If it firms up on cooling it is done. If it is still soft or too sticky, it needs more cooking).
When done, add ghee and color (if using) and mix well. Addition of the ghee adds sheen to the end product.
Grease a cookie pan (or thali) with ghee and pour the mixture on it. Use a palette knife to smoothen it out. Spread while still warm. Leave it to cool a little and set. Cut into pieces after it sets.
When it has cooled off completely, you can store it in a container.
NOTE: If you want to make a larger quantity, DO NOT double this recipe. If the guavas weigh 500gms., use 650gms. sugar. Whatever the weight of the fruit add 150 grams to it to get the sugar quantity.


These traditional Goan sweet dishes are usually passed on from one generation to the next and there usually aren't too many written versions of the recipe. Also, it takes a couple of attempts to perfect. But if you follow the instructions closely, you shouldn't have any trouble. In any case, don't hesitate to clarify any doubts you may have.
The second treat I have lined up for you today, is much simpler in comparison. So if you don't have the time or inclination to whip up a labour intensive guava cheese, try these no bake cookies. It takes 5 minutes to make them and about an hour of refrigeration is called for.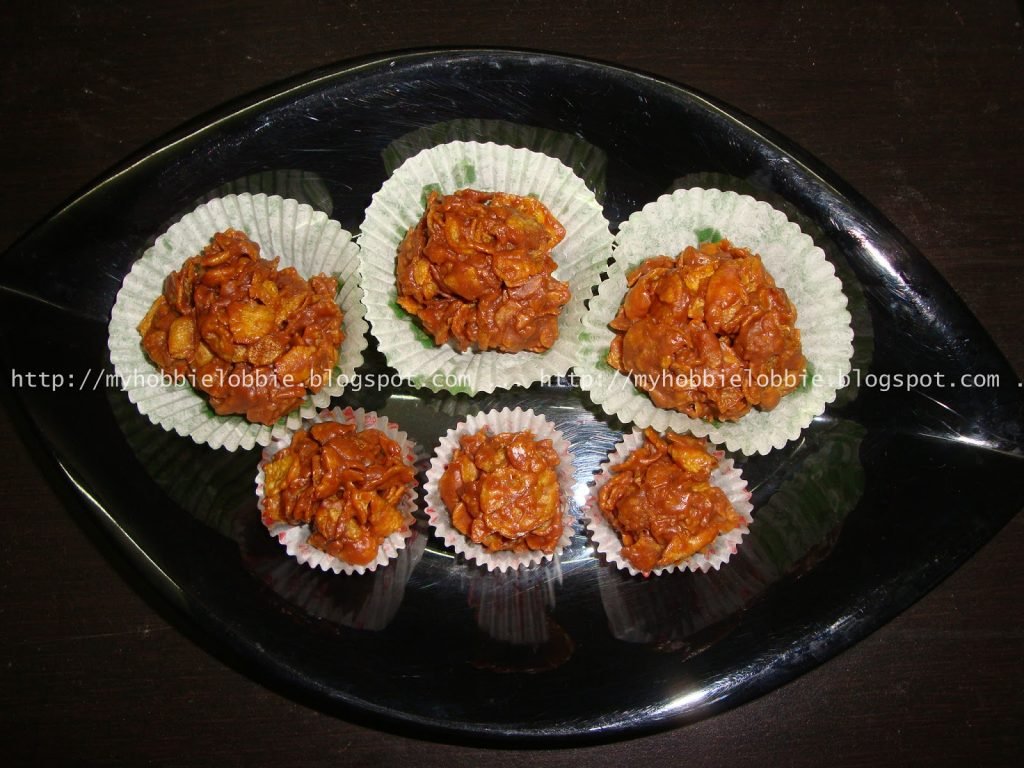 Choco-Caramel Crispy Cakes (No bake cookies)
4 (2oz.) Mars or Milky Way candy bars
1/4 cup unsalted butter
2 1/2 cups corn flakes
Approx. 40 mini cupcake paper liners
Break the candy into smaller pieces and place it in a saucepan along with the butter on low heat, stirring frequently.
When everything has melted, add the cornflakes and mix well, until it is well coated with the chocolate mixture.
Scoop out the mix into the mini cupcake liners.
Place them on a tray in the refrigerator to set for at least an hour.
Enjoy!!!
Note: I made both sizes, but in hindsight I would strongly recommend going with the mini liners, the regular ones are too big.
Join me next week for 2 more treats and don't forget to check what the others have brought to the table this week.
Here's a glimpse of the latest wedding cake I worked on. All I knew is that I had to work with the commonly found shade of purple. Without having much to go with, I decided to use some of these lilies that I personally think look really pretty.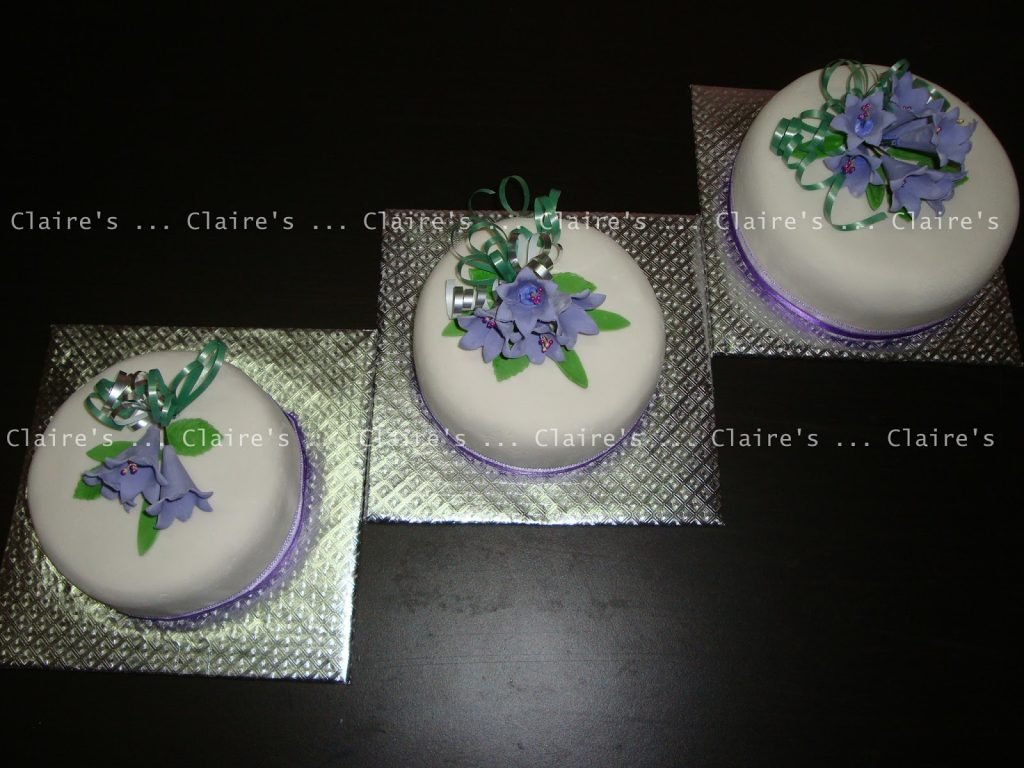 It feels so good to be back to blogging. I've missed you my wonderful friends in blogland (Don't tell anyone, but I almost had withdrawal symptoms from being away from this space for so long) and I'm happy to be back. Back from where you may wonder. We just took a 12-day trip to Rajasthan – Mount Abu (awesome weather – colder than any winter here in Mumbai), Kumbalgarh (we stayed 5 minutes away from the actual fort) and Nawalgarh(we stayed at what used to be an actual palace and is now converted to a heritage hotel). I've never been there before so it was a brand new experience for me. I had a blast. Needless to say, I tried to schedule a few posts before going but had to complete a wedding cake order before leaving along with some other cake orders that came in at the last minute, so couldn't put up as many as I hoped to.
Anyway, when I got back a couple of days ago, amidst all the clean up and laundry that results from being away for so long, I went to check out my list of recipes that I had shortlisted for this months SRC. SRC is turning out to be so much fun. Thank you Amanda for coming up with this concept and a big "thank you" to Tina for painstakingly hosting our group month after month. This month, I was assigned Lynne's blog Cafe Lynnylu. If you haven't stopped by her blog yet, you really should. She has tonnes of wonderful recipes. She participates in the Daring Bakers Challenges and I really admire the folks who are part of that group. They come up with stunning stuff always. She also is an amazing photographer, you have to see the pictures on her blog. Simply put, her blog is a treat in more ways than one. Picking out a recipe for this months reveal was a very daunting task for me since I was spoiled for choice. Just to give you a heads up, my final list of recipes to consider for the SRC consisted of 21 recipes. This month, I decided to do something a little different. I have never posted cocktails on my blog before and Lynne has a stunning collection of these. Considering all the chaos and lack of time, not to mention the weather in Mumbai is so hot, its killing me; I decided to whip up a cocktail to help us cool off – I picked the Black Russian.
The Black Russian is a coffee drink and with minimal prep, is really simple to put together. This drink is a coffee lovers delight. I love my morning mug of coffee so I figured I couldn't go wrong with this. I was very happy with the way this turned out. Which reminds me, I had bought a book dedicated to cocktails which I have used only once before and I think trying this drink out has given me the boost I needed to try out some of the concoctions from the book as well as Lynne's blog. Thanks to Lynne I now know how to make a great Black Russian. I can't wait to add to my meager cocktail arsenal.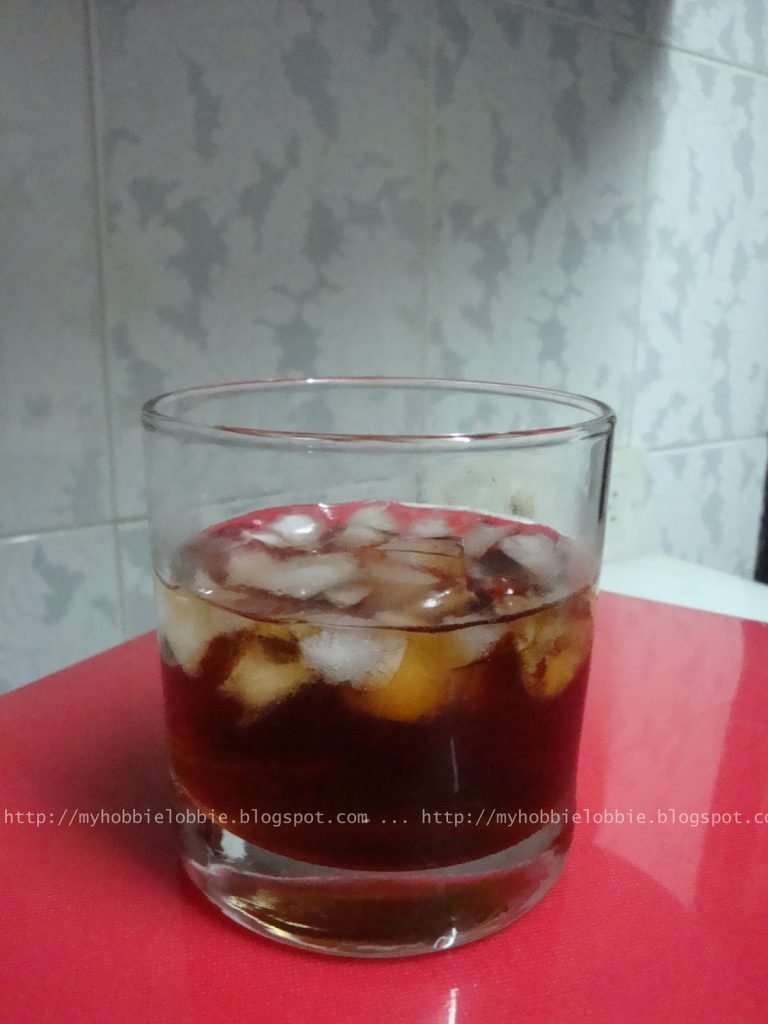 Black Russian
Adapted from: Cafe Lynnylu
60ml Vodka
2 tbsp Kahlua
3 tbsp chilled black coffee, sweetened
Ice cubes, coarsely crushed
Fill a glass with the crushed ice.
Pour the vodka and the Kahlua over it and stir.
Add the chilled coffee and stir to mix well.
Sit back and enjoy your drink.
Cheers!!!
Don't forget to check out what the others have posted –
This recipe has also been linked to –
Food on Friday – Cocktails and Mocktails edition
document.write('