Can you believe it? Christmas will be here soon enough. Yes, its just about 13 weeks away. And you know what that means. It means that once again, its time for our "12 Weeks of Christmas Cookies" party. Last year, just a few days after I started this blog, I got to know that April of
Abby Sweets
was hosting this amazing 12 week long event where each week, the participating bloggers made a cookie or candy of their choice to fill their platters for the holiday season. It was so much fun. If you are like me and sometimes like to take a little walk down memory lane, you will find my submissions for last year
here
.
Believe it or not, this year in August itself I started sifting through my "to try" list, which by the way seems to be growing at an alarming rate. There's just so much out there that I'd like to try. So when I couldn't wait any longer, I checked with April and Barbara of Barbara Bakes, I got to know that Brenda of Meal Planning Magic is hosting our Christmas bake along this year. I got in touch with her immediately and she promptly sent me the details (She's also designed a button just for this occasion). And so here we are, at week 1 of 12 fun weeks of Christmas Cookies. I do hope you stop by to check out the weekly party. And if you'd like, you can be part of the fun too. Simply leave me a comment and I'll send you the details. The more the merrier. So put on those aprons and bring out those mixing bowls and let the festivities begin.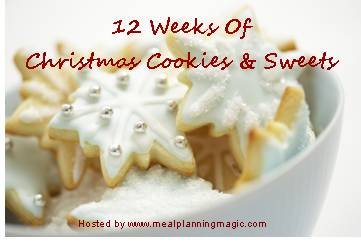 For this week, I decided to try out these White Choco-Cherry Cookies. They looked so festive and I had all the ingredients handy, which made it easier. The dough is very easy to make and I think its a fairly versatile cookie. You can switch the type of chocolate, fruit as well as nut to suit your liking. I stuck with the original recipe and just made one change, I didn't have macademia nuts so I used pistachios. I think the green of the nuts and the red that the cherries added made for a very Christmassy looking mix, don't you think?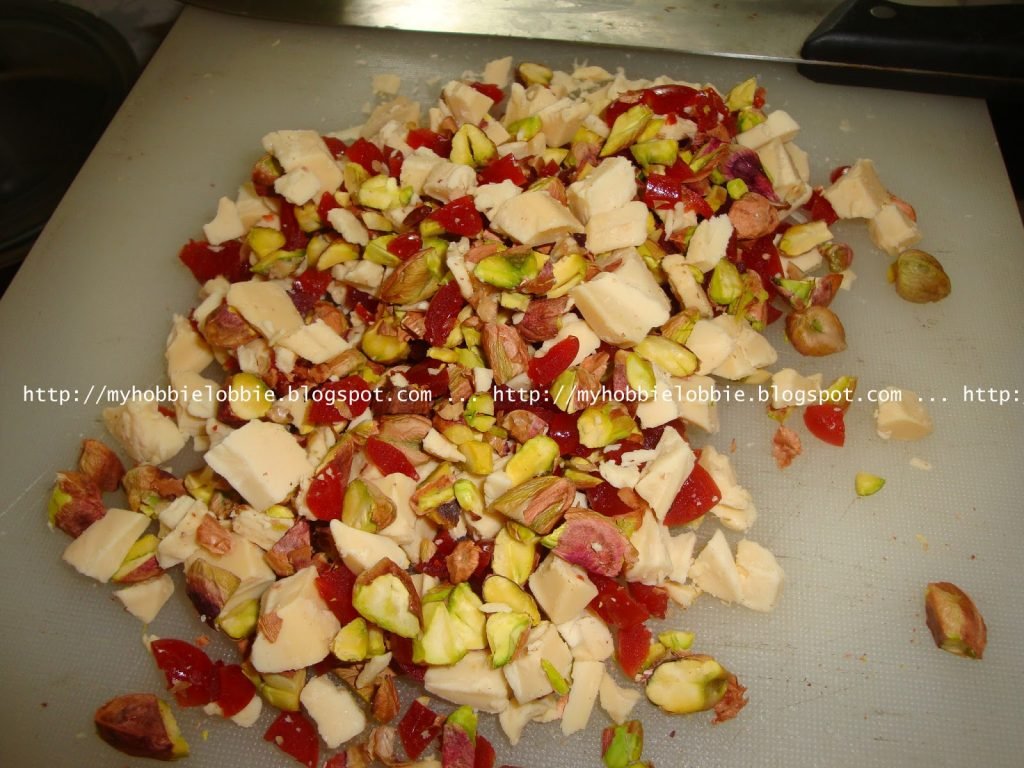 The cookie turned out to be a nice soft one, slightly chewy on the outside and a little softer and cake like on the inside, which made for a nice change from the crunchy cookies. I loved the textures that the chocolate chunks, candied cherries and roasted nuts gave it. When I make these again, I will just cut down on the sugar a bit since I don't like my cookies too sweet and the white chocolate and candied cherries add a fair bit of sweetness to it. I'll probably try some bitter chocolate instead of white next time. What do you think?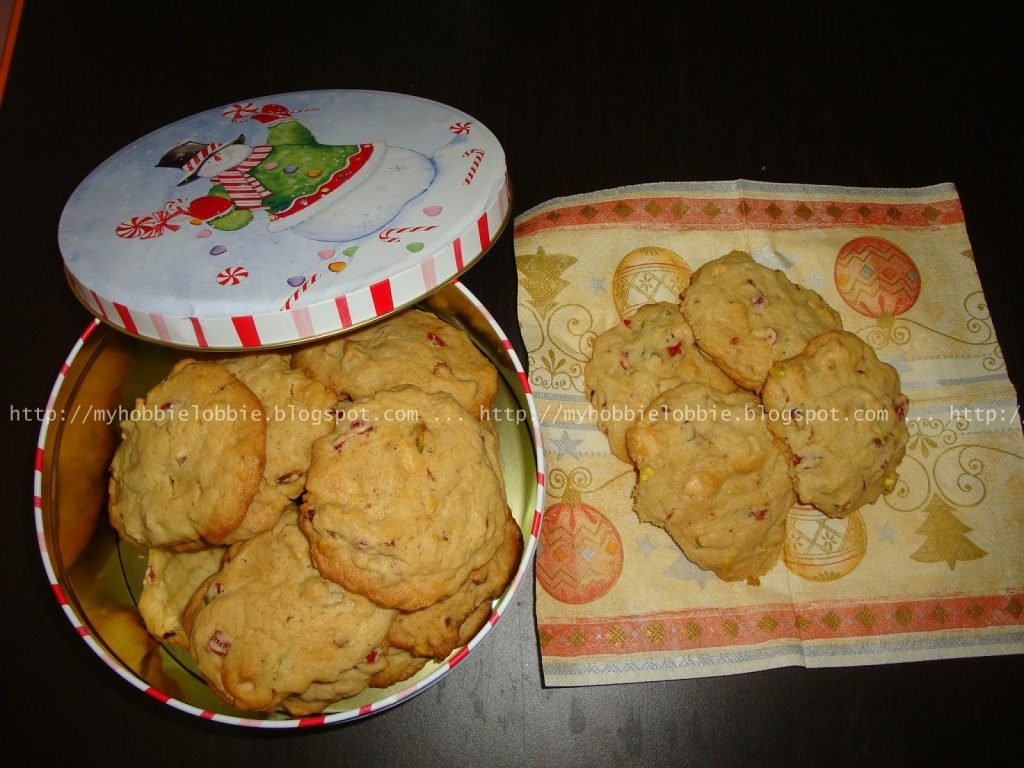 White Choco-Cherry Cookies
Adapted from: Mom's Crazy Cooking
Yields about 16-18 cookies
1/4 cup butter, softened (not melted)
1/2 cup brown sugar
1/2 cup white sugar
1 large egg
1/2 tsp Vanilla extract
1 1/2 cup all purpose flour
1/2 tsp baking soda
1/4 tsp salt (Since I was using salted butter, I just added a pinch of salt)
1 tbsp milk
1/2 cup pistachios, chopped
1/4 cup candied cherries, chopped
3/4 cup white chocolate chunks
Preheat the oven to 170ºC.
Line a cookie sheet with some baking paper that has been greased.
With an electric whisk, cream the butter and sugars together till light and creamy.
Add the egg and vanilla extract and beat until just combined.
Add the milk and mix.
Sift in the flour, baking soda and salt. Mix until just combined. The batter will be a little stiff.
In another bowl, combine the chocolate chunks, cherries and nuts and then add to the dough, stir gently only till the ingredients are well distributed.
Using a tablespoon, drop cookie dough onto the greased cookie sheet about 2″ apart.
Bake for 12-15 minutes.
Enjoy!
This recipe is linked to –
Crazy Sweet Tuesday
Recipes I Can't Wait To Try
Friday Potluck
Sweet Tooth Friday
Sweets for a Saturday
Do stop by and check what the others have whipped up this week.
For months together I've been in awe of all you wonderful bloggers out in blog land who bake their own bread. Seriously, I've not done much in this field. Somehow, yeast has always intimidated me. But somehow, everywhere I looked, folks were baking their own bread. So this weekend, I decided to take the plunge and try my hand at a brioche loaf.
What can I say! I was really anxious while preparing the dough even though the process was fairly simple. But it did rise well while resting so I calmed down a little and continued. I had my fingers crossed and was seriously hoping the bread would turn out okay. I was going to serve it up for dinner, with almost no backup, should it have failed. All my hopes were pinned on it. I was thrilled to pieces when I took it out of the oven. I almost did a little dance with the hot loaf tin in my oven mitt covered hands. Who am I kidding? I did a little dance! I had finally conquered the mighty yeast; at least for now. The loaf had risen beautifully and was so tasty, I could eat it plain. To say that the mass produced, store bought bread pales in comparison, is an understatement.
I love being able to bake my own bread and not having to rely on what available at the stores. There are so many different types of bread I've seen on diiferent websites and blogs, I know for sure, I will be baking my bread more often.
I didn't change the recipe much, since this was my first attempt, except for using salted butter instead of unsalted and adjusting the amount of salt used. However, I did alter the method a bit. What follows is the method I used and its what I'll stick to, since I got such great results.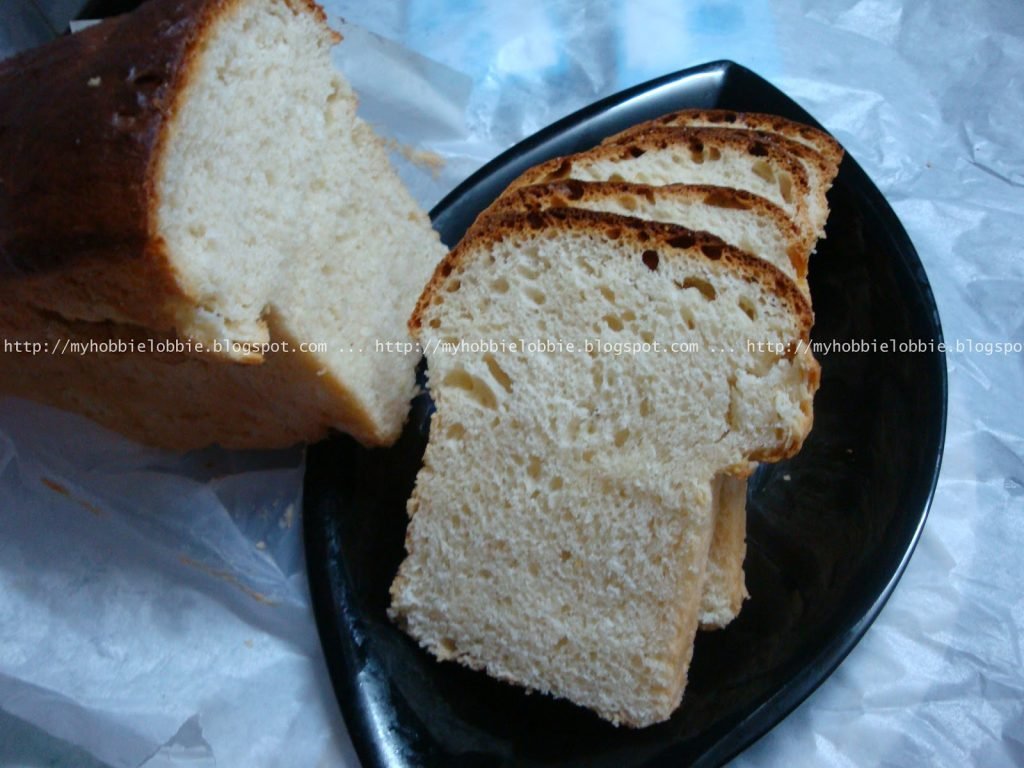 Brioche Loaf
Adapted from: Group Recipes
1/2 cup milk
2 large eggs
2 tbsp sugar
1/2 tsp salt
1/2 cup butter, softened
2 1/2 cups all purpose flour
2 1/2 tsp active dry yeast
Heat the milk to get it warm but not hot. (If its too hot, it'll kill the yeast and if its not too warm, the yeast won't activate. The original recipe suggests 110-115ºF, I just went by feel). Pour the milk into a bowl. Add the sugar and sprinkle the yeast over it. Cover and leave it to stand for about 10 minutes or till frothy.
Pour this mix into a large mixing bowl. Add the eggs 1 at a time and using an electric whisk beat between each addition.
Add the butter and salt and beat well again.
Add a cup of the flour and beat well.
Add the rest of the flour and mix till is it well incorporated. At this stage I started mixing with a large wooden spoon.
Once this is done, turn out on a lightly floured surface and knead well for about 5 minutes till the dough becomes smooth and elastic. This is a fairly sticky dough, so lightly flour your hands before needing and curb the urge to add more flour. Trust me, you don't need it.
I lined and greased a loaf tin, leaving a little overhang of the baking paper. Transfer the dough to a 8 1/2-9″ loaf tin. (I had only a 7 1/2″ one so I used that, which is why the top of the loaf looks the way it does.) Cover with a clean kitchen towel and leave it to rise for an hour.
Preheat the oven to 180ºC. Bake for 30-40 minutes or until golden brown.
Enjoy!
This recipe is linked to –
Savory Sundays
My Meatless Mondays
Bake with Bizzy
Mangia Mondays
Mouthwatering Mondays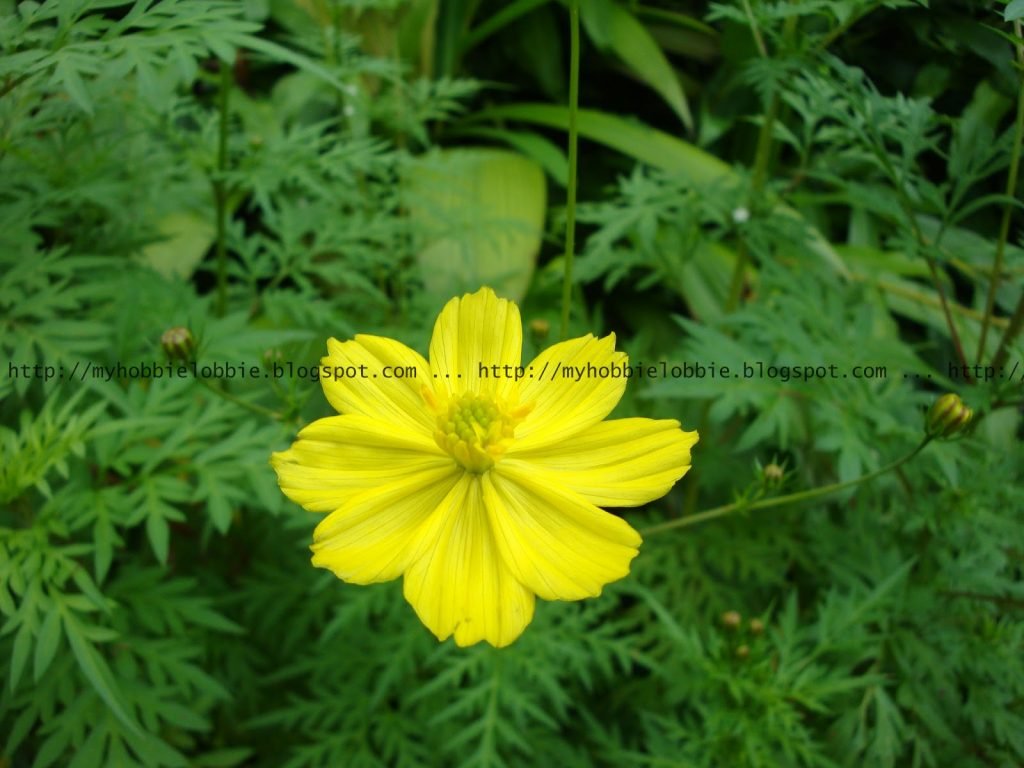 When we were holidaying in Coorg and were on our way to one of the Waterfalls, we found this little beauty along the way.
While I was perusing Nomnivorous for my last Secret Recipe Club submission, I came across Emily's recipe for choco fudge pops. I'd never tried these before. And ever since the rains ended a few days ago, the heat has picked up. We will have a month or two or crazy hot weather before winter settles in. I hope winter gets here soon, its my favorite season of them all. Anyway, I thought these fudge pops would be an ideal way to end a meal and cool off these days, so off I went to try my hand at them.
A word of caution! Proceed at your own risk!
These choco fudge pops are sinfully rich and chocolaty. True to its name it is delightfully creamy and there are so many ways to fancy them up even further. Since this was my first time trying it, I went with the basic choco-fudge and it was really good. The next time I make these I want to try dipping them in some melted chocolate and sprinkle roasted, chopped nuts or sprinkles over it like Emily did. I can't wait. In hindsight, there is just one thing I would change – I used the slightly larger Popsicle moulds and got 4 pops out of the recipe. Like I said, these are extremely rich, so I would suggest using smaller moulds, which should yield atleast 6 pops.
Here they are just out of the freezer. This was my first time using this popsicle mould and at this stage I had my fingers crossed, hoping they would unmould easily.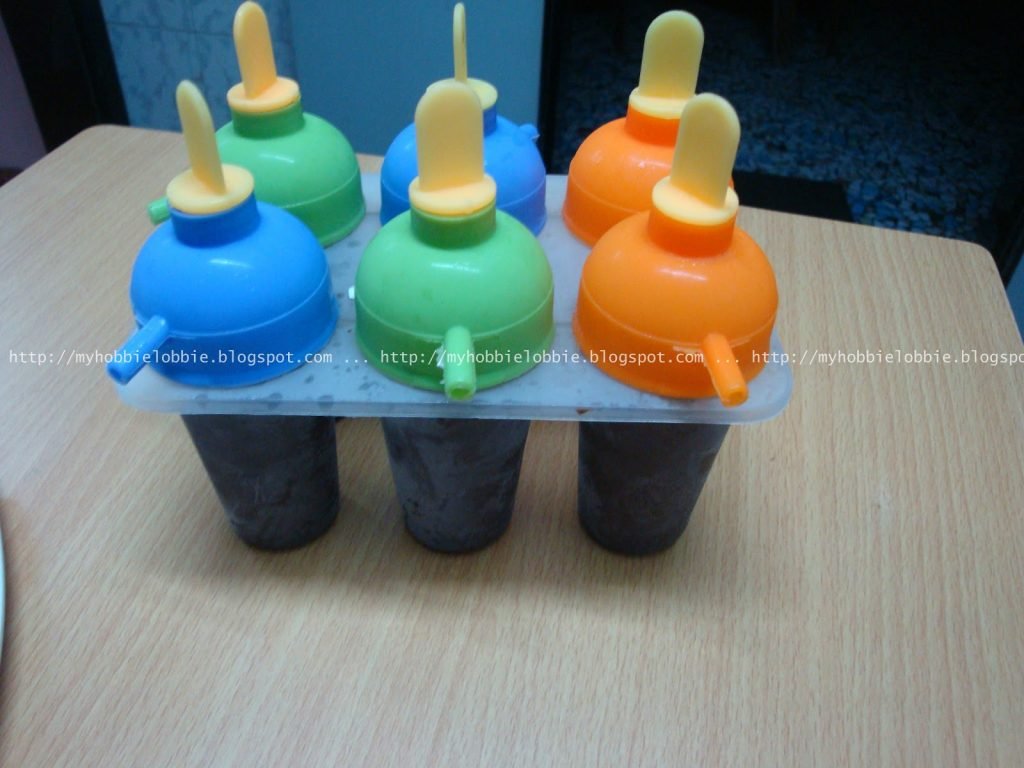 It wasn't too easy, but I managed to get the pops out. Serve them quick, it starts melting soon. Check out that delicious puddle of chocolate fudge starting to form under the pop that was taken out first.
Choco Fudge Pops
Adapted from: Nomnivorous
Yields 4 large or 6 small pops
1/3 cup sugar
1 tbsp cornflour
1 1/2 tbsp unsweetened cocoa powder
3 tbsp dark chocolate, chopped
1 1/4 cups milk
A pinch of salt
1/2 tsp vanilla extract
1/2 tbsp butter or vegetable oil (I used butter)
Place the dark chocolate in a saucepan over low heat.
When its melted almost all the way, add the sugar, cornflour, cocoa powder, milk and salt. Turn up the heat to medium and stir continuously.
In ten minutes, the mixture should have thickened quite a bit to a pudding like consistency.
Take off the heat and add the butter and vanilla and stir till everything has mixed well.
Leave it to cool a little for about 5 minutes and then pour into popsicle moulds.
Freeze for about 3-4 hours or until set. I made these one evening and left them to set overnight.
Enjoy!
This recipe is linked to –
Friday Potluck
Sweet Tooth Friday
Sweets for a Saturday
I was amazed by the Hasselback potatoes every since I first saw it. Initially I though it would take some fancy knifework or some exotic equipment to get a potato to look this pretty. After a little reading up, I realized how wrong I was. Once, I figured out how easy it was, I decided to try it out. I think I can eat potatoes in almost any form – baked, roasted, boiled or fried. I have yet to meet a potato I didn't love. What made this different was the slices of garlic between the slices of potato. Everything about this was just right. I am quite eager to make these for the next dinner party I throw. I know it will look stunning on the table.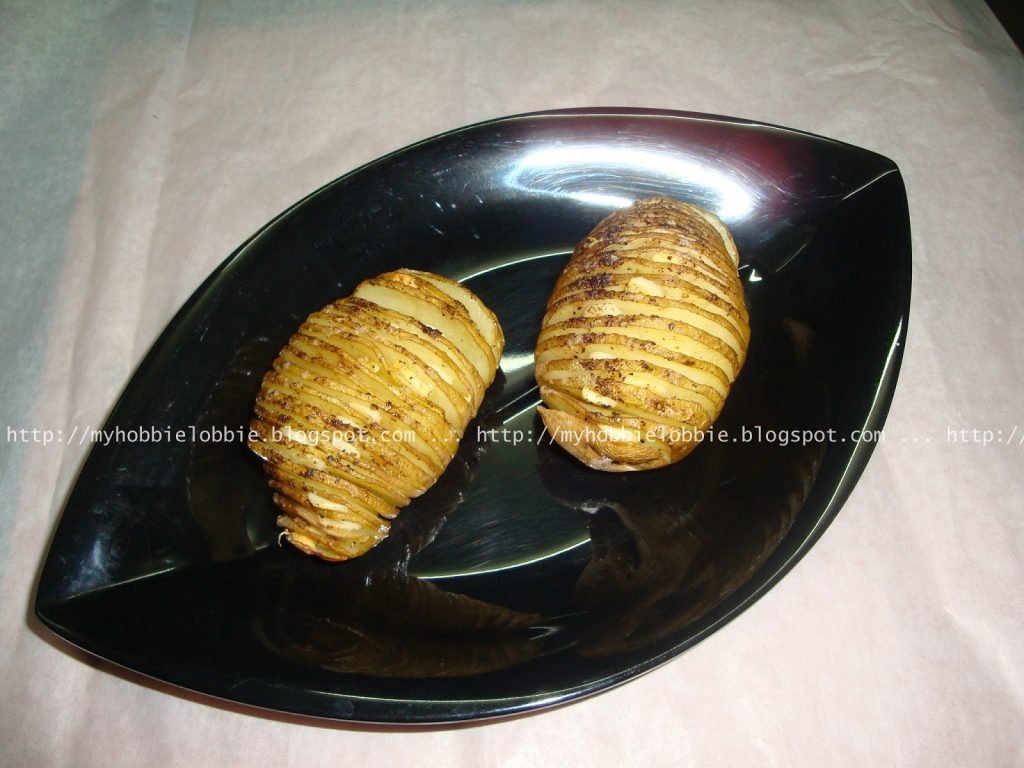 Hasselback Potatoes
1 potato per person being served
A few cloves of garlic, peeled and finely sliced
Salt, to taste
Crushed black pepper, to taste
Some butter, a small knob for each potato
Olive oil, to drizzle over the potatoes
Preheat the oven to 200ºC.
Wash the potatoes well and scrub them.
With the skin on, place the potato on a cutting board, with the flat side down and cut into slices almost all the way, but not seperating the slices from the base of the potato. You are basically making slits without cutting the slices through.
Place a slice of garlic in each gap between the slits of the potato.
Arrange the potatoes in a baking dish. Place a small knob of butter on each potato and drizzle with a little olive oil and sprinkle with salt and pepper to taste.
Bake for about 40 minutes or until the potatoes are crisp on the outside and the flesh is soft and fluffy on the inside.
If you want, you can place a small knob of butter when you get it out of the oven. Serve immediately.
The next time, I'm going to sprinkle some chives over the potatoes midway through baking.
Ever since I was a little girl, bananas have been my favorite fruit. I absolutely love them. As a kid, my mum would sometimes make stewed bananas or banana fritters for us once in a while, which I absolutely loved. Besides that, we only ate it straight or in a fruit salad or with jelly. When I took up my first job at Standard Chartered Bank, I used to work with this girl Deepti; I wonder what shes upto these days? but she had once brought a bar of banana cake to work. With the first delicious bite, I was smitten. I used to search high and low in every cake shop for this cake, but never found it. Later in life, when I started baking, with a little research I started making my own and was very pleased with myself. A few months ago, I made some
banana bread
, a slightly healthier version than regular cake, and had great results with it. Pleased with what I had made in the past, I had no idea about what I was missing out on till yesterday. What happened yesterday? I decided to try making some Bananas Foster and, I was thrilled to pieces with this treat.
I know a lot of you are thinking, this is such a simple thing to put together, no biggie, whats she raving about? I don't know about you, but for me, sometimes, the simplest things are the tastiest, and I never miss a chance to appreciate these simple wonders. Bananas Foster has got to be one of the simplest desserts I've come across. I don't know why I've never tried it before, but I sure am glad to have this in my arsenal. I did a little searching on the web, and ultimately I had a rough idea what this dish was about. I just winged the rest of it and it worked out fine. I had a couple of plantains (I love plantains, probably a little more than the regular bananas) that were a little past their prime. This was what got me searching for ways to use them up. I cut them in half lenghtwise, and across, which got me 4 pieces per plantain. It took me about 5 minutes to stew them up and I served these up with some chocolate ice cream. That's it; easy peasy!
I know most folks serve it up with vanilla ice cream, but chocolate is all I had and it went really well the stewed plantains. I love the play of warm plaintains and the cold ice cream, with just a hint of rum and cinnamon from the sauce coming through. There is such an explosion of flavor in every single bite. I know for a fact I'm going to make this more than once in a while. I hope you try this out, if you haven't already. You'll be glad you did.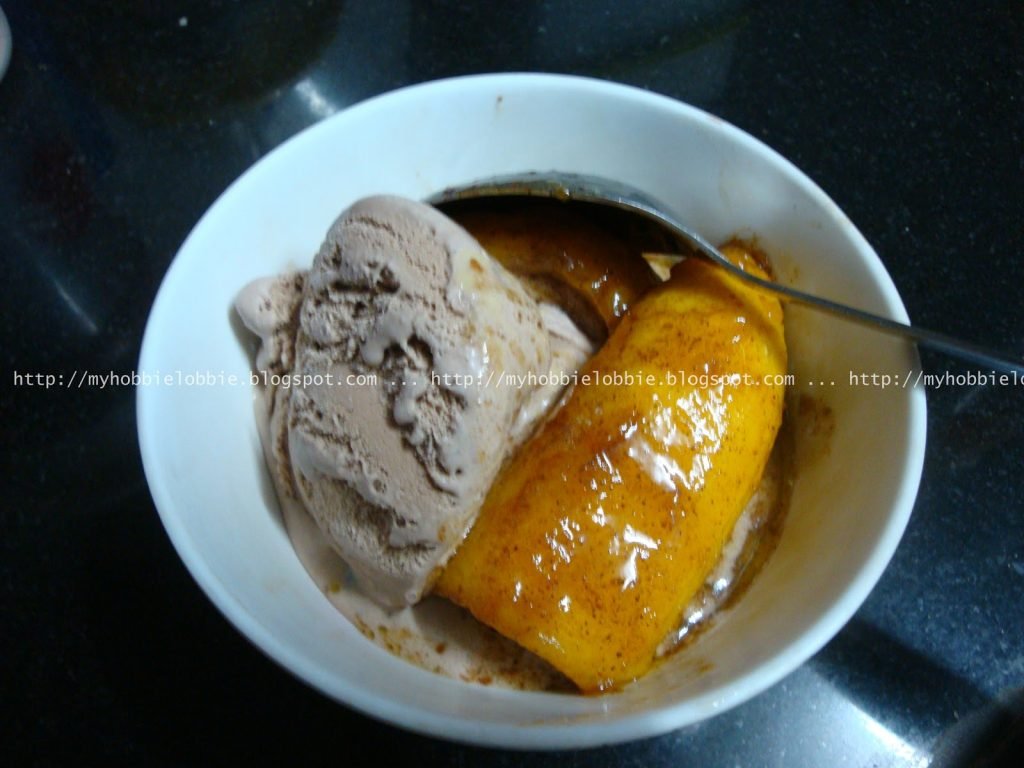 Bananas Foster
2 plantains/ bananas, peeled and cut in half lengthwise and across (4 pieces per plantain)
1/3 cup unsalted butter
2 tbsp brown sugar
1/2 tsp cinnamon powder
1/4 cup dark rum
Chocolate ice cream
Gently warm the butter in a frying pan to melt it. As it melts, add the brown sugar and still to dissolve thoroughly.
Place the cut plantains / bananas in the sauce and let it stew for a couple of minutes on each side, till is gets a nice caramelized look. Sprinkle some cinnamon powder over it and gently flip them over.
Carefully pour in the rum and stir it in a bit. Very carefully slightly tilt the pan so that the sauce reaches the edge of the pan and makes contact with the flame to ignite. Again, please be very careful with this step.
Let the flame do its thing as the alcohol burns up leaving behind the most amazing flavor. The flame will go off on its own. Once that happens, if your sauce is still very fluid, let it cook off for a few minutes till it thickens to the desired consistency.
Place ice cream in bowls to serve and place the hot plantains on the ice cream. Drizzle some of the sauce from the pan over it. Serve quickly.
Make sure you plate and serve while the plantains / bananas are still hot.
Enjoy!
This recipe is linked to –
This month for SRC, I was assigned Emily's blog,
Nomnivorous
. If you're wondering what SRC is, its a fun club called the Secret Recipe Club, started by Amanda of
Amanda's Cooking
. Each month we are assigned a blog that we need to pick a recipe from and recreate it, but here's the catch, its a secret, you cannot let out which blog you've been assigned till the reveal day, sorta like Secret Santa, but with great food. If you'd like to join in or see some of the previous reveals, check out
Secret Recipe Club
.
When I was going through Emily's blog, I came across a recipe for Tzatziki – a Greek meze or appetizer and it reminded me of our very own Indian Raita. I was amazed at the differences in the recipes despite the similarity in the look of both. I knew I had to try it to see the impact on flavors. I had previously seen an episode of Masterchef Australia – Season 2, where George Calombaris made a traditional Greek version and I've wanted to try it out since then. This was the perfect opportunity. I whipped up a version using a combination of both recipes and I really loved how it turned out. It had a creamy texture and at the same time tasted so fresh. I could finish a bowlful of this by itself. This would also be a wonderful accompaniment to grilled meats or some spicy tandoori chicken. It will be lovely as a dip to serve with a platter of chips and crudités as well. I know I'll be making this often.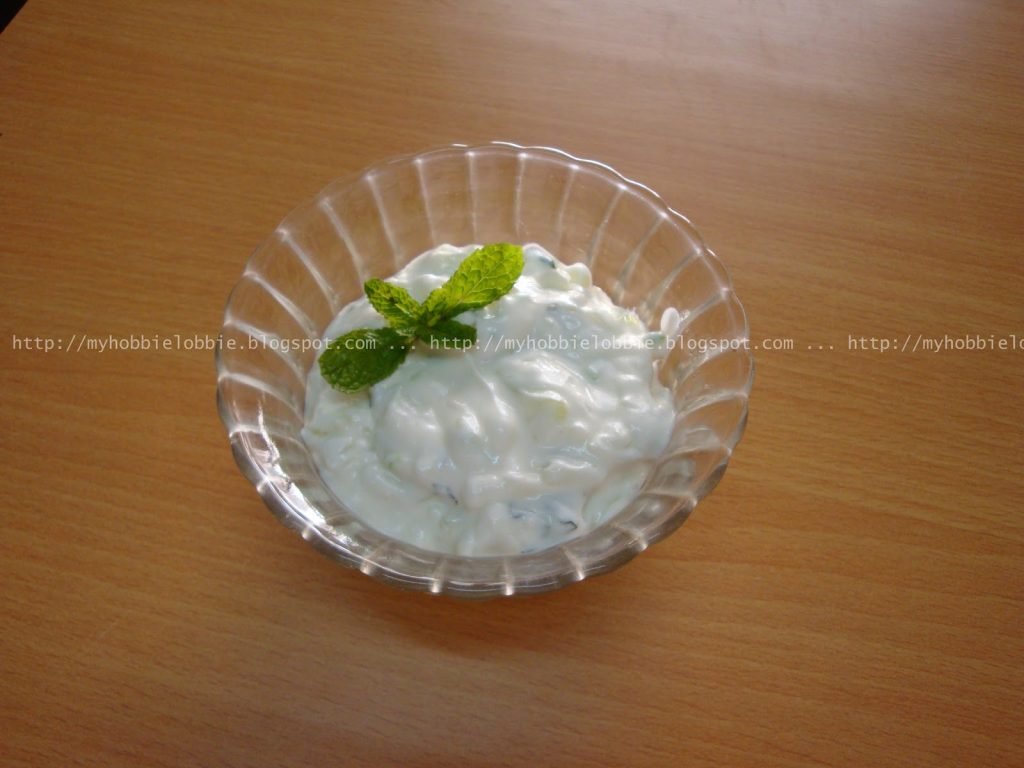 Tzatziki
Adapted from: Nomnivorous
1 cup hung curd (natural, unflavored yogurt or Greek yogurt)
1 spring onion, finely chopped (including a little of the tender greens)
1/2 mild green chilly, finely chopped
1/4 cup finely chopped cucumber
1 tsp fresh mint leaves, finely chopped
1 clove garlic, finely chopped
1 tsp olive oil
1 tsp honey
Salt, to taste
A few drops of lemon juice, or to taste
Combine all the ingredients together, making sure everything is well mixed.
Serve up.
Check out what the others have whipped up this month –
Just yesterday, I was trying to clean out some of the folders and drives on my PC and I realized that I have a ton of random pictures clicked all over the place, specially when we're on holiday. I'm no professional, but I really love the way some of these pictures turned out. Given an opportunity, I would sure love to learn more and improve my photography skills. But anyway, I've decided to share some of my favorites with you. I love capturing shots of nature, so you will see loads of flowers, sunsets, a few birds and so on. So, here's shutterbug Sundays. Every Sunday from now on, I will post a random picture. I hope you enjoy them and I'd love to hear from you! So keep the comment love coming 😉 !
Yay, My Hobbie Lobbie completes a year today. It seems like just yesterday I was obsessing about what to name my blog, what I would post about and whether there'd be anyone out there reading. The journey over the last one year has been an unbelievable one and starting this blog is one of the best decisions I've ever made. I've met so many wonderful folks from around the world and have received such delightful comments that I'm humbled. I've grown so attached to this blog and all my wonderful blogger friends that a few days away from the blog gets me all blogsick (is that even a word, anyway you get the idea). I can't willingly stay away for too long. Yet, there have been times where life demanded more of my time and I've spent more time away from this blog than I would have liked. But you guys have always been there everytime I got back. I want to say
Thank You
to each and every one who has visited this blog, followed and commented as well as those in the shadows, who faithfully visit, but still choose to remain anonymous – I would love to hear from you.
To commemorate this milestone, I've made Lemon Bars. I've wanted to try them out for the longest time and now I can proudly say I have. It was surprisingly simple to put together. I think I might've overcooked these a tad (I halved the original recipe but forgot to adjust the time, duh!), but they were still so very delicious, it took every ounce to will power to stay away from them. These have flown straight to the top of my favorite dessert list. I'm gonna hold on to this recipe and most certainly make them again and again and then again. You get the idea. The zested peel adds so much zing to these bars, I'm sure they wouldn't be the same without them. Did I mention how much I loved them?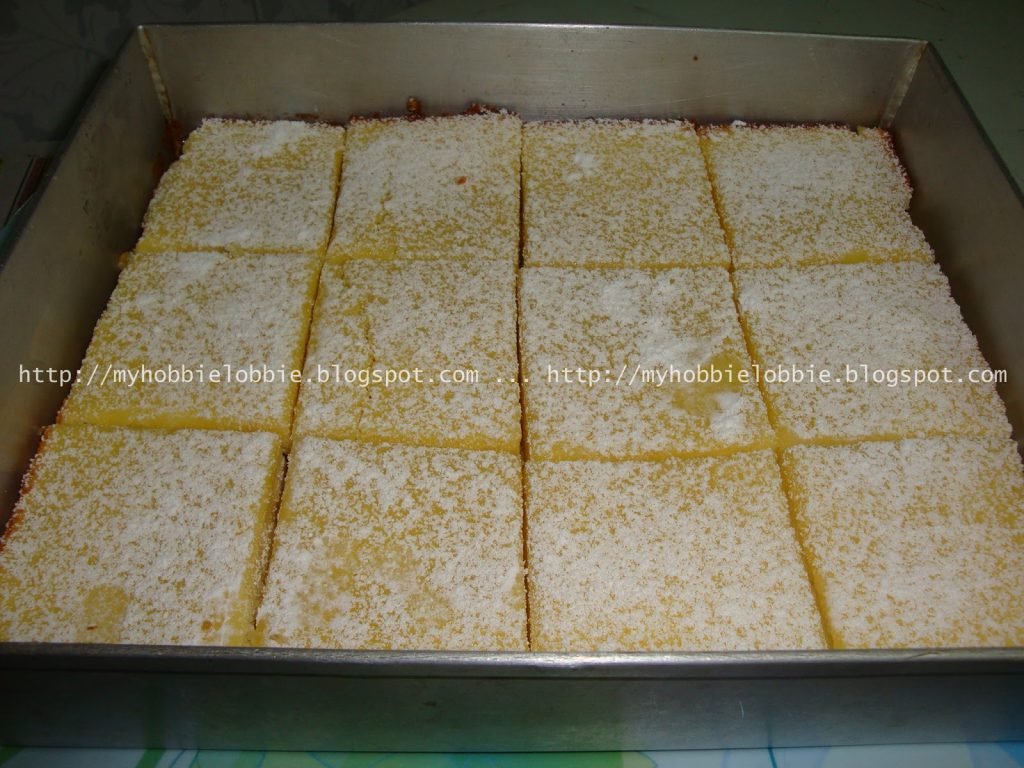 Here's what the insides look like –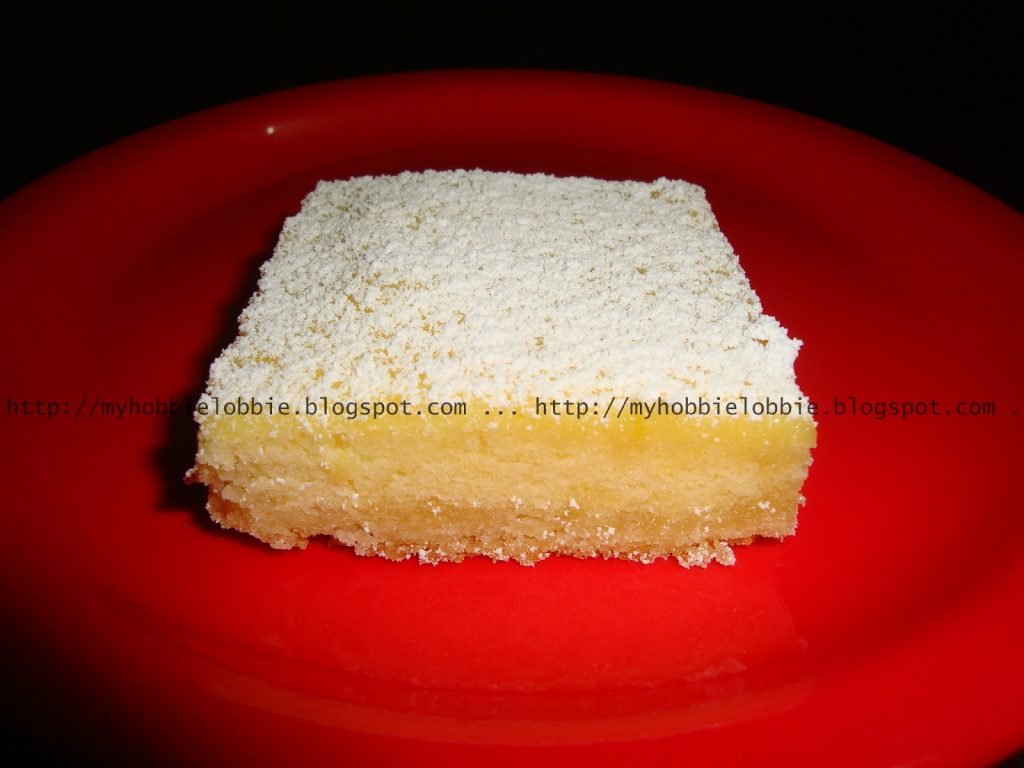 … full of lemony goodness!
Lemon Bars
Adapted from: A Farm Girl's Dabbles
(I halved the recipe to get 12 bars, but am publishing the whole recipe below – should yield 24 large pieces)
For the crust –
1 cup butter, softened (not melted)
2 cups all-purpose flour
1 cup sugar
For the lemon filling –
6 eggs
3 cups sugar
2 tbsp grated lemon zest
1/2 cup fresh lemon juice
1 cup all-purpose flour
Additional icing sugar to dust over the bars
Preheat the oven to 170ºC. Line a 9″*13″ pan with some greased baking paper. I would suggest leaving an overhand to help pulling it out of the tray. I'm definitely doing that the next time I make these.
To make the crust –
Mix the butter, flour and sugar till well combined. If you're using unsalted butter, please add a pinch of salt.
Spread this dough evenly into the prepared pan. Bake for about 15-20 minutes or until set and just beginning to turn color.
To make the filling –
Prepare the filling while the crust is baking.
Using an electric whisk at medium speed, whisk together the eggs, sugar, lemon zest, lemon juice and flour.
Pour this mix over the baked crust and bake for 30-35 minutes or until light golden brown. Don't overbake or underbake it either. If underbaked, the lemon filling won't set.
Let it cool completely.
Cut into bars and sift icing sugar over the top.
Farm girls says they keep well on the kitchen counter for a few days, but I refrigerated mine and it kept well. The only thing I did was take it out about 10 minutes before serving, to let it come to room temperature a little.
Whatever storage you choose, if it lasts till then, get ready to drown in some pure citrus heaven. Its simply sunshine on a plate!
This recipe is linked to –
Friday Potluck
Sweet Tooth Friday
Sweets for a Saturday
A Little Birdie Told Me
Today I have a real treat lined up for you. A scrumptious, really easy to make, no bake strawberry cheesecake. I happened to have some frozen strawberries, that I was really looking forward to using to make something really nice. I had used a few in the past to make some strawberry lassi, but I wanted to make something else as well. I've always wanted to try making a strawberry cheesecake. Way before I started this blog, my husband and I had made some delicious mango cheesecake, which I'm hoping to recreate when mangoes make their appearance next. Since then I've always wanted to be able to make a variety of good cheesecakes at home. I though it would be really cool to be able to do just that. And you know what, it really is.
I had never tried making a no-bake cheesecake and I've always been really eager to see how it worked out. I must say, it was so much fun to put together. Now that I've tried one, I have so many more ideas dancing around in my head that I can't wait to try out. For now, this strawberry version is a real keeper. It was not too sweet, the texture was just perfect and the strawberry topping had just the right amount of tartness to go with the richness of the cheesecake. I really loved how this turned out. I would have loved to garnish it with beautiful, luscious, fresh strawberries, but considering how the strawberry season ended months ago that was not possible. But that doesn't take away from the cake at all. I'm so pleased I decided to try this out. Pretty as a picture, I think.
No-bake Strawberry Cheesecake
Yields one 8″ – 9″ cheesecake
For the crust –
2 packets Digestive biscuits (I would reduce this to about 1 1/2 packet the next time, about 15 biscuits)
1/4 cup melted butter
For the topping –
1/2 kg frozen strawberries, washed and stemmed
1/4 cup sugar
1 envelope unflavored gelatin (1 tbsp)
For the cheesecake –
400g cream cheese, softened (The original recipe calls for 1 pound, but this is how much I had left so I just used that much)
1/2 cup icing sugar
1 tsp vanilla extract
1 1/4 cups strawberry topping (see above)
1/2 cup heavy cream (I used a non dairy cream)
To make the crust –
Crush the biscuits to fine crumbs. Add the melted butter and mix well till it resembles wet sand.
Press this down evenly and firmly in an 8 or 9″ loose bottomed / springform pan.
To make the topping –
Place the strawberries, sugar and water in a saucepan and cook over medium heat till the strawberries are quite soft.
Puree the fruit either using an immersion blender or a regular blender.
Sprinkle the gelatin over 2 tbsp cold water in a small bowl and let it sit for about 2 minutes.
Transfer the gelatin and the strawberry puree back to the saucepan and gently cook over low heat, whisking just until the gelatin is fully dissolved.
Take off heat. Reserve 3/4 cup for the topping.
To make the cheesecake –
Beat the cream cheese and sugar till smooth.
Add the vanilla extract and the strawberry topping except the 3/4 cup you've set aside for the topping.
Mix till well incorporated.
In a separate bowl whisk the cream till medium peaks form. Fold this into the cheesecake batter gently, until it is all combined.
Pour the cheesecake into the prepared pan and gently tap the pan on the counter to get rid of air bubbles, if any.-
Let it sit, uncovered in the refrigerator for about 2 hours or until it feels set to the touch.
Once it has set, pour the reserved topping over it. (If the topping has set, heat it up gently till it is just pourable, I didn't need to do this, since my puree was still fluid.)
Place the cheesecake back in the refrigerator and allow it to set for about 30 minutes, uncovered, or till the topping has set well.
It is ready to serve, or you can cover it with some cling film and leave it refrigerated for a day or two.
Before unmoulding the cheesecake, run a knife around the edge of the cheesecake to loosen it up.
Topping it with fresh strawberries would be a great way to finish it off.
Would you like some?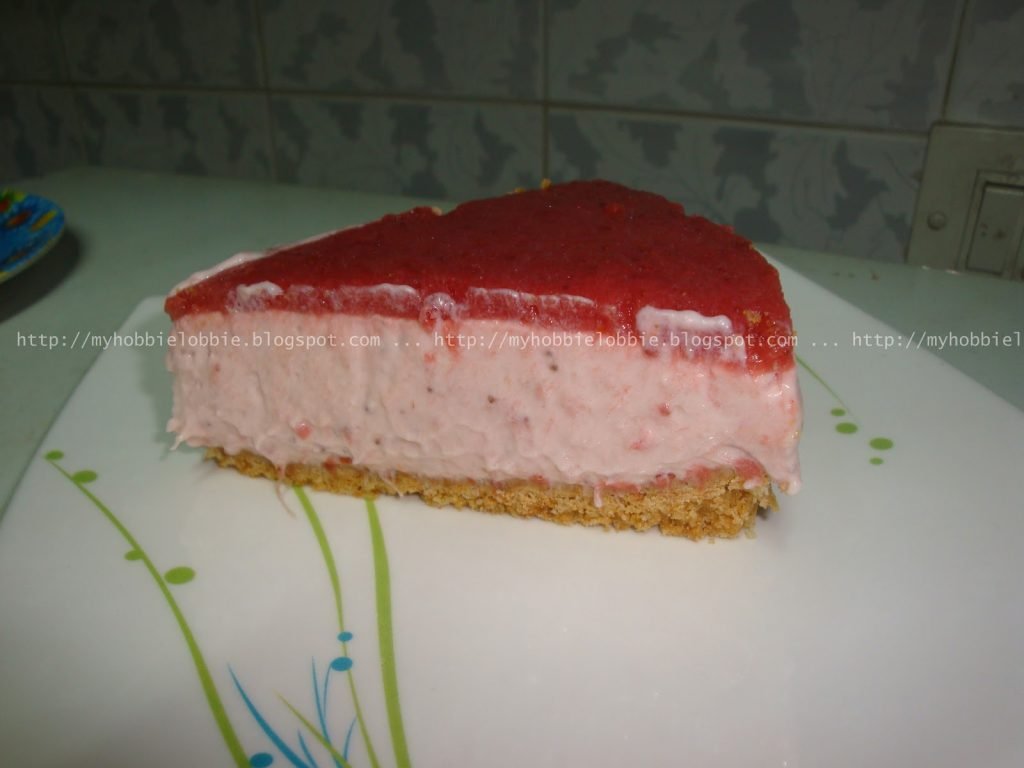 This recipe is linked to –