Our weekday breakfasts are usually hurried as we get ready to make our way to work and get on with our day ahead. So on weekdays, its usually a couple of slices of buttered toast, a cup of coffee and a fruit or some cereal or porridge and a fruit. So over the weekend, I feel its only fitting to have a more leisurely and stepped-up-a-notch type of breakfast. Some of you will remember that one of these types of breakfast is a helping of
pancakes
. Another such fairly simple, yet very satisfying breakfast option for me is French Toast.
There are a few variants to this basic French toast that I've tried and I'll list them at the bottom of the post. Something that I've been longing to try is a stuffed French toast. I seriously hope I get around to trying that sometime soon; I have so many ideas for those. This basic recipe I picked up from watching my mother in the kitchen. People find it hard to believe that when I was a kid, I didn't fancy spending much time in the kitchen watching my mother cook. One exception was when she was making something sweet. So when she was making us French toast for breakfast or when we were making goodies to go on the Christmas platter, it was hard to get me out of the kitchen. Till this day, I really enjoy making the sweeter stuff, desserts, cakes, cookies etc. Its the everyday cooking that sometimes leaves me lacking inspiration.
Anyway back to the French toast. What I really like about making this at home is that you get to decide what flavors you want to work with and just how sweet you'd like it to turn out. When frying the slices of bread be sure to let it color a little. Its the browning that caramelizes the sugar and gives it a delightful crunch.
What's your favorite French Toast recipe? Drop in a line in the comments section and let me know. I'd love to try some new variants.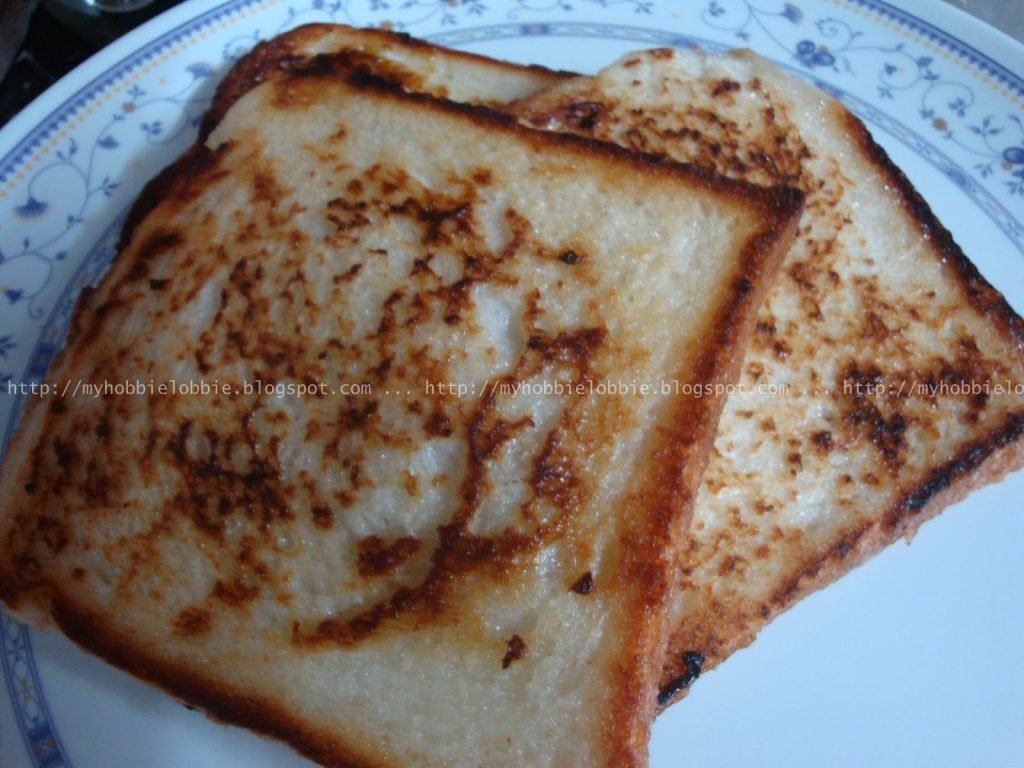 French Toast
(This recipe should make enough to dip about 4-6 slices of bread)
4-6 slices of bread
1 egg
1/2 cup of milk
Sugar, to taste
A few drops of vanilla extract
Butter / oil to fry
Heat a knob of butter or a little oil in a pan.
Whisk the eggs, milk, sugar and vanilla till well combined. Use a shallow bowl that is wide enough to fit the slices of bread in.
Dip the slices of bread in this mix, one at a time to cover well on both sides and soak in some of the liquid. I usually do a double dip on both sides.
Carefully place the slice in the hot pan and let it cook on a medium flame till it caramelizes a little. Flip and cook the other side as well.
If your griddle or pan is large enough, you can do multiple slices at a time. You'll finish off faster.
Enjoy it warm with a nice cup of coffee.
If you'd like, you can drizzle some honey over the slices when you're ready to eat. Don't drizzle the honey before hand, it will make your toast soggy. If you don't fancy honey, you could dust it with some powdered sugar or cinnamon sugar as well.
Variants
– You can substitute the vanilla with some cinnamon powder. You could also use a combination of both.
– You can also substitute the vanilla with some freshly grated nutmeg.
Both this variants are gloriously flavorful. Try them all and see which one you prefer.
This recipe is linked to –
I love sprouts. If you do some reading up about moong sprouts, you'll realize what an amazing superfood this is. It has all sort of medical benefits. Once sprouted the moong bean is an amazing source of Vit C that the seed in itself can't provide. It's also a great source of protein. These are just a few benefits that I can remember off hand. I'm quite sure the list goes on.
Here's something that I've had floating around in my head for a while now. Each time I'd pass the sprouts shelf at the supermarket, I'd long to pick it up. For reasons even I'm not aware of, I just never did. So recently when I was buying my grains and pulses at the local store, I decided to pick up some dried whole moong (mung beans) and try sprouting it myself.
It's such a simple process, I wonder why I have never considered sprouting beans at home, before. Better late than never, I'd say. So back to the salad. The only thing you need to ensure is you prep the moong the previous day. If you'd like to omit the sprouting yourself, there's no harm in using store-bought sprouts. This is not so much a recipe but a guide. Feel free to adapt to your liking.
How to Sprout Moong at home –
Soak the dried whole moong in sufficient water. (The water level should be atleast an inch above). Soak for about 8 hours or overnight.
After soaking, drain off excess water. Gently rinse with fresh water. Cover with a wet muslin cloth and keep till the beans have sprouted (approx. 8 hours).
I usually soak the beans in water before going to bed at night, drain and cover with a damp cloth in the morning and its ready for use by the evening.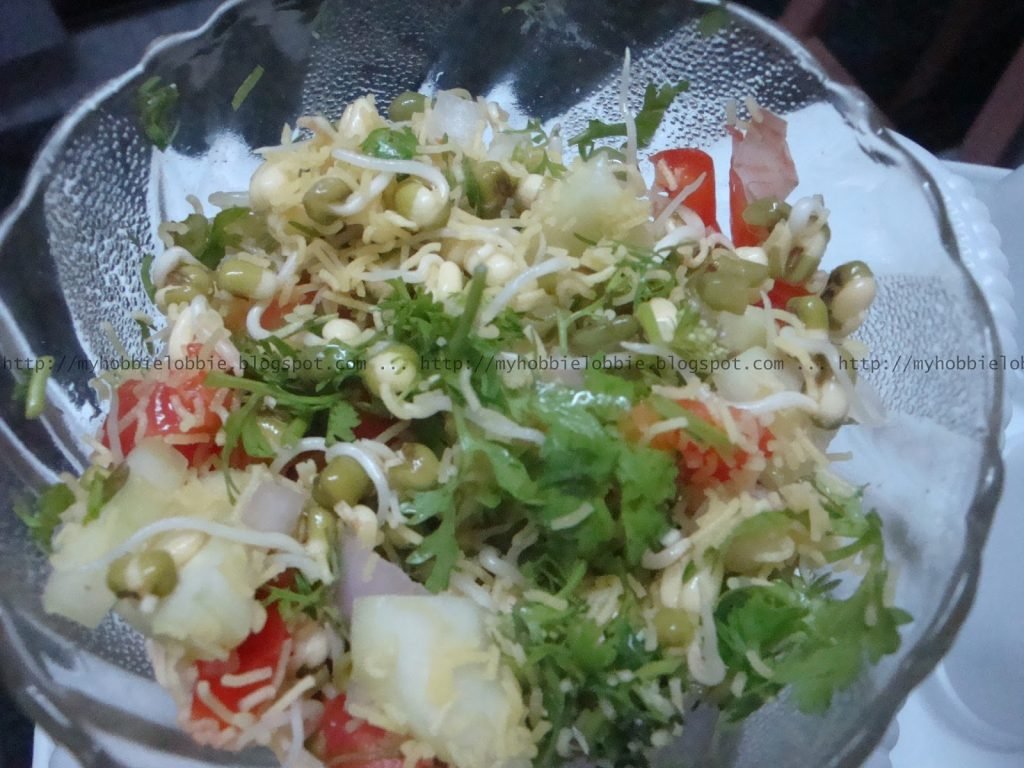 Sprouted Moong Salad
A handful of Sprouted Moong
1 small onion, chopped
1 tomato, chopped
1 cucumber, chopped
1 green chilly, finely chopped (optional)
Fine Sev, for garnishing (optional)

(

Sev is a snack that can eaten just about anywhere at anytime. These are thin noodles of dough made from chickpea flour and deep-fried until they're crispy enough to eat.

)
Fresh coriander leaves, chopped
Salt, to taste
Lime juice, to taste
Mix the sprouts, onion, chilly, tomato and cucumber in a bowl.
Season to taste with salt and lime juice.
Sprinkle some fine sev over it. Garnish with the chopped coriander leaves.
** I tuck it in the fridge till I'm ready to serve it.
You can also switch this salad up a bit by adding some plain unflavored natural yogurt, beaten well, to the salad veggies in the bowl in the first step mentioned above. Continue by seasoning and garnishing it.
Again, refrigerate till ready to serve.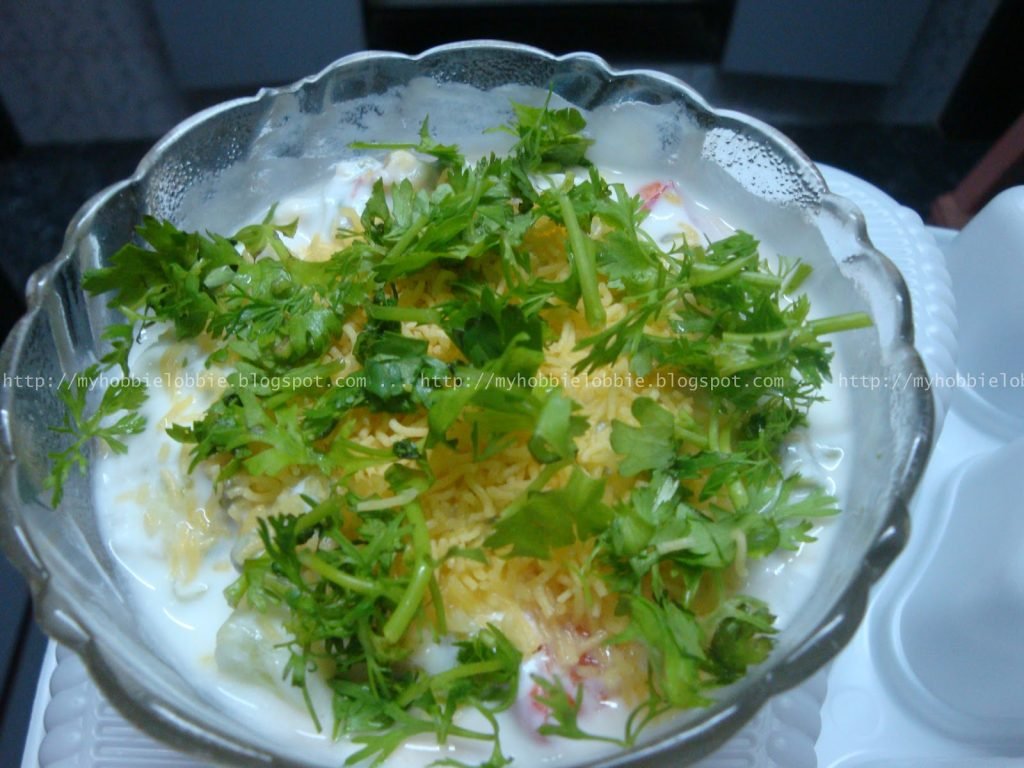 This recipe is linked to –
I can't believe its almost been a week since I last posted. I was just so proud that I'd managed to post regularly over the past couple of months, then the last few weeks took me completely by surprise. So many things came up all of a sudden, I barely had time to cook up our daily meals for us. I did make a few treats that I can't wait to share with you. I'm hoping things will be a bit more
back-to-normal
now. I have my fingers crossed. If you're wondering what I was so busy doing, don't fret, I will let you on to it really soon.
I'd made this ice cream a couple of weeks ago. After the success I had with the Mango Ice Cream, I decided I was definitely going to try out a few more options. I had this sudden craving for a roasted almond ice cream. It was all I could think about for a few days. I had a scoop @ 'Natural's' when we'd gone for a movie and just needed to have some again. After scouting the web for a while, I came across a version of this ice cream to be made in an ice cream maker, that could be easily adapted to make a No Churn version. The best part is that this recipe uses no sugar. You heard me alright, not a grain of sugar. Honey is the only sweetener used. What I realized is that this ice cream tastes best after it has spent a few days in the freezer. The flavors mellow and blend well and the roasted almonds add a lovely flavor and crunch to it. I hope you try this out sometime.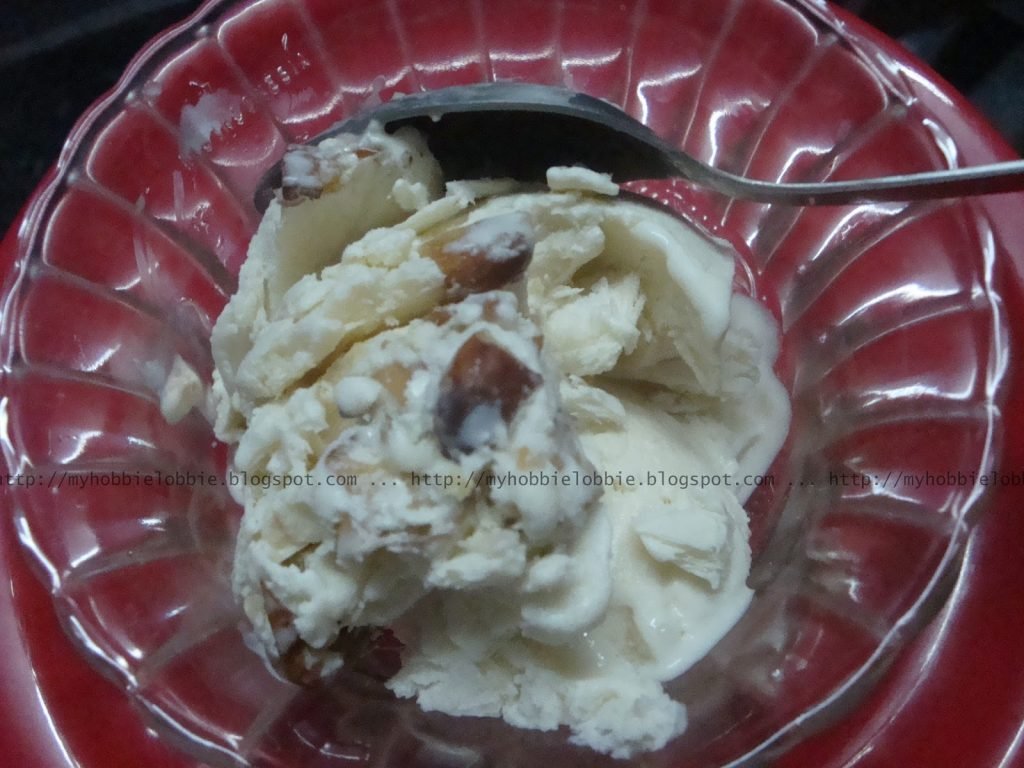 Honey & Roasted Almond No Churn Ice Cream
Adapted from: Chocswirl
500ml single cream
120-150ml honey (or to taste)
50g almonds
Spread the almonds on a baking tray and set it on the top rack of the over and grill till they've browned. Let them cool, then chop them roughly.
Whisk the cream and the honey till it has thickened a little.
Add the chopped roasted almonds and stir it in.
Pour into a freezer container and freeze for a few hours or till set.
Enjoy!
Notes:
The original recipe calls for it to be beaten every 45 minutes or so about 3-4 times. I did it just once and the consistency was nice and creamy. I'm sure it would've been fine even if I hadn't done this, since there was nothing with a high liquid content added to the cream.


This recipe is linked to –
Ice Cream Social 2011
Sweet Tooth Friday
Sweets for a Saturday
For this months edition of The Secret Recipe Club, hosted by the lovely Amanda of Amanda's Cookin, I was assigned Jeanie's blog The Tasty Cheapskate, "Hi Jeanie"!!!. Over the last month, I've had so much fun going through this lovely blog and I've found some very interesting recipes that I can see myself making very soon. One recipe that caught my attention and kept coming to mind every now and then, almost menacingly, in a nice way though, were

Oma van der Wouden's Dutch Almond Bars. I've never seen or had Dutch Almond Bars before, but I'm quite fond of almonds and these bars looked so amazing, I had to try them.
This recipe calls for almond paste and in this part of the world we don't get this stuff off the shelf in stores. I did a little digging online and most sources called for additional sugar, eggs, extracts and so on. I decided to do things a little differently. Since the recipe for these bars seemed to have sufficient sweetness, I simply added some homemade almond paste (details below). The batter came together beautifully and while these bars were baking, I was going nuts with the anticipation (read 'doing a crazy dance all around the kitchen and eagerly peeking through the oven door almost every minute'). The wait and the anticipation was so worth it. These bars are a real treat. They are perfect with a cup of tea or coffee. They are not too sweet but have this lovely nutty richness that the butter and the almonds have to offer. They are so wonderfully moreish. Be warned, you won't be able to stop at one. So thank you Jeanie for sharing this lovely treat. This recipe is a definite keeper.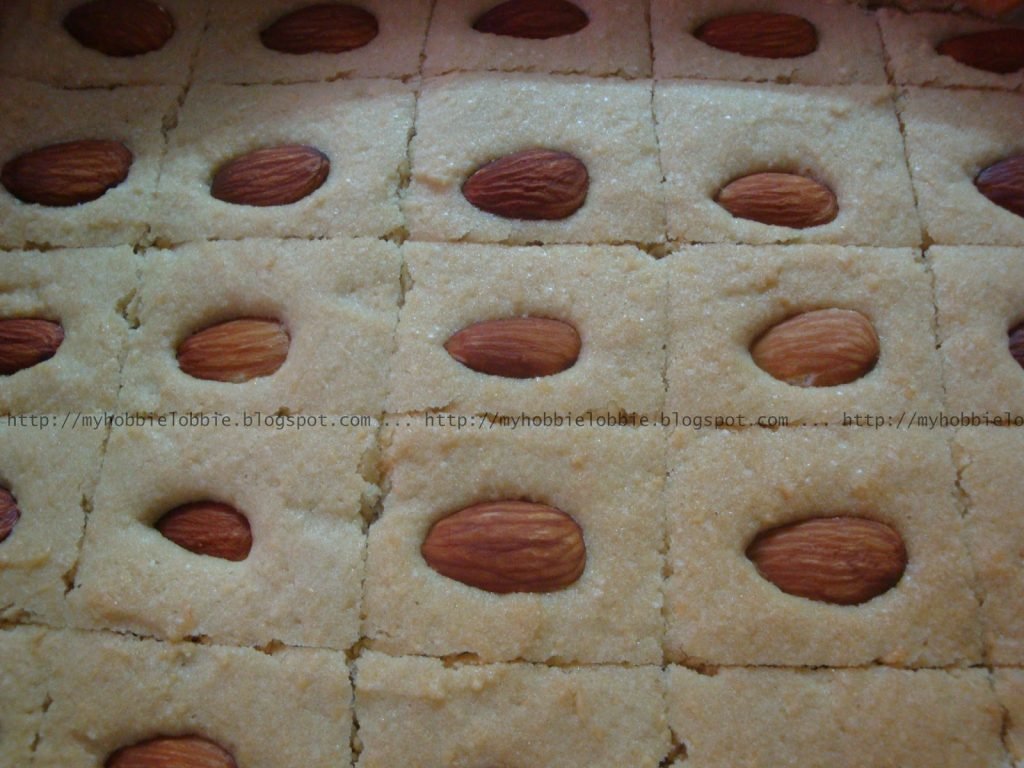 Dutch Almond Bars
1/2 cup butter
4 oz almonds
1 cup brown sugar, packed
1 egg
1 cup flour
1/4 cup whole almonds
1 tsp vanilla extract
Soak the 4 oz. almonds overnight in some water. The next morning, peel the skins off and discard. Grind the almonds to a paste in your food processor. That's it! Its really simple to make your own almond paste.
Preheat the oven to 150ºC.
Cream the butter and the almond paste.
Add the brown sugar and cream well.
Beat in the egg and vanilla extract.
Then mix in the flour.
Line a 8″x10″ cake pan with some foil.
Spread the batter in the prepared tin. Press the whole almonds into the batter.
Bake at 150ºC for about 40-45 minutes or till it has the slightest brownish pinkish glow.
Cut into bars.
Enjoy!!!
Note: This is half of the recipe mentioned on Jeanie's blog and I managed to get 25 pieces. The original quantities are baked in a 9″x13″ tin and yield about 24-36 pieces. So do adjust the size of the bars to suit your liking.
Do stop a while and check out what the others have whipped up this month. If you'd like to be a part of The Secret Recipe Club, get in touch with Amanda here and join in on the fun.
When I saw
this
post on Focaccia on Lisa's
blog
, one I visit almost every day, I knew I was going to make it soon. The bread looked so wonderfully comforting. I don't have much experience in baking with yeast save a few things in the past, namely these
doughnuts
and these
easy garlic rolls
, so when I saw this was a no-fuss yeasted bread, I decided there was no better way to add to my yeasted bread repertoire. I had all the ingredients at home and that made my decision so much more easier. Instead of one large focaccia, I split the dough in half and made 2, with different toppings. I changed the toppings, Lisa used tomatoes, but I had some delicious
homemade roasted bell peppers
, so I ended up using those and I also used some stuffed olives that I happened to have. My husband and I loved the outcome. Warm, fresh bread just out of the oven, not only fills your kitchen with its wonderful aromas, but is so very comforting. There's nothing like it. I have decided to try out some more yeasted breads in the near future. So stay tuned. But before I embark on that journey, I will need to pop into a store and buy some more yeast; I've run out. As far as this focaccia recipe goes, its most definitely a keeper and I have so many flavor combos in mind to use as toppings, I'm going to make a list before I forget. What toppings would you like on yours?
No-Fuss Focaccia
Adapted from: Sweet As Sugar Cookies


For the dough –
3/4 cup warm water
1 tbsp olive oil (plus more for drizzling)
Salt, to taste (I used about 1/2 tsp)
1 3/4 cup all purpose flour
1 1/2 tsp. active dry yeast
2 tsp sugar
Place the warm water in a glass bowl and add the yeast and the sugar and let it stand for about 10 minutes in a warm spot in your kitchen, till foamy.
Tip this yeast solution into your mixing bowl. Add the flour 1/2 cup at a time and after a couple of additions of flour, sprinkle the salt over evenly and continue adding the flour, till the dough no longer sticks to the side of the bowl. You will end up with a sticky dough. This is exactly what you're looking for.
Drizzle some of the olive oil into a 9″ cake pan and make sure it is evenly coated (much like greasing a pan for a cake). Place the dough in the pan and cover with some cling wrap and let it rest for about 60 minutes.
Since I made this two ways, I divided the dough in half and used 2 round 6″ cake tins.
Towards the end of this period, preheat your oven to about 170ºC.
Once the dough is nice and puffy and has increased in size, gently poke the risen dough all over with your index finger. Drizzle it lightly with some more olive oil and add the desired toppings.
Bake for about 35-40 minutes till nice and golden brown.
Roasted Bell Pepper Focaccia –




After drizzling the dough with olive oil, I sprinkled some dried oregano, some dried chives, a light sprinkle of salt and some chopped up marinaded bell peppers. Then I baked it till golden brown.
Olive studded Focaccia




After the dough was drizzled with olive oil, I sprinkled it with some dried chives, a light sprinkle of salt and some chopped pimento-stuffed green olives. Then I baked it till golden brown.
Please forgive the lighting, it was really late in the evening!
This recipe is linked to –
Savory Sunday
Mouthwatering Mondays
My Meatless Mondays
Let's Do Brunch
Mangia Mondays
Hearth And Soul
Just Another Meatless Monday
Meatless Mondays
Tempt My Tummy Tuesday
A Little Birdie Told Me
What's On The Menu Wednesday
Real Food Wednesday
What's Cooking Thursdays
Full Plate Thursday
Oh yes, this one is my few favorite cookie. I liked it so much more than the much raved about chocolate chip cookie. Now don't get me wrong. I like all kinds of cookies and till about a couple of days ago, I really liked this
chocolate chip cookie
. But this Chocolate Oatmeal Crispy just took my love for cookies to a whole other level. They have chocolate, the goodness of oats and a little coconut. They are crispy, crunchy and chewy all at the same time. It sounds crazy, but seriously, try these. Its hard to stop eating them. My cookies spread out while baking, but I really liked how they turned out. They were thin and very rusting looking, quite charming.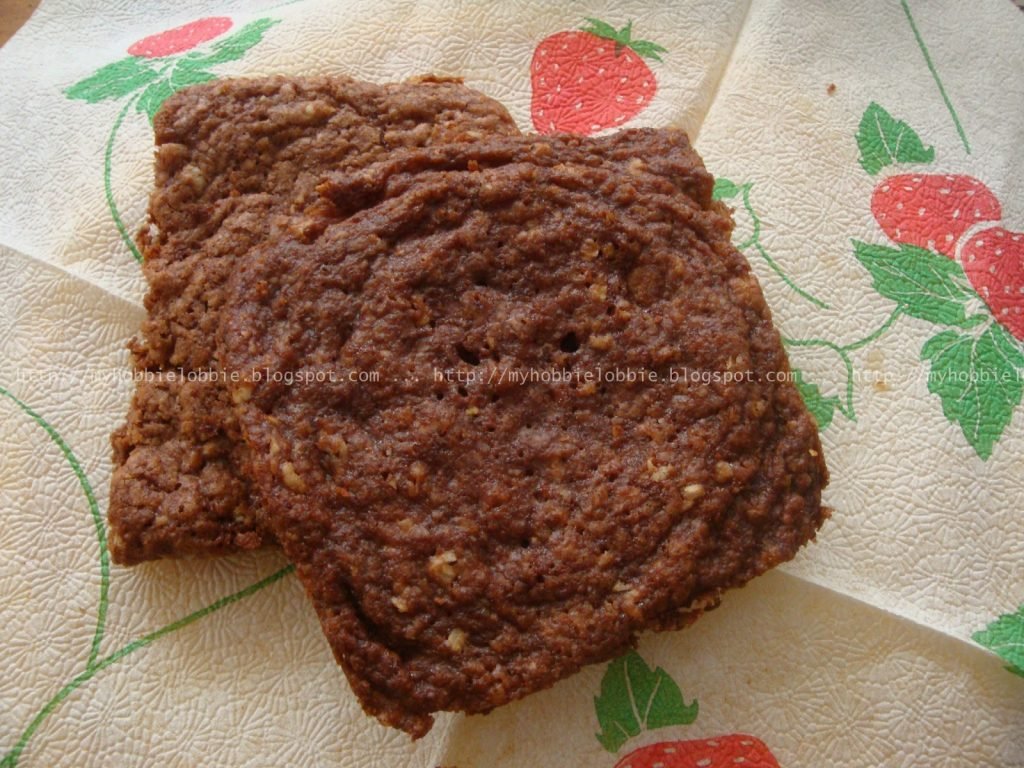 Chocolate Oatmeal Crispies
Adapted from: Beurrista
Makes 34
6 oz. semisweet chocolate, roughly chopped
1 cup all purpose flour
1/4 baking soda
1 oz butter (I used salted butter and omitted the salt from the original recipe)
1 tsp vanilla extract
1/2 tsp almond extract
1 cup sugar
1 egg
1 cup old fashioned or quick cooking (not instant) oatmeal
1 cup dessicated coconut
Preheat the oven to 170ºC.
Line your cookie sheets with parchment paper.
Sift the flour and baking soda and set aside.
Melt the chocolate using a double boiler. (Set in over a pot of simmering water, making sure that the water doesn't come in contact with the chocolate.)
In a bowl, cream the butter well.
Add the extracts and the sugar and beat well until mixed.
Beat in the egg and the melted chocolate.
Gradually add the sifted flour mix while beating on a low speed. Scrape down the sides of the bowl and mix till just incorporated.
Add the oatmeal and coconut and mix with a spoon.
Take a spoonfull of cookie dough and roll into a ball between the palms of your hands. Place it on the parchment sheet about 2-2 1/2″ away from each other. Using the back of a fork, press the cookie to flatten it a little, making a criss cross pattern.
Bake for about 15 minutes. When they are done, the cookies will feel crusty on top and still a little soft in the center. They will get crispy as they cool.
I however think you should try one while its still hot. I couldn't resist it and while they are excellent when they are at room temperature, bite into one and see how lovely it is when they're still warm, its kinda fudgy.
This recipe is linked to –
Sweet Tooth Friday
Sweets for a Saturday
This treat is ideal for the summer. It comes together really quick and you don't even have to switch the stove on. I made this ice cream a few days ago and it was lovely. It was so good, that my husband wants me to whip up another batch of the same flavor. That says a lot. I was really pleased with the way this ice cream turned out and I most definitely am going to make another batch, but this time I will try another flavor. What flavor do you think I should try next? Any suggestions? Leave a comment and let me know. For this mango ice cream I used Nigella's no churn ice cream as a guideline and then simply went by taste. But I made a note of the quantities I used, incase any of you want to try it out. I used large pulpy mangoes that are called "Badami" mangoes in Maharashtra. You can use any pulpy, tasty variety.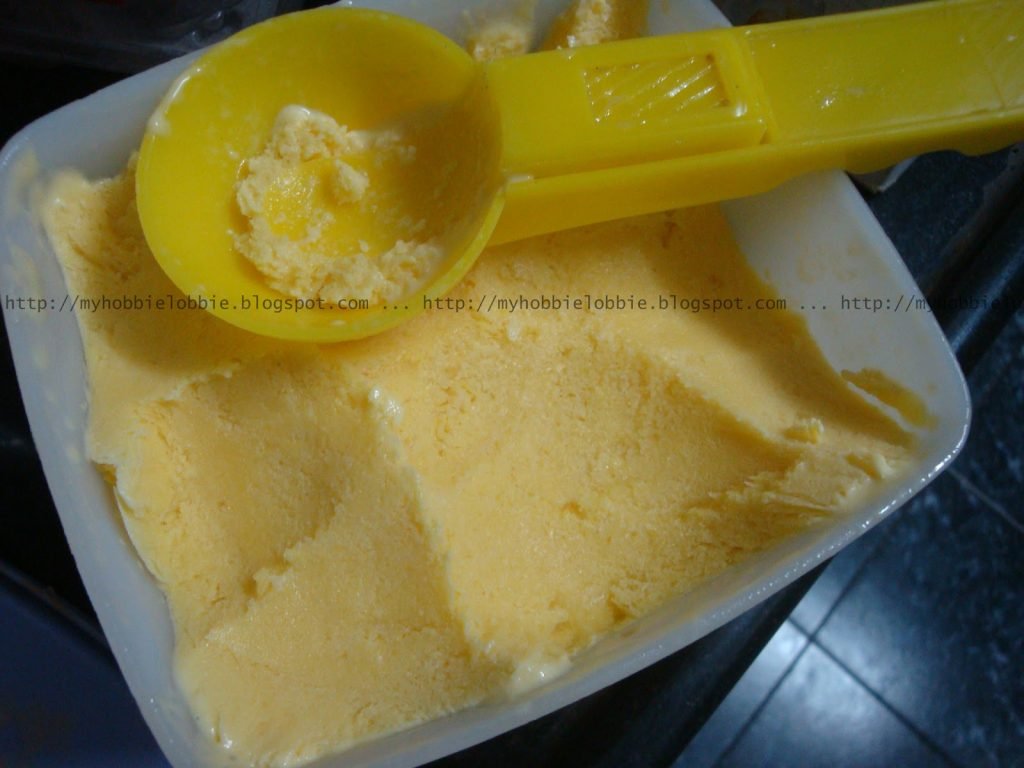 Mango Ice Cream
Flesh of 2 large mangoes (the quantity I used weighed about 350 gms)
100g sugar (or to taste)
400ml heavy cream (I used Amul)
In a blender, blend the mango and sugar to a pulp. Check for sweetness and adjust if needed.
In a bowl, whisk the mango pulp and the cream to a soft peak stage.
Pour into a freezer safe container. Freeze till set.
Keep the container out of the freezer for about 5-10 minutes before serving for a lovely smooth, creamy and luscious ice cream.
This is a salad like accompaniment that is widely served with Indian food. The dressing is a yogurt based one, which makes this salad ideal for warmer climates and hot summer days. Its really healthy, refreshing and tasty, of course. You will find a number of varieties of raita being served at an Indian restaurant. The base to all of these is identical, the veggies you find in these salads will vary. Today I've made a basic raita with an assortment of salad veggies which you can adjust to your liking.
You can serve this with biryani, jeera rice or any other spicy Indian food. The yogurt helps soothe the palate.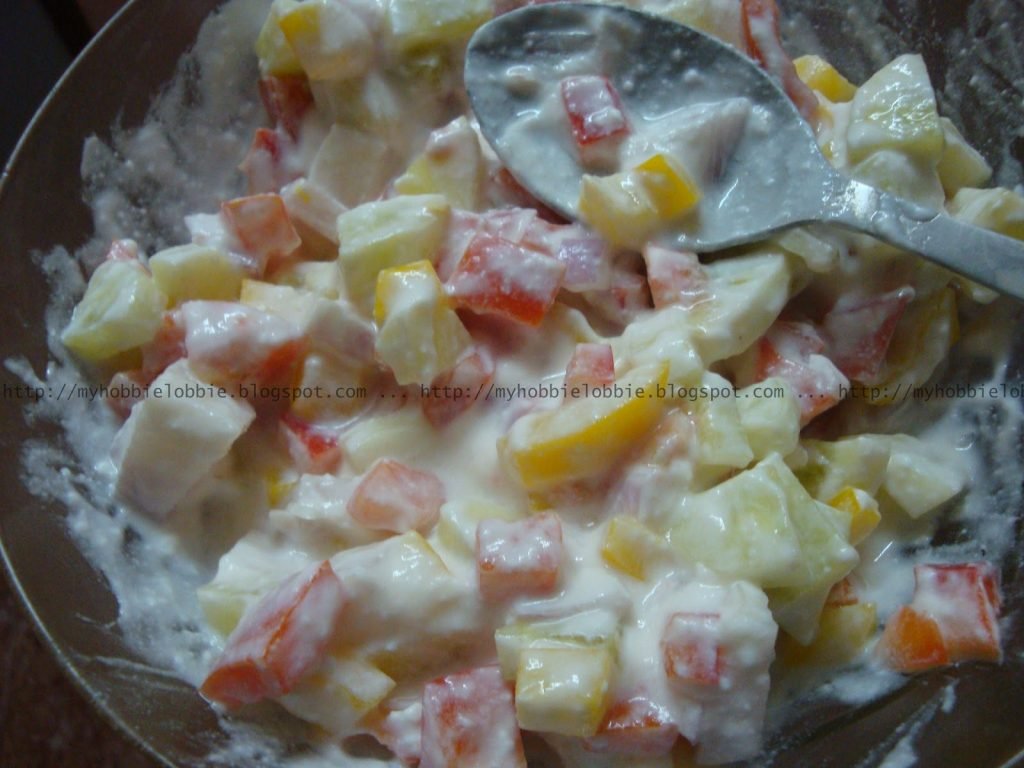 Mixed Raita
1/2 cup curds / natural unflavored yogurt
Salt, to taste
Lime juice, to taste
A pinch of black pepper powder
1 small onion, chopped
1 tomato, chopped
1 cucumber, chopped
1/4 yellow pepper, chopped
1/4 red pepper chopped
Mix the veggies in a bowl and season with salt, lime juice and pepper to taste.
Beat the yogurt in a bowl. You can add a little sugar if you'd like to. Add the beaten yogurt to the veggies.
Mix well.
Check for seasoning and adjust, if needed.
You can garnish with some chopped coriander leaves.
Refrigerate till ready to serve.
This recipe is linked to –
Savory Sunday
Mangia Mondays
Mouthwatering Mondays
Meatless Mondays
My Meatless Mondays
Let's Do Brunch
Hearth and Soul
Just Another Meatless Monday
A Little Birdie Told Me
Delectable Tuesday
Tempt My Tummy Tuesday
I have finally started trying out new cupcake and brownie recipes, basically the sweet baked stuff, to add to my repertoire. It started with the
strawberry cupcakes
and now I've moved on to brownies. The first brownie to catch my attention was this cream cheese swirl brownie, that I saw at one of the linky parties that I participate in. This was a great brownie. It had a little tang from the cream cheese but it wasn't too overwhelming. What worked really well with it was the yummy caramel like taste that the edges of the brownies lent to it. The combination of flavors was great. My brother and husband both thought that these were caramel brownies and if I didn't know better I would've thought so myself.
In a nutshell, try it out. Good stuff, I tell ya.
This is what the inside edges look like –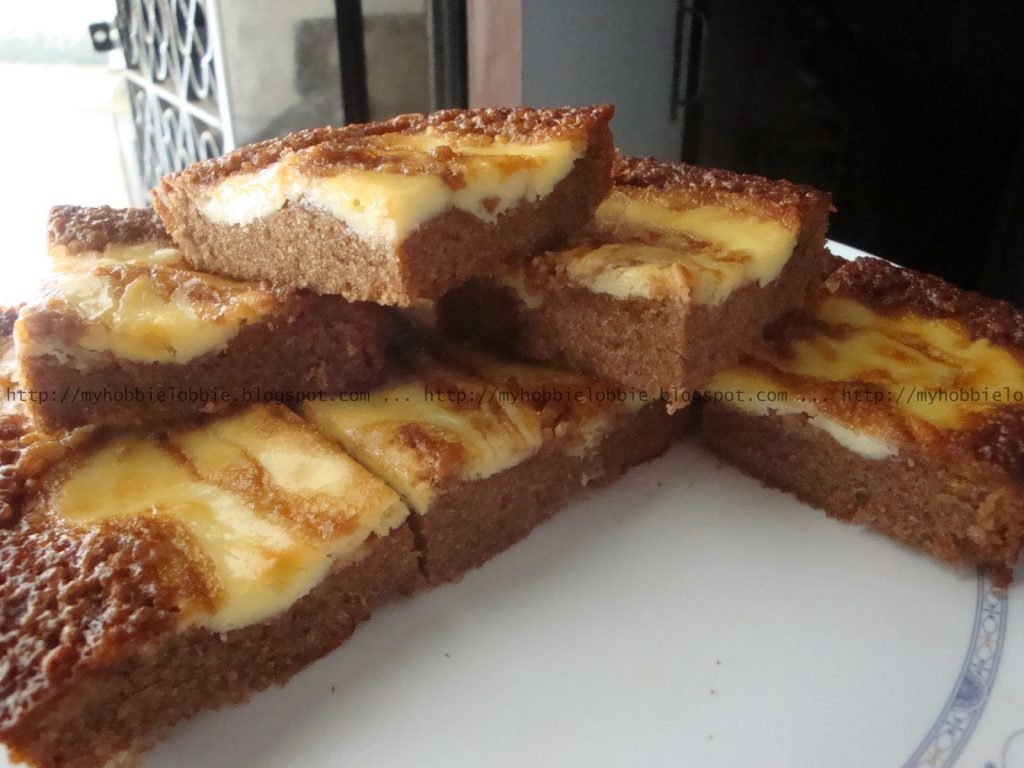 Cream Cheese Swirl Brownies
Adapted from: The Flour Sack
Makes 16
For the Brownie base:
2/3 cup all purpose flour
1/2 tsp baking powder
6 oz bittersweet chocolate
1/2 cup butter, cut into cubes
1 cup sugar
2 tsp vanilla extract
3 eggs
For the Cream Cheese Swirl:
8 oz Cream Cheese, at room temperature
1/4 cup sugar
1/2 tsp vanilla
1 egg yolk
Preheat your oven to 160ºC.
Butter an 8″ square pan
For the brownie base, whisk the flower and baking powder in a small bowl and keep aside.
Melt the chocolate and butter over a double boiler. When the chocolate has melted completely, remove from the heat and whisk in sugar and vanilla.
Cool slightly. Add the eggs one at a time, whisking between each addition.
Continue whisking till the mixture is well incorporated and smooth.
Gently fold in the dry ingredients and mix till just barely incorporated.
For the cream cheese layer, beat the cream cheese, sugar, vanilla and egg yolk till well combined.
Pour half the brownies base batter into the pan. Dollop half the cream cheese mixture by the spoonfuls. Repeat by layering the brownie base over it and then dollop the rest of the cream cheese mixture. Use a butter knife and gently swirl the batter to give a marbled effect.
Bake till the edges of the brownies have puffed slightly and a toothpick inserted into the center comes out with several fudgy crumbs attached to it. This should take about 55 minutes.
Cool completely. Cut into squares and enjoy!
(Note: I halved the recipe and used a 6″ square pan and I got 9 pieces.)
This recipe is linked to –
Sweet Tooth Friday
Sweets for a Saturday
These Chicks Cooked
This baked delight is supposed to be a classic Greek dish. Typically, it is made of eggplant and lamb mince. We're not overly fond of lamb mince for regular eating. So I used the next best thing, beef mince. I find it more flavorful. Now let me tell you something about this dish. It is good, really good, so very good. Sometimes, I wonder why I don't make it more often. Hmmm. Anyway, each time I make it, it gets polished off. Ofcourse, one casserole lasts us a couple of meals atleast. But what I'm trying to say is none of it ever goes to waste. I use Nita Mehta's recipe from her book "Continental Cooking for the Indian Kitchen". I'm pretty sure this recipe will not be a
classic
Moussaka recipe, but nevertheless, its pretty darn good.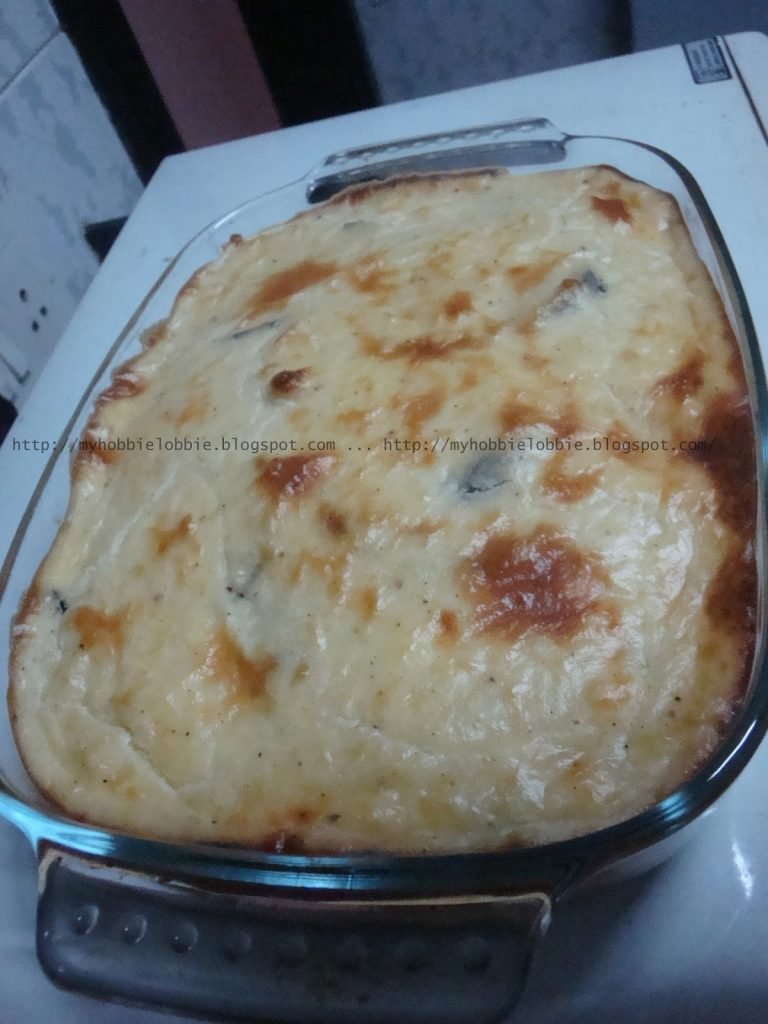 The inside still remains luscious, moist and full of flavor.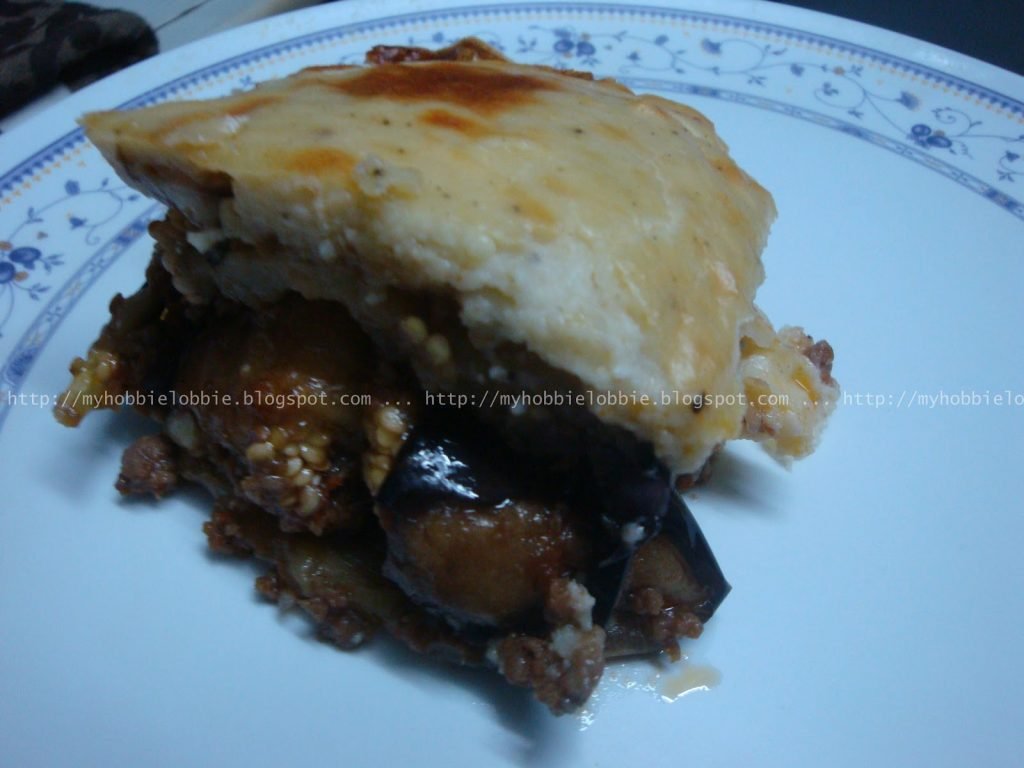 Moussaka
Adapted from: Continental Cooking for the Indian Kitchen by Nita Mehta
(Serves 6-8)


2-3 eggplant, thin long variety
2 tomatoes, chopped
500g beef mince (you can use lamb if you'd like to)
2 large onions, finely chopped
6 flakes garlic, finely chopped
2 tbsp tomato puree
2-3 tbsp olive oil
1/2 tsp red chilly flakes
1/2 tsp oregano
1/4 tsp black pepper powder
Salt, to taste
For the Cheese Sauce –
2 tbsp butter
3 tbsp all purpose flour
1 1/4 cups milk
1 egg
1/4 – 1/3 cup Grated cheese
1/4 tsp mustard
Salt to taste
Thinly slice the eggplant and arrange them on a platter. Sprinkle salt on both sides of the slices and let it stand for about 1/2 an hour to drain the juices. Rinse in cold water and pat dry.
Heat some oil in a pan. Fry the slices till brown. Make sure you do not burn them. Drain on absorbent paper towels and keep aside.
Heat the olive oil in a pressure cooker.
Add the onion and stir fry till they soften a little.
Add the chopped garlic and stir fry till the onions turn pink.
Add the tomatoes and stir fry till the juices evaporate.
Add the mince and cook on a high flame till brown and dry.
Add the tomato puree, chilly flakes, oregano, salt and pepper. Add 1/2 to 3/4 cup of water and pressure cook. After the 1st whistle, simmer on low flame for 2 minutes.
Remove from the gas and cool till the pressure dies down.
Open the cooker, check for tenderness, adjust seasoning if needed and cook till almost dry. Dry the excess liquid but don't make it too dry. Keep aside.
For the cheese sauce, heat butter in a saucepan. Add flour and cook on a low flame for a minute till it changes color slightly. Remove from the heat. Add the milk and mix well. Return to heat and cook till the sauce thickens. Add salt, pepper, mustard and cheese. Remove from the heat and cool slightly. Add the beaten egg to the cooled white sauce. Keep aside.
To Assemble
Spoon half the meat mixture in a shallow ovenproof dish. Top with half the eggplant slices. Repeat with a layer of the rest of the meat and top that with the rest of the eggplant slices. Pour the cheese sauce on top.
Cook in a preheated oven at 200ºC for 25 to 30 minutes or until bubbling hot and browned.
Serve hot with some garlic bread.
This recipe is linked to –
Tuesdays at the Table
Hearth and Soul
A Little Birdie Told Me
Delectable Tuesday
Recipes I Can't Wait to Try
What's on the Menu Wednesday
What's Cooking Thursdays
It's a Keeper Thursday
Full Plate Thursday