I am so excited to share this with you. Yesterday, I attended a candle making workshop. I had so much of fun. I had to travel halfway across town for this workshop. The travel was crazy and it was a tiring session but in the end it was worth it. I'm going to share with you a few things that we made at the workshop. I learnt so much and I have so many ideas that I just can't wait to try. So I foresee atleast a few more posts on candles in the near future. I hope you like these.
Now you guys know that I love food. What better way to start off than with a cool, faux drink!
This on is a free form candle made without using a mould. The candle is simply sculpted and then embellished with some sea shells.
This is another free form candle made using frosted wax.
This candle is one of my favorites. It is an ice candle and yes, you actually use ice to make this candle.
This one is a star shaped floating candle.
This is a hand dipped candle which is then twisted by hand while it is still warm.
Lastly, how about a snowy wedding scene? A touch of pink to the snowy setting matches the pink flowers in the brides hand. Isn't it pretty?
These batter fried eggplant slices take me back a long way. My mum makes these for us. They were my all time favorite way to enjoy eggplant. But mum never made these too often because they were fried. But when she did, my brother and I couldn't get enough. If you have trouble getting your kids to eat eggplant, you may want to try this out. You never know, they may enjoy it. If you are going to serve these to kids, make sure you adjust the amount of spice that the chilly powder adds to it. In a short while, you'll be sitting down to some lovely crunchy, not to mention really tasty, eggplant slices.
Eggplant Slices


Oil, for shallow frying
1 large round eggplant
Wash the eggplant, cut off the stalk and cut into slices and as you slice the eggplant, put the slices in a bowl of salted water (enough water to cover all the slices and 1/2 tsp salt dissolved in it). This will prevent any discoloration off the slices.
Let it stand in the salted water till you make the batter.
For the batter:
1 cup chickpea flour / besan
1/4 tsp turmeric powder
1/3 -1/2 tsp red chilly powder
1/4 tsp. carom seeds / ajwain
Salt, to taste
A little water
Place all the dry ingredients in a bowl and gradually add water to make a smooth batter without any lumps. The batter shouldn't be too think and neither should it be too thin. It should coat the back of a spoon when you dip it in.
Heat some oil in a pan. Dip the slices into the batter and carefully place them on the pan. Let them cook on a medium flame till they are a nice golden brown.
Turn the slices over and brown the other side as well.
Drain on some absorbent paper towels to get rid of the excess oil.
Serve hot.
This recipe is linked to –
Savory Sunday
Meatless Mondays
Just Another Meatless Monday
Meatless Mondays
Mangia Mondays
Mouthwatering Mondays
Finally, I've got a start on it. I've always wanted to try out a whole bunch of cupcakes, other than the
vanilla
and
chocolate
ones that I make. And every single time I wanted to, something or the other kept me from it. Then the other day, packed with some steely resolution, I decided that I had to do something about it. I had some frozen strawberries and I decided that this was the perfect start point.
These strawberry cupcakes are really lovely. I think I love the cake just by itself as well. It has some lovely flavors. The cake is a delicate pink with the strawberry puree added to the batter and just a hint of lemon which the lemon zest add to it. On the whole a good cake. The frosting is also speckled pink with the strawberry puree and has that tangy touch that you can get only by using the real fruit. If pink is your favorite color, you shouldn't miss these. For that matter, if strawberries top the list of fruits for you, you should try these. What the heck, if you like cupcakes, you should definitely whip up a batch of these. I'm glad I made these cupcakes. I know I will make them each time strawberries come around.
Here are the pink cuppies before the frosting went on.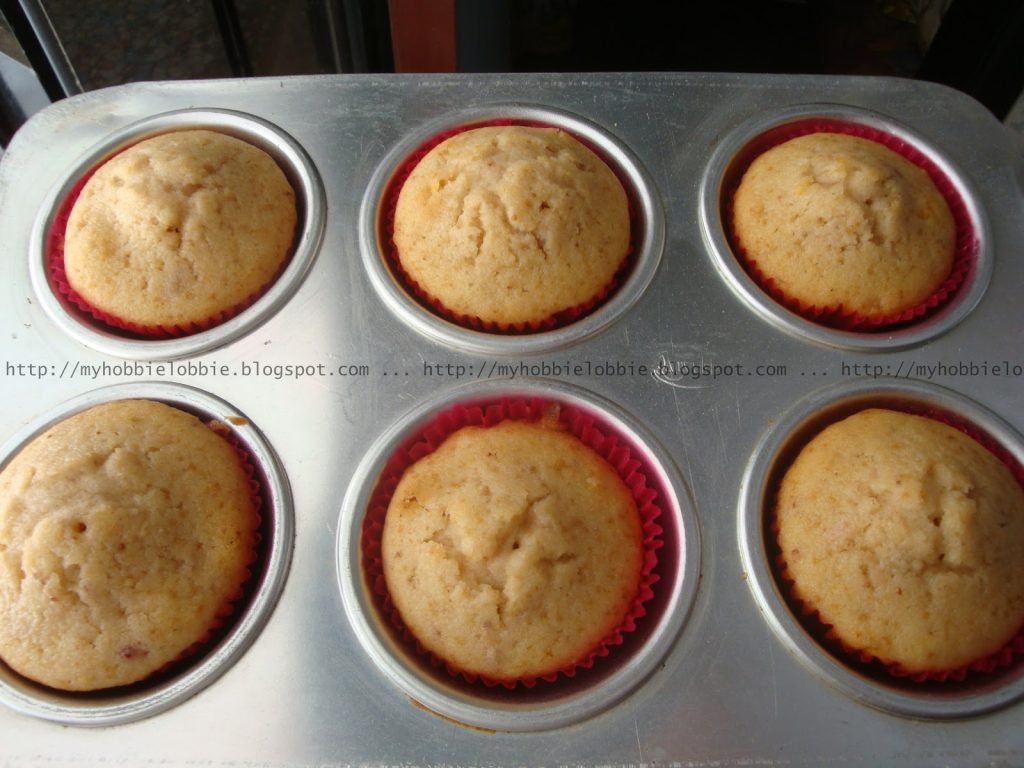 Here's what they look like with the frosting. In hindsight, one thing I would do the next time, is use the electric whisk to whip through the frosting after refrigerating it. I'm pretty sure that would give the frosting a smoother look. No regrets though, these cupcakes turned out really well.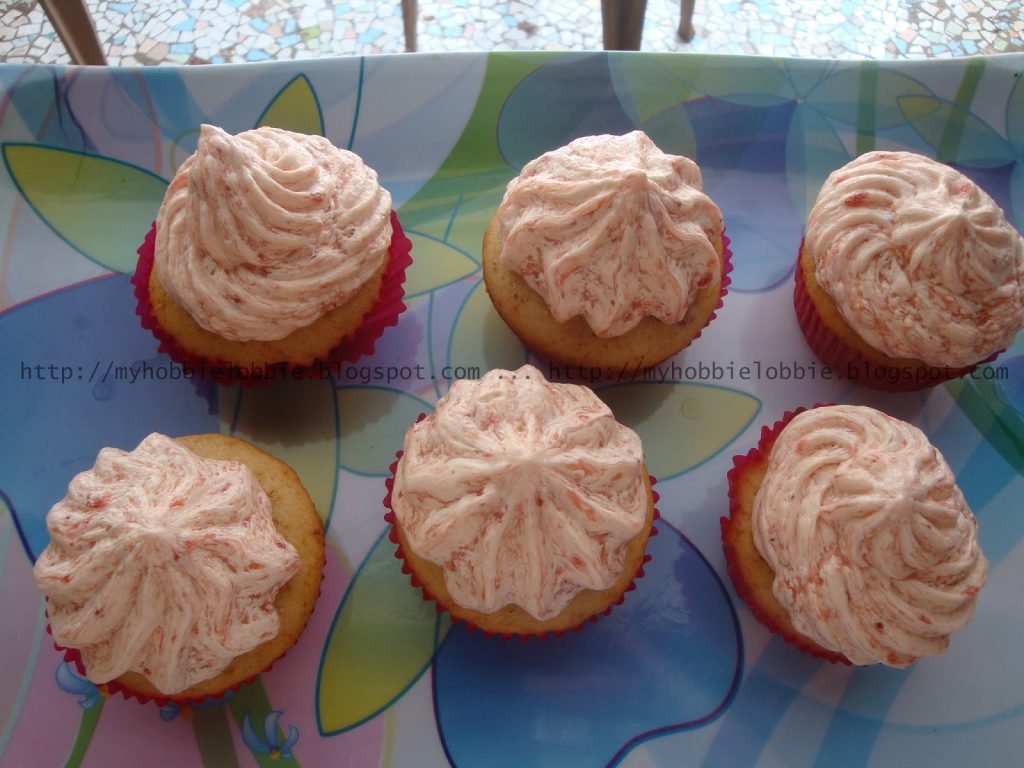 Strawberry Cupcakes
Makes 12
For the cupcakes:
2/3 cup Whole Fresh or Frozen Strawberries, thawed (I usedfrozen)
1 1/2 cup All purpose flour
1 tsp baking powder
1/4 cup milk at room temperature
1 1/2 tsp vanilla extract
Zest of 1 lemon
1/2 cup Butter
1 cup sugar
1 egg2 egg whites

Preheat the oven to 160ºC.
Line a cupcake pan with cupcake liners.
Puree the strawberries. (Its a good idea to puree the strawberries that you will need for the frosting at the same time)
Sieve the flour and baking powder into a bowl and keep aside.
In another bowl, mix the milk, vanilla extract, lemon zest and the strawberry puree.
In yet another bowl, cream the butter till light and fluffy. Add the sugar and continue to beat till you get it to the light and fluffy stage.
Add the eggs and egg whites and mix until just blended.
Add half the flour mixture to the bowl, mix, then add the milk mixture and mix well. Add the remaining flour and mix till just combined.
Pour batter into the cupcake liners. Bake for about 17-20 minutes or till done.
Let the cupcakes cool completely before frosting.
For the frosting:
1/2 cup frozen strawberries (3 tbsp strawberry puree)
1 cup unsalted butter, firm and slightly cold
A pinch of salt (I used salted butter and left out the salt)
3 cups icing sugar
1 tsp vanilla extract (I used a clear vanilla extract)
Cream the butter till light and fluffly.
Gradually add the icing sugar and beat till well combined.
Add the vanilla extract and strawberry puree and beat till just blended.
Use this to frost the cupcakes.
I put the container of frosting in the refrigerator and let it cool down and stiffen a little since I wanted to pipe the frosting on. After taking it out of the fridge, you will need to beat it a little to get the right consistency.
This recipe is linked to –
Sweet Tooth Friday
Sweets for a Saturday
This Week's Cravings
This event is hosted by Sonia of Dinner Recipes from Sonia's Kitchen
this month and was originally started by Nivedita of
Nivedita's Kitchen
.
Here are some other cakes that I'm submitting for this event –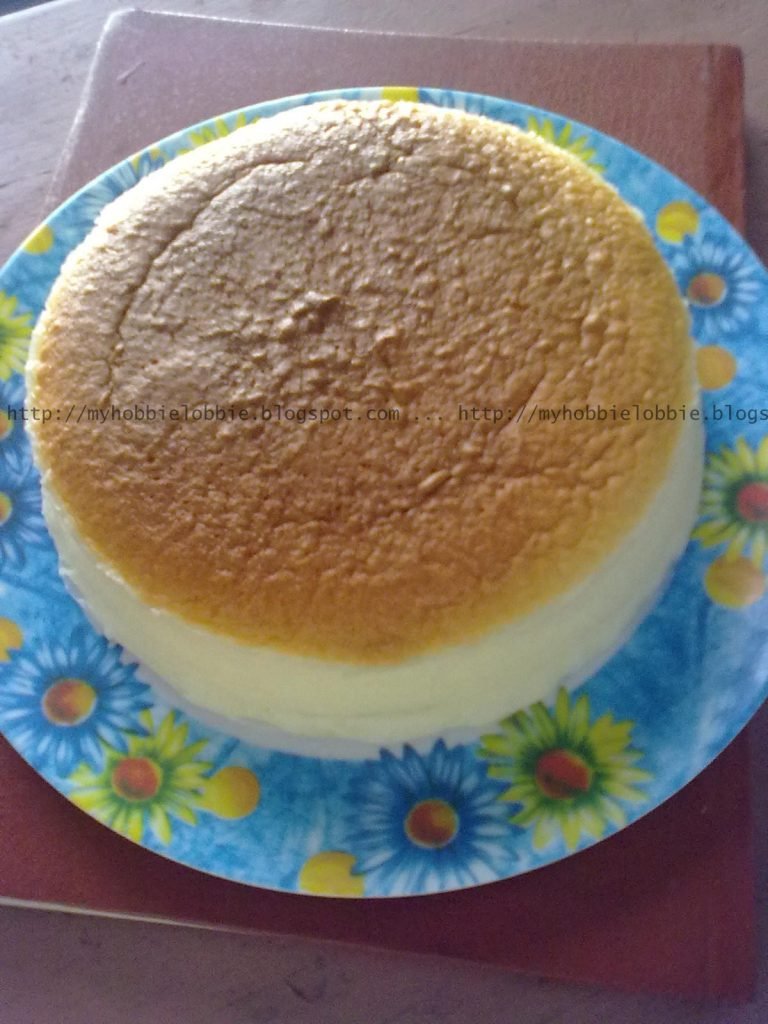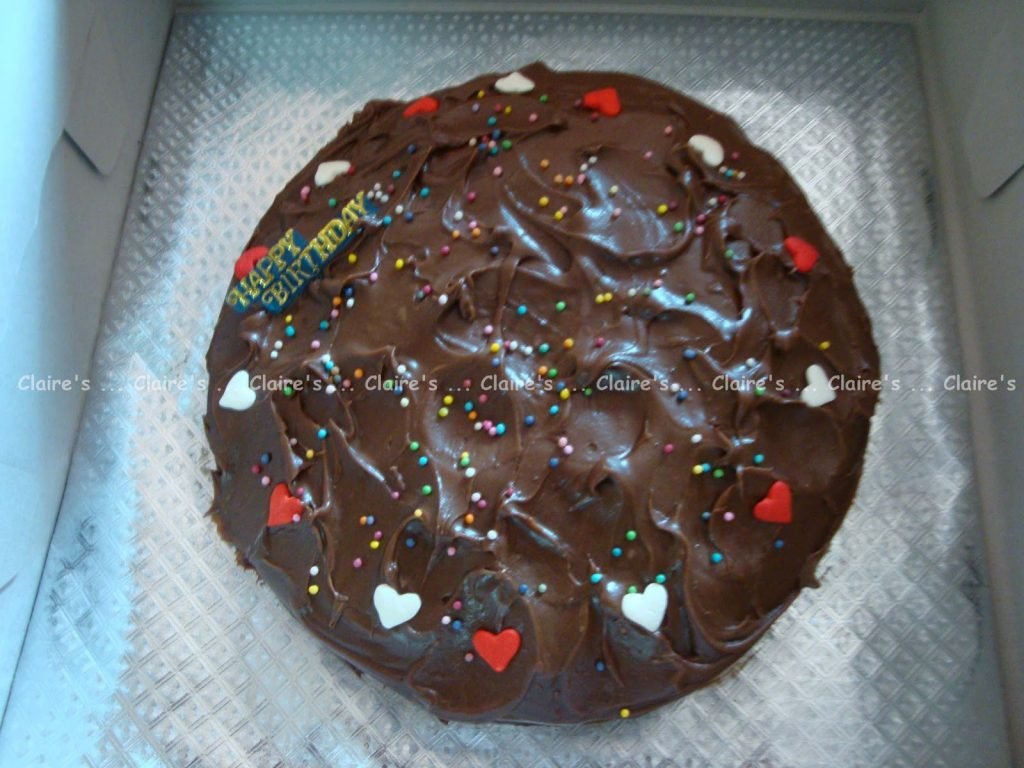 Vanilla Cupcakes: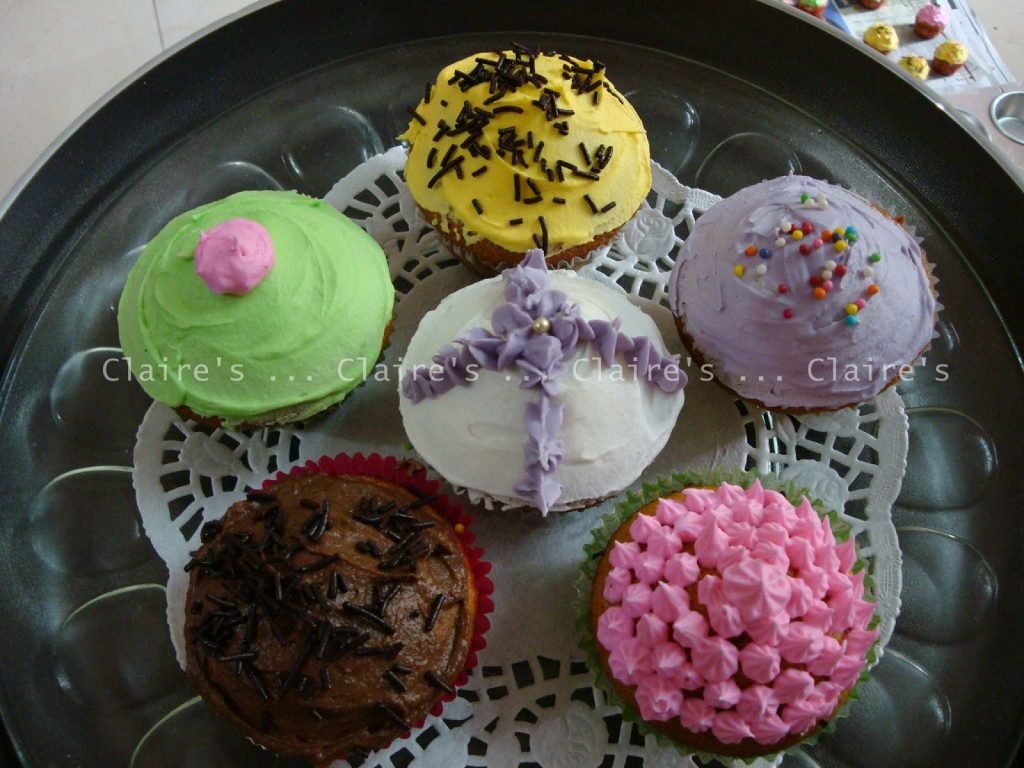 Just the other day, I had kept some chicken breast pieces out to thaw and was mulling over what to do with them. I wanted to make something different, something I'd never had before. I started digging around in our trusty blog world, and right enough, I wasn't disappointed. I stumbled upon
Barbara's
version of Chicken Empanadas. You should check her blog out. She has some wonderful recipes and gorgeous pictures. These can be served up as a snack or coupled with some lovely salad to make a meal in itself. The empanadas are really easy to make and are so delicious. Unfortunately, they are fairly hearty, you won't be able to eat too much. When I made these, they turned out fairly big. I managed to get 9 pieces using the recipe at the end of the post. The only thing I would do differently the next time around, is I'll make them a little smaller in size. Oh yeah, also, I will put cheese in the filling. The original recipe calls for it, but I forgot. Can you believe that? Who forgets to put cheese? Me, that's who. The filling is tasty enough without it. So those of you who are off dairy products, can leave it out. I'm pretty sure that adding cheese will take this lovely empanada to a whole new level.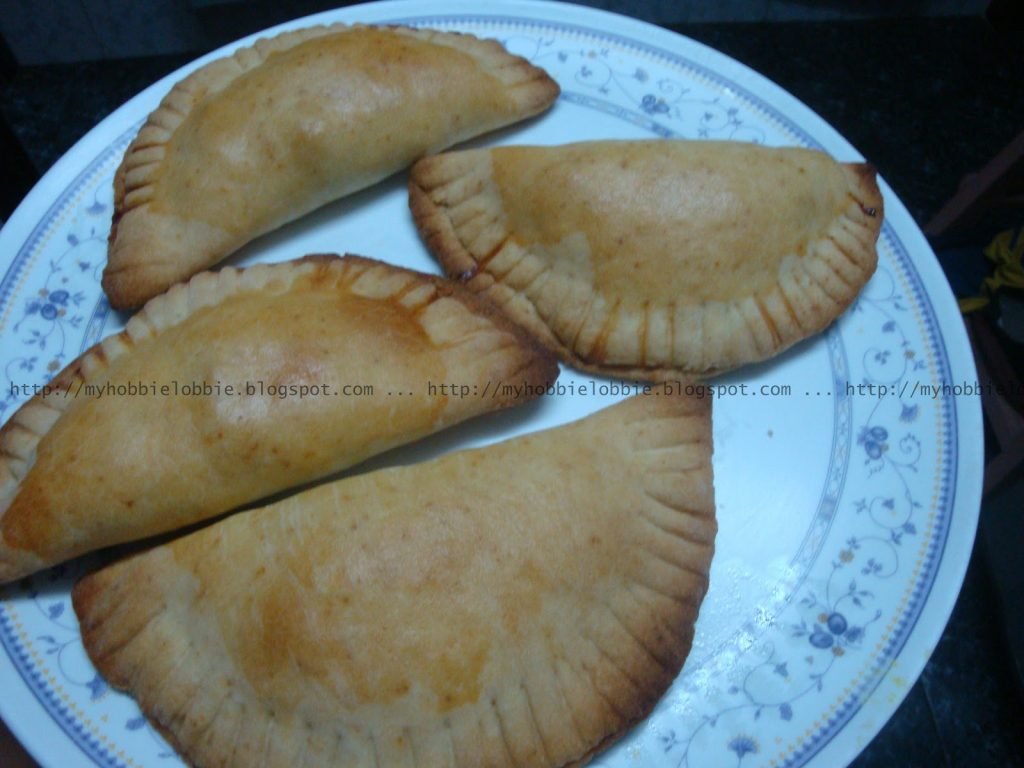 You see what I mean about how big they turned out. I'm definitely making them smaller next time around.
Barbara served these up with Ranchero Ranch Dressing. I wanted the dipping sauce to be a little hotter. So I served these up with a spicy tomato sauce, a tomato chilly sauce, to be precise.
Chicken Empanadas
Makes 9 large pieces
Adapted from: Barbara Bakes
For the Dough:
2 cups all purpose flour
1 tsp baking powder
1 tsp salt
1/4 cup butter, cold and cubed
1/2 cup cold water
1/2 an egg, lightly beaten with 3/4 tbsp water (I used milk instead of water) (Do not beat until ready to bake)

In a bowl, combine the flour, baking powder and the salt.


Rub the butter in till the texture resembles wet sand.


Add just enough water to bind it till the dough just starts coming together.


Turn it out on a lightly floured surface and knead a little till it forms a smooth, soft batter.


Divide into portions, cover the dough balls with cling film and leave to rise for about 20 minutes. In the meanwhile you can make the filling.




For the Filling:
1 large onion, chopped
1 tbsp olive oil
1/2 chicken breast, chopped into small pieces, almost shredded (the chicken is raw at this stage)
1 tomato, chopped
1 tsp red chilly powder
Salt, to taste
Freshly crushed black pepper, to taste
Grated cheese (I forgot to add this)


Heat the oil in a pan.


Saute the onions till they soften.


Add the red chilly powder and stir for a while till it is well mixed.


After about a minute add the tomatoes and let them cook off till they are soft.


Tip in the chicken, salt and black pepper and stir fry well, till the chicken is cooked.


You can add a splash of water or chicken stock, if needed. If you do, cook it off till all the liquid is absorbed.


Once this is cooked, stir in some grated cheese.


Set aside and let it cool off completely.




To make the Empanadas:


Preheat the oven to 180ºC.


Roll out the balls of dough thinly, one at a time. Place a spoonful of mixture in the center and fold the dough over.


Seal the edges by pressing them firmly together. You can trim off the edges if you'd like to and crimp the edges using the prongs of a fork.


Place them on parchment lined baking sheets.


Brush the tops with the egg wash, staying clear of the edges.


Bake for about 25-30 minutes, until golden brown, rotating the trays halfway through the baking time.




This recipe is linked to –
What's Cooking Thursdays
It's a Keeper Thursday
This is one knock out treat that I usually save for an occasion like a birthday, an anniversary or guests coming over. Just the other day, I felt that we deserved a treat, for no particular reason, but just because I felt like it. I am a little funny that way. When I get fixated on something, I usually end up doing it. Very seldom do I change my mind. Exception to the rule being, if I don't have the necessary ingredients at home. Then, off course, I have to improvise and work with what I have at hand till I can get to the store and stock up again. Anyway, back to the prawn cocktail. This beauty is a hit every single time. It is ridiculously easy to make and you can make it a little ahead of time. Get ready to wow your guests with this one.
Prawn Cocktail
(Serves 2)
1/2 cup iceberg lettuce, cut into strips
10-12 prawns, cleaned, de-veined and boiled with a pinch of salt and a few drops of lemon juice
3 tbsp mayonnaise
1 tbsp tomato sauce
A few drops of Tabasco sauce (I used a combination of pepper sauce and smoked jalapeno – both Tabasco products)
A pinch of crushed black pepper
In a bowl, mix the mayonnaise, tomato sauce and Tabasco sauce. Add the pepper. Taste and adjust seasoning, if needed. If you want it more tart, add some more tomato sauce. If its too tart, add a little more mayonnaise to balance it. Up the spice levels with the Tabasco sauce.
Tip in the prawns and mix till well coated. You should typically have more cocktail dressing than whats needed to simply coat the prawns.
To serve –
If you're serving individual portions as a starter, place some of the lettuce at the bottom of a cocktail glass and top it off with the prawn cocktail dressing mix. Garnish with a prawn placed on the rim of the glass.
If you're serving it more like a salad that people need to help themselves to, place a bed of chopped lettuce on the plate. Pour the prawn cocktail dressing mix over.
This recipe is linked to –
Recipes I Can't Wait to Try
What's On the Menu Wednesday
Real Food Wednesday
What's Cooking Wednesday
Sometimes, having something thats a little step up from the traditional plain boiled/steamed rice is a welcome change. It fancies up almost any meal. Some dishes just taste better with a pulao, better known to some as a pilaf. Whatever name you know it by, this is a simple version that I think went really well with my
Paalak Paneer
.
You don't need anything fancy, just basic ingredients that almost anyone will have in their homes.
Jeera Rice
Serves 2-3 large portions
1 bay leaf
2 cardamom pods, whole
2″ cinnamon
5 cloves
6 pepper corns
1/2 – 3/4 tsp cumin seeds
1 medium onion, chopped finely
1 tbsp ghee / clarified butter
1/2 cup long grained rice (You can use Basmati, if you have some)
Salt, to taste
1 cup water
Wash the rice and soak it in some water while you get the other ingredients started.
Heat the ghee in a large vessel.
Tip in the bay leaf, cardamom, cinnamon, cloves and pepper corns and let it get fragrant.
Add the cumin seeds and let it fry for a little while till it gets fragrant. Make sure you don't burn the cumin, it'll ruin your dish.
Add the chopped onion and saute till the onion gets soft and transparent.
Drain the rice and add it to the vessel. Let this fry off for about a minute or so, till the rice is coated with the spices and ghee in the vessel. Do not stir too much or you'll break up the grains of rice.
Add the water and salt to taste. Stir once, gently. Bring it to a boil, cover and simmer on low heat till all the water has been absorbed and the rice is tender.
Fluff it up with a fork to loosen the grains. You don't want to mash it up.
Serve hot with a gravy of your choice.
I served this up with some Palaak Paneer.
Add a bowl of raita to this to make it a wholesome, delightful meal.
NOTE: If you need to increase the quantity of rice, use the following ratio. 1 portion rice : 2 portions water.




This recipe is linked to –
Tuesdays at the Table
Delectable Tuesday
Hearth and Soul
A Little Birdie Told Me
This recipe for Paalak(Spinach) Paneer(Cottage Cheese) has converted me. You see, in the past, I've had Paalak Paneer on a few occasions at buffets and restaurants and was never too crazy about it. It was always too bland for me. Simply put, it looked and tasted like a green mush with not so fresh pieces of cottage cheese. A couple of years ago, I was watching an episode of 'Indian Food Made Easy' by Anjum Anand, where she makes a batch of Paalak Paneer. Everything was made from scratch, even the cottage cheese. I decided to make some, simply because I wanted to try making cottage cheese at home. That process requires a separate post and I'll get to it when I make cottage cheese next. Usually, I use the store bought variety, because I seldom plan my meal too far ahead.
Anyway, back to the dish. This was everything, the others (at buffets and restaurants) weren't. It is delicately flavored and creamy. I loved it. I happen to make this again, over the weekend and served it with jeera rice (which I'd never made before). It paired really well. Now I know, for a fact, that if ever I need to whip up something meatless for my vegetarian friends, this is exactly what I will make.
So try it out and let me know how you like it.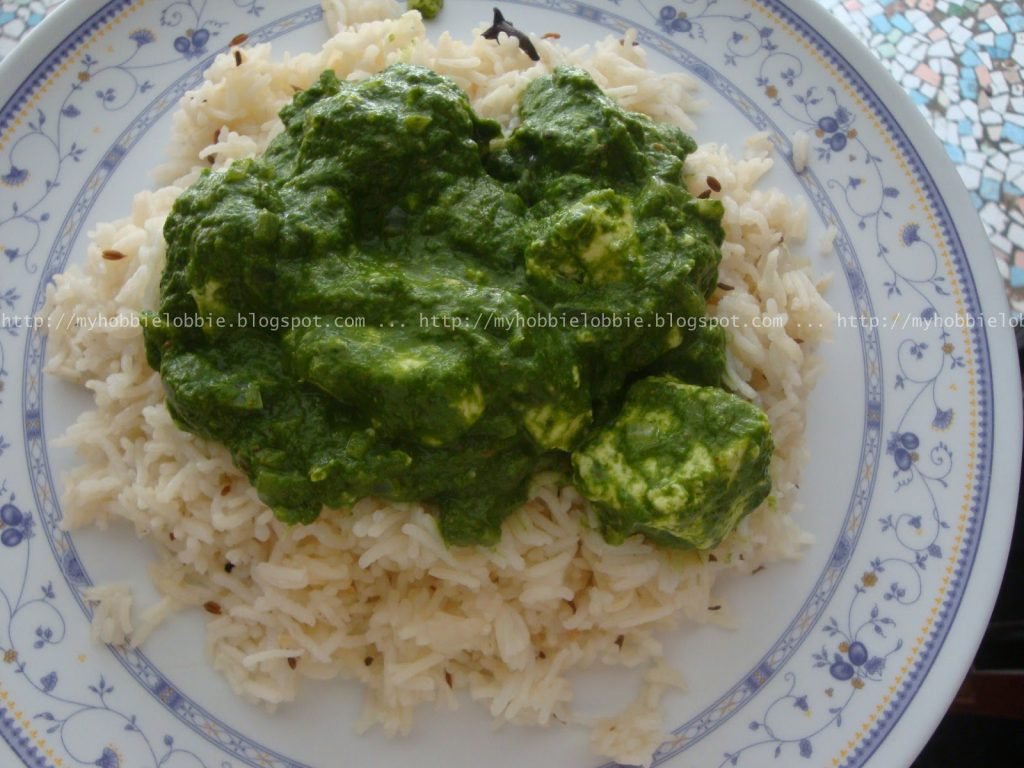 Paalak Paneer
Recipe by: Anjum Anand
(Serves 4-5)
750g spinach, washed and drained
3 tbsp vegetable oil
1 tsp cumin seeds
1 large onion, chopped
1 1/2 tbsp finely chopped ginger
1 1/2 tbsp finely chopped garlic
1-2 green chillies, whole
2 tsp coriander powder
250g Paneer / Cottage cheese, cut into cubes
1/2 – 1 tsp garam masala powder
6 tbsp whole milk or 4 tbsp double cream (I used cream)
1-2 tsp lemon juice, or to taste
Salt, to taste
Blanch the spinach in hot water till wilted. This should take about 3 minutes.
Drain using a colander and run under some cold water till it cools down. This will help maintain its lovely color and will prevent it from cooking any further.
Blend it to a smooth paste and set aside.
Heat oil in a large pan. Add the cumin and fry till it is fragrant. Don't let it burn.
Add the onion and let it fry on low heat till it turns soft. This should take about 5-6 minutes.
Add the ginger, garlic and chillies and cook for another minute.
Add the coriander powder and salt and cook for 30 seconds.
Add the spinach puree and a tiny splash of water if necessary. The puree should be loose, but not watery. (I reserve the water that the spinach was blanched in and use it here, if needed.)
Bring this to a boil and simmer for 3 minutes.
Add the garam masala powder, paneer cubes and milk or cream.
Stir and cook for a few minutes till the spinach is nice and creamy.
Add lemon juice to taste.
Serve hot.
Tomorrow I will post the recipe for the Jeera (Cumin) rice. Stay tuned.
This recipe is linked to –
Savory Sunday
Just Another Meatless Monday
Meatless Mondays
Mangia Mondays
Meatless Mondays
Mouthwatering Monday
… you make a Peach Tart!
The other day I picked up some peaches from the market. I'm not overly fond of peaches but I wanted to try and bake with them. Last year I made a peach crisp that turned out pretty amazing. Unfortunately this was before my blogging days, so I don't have a picture, and silly me didn't save the recipe either. So imagine my joy when while surfing through one of the linky parties I participate in, I found a recipe for a pretty amazing looking Peach Tart.
I was quite eager to see what it would turn out like, because unlike the other pies I've made in the past, this one calls for a different recipe for the dough. The method is more cake like than dough like and I was wondering what flavors nutmeg and peaches would yield. I tell you, once I bit into this tart, all I could do was close my eyes and smile. This crust with its hint of almond and the nutmeg-peach coupling truly is a match made in heaven. This recipe is a keeper, for sure. I know I'm going to make this every time peaches come around. I honestly hope, for your sake, you give this a try. It is so good, no one, and I mean absolutely no one, should go without tasting it for yourself. So try it and let me know what you think.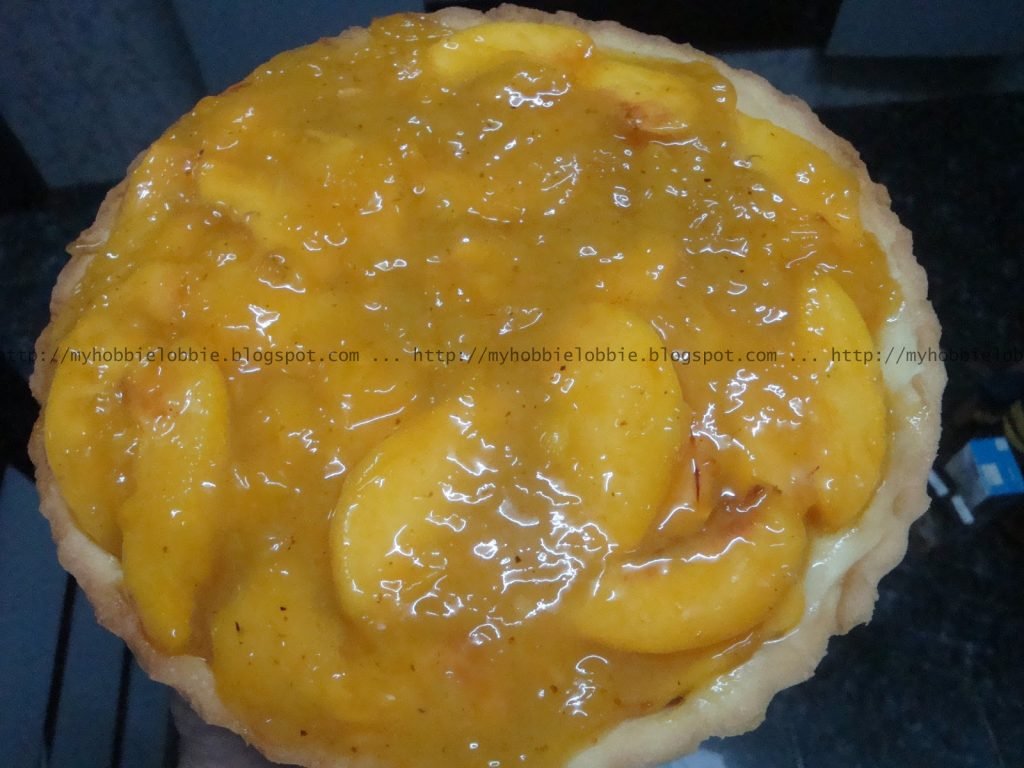 Peach Tart
Adapted from: A Bountiful Kitchen
(Makes one 9″ tart)
For the Tart Shell:
1/2 cup sugar
1/4 cup butter
1/2 an egg
1/2 tsp Almond extract
1 1/8 cups flour
Preheat the oven to 180ºC
Lightly grease a 9″ pie pan,
Cream the butter and sugar till light and fluffy.
Add the egg and the almond extract and mix well.
Add the flour and fold it in gently. Do not over mix. Add flour till the dough is no longer sticky.
Press it to line the pie pan. Pierce with a fork to allow the steam to escape.
Bake for 10-15 minutes or till it has a hint of light brown coloring.
Cool completely before filling.




For the Fresh Peach Filling:
1/2 cup white sugar

1 cups fresh peaches, pitted and mashed
1/8 teaspoon freshly grated nutmeg
2 cups fresh peaches – pitted, skinned, and sliced
Combine the sugar, water, cornstarch, butter, mashed peaches and nutmeg in a saucepan.
Cook over medium heat until clear and thick.
Take it off the fire and stir in the vanilla.
Mix the sliced peaches with the glaze.
Fill the tart shells with this filling.
Serve with vanilla ice cream.




This recipe is linked to –
Sweet Tooth Friday
Sweets for a Saturday
The Rain Gods have started smiling down on us and for me, its a welcome turn of the seasons. The summer heat was insane. It somehow feels that the summers get hotter every year. So when we had a timely start to the monsoon season, I was overjoyed. The one thing that I've noticed over the years is that when it rains I get hungry and usually feel like snacking. A while ago while I was going through some blogs, I came across Swathi's blog where she shared a recipe for this ribbon vada.
I tried it out and the results were crunchy, addictive and most importantly a homemade treat that I could snack on. Being a savory treat, you can adjust the level of spice by adjusting the amount of chilli powder used. I was a welcome change from the store bought bag of chips and I'm sure it healthier too, being without the ton of synthetic ingredients and preservatives used. Its nice to have something like this in an airtight container. I'm certainly going to look for ways to whip up a few more treats like this to have at hand. But for now, here's the recipe for the Ribbon Pakoda.
Ribbon Pakoda
Adapted from: Zesty South Indian Kitchen
2 cups besan (chickpea flour)
1 cup rice flour
1 tbsp ghee / clarified butter
2 tbsp red chilli powder
4-5 sprigs curry leaves
1/2 tsp asafoetida
1 1/2 tsp Salt
1 cup warm water
Vegetable oil for deep frying
In a bowl, mix the chickpea flour, rice flour, ghee, red chilly powder, asafoetida and salt.
Add the warm water gradually to make a soft dough. You may not need all of it or may need a little more. It will be a little sticky.
Heat the oil in a kadai (wok).
Place a part of the dough in a chakli press, using the mould with the flat lined slots.
When the oil is hot, holding the chakli press over it, carefully press out the dough in 3-4 circles.
Cook this over a medium flame, till they are golden brown in color. Place on some absorbent kitchen paper.
Once you've finished using all the dough, turn the gas off, and place the curry leaves in the hot oil carefully and cover with a lid. Be careful because the leaves will start sputtering once they make contact with the oil. Keep a lid at hand so that you can cover it soon.
When the leaves are crispy, drain on some kitchen paper and sprinkle over the the pakodas.
Once it cools completely, store in an airtight container.
Here's a quick way to deal with hunger pangs after a day at work using just a few things that most of us will be able to assemble at any point. The humbly chicken mayo sandwich. What I love about sandwiches, is that like salads, they are extremely versatile. You can use a number of ingredients or leave out certain ingredients according to what you like or dislike and you can literally do no wrong. So even those of you who have never cooked before will be able to put this together. Serve it with a piece of fruit or some yogurt and you have a decent packed lunch. Honestly, I love a working lunch like this rather than having a fussy meal. I don't mind something more elaborate for dinner.
This sandwich is really simple to put together if you keep a few things at hand. For example, having some leftover grilled or roasted chicken is a life saver. But even if you don't here's what I do. I simply marinade a chicken breast, cut into smaller pieces with some salt, a dash of lime juice and some ginger garlic paste for about 15 minutes and I add some water (not too much) and boil it till its done. You can then keep this refrigerated till you need to use it.
Chicken Mayo Sandwich


2 tsp Homemade Mayo (you can add more if you like)
Some shredded chicken
A couple of leaves of iceberg lettuce, chopped
1 tomato, sliced
Salt to taste
Freshly crushed black pepper, to taste
2 slices of sandwich bread
Mix the mayo, chicken and lettuce and spread this on one of the slices of bread.
Placed the slices of tomato on the other and season with some salt and pepper.
Place one over the other and enjoy.
This recipe is linked to –
Tuesdays at the Table
Tuesday Night Supper Club
Real Food Wednesdays
Recipes I Can't Wait to Try
A Little Birdie Told Me