Everyone likes to have more than a few recipes in their arsenal that they can rely on when they need something to whip up really quick on a weeknight or whenever they are short on time, but still want a good wholesome home cooked meal. This is something I'm working on. I'm trying to increase my options here. This dish is one such quick meal option. It needs very few ingredients, but is so flavorful, you'll want to make it even if you happen to have some time on your hands. The yogurt sauce gives it a fresh taste and the herbs make it even better.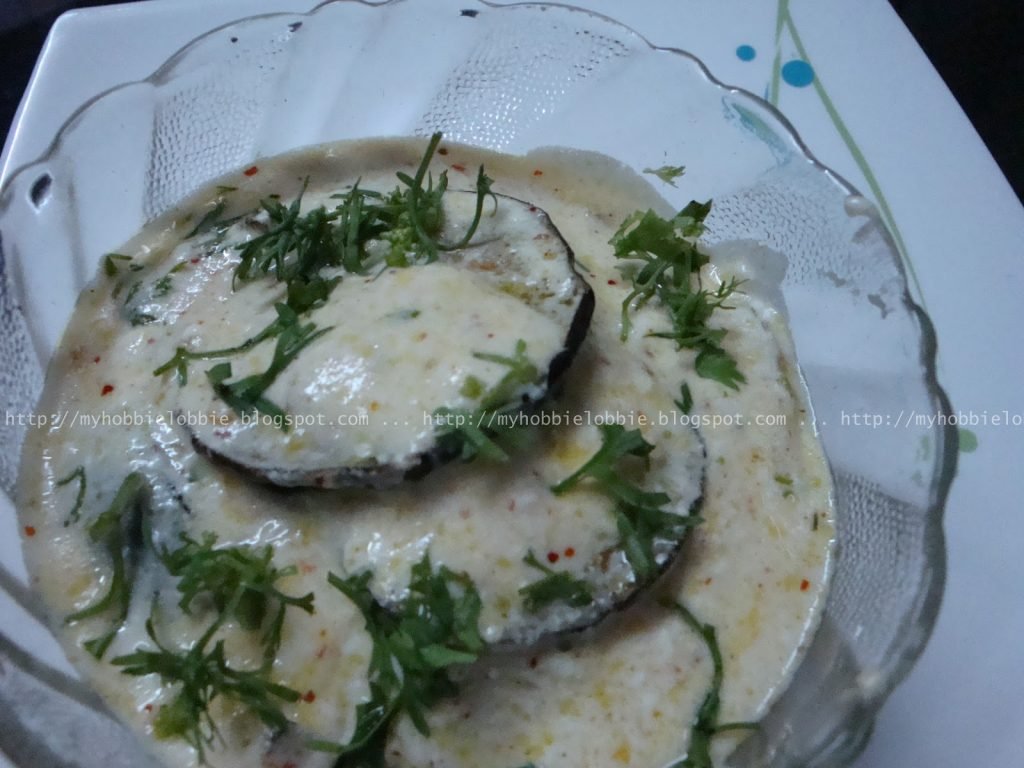 Aubergine in Savory Yogurt Sauce
Recipe from: Indian Food Made Easy
400g small aubergines, sliced
A pinch of turmeric powder
1/4 tsp red chilly powder
Salt, to taste
A couple of tbsps of vegetable oil
250 ml plain, unflavored yogurt
1 – 1 1/2 tsp sugar
1 heaping tsp roasted cumin seed powder
1-2 tbsp fresh coriander leaves, chopped
Sprinkle the aubergine slices with salt, turmeric powder and half the quantity of red chilly powder.
Heat the oil in a large pan and fry the aubergine slices until they are soft. You may need to do this in batches.
In a bowl beat about 200 ml of the yogurt with sugar, salt and the rest of the red chilly powder.
Heat this in a small pan, over low heat. Stir frequently to avoid it from splitting. It should take about 5 minutes to warm this up.
Gently stir in the cumin powder and the fried aubergine slices. Stir gently and let it all warm up on a low flame.
Beat the remaining yogurt till it gets to a smooth consistency. Gently stir it in. Check for seasoning and adjust, if needed.
Garnish with the chopped coriander leaves.
Serve warm with hot naan.
Remember to warm the curd over a low flame. The curd splits if it is heated over a high flame.
This recipe is linked to –
My Meatless Mondays
Just Another Meatless Monday
Meatless Monday
Mouthwatering Mondays