About the same time I spotted the recipe for
pickled jalapeños at
The Purple Foodie, I also spotted her version of marinated sweet peppers. If you are a fan of garlic, you will enjoy this. Roasting the peppers, enhances their sweet flavor and leaves it with a little smokiness. The garlic marinade just adds to all the fun. This is another accompaniment that I served up at our
Barbecue party. This keeps really well refrigerates so you can make it in advance and store it. You can throw it into some salad, sandwiches or even onto pizzas.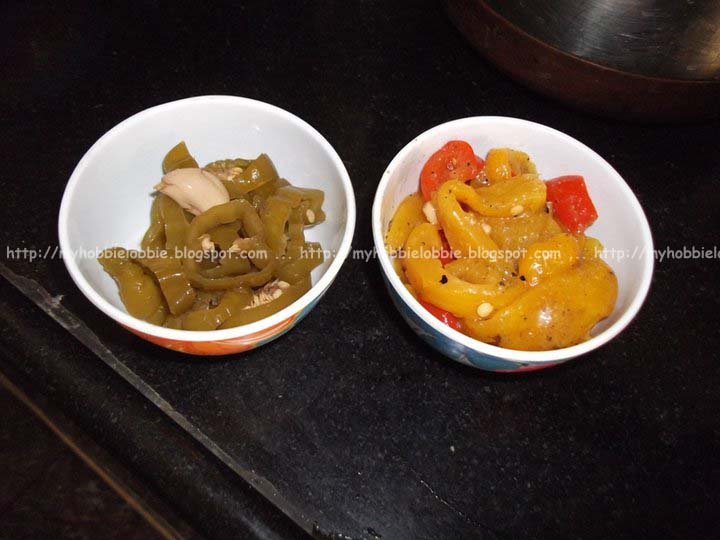 Roasted Red & Yellow Bell Peppers in a Garlic Marinade
Adapted from: The Purple Foodie


4 large bell peppers (I used 2 red and 2 yellow)
3 cloves garlic, peeled and roughly chopped
Salt, to taste
Freshly crushed black pepper, to taste
2 tbsp olive oil
2tsp apple cider vinegar


Brush the whole peppers with a little bit of olive oil. This helps them char sooner. Roast the peppers over an open flame. I simply pierced a fork through the stalk portion of the peppers and turned the peppers around to char on all sides.


Once it blisters and chars on all sides, place in a bowl, cover with a lid and let it rest a little. This will cool it down so it can be handled as well as the skin will peel off easier.


Peel the peppers, cut them in half, deseed them and slice them lengthwise.


Mix the rest of the ingredients in another bowl. Add the peppers to the mixture. Toss well and check for seasoning. Adjust the salt and pepper if needed.


Store in a sterilized glass jar.


Keep refrigerated.


This recipe is linked to –
Meatless Mondays
Mouthwatering Monday
Recipes I Can't Wait to Try
Rook No.17
Decidedly Healthy or Horridly Decadent
Fun with Food Friday


I was going through one of my favorite blogs a while ago,
The Purple Foodie
and I saw a homemade version of pickled jalapeños. I was thrilled because I really love jalapeño peppers in a sandwich, a salad and sometimes I just serve it as an accompaniment with the meal itself and that is exactly what I did for the
Barbecue party
that we had some time ago. Since we had kids over, I couldn't spice up the salads as much as I normally do. So I left out the green chillies and simply served a bowl of pickled jalapeños along with the meal. That way anyone who wanted a little extra punch simply added some to their salads. Anyway, I made a jar of this some time ago. They were super yum, and if say so myself, so much better than the store bought variety. The best part is that I know exactly what is in the jar, since its made from scratch. Also, the peppers taste better with time, thats if it lasts that long. The recipe is simple and easy and can be made way ahead of time. If you love pickled jalapeños as much as I do, give this a try. You won't regret it.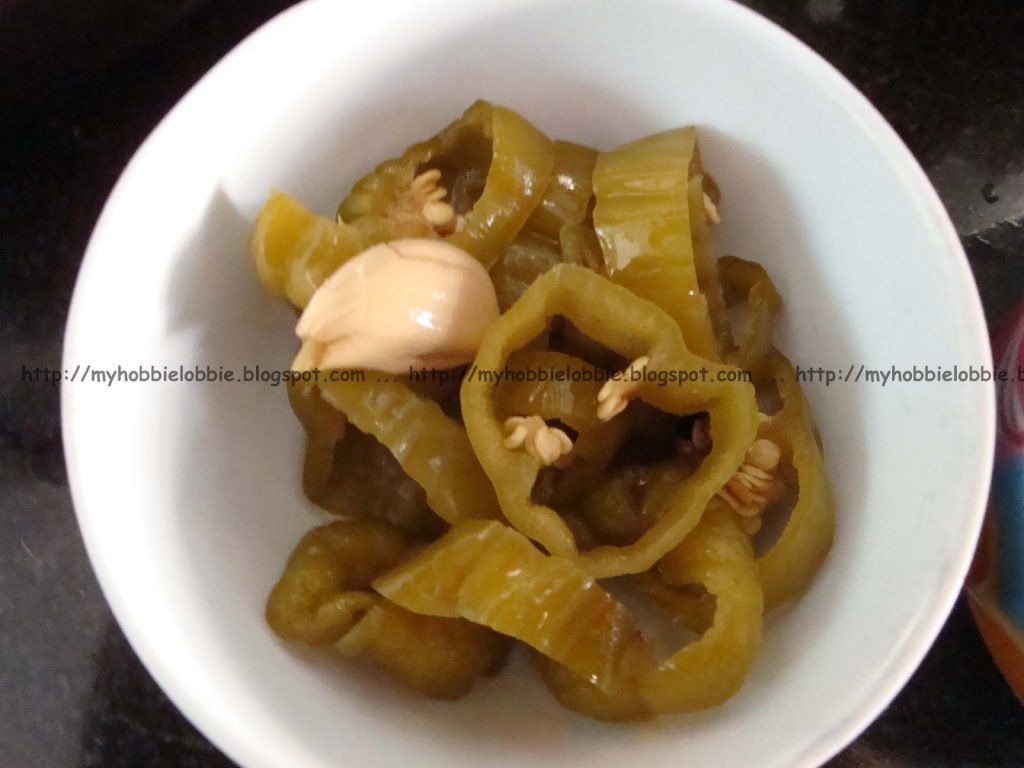 Pickled Jalapeños
330g Jalapeño peppers, sliced
1 tbsp. pepper corns
1 tbsp. sugar
2 tbsp. coarse sea salt
2 bay leaves
3 cloves of garlic, dashed under the flat blade of a knife
1 cup apple cider vinegar
1 cup water
Place the sliced jalapeños in a glass jar.
Place the rest of the ingredients in a saucepan. Bring to a boil and simmer for about 5 minutes.
Let the brine cool a little but while its still hot pour over the jalapeños in the jar and let it rest for a few hours.
Cove the jar and shake a little to distribute the spices evenly.
I keep the jar refrigerated so that it lasts longer.
Note: If you are pickling a different quantity of jalapeños, all you need to to is wash the whole peppers and place them in the glass jar you will be storing the pickle in. Fill it with water. Measure the quantity of water used and substitute half the quantity of water for the apple cider vinegar and add the spices.
This recipe is linked to –
Meatless Mondays @ Midnight Maniac
Mouthwatering Mondays @ A Southern Fairytale
Meatless Mondays @ My Sweet and Savory
Whats Cooking Thursday @ Feeding Four
Decidedly Healthy or Horridly Decadent @ Ceo a's draiocht
Fun with Food Friday @ Paisley Passions
UPDATE:
I know that sour cream is next to impossible to find if you are in Mumbai. You can still make this cake, find the recipe to make your own sour cream at home
here
. Hope this helps!
Today, let talk about my absolute favorite chocolate cake in the whole wide world. Yes, I'm that sure that no other can beat it. I'm sure you're thinking, how can she be so sure? Well here's how. Every time I bake this cake, and I do bake it often (a few instances are here, here and the one in this post), its gets wiped off. I've learnt my lesson after the first few times. I'm glad you asked. The lesson is Click a picture of the cake as soon as its ready, coz once its cut, it'll be over before you can capture it on camera. Also, its a Nigella Lawson recipe, I mean, come on, need I say more. Those of you following this blog know what a big Nigella fan I am. I have watched the episodes of her cooking shows multiple times and still don't mind watching them all over again.
Imagine my joy when I came across the Maison Cupcake blog. Sarah, of Maison Cupcake is hosting the Forever Nigella blogging challenge.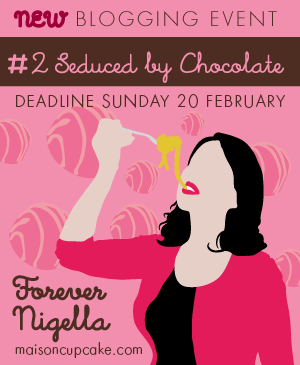 The first round was already done with by the time I got to know about this event. For the second round, I'm going to share this cake that was recently baked for an order I had.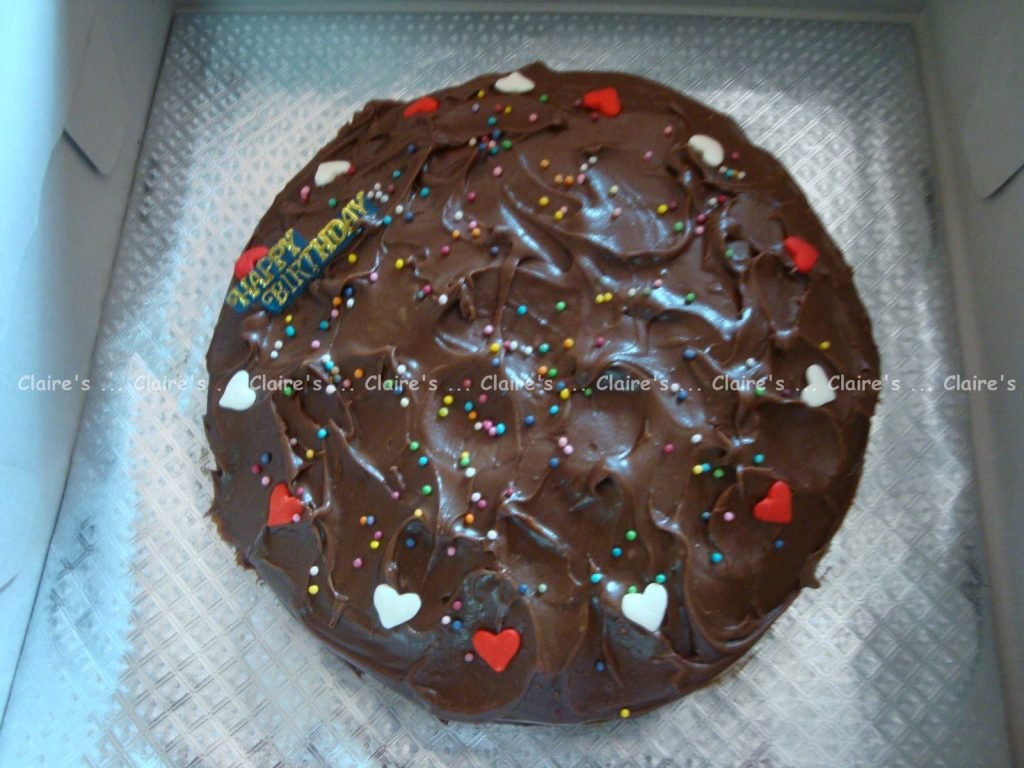 You can find the recipe for this cake here. I stuck to the original recipe. Why mess with something so perfect? This recipe is really simple and comes together quickly. Try it out and I'm sure you'll love it too. Oh and I must say that this recipe works well for cupcakes as well. Somehow, I think they're better with a big dollop of chocolate icing on the top. :o)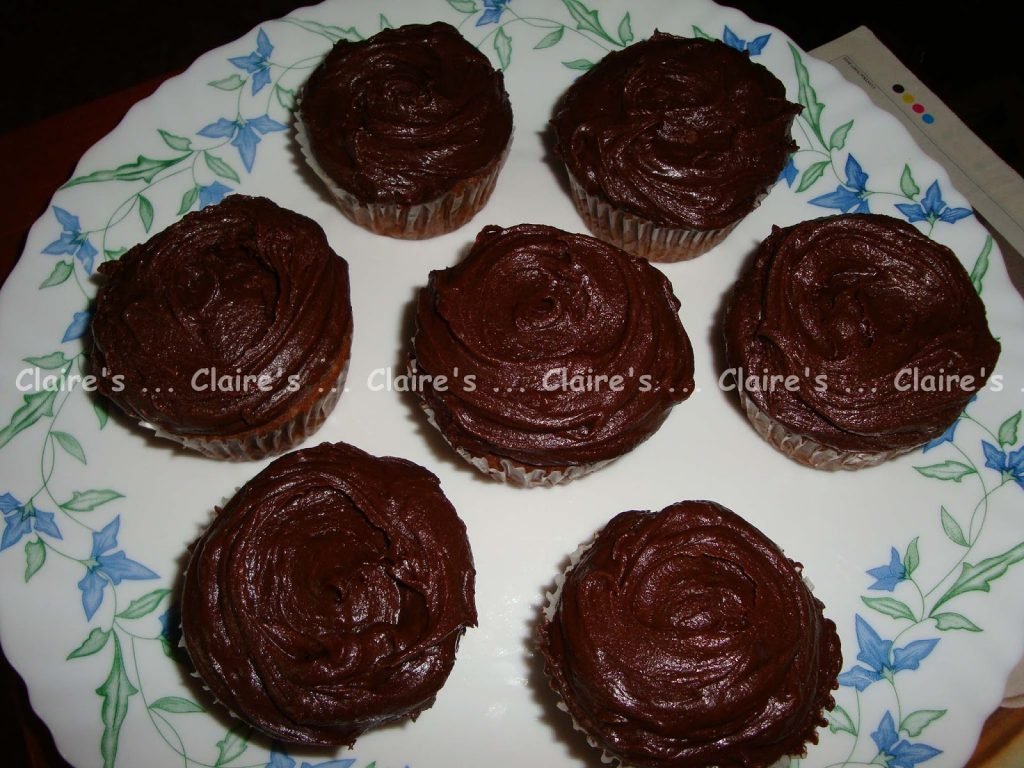 I love the rustic look of the cake, nothing fancy schmancy. But once you bite into it, its heavenly. I think I'm going to call this cake "The most Heavenly Chocolate Cake ever".
For those of you who'd like to participate in this event, the deadline is 20th Feb. You still have a couple of days to work on your submission. Hop over to Maison Cupcake for more details. Hope to see you there!
This recipe is linked to –
Sweets for a Saturday
Over the weekend we celebrated Ashley's (my dearest husband's) birthday with quite a bang. I wanted to do something extra special because his birthday last year was very low profile.
Well, at this time last year, we were in Hong Kong. He was on a work visit and I joined him for a few days, making sure that I'd be there for his birthday. We were living in a serviced apartment with minimal kitchen equipment and I knew that I simply had to make him something. What can one do with some spoons, forks and a butter knife, paired with a hand blender and a few plates? Not much, I tell you. So, off I went to the store and I saw a yummy vanilla and chocolate marbled sponge cake. I picked it and rushed to the dairy section to pick up some whipping cream. Just before he got back from work, I layered the cake and frosted it with some sweetened whipping cream and sliced up a kiwi that we'd picked up before and put on some cinnamon jelly beans. Well, this isn't my proudest cake moment, but I got to tell you, I was pleased that I could put something together for him. Not to mention all this came together for less than 30 dollars, whereas a store bought cake was nothing less than 200. Yup, I went around and checked, but wasn't too pleased with what I saw and was extremely skeptical of what it would taste like. So here's what you get when your cake decorating equipment includes a hand blender, a butter knife and a plate.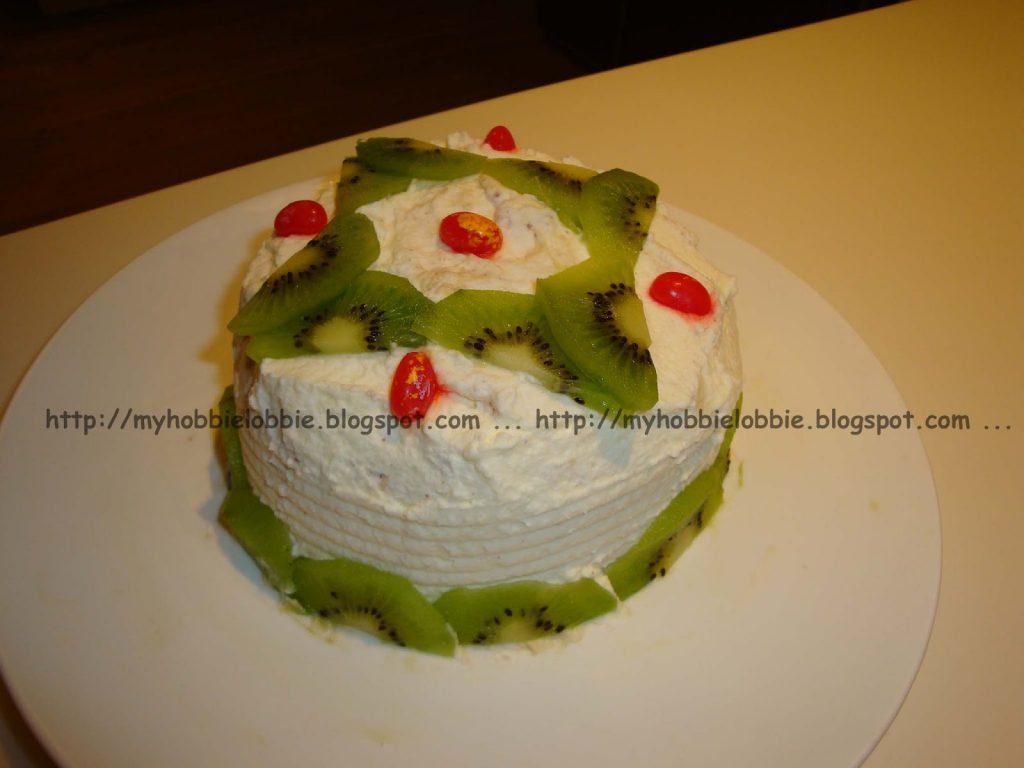 This year, we called family over and had one of the most delicious barbecues ever. Usually, my dad handles all the meats, marinades and the grilling as well. This time, he wasn't around. He was out of the country, working. So I tried my hand at the marinades, while the guys handled the grill. For fear of sounding like my trumpeter was dead (this is something my mum says to me, when I'm not being too humble), I must say, the food was a hit. We had some beef mince puffs to snack on while the grill was in action. We had a large bowl of some really wicked punch (with alcohol, unfortunately that disappeared even before I could get a picture of it. Note to self: We need a lot more punch next time.) We had barbecued pork chops, chicken in a tandoori masala, chicken liver on skewers with onion and capsicum. I wanted to add some freshness and variety to the meal so I decided to whip up a couple of salads. I think I got carried away, because here's the list of sides we finally ended up with, a creamy mashed potato with crushed black pepper, a corn salsa, a tuna salad, a cole slaw, a cucumber salad with dill yogurt, some roasted bell peppers and pickled jalapeno peppers. All of this was made from scratch, including the mayonnaise used for the salad and the puff pastry used for the puffs. And of course, a huge chocolate cake. My husband is a chocoholic and I whipped up a rustic looking Nigella recipe that he absolutely loves. Here's a peek at the spread. I will post the recipes to these in the following posts.
Beef mince puffs
BBQ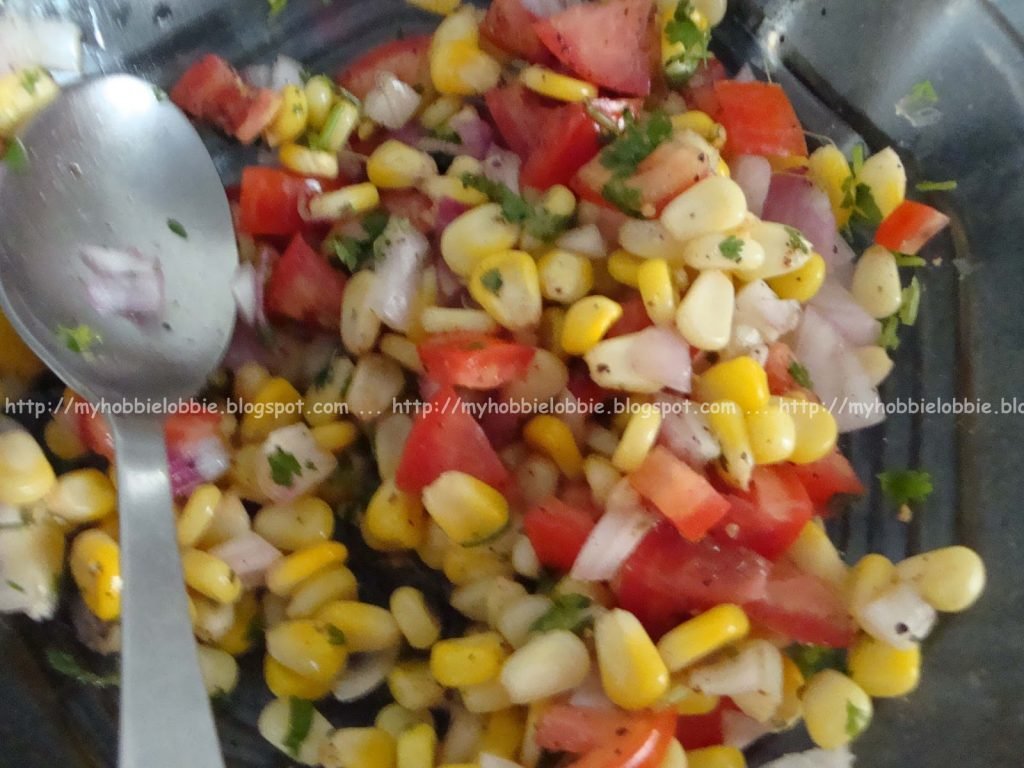 Corn Salsa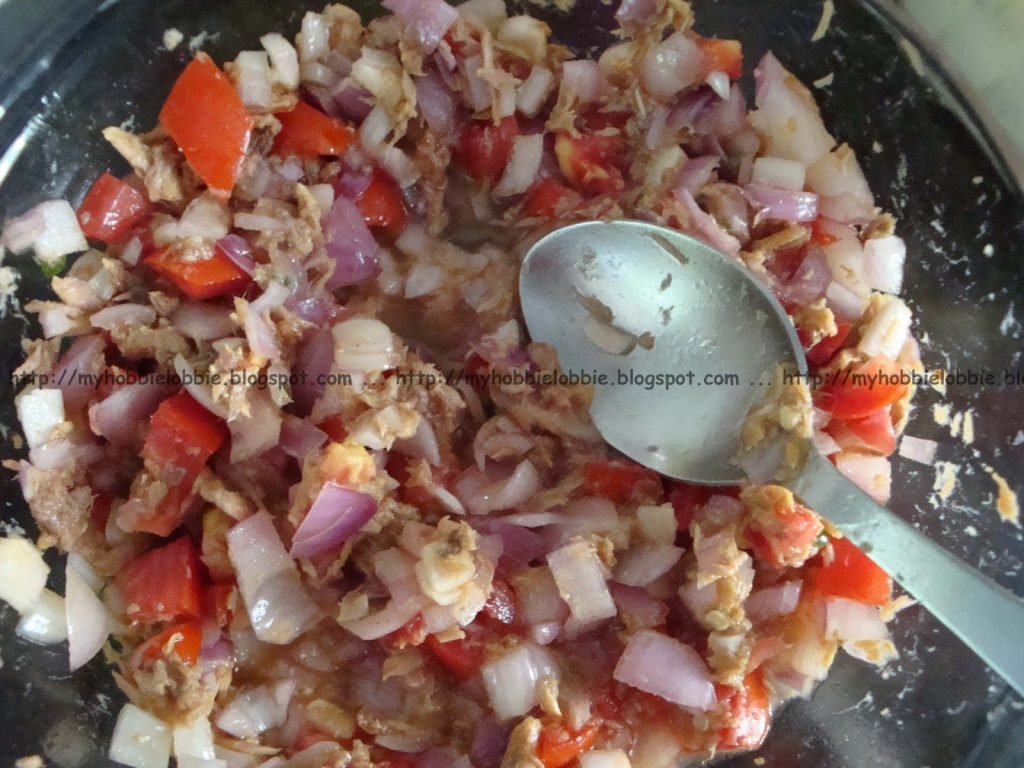 Tuna Salad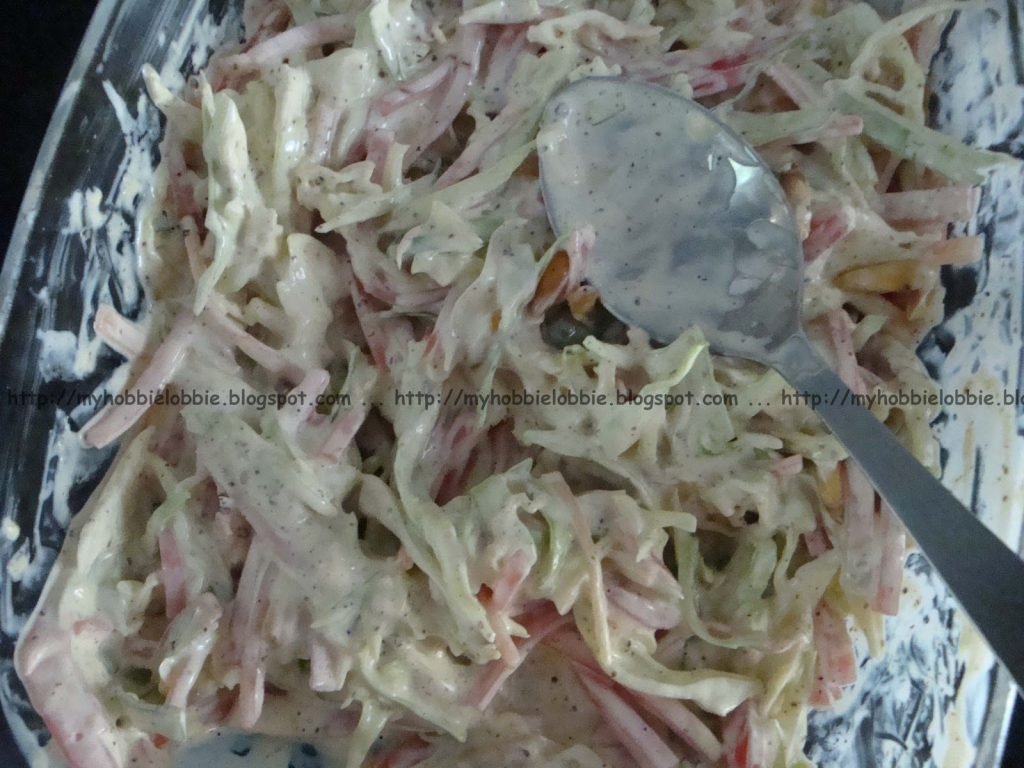 Cole Slaw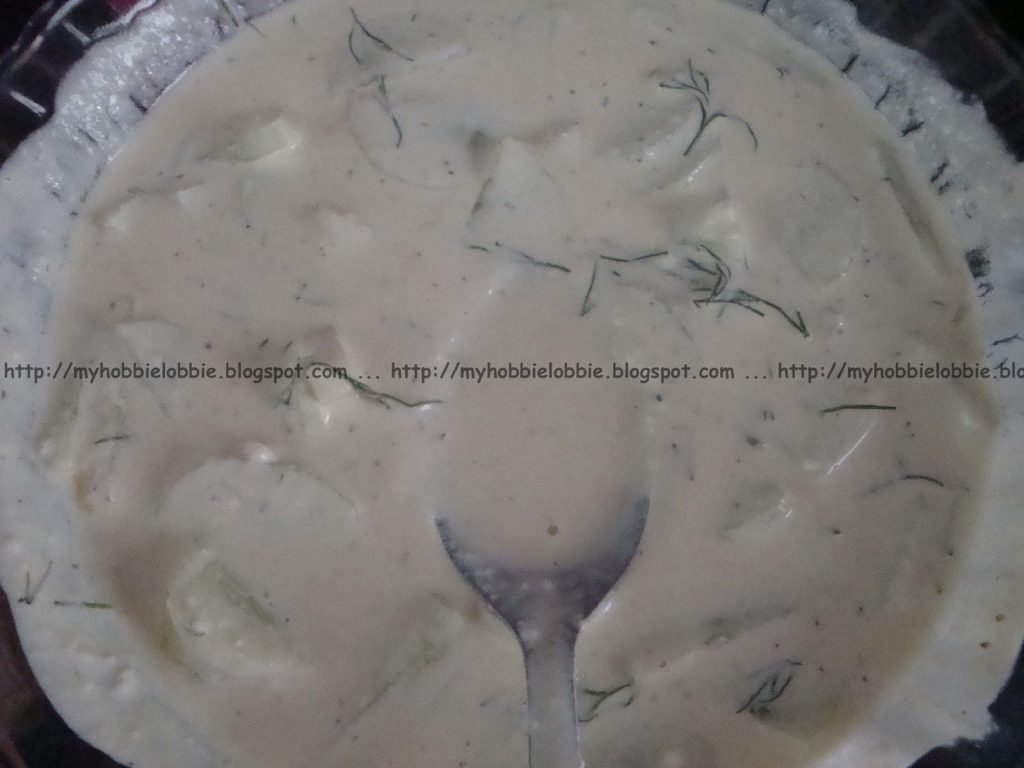 Cucumber salad with Dill yogurt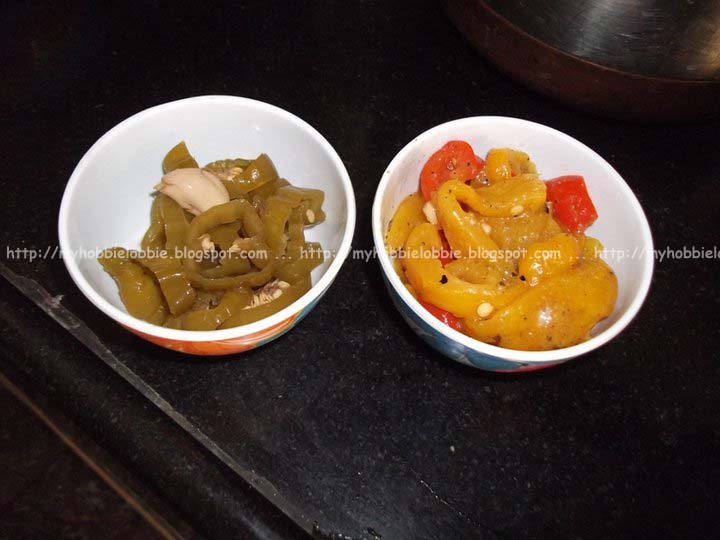 Roasted red & yellow bell peppers and pickled jalapeno peppers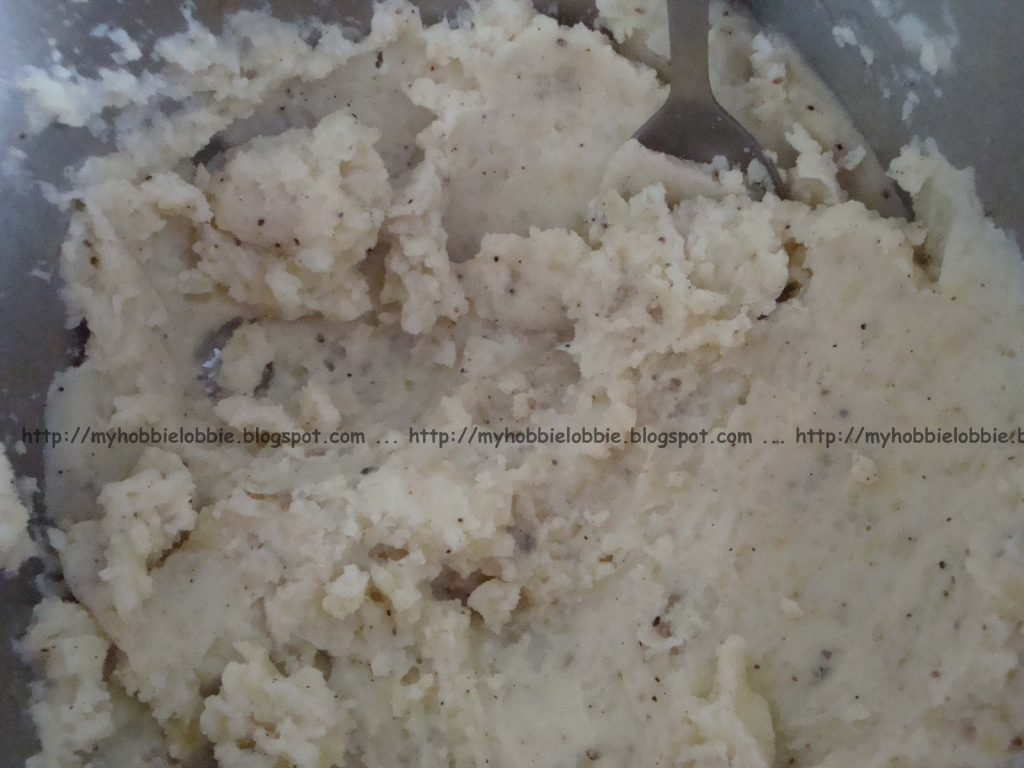 Creamy mashed potato with crushed black pepper
And last but not the least, the cake. I had to leave out all sort of jimmies and sprinkles because our nieces aren't allowed to eat any colored food at the moment.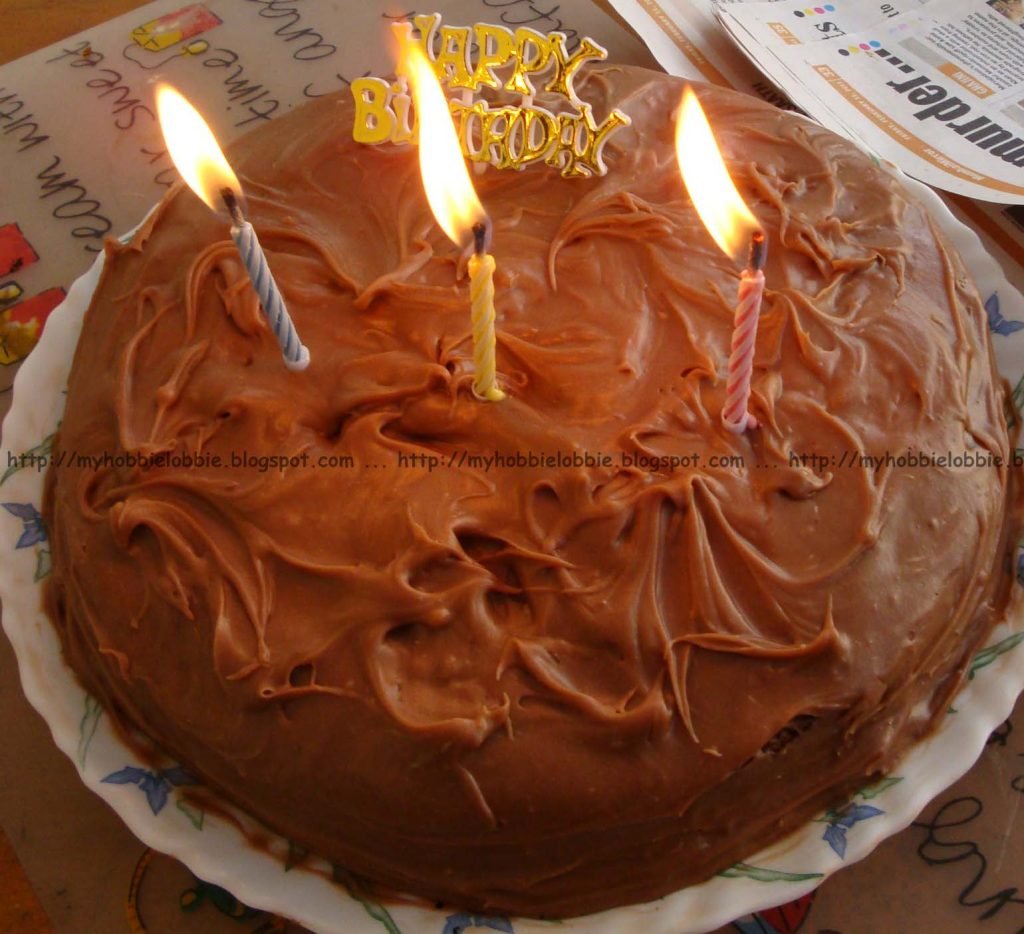 Yummy Chocolate Cake
Keep checking back for the recipes!!!
I love making chocolates at home. What better way to tell that special someone how you feel about them? Chocolate is so versatile, there's so much you can do with it. There's so many things that can be added to it like extracts, crystallized fruit, nuts, the list just goes on. Here are some pictures of the chocolates I've made in the past.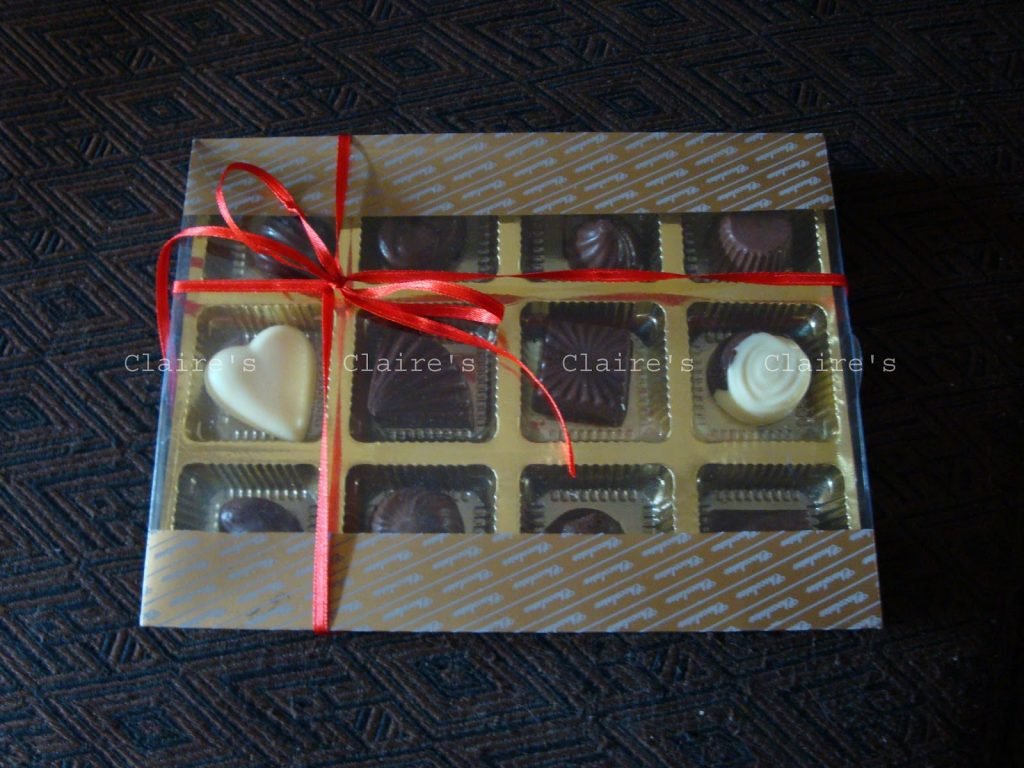 This is a box of 12 pieces of chocolate with one of each of these –
White chocolate
Dark and White Marbled chocolate
Marzipan centered chocolate
Coconut centered chocolate
Roasted Almond rocks
Praline chocolate
Rum N Raisin centered
Orange flavored chocolate
Mint flavored chocolate
Chocolate with rice crisps
Crunchy walnut bites
Cashew nut centered chocolates
These are just a few of the variants possible. Feel free to add your twist to it and try other combinations. What is your favorite?
Hope you had a love-filled V-day!
Every now and then when my husband and I have the day off and can afford sleeping in and having a late breakfast, one of the things I whip up are some pancakes. This is a recipe that I saw on one of the episodes of a Nigella cooking show, I can't remember which one. Once I tried this recipe out, I didn't bother looking for another, its everything I look for in a pancake.
I love that with such minimal prep work and a small amount of time over the stove, you can treat yourself to some gorgeous fluffy pancakes. If you have a home-made fruit syrup to go with it, you're in luck (I can't wait to try it with some berries.). If not, the humble jar of honey does wonders for these pancakes.What I also like about this recipe, is that it uses a tiny bit of sugar, so its practically healthy. Whip these up for your Valentine today and rest assured they'll love it, and love you all the more for it.
Happy Valentine's Day Everybody!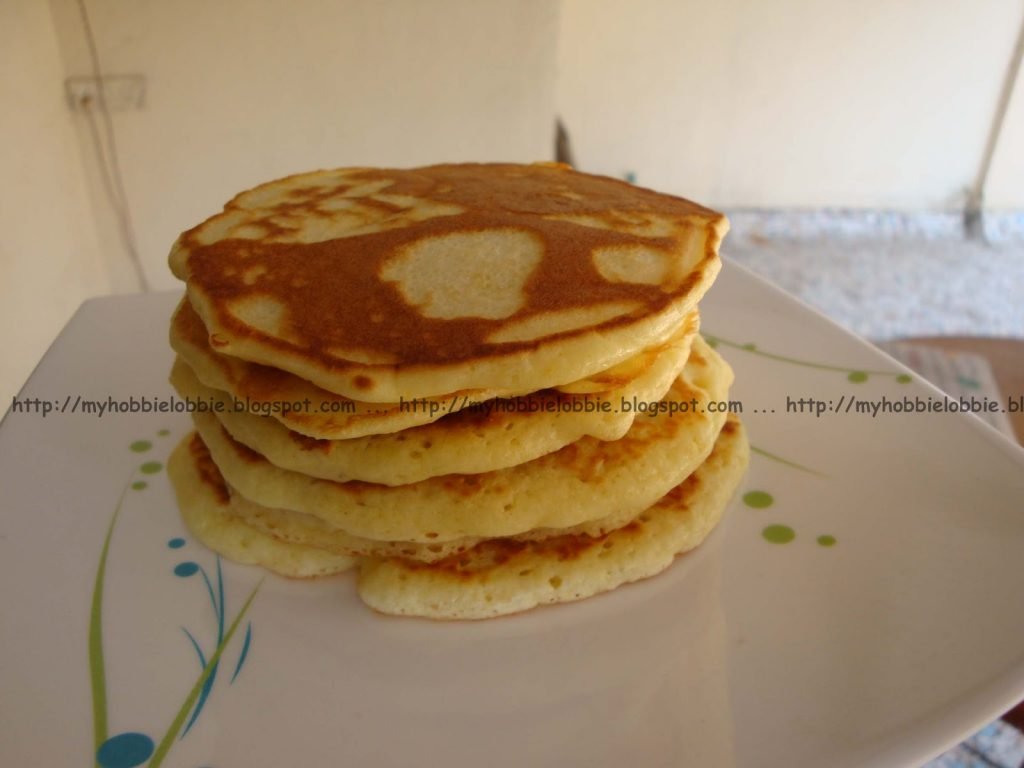 Pancakes
(Makes 12-15)
225g all purpose flour
2 heaped tsp. baking powder
1 tsp. sugar
2 eggs
300 ml. milk
1 tbsp. melted butter
Whisk all the ingredients except the butter to form the batter. Make sure there are no lumps.
Add the melted butter and stir well to incorporate into the batter.
Lightly drizzle a griddle with oil and dollop ladle-fulls of the batter onto the pan. Once you see little bubbles popping all over the surface, flip it over and cook the other side as well.
Serve warm with honey, maple syrup, fruit syrup or anything else you fancy.
This recipe is linked to –
What's Cooking Thursday
Decidedly Healthy or Horridly Decadent
My Meatless Monday @ My Sweet and Savory
Meatless Monday @ Midnight Maniac
Mouthwatering Mondays @ A Southern Fairytale
Recipes I Can't Wait to Try @ At Home with Haley
and
Breakfast Club – Guest Hosted by Krithi's Kitchen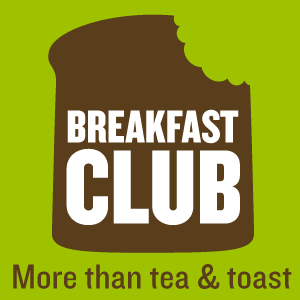 I'm so excited to finally start of this Street Food Series. I've been wanting to do this forever, and I'm glad that I've FINALLY started off. For my first pick, I decided to make Batata (Potato) Vada (Dumplings). This is a yummy snack that should be served hot preferably soon after it is fried. Those pressed for time, can make the mixes a little ahead of time and then simply deep fry the dumplings just before serving. There's something warm, hearty and comforting about these little vadas that my husband and I (along with atleast a few million people, I think) absolutely love. These dumplings can be served with some tomato sauce or the traditional sweet tamarind chutney, coriander chutney and the dry garlic chutney and deep fried salted green chillies. This time around I served it with tomato sauce but when I try out the other accompaniments, I will post about them as well. I hope you try out this simple snack and I'd love to hear what you think of it.
Here's a peek at what it looks like –
And here's what the inside looks like –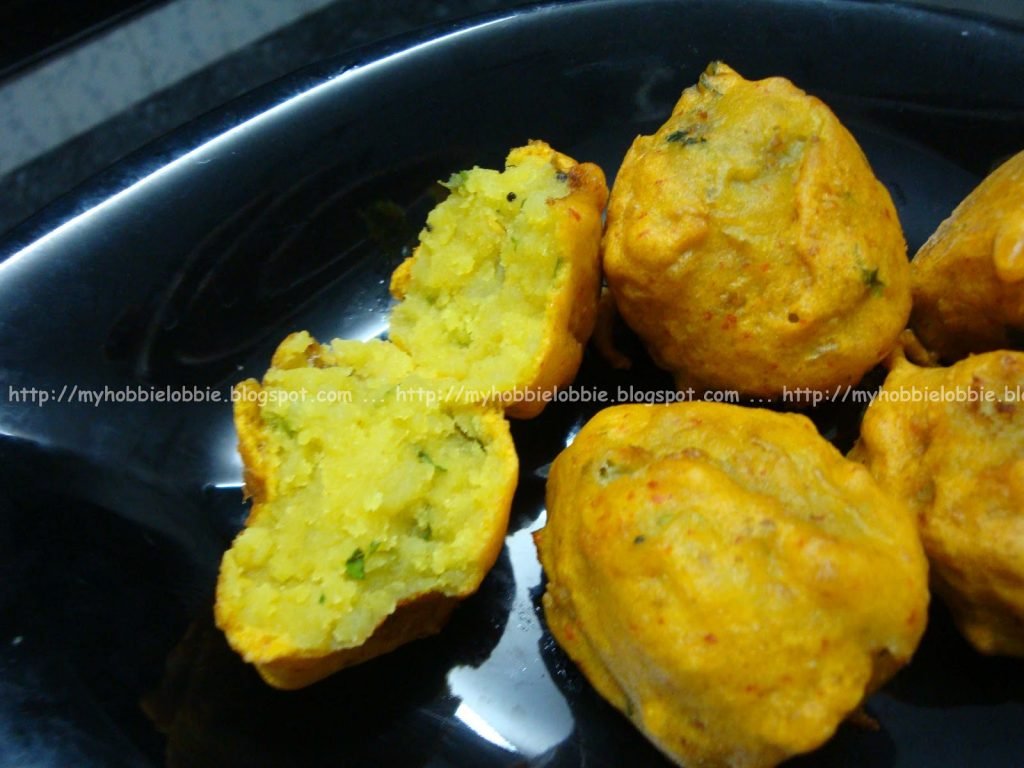 Batata Vada
(Makes 7-8 pieces depending on the size of the potatoes used and the size of the vadas.)
2 potatoes, boiled and mashed roughly (You don't want the potato mash to be creamy, leave it just a little lumpy)
A pinch of turmeric powder
Salt, to taste
1 tbsp. vegetable oil
A pinch of mustard seeds
2-3 curry leaves, roughly torn into 2-3 pieces each
1 green chilly, finely chopped (optional)
1 tsp. chopped fresh coriander leaves
1/2 cup besan (chick pea / garbanzo bean flour)
A pinch of red chilly powder (optional)
Water
Oil for deep frying
Add a pinch of turmeric powder and salt to taste to the mashed potato and mix well.
In a small pan, prepare the tempering or tadka. Heat the vegetable oil and add the mustard seeds. When it sputters, on a low to medium flame add the curry leaves, green chilly and saute a little till all the flavors are released, taking care to not burn the spices.
Add the potato mix to this and stir the oil and spices have mixed with the mashed potato, for a few seconds.
Take it off the pan and into a bowl. Add the chopped coriander leaves and using your hand mix it well. Check for salt and spice and adjust accordingly. Don't under salt the potato mix.
Shape into balls and keep aside.
For the batter –
In a bowl, mix the chick pea flour, with a pinch of turmeric powder, chilly powder and salt to taste. Add a little water to form a batter. Make sure there are no lumps and the batter is nice and smooth.
The batter should have a pouring consistency but shouldn't be too thin. It should be thick enough to form a nice layer around the vadas.
If it is too thick, add a little water to thin it out. If it is too thin and watery, simply add some more chick pea flour.
To make the vadas –
Heat the oil for deep frying. The oil should be hot but not smoking. One way to tell if your oil is hot enough is to carefully insert a drop of the batter into the oil. If it bubbles and rises to the top immediately, the oil is ready.
Dip the prepared balls in the batter and make sure that the batter coats the potato mix well. I think it easiest to use your hands for this.
Carefully insert the batter dipped vadas into the oil and let them fry on a medium flame till they are a nice golden brown. Turn them while they fry to ensure it cooks evenly on all sides. Don't use high heat as the outside will burn without warming the insides through.
Drain off the excess oil and place on some kitchen paper to get rid of any oil on it.
Serve hot with some tomato sauce.
And oh, please don't discard any of the pieces of excess batter that have broken away while frying the vadas. They are nice and crunchy. Simply drain them too while you're extracting the vadas from the oil. My brother fights all of us for these scraps 🙂
Enjoy!!!
This recipe is linked to –
Recipes I Can't Wait to Try @ At Home With Haley
My Meatless Monday @ My Sweet and Savory
Just Another Meatless Monday @ Hey What's For Dinner Mom?
Meatless Monday @ Midnight Maniac
Mouthwatering Mondays @ A Southern Fairytale
Rook No.17
Bombay, now known as Mumbai, is popular for the variety of street food that it offers. There is something out there for everybody. You fined a lot of streets lined with little stalls selling a wide range of yummy stuff. This street food is hard to resist and the aromas that you are treated to, while just passing by these stalls, is enough to draw you to them for a quick bite. On offer is a host of South Indian treats, idlis, dosas, wadas, uttapams to name a few. You then have some of the local treats like the batata wada and the sabudana wada. You also have a whole selection of chaat, which originates from the North – North East India, and it includes bhel puri, sev puri, pani puri etc. These are just to name a few.
For quite some time now, I've wanted to master these tasty little treats (that I find impossible to resist) in my very own kitchen. Just a few days ago I decided to take the plunge. I was so happy with the results of my first trial that I've have now decided that I am going to make this wonderful and exciting foodie journey through all the street food delights that Bombay has to offer and I'm going to document this journey right here on this blog. I will try to explain all the local terms, preparations and names in simple English so that many more of you wonderful readers can try these recipes out.
So come join me, as we stumble upon some tasty treats that I know a lot of you will enjoy.
I just wanted to share a picture of my latest cake, a 3-tier Calla Lily theme cake. I had fun creating this cake. I think that next time, I'll vary the sizes of the flowers and add a touch of lustre dust to it to brighten it up.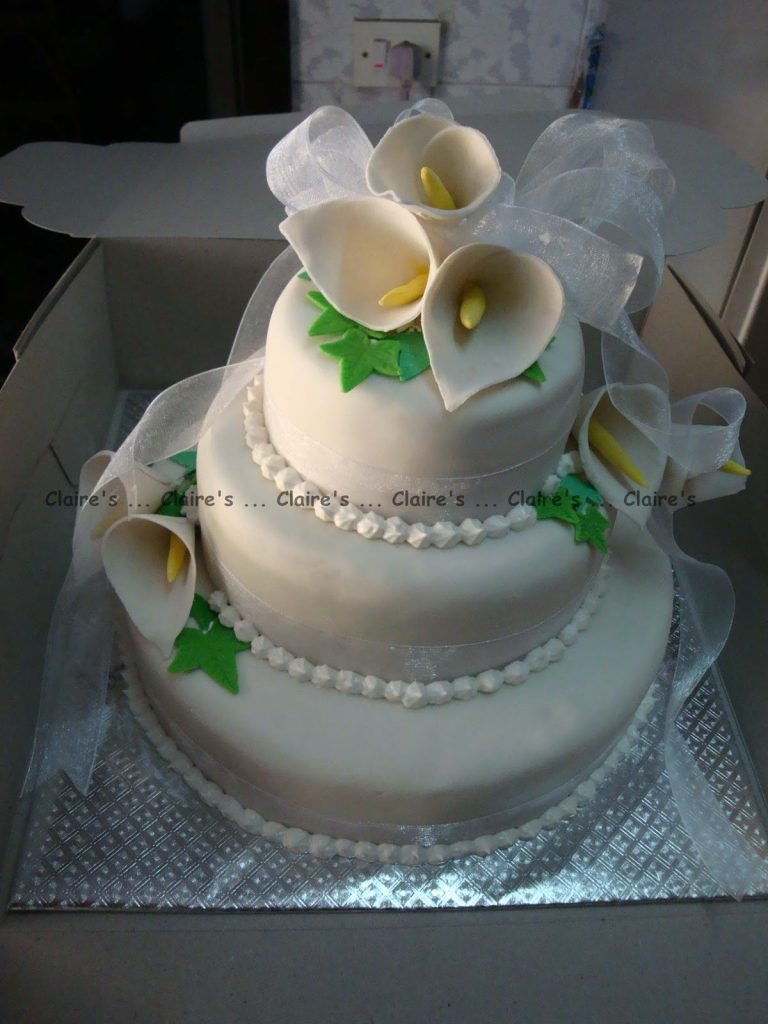 I have made banana bread once, a really long time ago, and, I remember that I liked it. That recipe, however, has met with some serious competition. I recently came across a recipe at
Everyday Art
that claimed it was the best banana bread ever. So I read through it. It sounded a little different from the one I'd used and had a little extra that I thought would be a delicious addition to the loaf. Now luckily for me, I happened to have a few bananas that were a bit past their prime, and were begging to be used. So when I came across this recipe, I knew what the bananas were destined for. I also happened to have a box of wheat bran in the kitchen and I've been waiting for an opportunity to try it out. So that's exactly what I did last evening. I had just finished baking some fruit cake for a wedding order for this weekend (more on that later) and decided to bake the loaf so that we could try it out for breakfast this morning. The only reason I say breakfast this morning, is that it was about 11 at night by the time the loaf came out of the oven and it needed to cool a little. Trust me, waiting for morning to arrive was the most difficult part of putting this loaf together. This is a no-fuss recipe that you can put together in about 10 minutes and have a gorgeous loaf out of the oven in an hour, and don't forget the aroma wafting through your kitchen; its to-die-for.
So this morning, I'm happy to report that we enjoyed one of the best versions of banana bread I've had so far. This recipe is definitely a keeper. It has a bunch of healthy ingredients in it which makes it a much healthier version of banana bread. I think next time, I'm going to throw in some chopped walnuts. I left it out this time as it was really late and yea, I was a little lazy **embarrassing, I know **.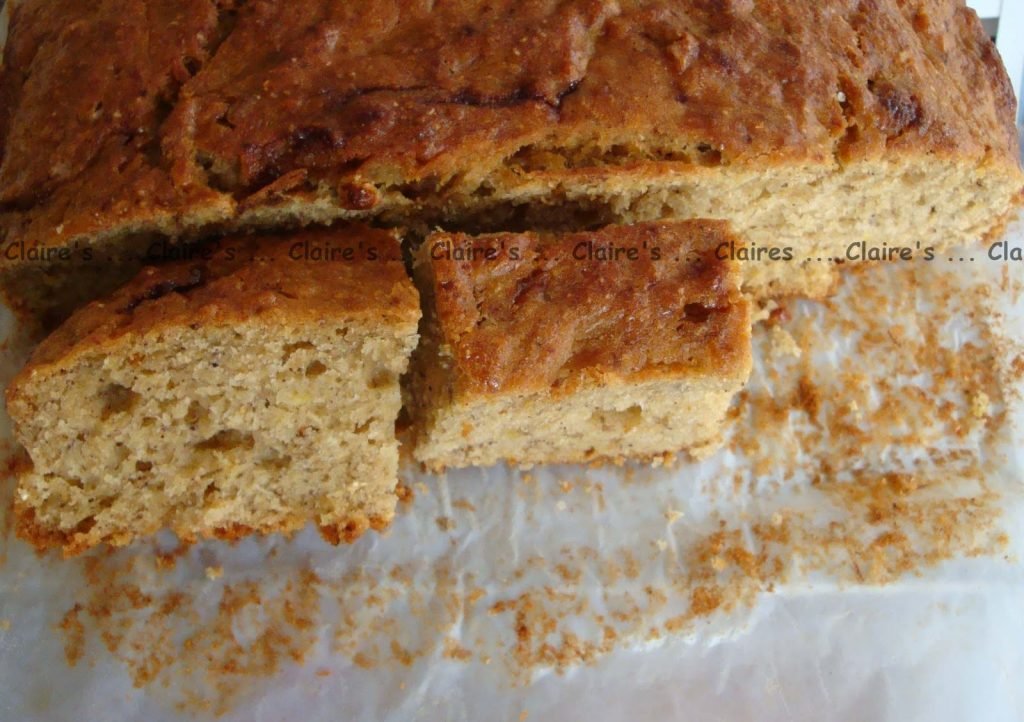 Banana Bread
(Makes 2 loaves)
Adapted from: Everyday Art
1/3 cup butter, softened not melted
2/3 cup sugar
1 tsp. lemon juice (The original recipe calls for lemon zest)
4 ripe bananas, mashed
2 eggs
1 1/2 cup all purpose flour
2 1/4 tsp baking powder
1 tsp cinnamon powder
1/4 cup wheat bran (The original recipe calls for wheat germ. I didn't have any so I used the bran. It turned out great.)
Preheat oven to 170°C. Grease 2 loaf tins.
Mix the butter and sugar with the lemon juice or rind till light and fluffy.
Add the bananas and eggs and mix well.
Mix all the dry ingredients in a separate bowl and then add this mix to the wet ingredients.
Work fast to mix all the ingredients together till well blended.
Pour batter into the greased tins and bake at 170°C for 50-60 minutes or till a skewer pierced in the center comes out clean.
Enjoy!
This recipe has been linked to –
What's Cooking Thursday
Decidedly Healthy or Horridly Decadent
Sweets for a Saturday