** This post contains affiliate links.
Folks, there's just about a month left for Christmas. Can you believe that? I spend all year waiting for Christmas to come around, which, honestly must sound crazy to a lot of people. I don't know what it is about that time of the year, but seeing everything lit up and decorated, the dizzying levels of activity in my home, just the joy of family gatherings, meeting friends and gift giving makes me feel all warm and fuzzy inside. So I'm glad the wait is almost coming to an end.
What I'm not too happy about is the fact that I've been miserable for the past couple of days; I have a lousy case of the common cold. I just hate being unwell. Especially at this time of the year, when there's so much that needs to be done. I hope you can find it in the kindness of your hearts to forgive me as I haven't baked this weeks cookie. That being said, I am still going to put up a recipe that my husband and I absolutely love.I think it'll make a good addition to this years platter. I've made this recipe a couple of times now, but according to my husband, that not often enough. He loves them. He actually is a chocoholic, but this is one cookie he makes an exception with. That goes to show you how yummy it is. It is a rich cookie and goes really well with a hot cup of coffee. Please excuse the picture quality, this was taken a while ago before I had learnt a few tricks with the camera. What I can promise you is the fact that the cookie tastes a lot better than it looks in this picture. :o)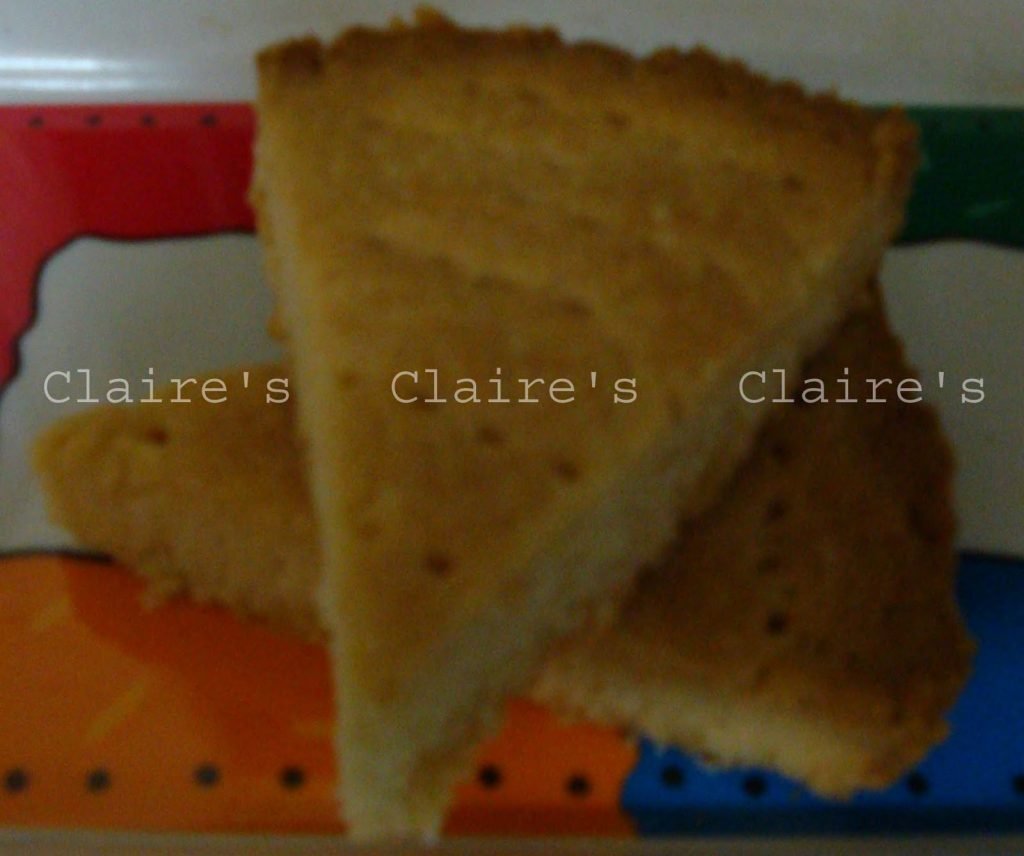 Scottish Shortbread
Adapted from: The Cookie Book

(Makes 2 large or 8 individual shortbreads, if using the mould, if using a pie dish like mentioned below makes 1 large one which is cut into wedges)
3/4 cup all purpose flour
1/4 cup cornflour
1/4 cup caster sugar
1/2 cup unsalted butter, cold and diced (I used regular salted butter and it worked just fine)
Preheat the oven to 160°C.
Lightly flour the shortbread mould. (I don't have one of these so I just used a loose bottomed pie dish. I once used a 7″ dish and the other time used an 8″ one. It'll just vary the thickness of the cookie. Pick whichever you prefer.)
Sift the flours into a mixing bowl. Add the sugar and lightly toss around to distribute the sugar evenly. Rub in the cold butter and knead into a soft dough.
Place the dough into the moulds and press gently but firmly to fit neatly. If using the shortbread moulds, line baking sheets with baking parchment and invert the moulds onto the sheet and tap firmly to release the dough.
If using a pie dish, simply press the dough into the tin and smooth the surface using the back of a spoon. Prick all over with a fork and score into eight wedges using the back of a knife. You can make the wedges smaller if you like, since it is a rich cookie.
Bake for 35-40 minutes, until pale golden in color. Leave it in the tin till it cools a little, just cool enough to handle. While it is still hot, carefully unmould and re-cut the wedges.
Enjoy!
Don't forget to visit the other participants and see what they've made this week!
Week 8 Twelve Weeks of Christmas: