I've had a busy week of sorts. In additional to all the regular stuff that goes on around here, I've had to bake 5 cakes to order in the last 3 days, which left me little or no time for anything else. So, for this weeks round up, I wanted something quick and easy, yet delicious. And does such a treat exist? Oh yes, it does. Say hello to Nigella's Chocolate Peanut Butter Cups. They come together really fast, and need I say, taste absolutely yum. It takes a whole lot of patience waiting while they set in the refrigerator (well 20 minutes is a long long time when you're dying to pop one of these in your mouth). But the wait is definitely worth it. These little treats taste just like a bar of Snickers, and I love Snickers. Imagine my joy, now I can make something very close to the original Snickers bar. I would just make one change when I make it next. And yes my friends, there will be a next time. I will use a chunky peanut butter rather that a creamy one, which I think will make it feel a whole lot more like Snickers. So if you love peanuts or peanut butter or chocolate or Snickers, you should give this one a try. The prep takes about 10-15 minutes and it takes about 20 minutes to set. Like I said, quick and easy, yet really delicious. This recipe yields 48 pieces.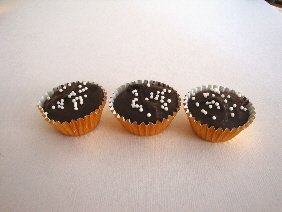 Chocolate Peanut Butter Cups
Adapted from: Nigella Lawson
For the base
50 grams soft dark brown sugar
200 grams icing sugar
50 grams butter, softened
200 grams smooth peanut butter
For the topping:
300 grams dark chocolate (We prefer dark chocolate, so I left out the 200 gms milk chocolate from the original recipe and used only dark chocolate)


For the base:
Blend all the ingredients for the base in the bowl of a food processor til the mixture takes on a sandy texture.
Place 48 gold mini cupcake paper cases in sets of miniature tart tins or mini-muffin tins (each indent about 1 3/4-inches in diameter). Use 1 teaspoon of the base mixture to fill the bases of the petit four cases. Press the sandy mixture down into the cases as best you can to form a layer at the bottom of each paper case.
For the topping:
Melt the chocolate gently in a double boiler. Spoon teaspoonfuls of the melted chocolate onto the top of each of the bases of the paper cups.
Decorate the tops of the chocolate covered peanut butter cups to your liking. I used some white nonpareils, which I sprinkled on the top.
Let them set in the fridge, for about 20 minutes.
And there you go, that's how easy it is.
Don't forget to check what the others have been up to this week.
Week 9 Twelve Weeks of Christmas:
I have a wonderful classic vanilla sponge cake in the oven as I write this post. Today's order is for the humble vanilla sponge cake. I think people underestimate the awesomeness of this cake. In our house, we love it with a cup of tea; plain, no fancy schmancy frosting or anything. I guess a lot of folks are so caught up with trying to sample newer and more complex creations, that at times it can be very easy for them to forget this little beauty.
Last weekend, we had family over for game night. Its become a monthly thing, and its great fun. We had a blast. My nieces have been dying to bake something with me again. Some time ago, we baked a batch of cupcakes and they frosted and decorated them with sprinkles. I think they got quite a kick from it and wanted to do it again, but this time they didn't want to do cupcakes, but a bigger cake. Now, I know that getting 2 kids to dress up 1 cake can be a little trying. So instead of baking 1 big cake, I just baked 2 smaller ones. They were vanilla sponge cakes with a whipped soy cream frosting and the they had so much fun with the sprinkles. Here's a few pictures of them showing off their work …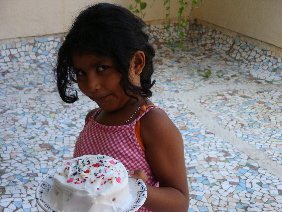 Cute, aren't they?
We recently took a 2 week long 'time-out' – the longest one since college days, and well, that was a long time ago. We drove to Goa and then to Coorg in Karnataka and then back to Goa for a few days before coming back to Bombay (Mumbai). It was a wonderful experience. I have heaps of pictures and had a hard time picking a few to share on this post. But here are little bits and pieces of our trip.
This was our first trip to Coorg and we stayed at the Club Mahindra Resort over there. Coorg is called "the Scotland of India" according to the local tour operators there. I've never been to Scotland so I wouldn't know, but what I can say is that the place was breathtakingly beautiful. When we were driving down to Coorg, we were fortunate to catch a glimpse of this ….
… a double rainbow. I was delighted. I'd never seen a double rainbow before. We stopped at this gas station so that I could take a few pictures. It was stunning. I'm really glad that we spotted it. Don't know if I'll ever see one again.
We managed to catch a few showers of rain while we were in Coorg. But that made everything so much more pleasant and beautiful. Every direction you looked in was covered in a thick blanket of greenery that was speckled with some of the most beautiful flowers.
This is the entrance to the Reception area of the resort …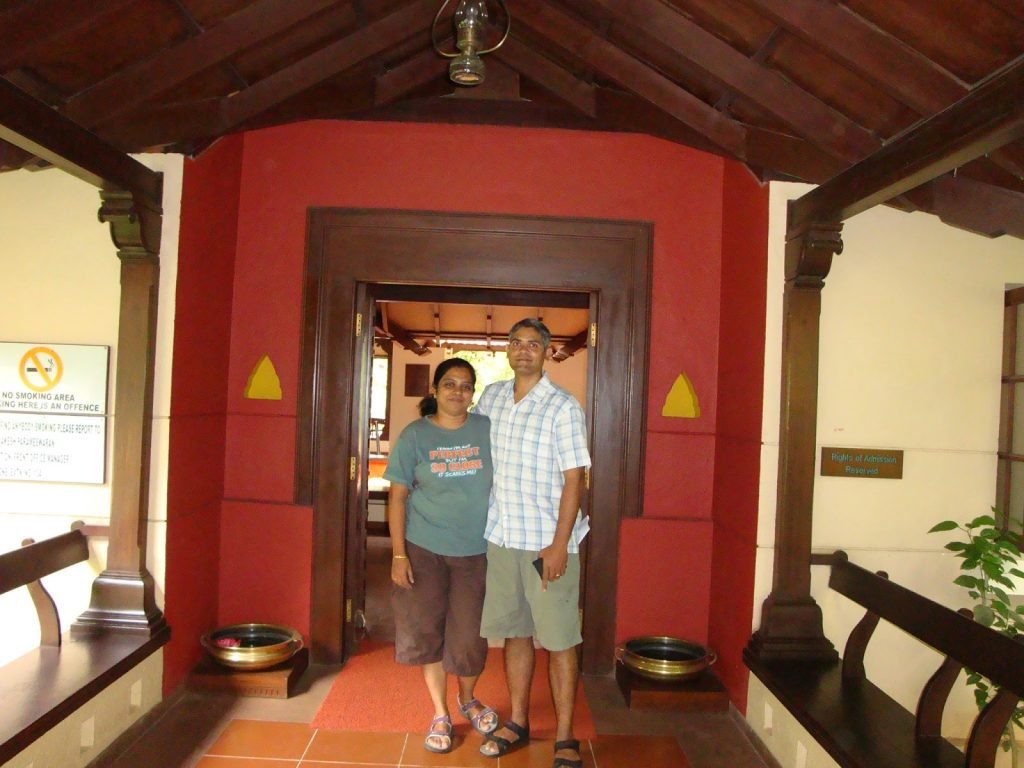 … and when you walk through that door, this is what you see …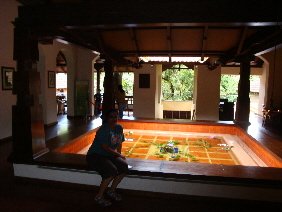 … pretty little water feature that actually uses rain water and has some artificial lotus flowers to add color.
We visited Abby Falls …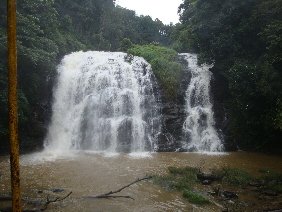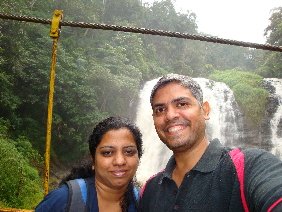 … the little specks of white that you see is the spray from the falls.
While we were trekking down to the falls, we spotted this little guy …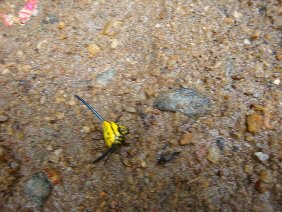 … I've never seen this insect before.
We went on a plantation tour to an estate and got to see how pepper, coffee, cardamom and a whole bunch of other spices grow. I couldn't get too many pictures of the estate because it was raining like crazy and the ground was like slush so we had to be extra careful not to slip.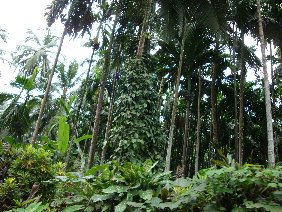 This is how peppercorns grow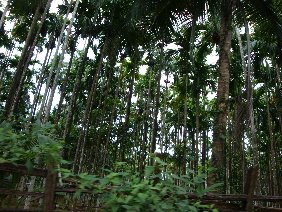 Beetlenut plantation
We also went river rafting. This was a first for me. It was so much fun that I can't wait to do it again. Obviously I couldn't get any pictures of this, but I must say this, if you haven't tried it before because you're a little afraid, don't be, it is an awesome experience. I was a little anxious, so much so that I wasn't too excited by the idea of river rafting, but I'm really glad I tried it out. Did I mention how much fun it was? ;o)
After our stay in Coorg, we spent a few days in Goa. Goa is my favorite holiday spot. We go to Goa at least twice or thrice a year. This time around we spent a few days in a quaint little resort. This is what our room looked like from the outside…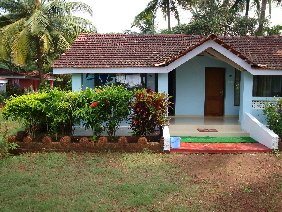 While we were there, we see this chap …
… don't know what it was about this trip and spotting life forms I'd never seen before. Nevertheless, stunning colors, don't you agree?
When we were driving around in Goa we saw them ….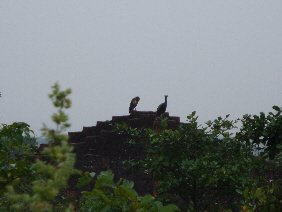 … any guesses? I don't know if you can tell, but that's a peacock and a peahen sitting atop some old ruins. How cool is that? The peacock is our national bird and a gorgeous fellow he is, especially when he's strutting his stuff. So we pulled over and waited, waited and waited some more. I guess he hadn't worn his dancing shoes that day. Anyway, I was happy enough having seen the pair. I've seen peacocks before, but every time you spot them in the wild, its still an amazing feeling.
This has got to be my favorite restaurant in all of Goa …
… and as you enter, you're greeted by the wonderful seafood display …

… the food here is amazing, my husband and I both love the place and we go there more than a couple of times on each trip. If you ever go to 'Martin's Corner', you have got to get the crab. They let you select your own crab, from a bunch of live ones and they prepare it to your liking. Its a fun experience, they give you an apron to protect your clothes from splashes and yes, there will be some splashing. They also give you the tools to crack open the cooked crab shell and pick the crab meat.All in all, a really fun experience.
We had a lovely time and one of the high points of the whole trip is that I bought some of these ….

… some wonderful locally grown
Vanilla bean pods. You have no idea how long I've been waiting for these. Its practically impossible to get them in Mumbai. So when I saw these, I grabbed them. I'm happy to say that now, I know someone who knows some one who will send me some more as and when I need it. That makes me one happy camper. I can't wait to make my own extract and vanilla sugar. There's so many recipes that I've ear marked, but never made for the lack of Vanilla bean pods. Its time to dig them all out.
This was one fun trip and I hope you had fun re-visiting it with me. I'm off to the kitchen now, I've a couple of orders for birthday cakes for this weekend.
** This post contains affiliate links.
Folks, there's just about a month left for Christmas. Can you believe that? I spend all year waiting for Christmas to come around, which, honestly must sound crazy to a lot of people. I don't know what it is about that time of the year, but seeing everything lit up and decorated, the dizzying levels of activity in my home, just the joy of family gatherings, meeting friends and gift giving makes me feel all warm and fuzzy inside. So I'm glad the wait is almost coming to an end.
What I'm not too happy about is the fact that I've been miserable for the past couple of days; I have a lousy case of the common cold. I just hate being unwell. Especially at this time of the year, when there's so much that needs to be done. I hope you can find it in the kindness of your hearts to forgive me as I haven't baked this weeks cookie. That being said, I am still going to put up a recipe that my husband and I absolutely love.I think it'll make a good addition to this years platter. I've made this recipe a couple of times now, but according to my husband, that not often enough. He loves them. He actually is a chocoholic, but this is one cookie he makes an exception with. That goes to show you how yummy it is. It is a rich cookie and goes really well with a hot cup of coffee. Please excuse the picture quality, this was taken a while ago before I had learnt a few tricks with the camera. What I can promise you is the fact that the cookie tastes a lot better than it looks in this picture. :o)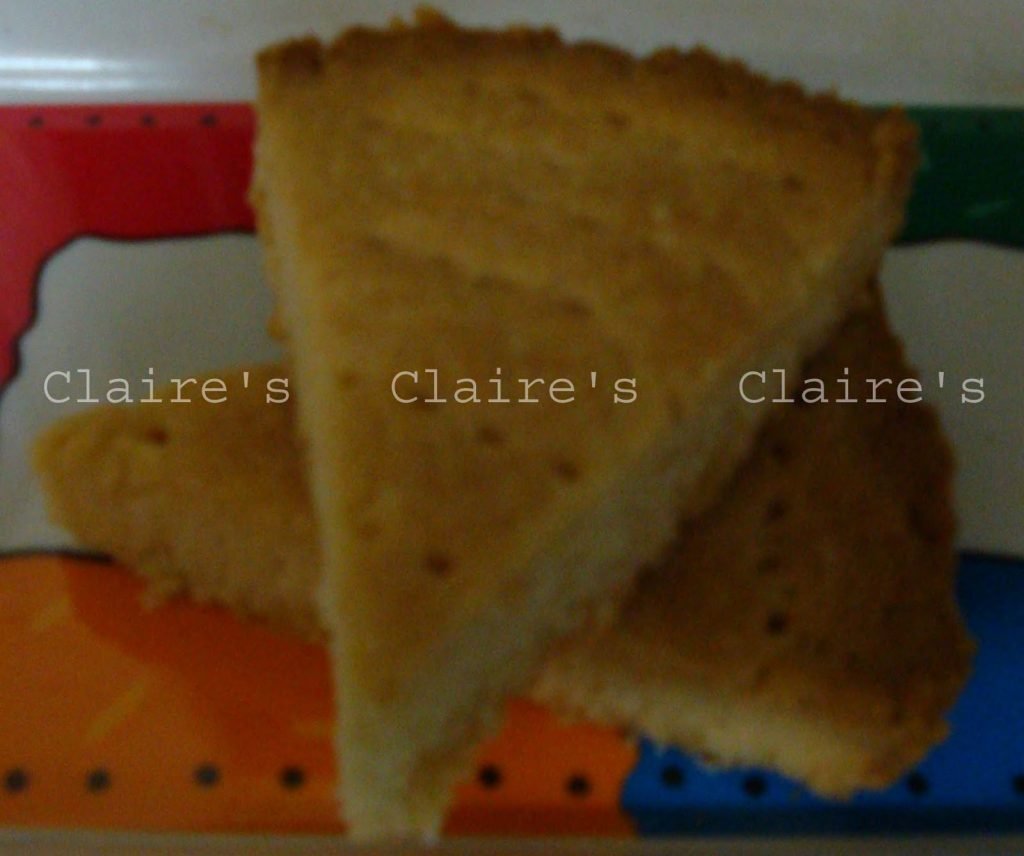 Scottish Shortbread
Adapted from: The Cookie Book

(Makes 2 large or 8 individual shortbreads, if using the mould, if using a pie dish like mentioned below makes 1 large one which is cut into wedges)
3/4 cup all purpose flour
1/4 cup cornflour
1/4 cup caster sugar
1/2 cup unsalted butter, cold and diced (I used regular salted butter and it worked just fine)
Preheat the oven to 160°C.
Lightly flour the shortbread mould. (I don't have one of these so I just used a loose bottomed pie dish. I once used a 7″ dish and the other time used an 8″ one. It'll just vary the thickness of the cookie. Pick whichever you prefer.)
Sift the flours into a mixing bowl. Add the sugar and lightly toss around to distribute the sugar evenly. Rub in the cold butter and knead into a soft dough.
Place the dough into the moulds and press gently but firmly to fit neatly. If using the shortbread moulds, line baking sheets with baking parchment and invert the moulds onto the sheet and tap firmly to release the dough.
If using a pie dish, simply press the dough into the tin and smooth the surface using the back of a spoon. Prick all over with a fork and score into eight wedges using the back of a knife. You can make the wedges smaller if you like, since it is a rich cookie.
Bake for 35-40 minutes, until pale golden in color. Leave it in the tin till it cools a little, just cool enough to handle. While it is still hot, carefully unmould and re-cut the wedges.
Enjoy!
Don't forget to visit the other participants and see what they've made this week!
Week 8 Twelve Weeks of Christmas:
As promised in my last post, this week I'm going to put 2 different goodies. I just got back from a wonderful vacation yesterday (more on that later) and I'm still settling in. I haven't had the time to bake anything new for this weeks cookie, but these are 2 treats that I find are a lovely addition to a holiday platter or any assortment of desserts.
Marzipan Tarts
The first one came about from the need to rescue a batch of homemade marzipan that went wrong. I had taken this batch of marzipan off the stove a little too early and just couldn't mould it. It was one really sticky blob. I couldn't bear the thought of letting a yummy batch of marzipan go to waste and I suddenly thought of trying these goodies out. They were lovely. I took them over for our Holiday Family Dinner and they didn't last very long. My nieces wanted to have one of each color and I think they managed it.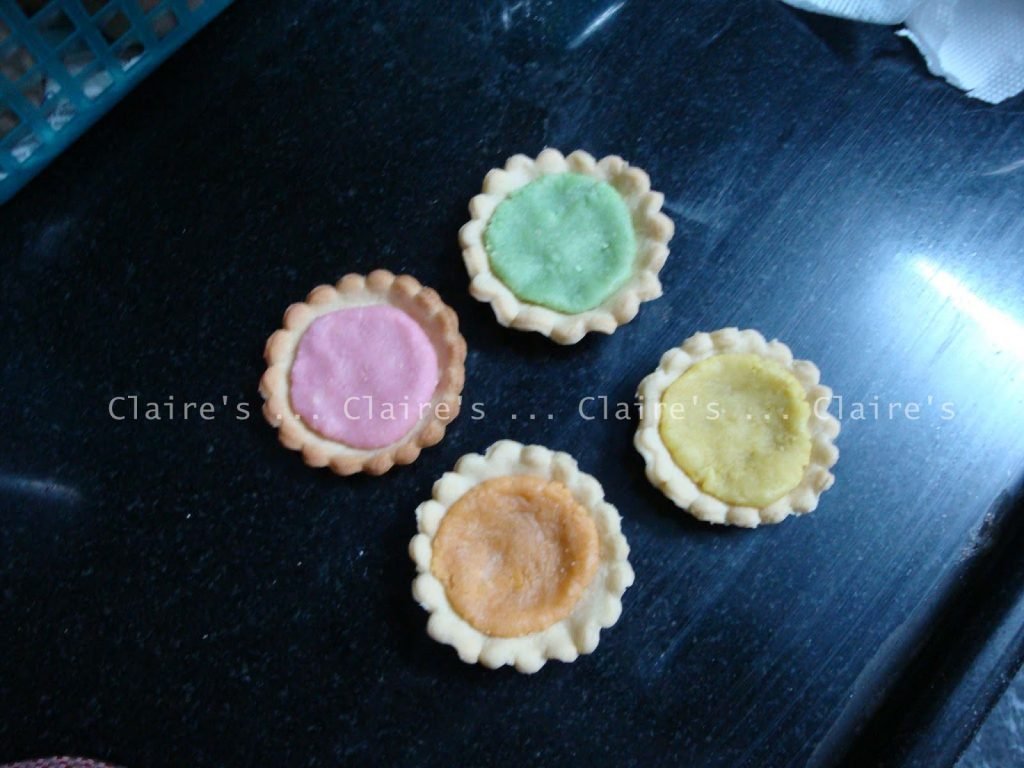 This is not really a recipe, but a set of guidelines that you can tweak to your convenience.
Make your favorite pie crust dough. If you don't have one, you can use a shortcrust pastry, which is what I've used.
Roll out the dough. Using a fluted circle cutter, cut out circles and place them in tart moulds and bake them till they are done, that is, they should start getting golden brown around the edges.
Make a batch of your favorite marzipan recipe, or you can opt for the store bought variety. Color the marzipan using food colors of your choice. Roll out little walnut size balls and place them in the tart shells. Flatten them out a little. Serve.
That's all there is to it. If anyone decides to give this a go, I'd love to see what you come up with.
Rum Balls
The next treat is another versatile one. Please excuse the image, it doesn't do justice to these little guys.
You'll need –
300g cake crumbs (Bake any cake recipe of your choice, I used a rich fruit cake. Crumble the cake till it becomes crumb like)
2 tbsp. cocoa powder
2 tbsp. rum
100g icing sugar
3 tbsp. Golden syrup
1 tsp. Vanilla extract
50g grated cashew nuts
1 tbsp. butter
Mix all the above ingredients. Form small balls and place them in paper cases. Pour a tsp. Of the glaze over them and use cherries cut into halves for garnishing.
FOR THE GLAZE:
100g Icing sugar
2 tsp. Cocoa powder
1 tsp. Rum
A little milk
A little vanilla essence.
Don't forget to check out what the others have whipped up this week.
Week 7 Twelve Weeks of Christmas:
I'm back in the blogosphere after a good two weeks vacation and was thrilled to see that my blog had received an award. Thanks Claire. Claire has two lovely blogs called Claire's Cooking Quest and Claire's Crochet Quest, which you must check out.
To accept the Versatile Blogger Award the rules are:
1. Thank and link back to who gave you the award.
2. Share 7 things about yourself.
3. Pass it along to 7 blogs you've recently discovered and enjoy
4. Leave your recipients a note, telling them about the award.
7 Things about myself –
1) I left a very successful corporate career to pursue my baking and cooking interests. It was a little scary at first, but am glad I did it.
2) Someday, I hope to run a successful restaurant.
3) I can make a whole range of paper and fabric flowers.
4) I love reading, cooking, baking, crocheting, swimming and travelling.
5) My favorite holiday spot is Goa.
6) I am overly critical of the places I eat out at. I love trying out new places and types of food and work out how I can replicate it at home, obviously with a little help from all you lovely bloggers. Most often the versions I whip up at home turn out better which I think justifies my over critical attitude towards such places
7) I love playing computer games. Sometimes, I think I spend too much time on them.
…. and oh yeah … I talk too much – I guess you've figured that out by now ** hee hee hee **
There are so many wonderful people that I've interacted with since I started this blog. All of you are so very talented. I'm glad I started this blog. I would like to pass this award on to –
1) Baked Bree
2) Making Memories … One Fun Thing After Another
3) I am Baker
4) Munchkin Munchies
5) Not Martha
6) Rachel Raves
7) The Vanilla Bean Baker
There are so many more wonderful people who have inspired me from time to time. Sadly I have lost a quite a few links when my computer crashed recently, and anyway, I could pick just 7 this time around. But if you have a blog, I'm sure you've inspired many, so, a big THANK YOU from me to you.
Hi folks,
I just though I'd drop by to let you know that I won't be able to submit a post for this weeks cookie for 12 Weeks of Christmas Cookies. I'm on holiday … yay!!!
Anyway, I will make up for this when I get back in town, with more on my holiday and a double cookie post in the week to follow.
Till then take care …. I'll be back soon