** This post contains affiliate links.
I can't believe we are already 5 weeks into the 12 Weeks of Christmas Cookies bake-along hosted by the lovely April of Abby Sweets. You know what that means, right? Christmas is right around the corner and I'm so happy, I can't wait.
This week, I'd like to showcase the humble Coconut Macaroon. For those of you who don't know me well, I love all things coconut, Bounty Bars, the traditional Goan coconut cake called Baath, coconut and jaggery filled crepes, coconut curries …. I think I better stop now, just the thought makes me hungry **smiling sheepishly**. Anyway back to the cookie of the week. This cookie is fairly easy to make. The recipe uses dessicated coconut and results in a sweet, crunchy on the outside yet chewy on the inside, cookie. Its one of my favorites and its great any time of the year, not just for the Christmas cookie platter.
The cookie tastes great as it is, but you can also spoon or drizzle some melted chocolate over it. You can make tiny versions of these and add it to your assortment of petit fours as well.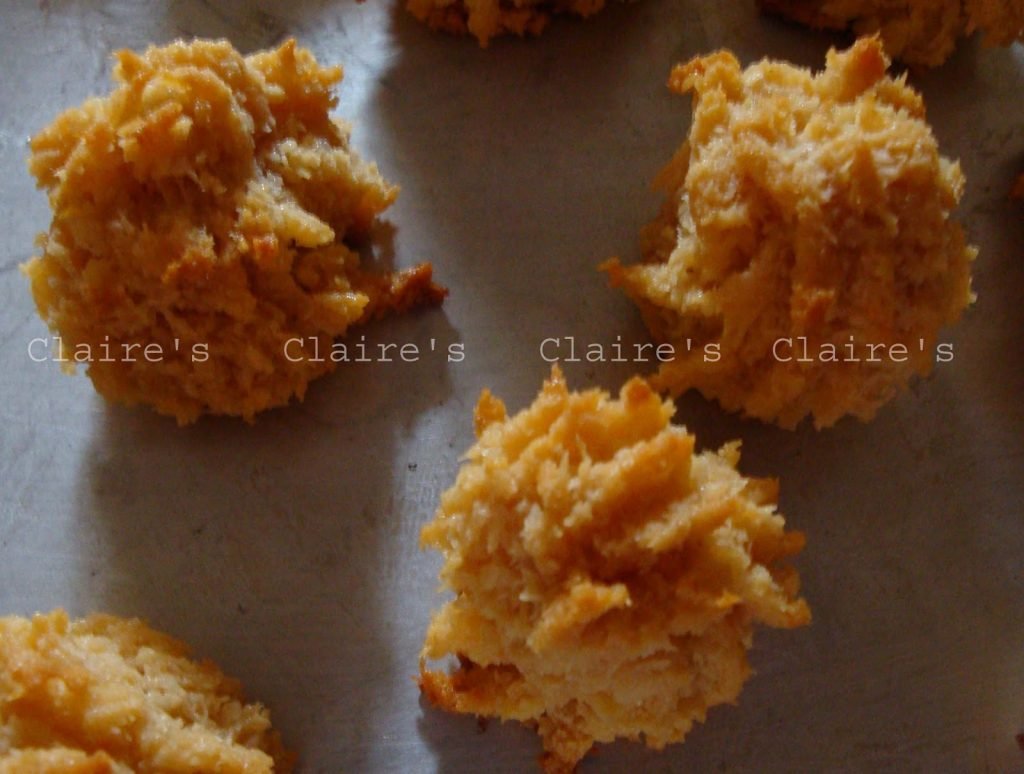 Coconut Macaroons
Adapted from: The Cookie Book
1/3 cup all purpose flour
A pinch of salt
2 1/2 cups dessicated coconut
2/3 cup condensed milk
1 tsp. Vanilla extract
Preheat the oven to 180°C. Line your baking sheets with greaseproof (waxed) paper and grease the paper.
Sift the flour and salt into a large bowl. Add the dessicated coconut and stir to distribute evenly.
Add the condensed milk and vanilla extract and stir together to form a very thick batter.
I used a piping bag with a large star nozzle (piping tip) and piped the macaroons onto the prepared sheets. If you don't want to do this, you can also simply mound spoonfuls of the batter onto the sheet. Bake for about 20 minutes or till golden brown. Transfer to a cooling rack and cool completely before storing.
This recipe yields about 24 pieces. These little delightful bites disappear rather quickly, so I usually at least double the recipe.
Note: Don't get startled by the watermark, the picture is very much mine, I have a little venture called Claire's Party Supplies, where I make a whole bunch of stuff to order.
Don't forget to check out what the others have come up with this week.
Week 5 Twelve Weeks of Christmas:
This morning the weather was uncharacteristically bleak, for this time of the year. My dearest friend V and I exchanged a few mails earlier in the day, since she is right across the seven seas, literally. She said the sweetest things that were really touching and made me realize, all over again, how much I miss her, not forgetting her little baby doll. So, yup, my mood pretty much matched the weather outside.
For today's cookie, I had narrowed down my options to a few cookies, but I decided I needed something indulgent and comforting to counter the weather and my state of mind. There was one cookie that stood out. Nigella's Totally Chocolate Chocolate Chip Cookies. If you haven't realized by now, I ♥ Nigella. I absolutely love her style of cooking, the simplicity of her recipes, and last but not the least, the taste of the final dish. The cookie recipe was fairly simple. This recipe makes a lovely soft cookie with a little crunch that the brown sugar adds to it. How did it taste? I have just 3 letters to sum it up – OMG!!! These were the single, most delicious cookies I have ever tasted. I pulled back a little with the chocolate chips, since I had just that much in the house, but it still tasted out of this world. If you ask me, this is heaven on a plate. This cookie would be ideal with a tall glass of milk. Its so comforting, its like a great big hug. So, go ahead and make yourself a batch of these, and tell me what you think of these cookies.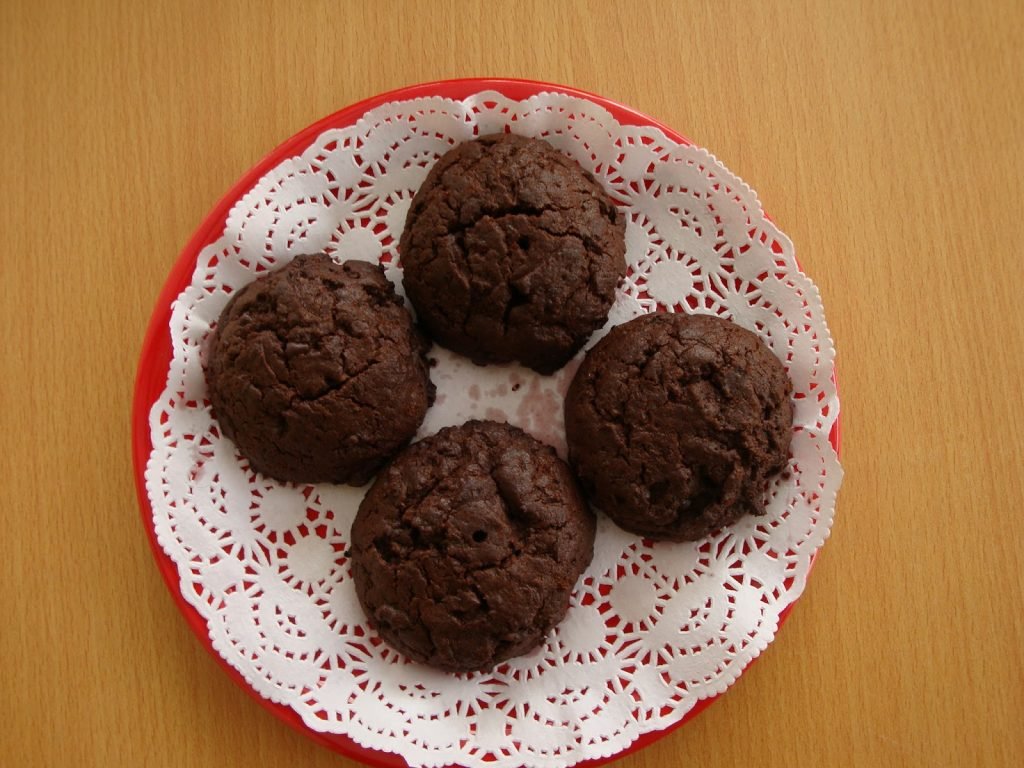 Totally Chocolate Chocolate Chip Cookies
Adapted from: www.nigella.com
125g butter, at room temperature
75g light brown sugar
50g white sugar
125g dark chocolate
1 tsp. Vanilla extract
1 egg, cold from the fridge
150g flour
30g cocoa
1 tsp. bicarbonate of soda
200g dark chocolate chips
Preheat the oven to 170°C. Line a couple of baking sheets.
Melt the chocolate using a double boiler (In a heatproof bowl over a pan of simmering water).
In a bowl, cream the butter and sugars.
Add the melted chocolate and mix well.
Add the vanilla extract and the egg and beat well.
Mix in the flour, cocoa and bicarbonate of soda.
Finally add the chocolate chips and fold till they are well distributed.
Scoop out mounds of the batter on the prepared baking sheets using an ice cream scoop and a palette knife, if needed. (The original recipe is supposed to yield 12, but I got 18 fairly decent sized ones.) Place them about 6cm apart. Do not flatten them. Bake them for about 18 minutes. Test with a cake tester to make sure it comes out semi-clean and not wet with batter. If you happen to pierce a chocolate chip, wipe the tester and try again.
Let it cool on the baking sheet for about 5 minutes and then move to a cooling rack to cool completely. The cookies will harden as they cool.
Note: The original recipe uses 1/2 tsp. salt. I just used salted butter and omitted the salt.
Check out what the others have baked this week.
Week 4 Twelve Weeks of Christmas:
These little wonders are originally called Breakfast Bars, but I honestly think they're great at any time of the day. Its a wonderful healthy alternative to other fried snacks and chips. The texture is a little chewy and the flavors are wonderful – it has the tartness of the cranberry, wonderful sweetness (though its not too sweet) of the condensed milk, the crunch of assorted nuts and a whole lot more. Whats great is that you can tweak this recipe and make it your own. Try out different ingredients, vary the dry fruit and the nuts to your liking and I'm sure you'll find a combination that works best for you. They are great for a quick breakfast, almost like having home-made granola on the go. These bars are a great snack to take in to the office as well, to satiate any untimely hunger pangs.
In the recipe that follows, you'll find the ingredients that I used, basically ingredients that I had on hand at the time. You can find the original recipe here. They may not be much to look at, but they are oh so good. Be warned, they are addictive ;o)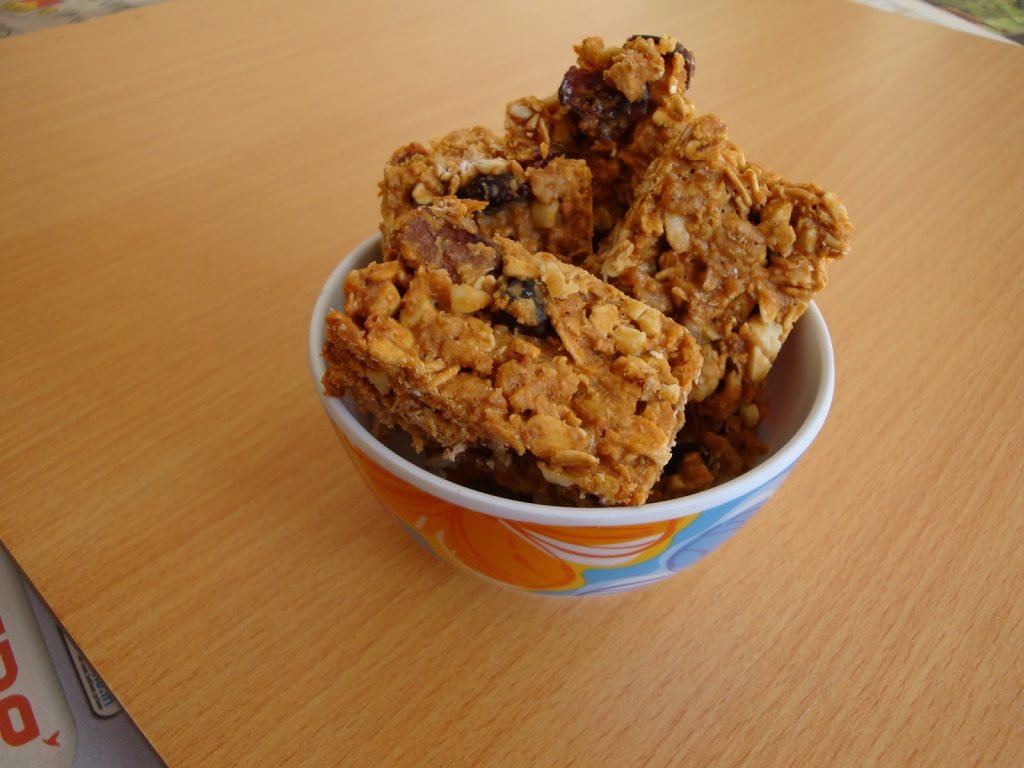 Power Packed Snack Bars
Adapted from: Nigella
1 can condensed milk (400g)
250g rolled oats (not instant)
75g dessicated coconut
100g dried cranberries
200g mixed seeds (I used walnuts, almonds and sesame seeds)
Preheat the oven to 130 degrees C. Grease a 23cm x 33cm x 4cm baking tray or use a disposable foil one. Grease it well so that you can take it off the pan easily.
Over a low flame, warm the condensed milk in a large pan. The pan should be large enough to hold all the ingredients and still have room for mixing.
Mix the remaining ingredients together and fold into the warm condensed milk. Using a rubber or wooden spatula, fold till evenly coated and well distributed.
Turn the mixture out on to the prepared baking sheet and press down and flatten with the spatula or using your hands. Even out the surface.
I kept mine in the oven for about 45 minutes, even though the original recipe says 1 hour, and it turned out just fine. After about 15 minutes cut into bars of whatever size you'd like. Be sure to cut while still warm, or else, you won't be able to. After you've cut the bars leave it to cool completely before storing.
This recipe has been linked up with – Decidedly Healthy or Horridly Decadent Saturday Party, hosted by the lovely Maggie of Ceo A's Draiocht. Thanks Maggie for letting me be a part of this.
** This post contains affiliate links.
For this weeks cookie, I decided to challenge myself a little. I've always had my eye on a recipe for Brandy Snaps from The Cookie Book. I think what drew me to it was the picture. These cookies looked so elegant, and I knew it wasn't going to be easy trying to replicate them.You probably don't know this, but for me, tuiles have always been more than a little daunting. I had a nasty experience with fortune cookies in the past, but I decided to give this recipe a try anyway. Halfway into the process, I started second-guessing myself. Why, you ask? Well, my first batch was a disaster. I took my eye of the cookies and I went by the time in the recipe and in half the time specified, I had a feeling that my cookie was overdone. I took them out of the oven, and they just wouldn't come off the sheet. They were charred and stuck to the sheet and nothing I did could get them off. So into the sink it went. I was so disheartened, I almost threw away the dough and started on another recipe. Almost. Then I heard a little voice in my head (Oh yes, I do hear this little voice from time to time (*wink*) ) that said try out another batch, you've got nothing to lose. So I started out with another batch and this time I stood by the oven, staring at my cookies, and lo and behold, in a couple of minutes, these cookies were ready to be taken out. Fortunately for me, I managed to get them of the sheet and shape them as well. Imagine my joy, I wanted to jump around and cry out from the rooftops that I had conquered the mighty tuile. Sorry, I get carried away :o)
Ultimately, it turned out that I got better with each batch. They turned out delicious. My only regret is that these cookies take some time and effort, since you can bake and shape only a few at a time. I've incorporated the changes that I made to the original recipe that worked for me. A word of advice though, when you're trying these cookies out, make sure you have a little time at hand, because you can't leave them unattended.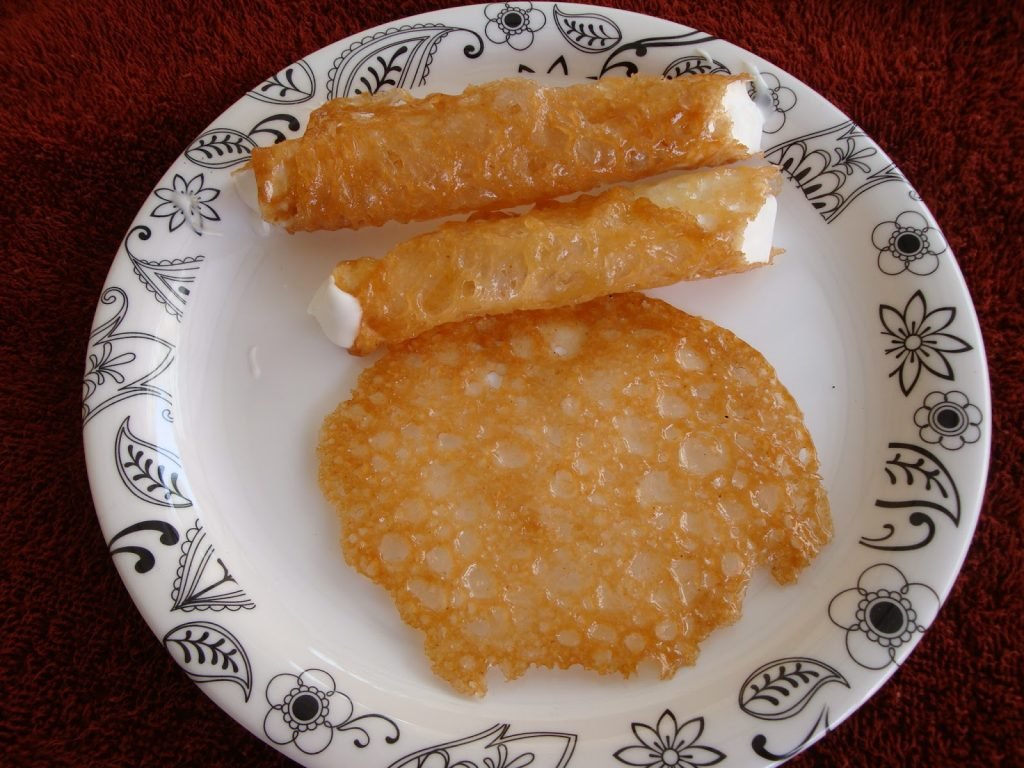 You have to work with these cookies while they're still hot. If they cool down too much, you'll be left with a little disc, which is pretty as well. You can serve these with some creamy desert or ice cream.
Brandy Snaps
Adapted from:The Cookie Book

(Makes 18-20 depending on size)
1/4 cup butter, at room temperature
2/3 cups (superfine) sugar
1 1/2 tsp. golden corn syrup
1/3 cup plain all-purpose flour
1/2 tsp. ground ginger
For the filling:
1 cup whipping cream
2 tbsp brandy (optional)
Using an electric mixer, cream together the butter and sugar till light and fluffy. Add the corn syrup and mix again. Sift in the flour and ground ginger and mix till it forms a coarse dough.
Knead the dough on a lightly floured surface until smooth. Cover with plastic wrap and refrigerate for 30 minutes.
Preheat the oven to 180 degrees C. Grease a baking sheet.
Working in batches of two (the original recipe says 4, but I couldn't handle them fast enough, 2 works much better), form 2 little balls the size of a large marble and place them well apart on the baking sheet. These will spread a lot. Flatten them slightly. I find it helps to indent the centre of the disc with your finger. This way the cookie cooks without the edges burning. Bake for about 2-3 minutes till it gets a shade of light golden brown. (The original recipe suggests 10 minutes, but I found that was way too much, go by what you see and not by the time).
Remove from the oven and let it cool for a couple of seconds on the sheet itself. Using a metal spatula, take it off the sheet, one at a time and turn it on the other side onto a plate. Wrap around the (round) handle of a wooden spoon or a round chopstick using it to guide the shape. When firm, slide off and leave to cool completely.
For the filling:
Whip the cream and brandy together till soft peaks form. Spoon into a piping bag fitted with a star nozzle and pipe into each end of the brandy snaps just before serving.


Note: I find that the filling is good even without the brandy. So if you're serving these to kids, you can leave out the brandy.
My Observations: This turns out a little sweet so try and use a whipped cream that isn't sweetened or isn't very sweet, unless you'd rather have these really sweet.
Verdict: These are really de-li-cious. While making them, initially I was almost reduced to tears and I swore I would never make them again, but changed my mind the second I put one in my mouth. In the end, its well worth the effort.
Check out what the others have baked this week!
This morning I decided to go through what I thought were just a couple of crochet projects in my stash that were a Work In Progress. To my surprise, I find a little under a dozen projects sitting there, looking up at me, begging for completion. These include 2 Hello Kitty bags, 2 other little bags, a set of mittens, a colorful ripple blanket, a baby bib, a bootie set (made one piece but not very happy with it – looking for a better pattern) and 3 headbands. Some of these will take a very short amount of time to complete, I just cant figure out why I didn't in the first place. I will post the pictures and the patterns once they are done.
So stay tuned for more crochet fun. Don't tell anyone, but I have my eye on a couple of other projects. I just hope I don't give in to the temptation of starting those off before I complete the ones in progress.
Does this happen to you as well? Do drop me a line, I'd love to hear what you're working on at the moment.
Can you believe there are just over 10 weeks to go for Christmas! Huh??? What??? Where did the whole year go? Was I even there when it happened? It's amazing how the whole year whizzes past and before you know it everyone is a little merrier, a little more anxious with anticipation, and in a frenzy to get things organized for the holiday. I've already started thinking about what treats I'm going to put on my goodie tray this year. I want to step it up a notch. Last year Christmas just sneaked up on us and I couldn't make some of the stuff I wanted to. This year I resolve to be more prepared.
Having said that, it's always nice to have a few treats that are absolutely heavenly and that can be whipped up in minutes! That's right, you heard me! Just minutes! So for this week's round up of "12 Weeks of Christmas Cookies" hosted by the lovely April of Abby Sweets, I decided to make some Chocolate Pistachio Fudge. The whole prep and cooking time worked out to about 15-20 minutes + freezing time. But I kid you not; this is THE most delicious fudge I've eaten. I love the way the little green speckles of pistachio ornament the luscious brown of the dark chocolate. Let me warn you, grab a piece while you can coz these will disappear.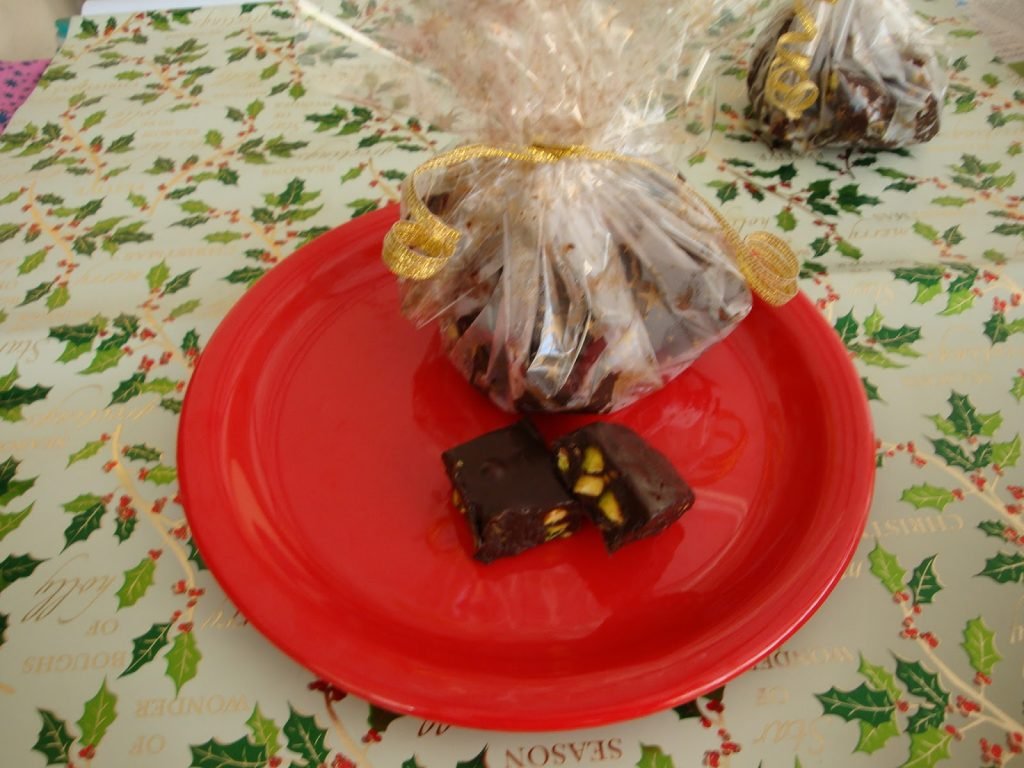 Chocolate Pistachio Fudge
Recipe by: Nigella Lawson
350 gms. Dark Chocolate
1 can condensed milk (We get 400gms. cans here)
30 gms. butter plus a pinch of salt (I just used some regular salted butter and omitted the salt)
150 gms. pistachios, chopped
Put the chocolate, condensed milk and butter in a heavy bottomed pan. Stir and let it melt.
Add the chopped nuts to the melted chocolate mixture and stir to evenly distribute the nuts.
Pour this into a 23cm square foil tray. (I just used a cookie sheet lined with foil.)
Cool and refrigerate till set.
Cut into squares. (This fudge is really rich so I prefer keeping the squares on the smaller side.)
Once cut, you can stack these in the fridge or in the freezer if you intend keeping them a little longer. (Whenever I've made this recipe, mine have never made it to the freezer, so good luck with that 😉 )
You can also wrap these up in pretty cellophane paper or bags and tie them up with some decorative ribbon and hand them out to guests at your party, or friends and family that visit during the season.
Today, we kick off our "12 Weeks of Christmas Cookies" bake-along. I had a really hard time deciding what to bake. There are so many cookies that I want to try and so many more that I know are really good, that picking just one each week is going to be the toughest part of this challenge.
I had recently picked up a packet of dried cranberries to make some breakfast bars (more on that in another post), and I love the flavor they impart. So when I saw the recipe for these cookies, I knew I had to give it a go. Pecans are impossible to find in my part of the world, so I used walnuts instead. These cookies have a lovely chewy texture. The cranberries surprise you with a lovely tartness and the walnuts add some crunch to it.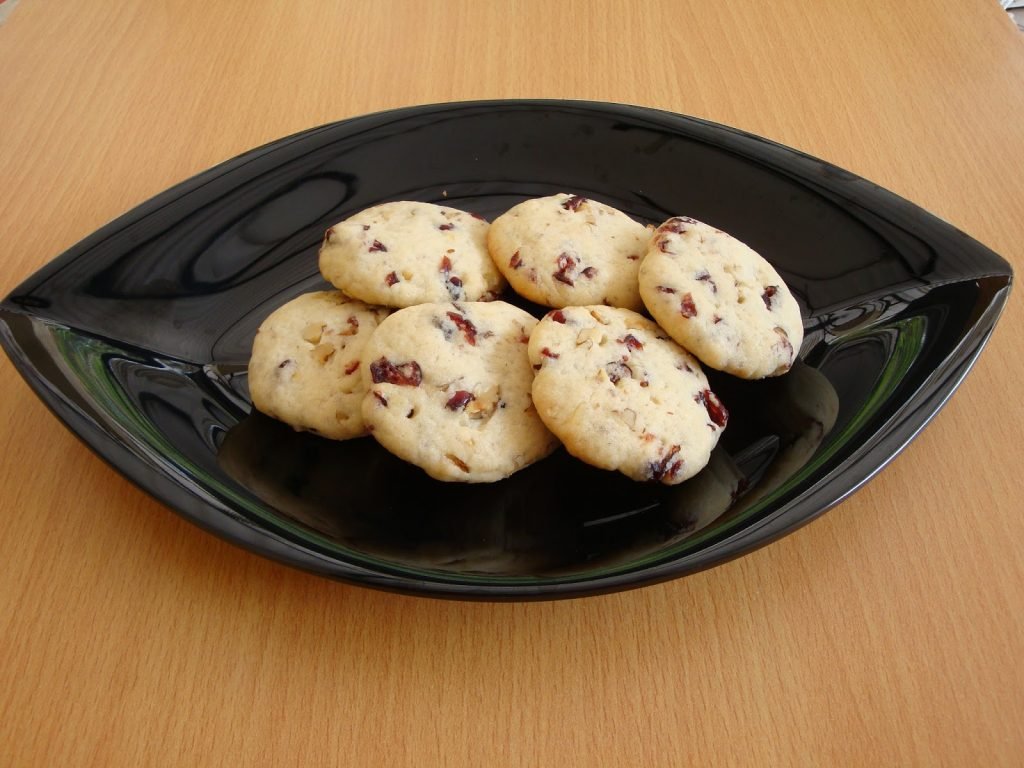 1 cup butter, room temperature
3/4 cup sugar
2 tablespoons milk
1 teaspoon pure vanilla extract
2 1/2 cups all-purpose flour
3/4 cup dried cranberries, chopped
1/2 cup walnuts, chopped
Cream the butter and sugar till light and fluffy.
Add the vanilla and milk and beat until just combined.
Gradually add the flour, cranberries, and walnuts and mix gently until fully combined.

Divide the dough into 2 portions and roll each portion into a log. Wrap in cling film and refrigerate for 2 hours.

Preheat oven to 375 degrees.
Using a sharp knife, cut logs into slices and transfer to parchment-lined baking sheets.
Bake until edges are golden or 14 to 16 minutes, rotating baking sheets halfway through. Remove from oven, and transfer cookies to a wire rack to cool completely.