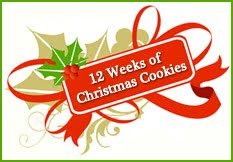 While I was browsing through some blogs last night while waiting for A to return from work, I happened upon April's blog. She is hosting an amazing bake-along called "12 weeks of Christmas cookies". This is the very first bake along I'm participating in and it promises to be fun.
So be sure to stop by and check on what we're upto. Visit April's blog Abby Sweets for more details if you'd like to join in.
We had a crazy weekend. It started out with the regular weekend chores like laundry, grocery shopping, cleaning – you know how it works, right? and before we knew it, we found ourselves scrambling to save some trees in our area from being cut. We did manage to put a halt to the original plan of chopping down 13 great, big trees that are atleast 30 years old. I say this with so much authority because the trees have been in their spots as far back as I can remember. I'm pretty sure they are much older than me. We had a local newspaper report the incident and are hoping that this will help us preserve the remaining tree cover in the area. You can check out the article here.
Anyway, things got better from there. We spent Sunday with family at my brother-in-law's place. The guys had a blast. They played carrom after years and played for quite a few hours, while I spent time with my sister-in-law and neices (you remember them – Faith & Shania – from my second post). After a delightful morning and lunch with them, we headed home.
I was exhausted but I still wanted to make something for dinner that night.At first, I wanted to make some Moussaka. I've made that a couple of times before, and my husband and I simply love it. Then I started having second thoughts as the recipe calls for a lot of frying and with the temperatures and humidity levels being sky-high in Mumbai at the moment, I didn't think I could endure all that frying. So as I was sifting through my collection of recipes, I stumbled upon a recipe for Shepherd's Pie that I'd bookmarked some time ago and decided to give it a go. The original recipe calls for lamb mince but since I only had beef mince in the house, I made the switch. Well some folks say that Shepherd's Pie is strictly made using lamb mince and if you do happen u switch the meat like I did, then what you've made is some Cottage Pie. Either way, I must say, this recipe did not disappoint. I used the recipe found in Nita Mehta's – The Best of Mutton. All you do is make some mashed potato and a simple mince. Place the mince in a baking dish and smear the mashed potato over to make a nice layer. Bake @ 170ºC for about 20 minutes. In less than an hour, we sat down to a hearty, warm and scrumptious dinner. This, served with a lovely fresh salad, is really yummy.
Give it a go and you won't be disappointed.
Note to Self: Next time, get pictures before wolfing down delicious food. 🙂
Truth be told, I am yet to meet someone who doesn't like cupcakes. Sure, some prefer vanilla, others chocolates while a few feel adventurous and don't mind trying out other flavors.
Recently, I had to make 4 doz. cupcakes to order for a young man's birthday party. Yes, you heard me right, I said a young man, whoever said that cupcakes were a girly thing had no idea what they were talking about. You can pretty much use any cake and frosting recipe and make cupcakes with it but this time around, I used one of Nigella Lawson's. They were an absolute hit and everybody loved them. I made them in two sizes. The larger ones for the party and some bite sized ones for us at home.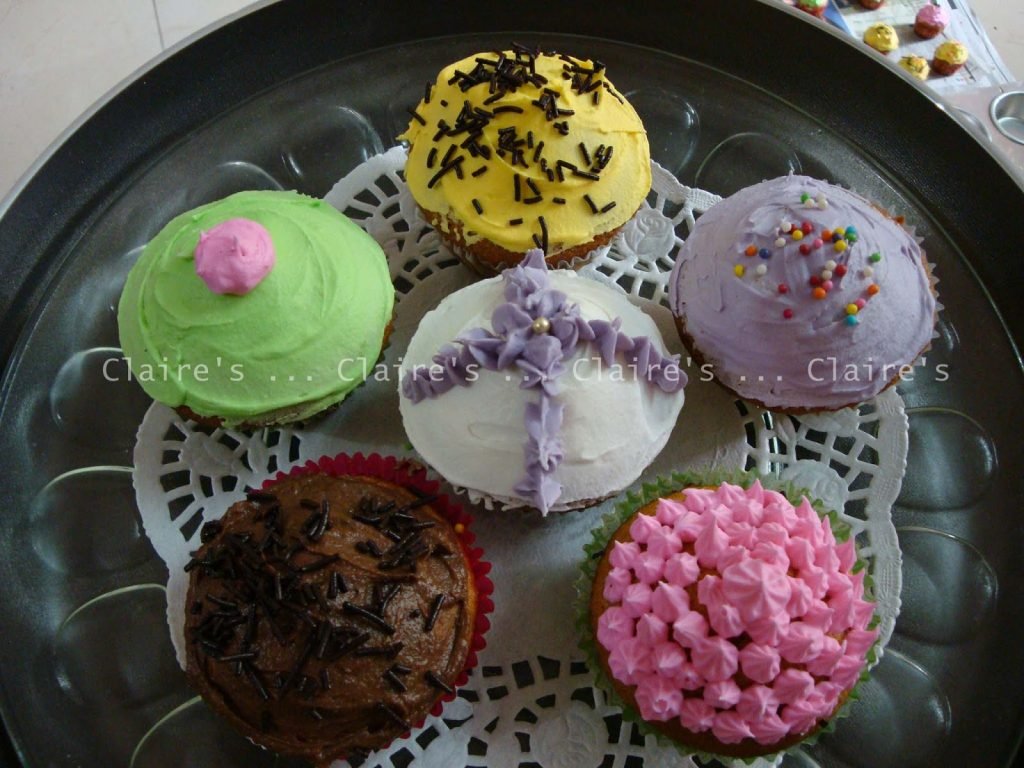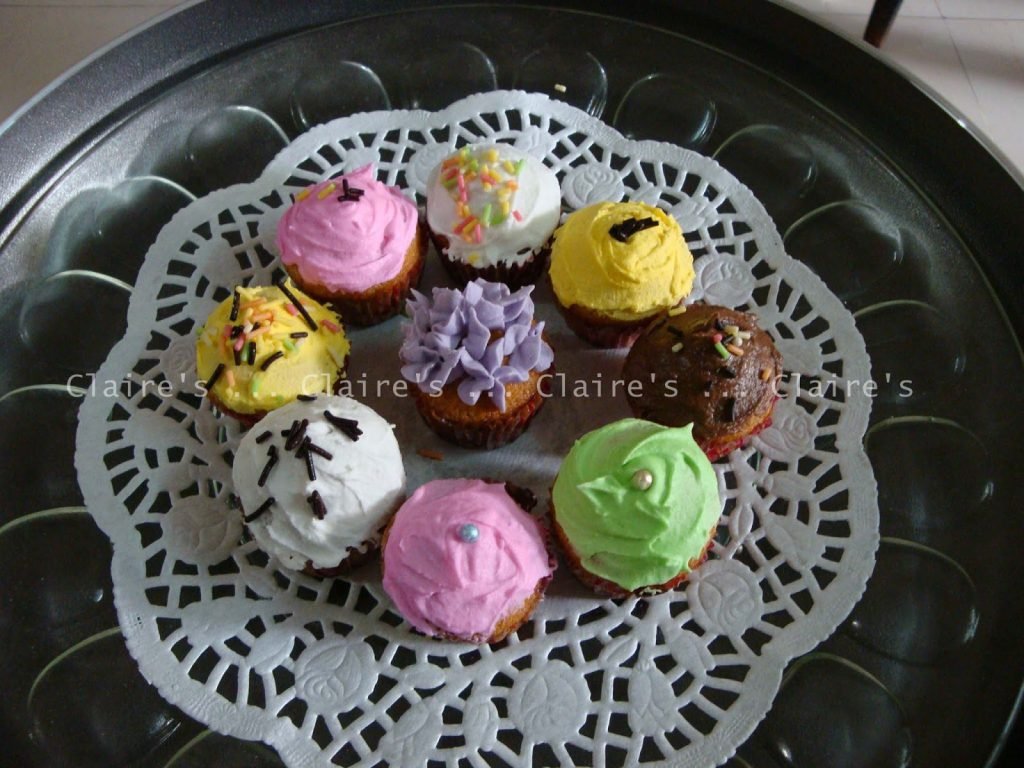 Here's the recipe if you want to try it out –
Cupcakes
Adapted from: Nigella Lawson
Ingredients
125gms. butter
125gms. sugar
125gms. all-purpose flour
2 eggs
1/2 teaspoon baking soda
1 teaspoon baking powder
2 teaspoons vanilla extract
2 to 3 tablespoons milk
Directions
Preheat the oven to 200C.
Put all of the ingredients for the cupcakes except for the milk in a bowl and whisk with an electric whisk until smooth. You can also use a wooden spoon instead but you'll have to work it a bit. Add the milk and whisk again to make a smooth dropping consistency.
Divide the mixture between a 12-bun muffin tin lined with muffin papers, and bake in the oven for 15 to 20 minutes. They should have risen and be golden on top. Let them cool a little in their tins on a rack, and then take them carefully out of the tin to cool in their papers, still on the wire rack.
Ice with Royal Icing.
Royal Icing:
2 egg whites
350 gms. icing sugar (approx.)
1 teaspoon lemon juice
Combine the egg whites and confectioners' sugar in a medium-size mixing bowl and whip with an electric mixer on medium speed until opaque and shiny, about 5 minutes. Whisk in the lemon juice, this will thin out the icing. Beat for another couple of minutes until you reach the right spreading consistency for the cupcakes.
Please note, depending on the weather, you may need to increase or decrease the amount of icing sugar used. So I would strongly suggest that you add the icing sugar to the beaten egg whites in stages till you have the right consistency.
I
♥
potatoes – mashed, roasted, baked or fried. I'm constantly on the lookout for new recipes that use potatoes. I also
♥
garlic. So recently when I came across a recipe that used both, I was ecstatic. I earmarked the recipe and simply had to try it. The result was a finger-licking bowl of yumminess. Trust me, if you love potatoes and garlic like I do, once you've made these, you're never going to make them any other way. Since these were gobbled as soon as they were out of the oven, I didn't get a chance to take any pictures. I'll definitely get some pictures the next time. I know there will be a next time because this recipe is definitely a keeper. In the meanwhile, you can check some gorgeous images on The Purple Foodie's blog.
I made a few changes to the original recipe and the method. Here's how it's done –
Garlicky Baked Potato Wedges
3 large potatoes, cut into wedges
8-10 garlic cloves, finely chopped
4 tbsp extra virgin olive oil
3 tbsp cornstarch/cornflour
Salt, to taste
Freshly ground black pepper, to taste
1/4 tsp chilly flakes or red chilly powder
Preheat oven to 225°C/440° F.
Place a pan that will be large enough for the potatoes on a slow fire. Add the olive oil and the chopped garlic. (I love garlic, so I used a little more than mentioned above.)
Using a low flame let the garlic has infuse its flavors into the oil. Do not overheat the garlic or it will burn.
Once the oil has been infused with the garlic flavor (takes a minute or two), spoon out the oil onto a baking dish to coat it. Keep the garlic aside in a bowl.
Add the potato wedges to the same pan that the garlic mixture was warmed in and toss around. Cover and let it heat through on low to medium heat, taking care not to burn it. If it starts sticking to the pan , add a splash or two of water. Cover and continue cooking till the potatoes are cooked halfway. Toss the potato wedges a couple of times while its cooking in the pan. Drain the potatoes on some kitchen paper and transfer to a bowl.
Combine the cornstarch, salt, pepper and chilly flakes or powder in a small bowl. Sprinkle over the hot potatoes and toss well to coat.
Arrange the potatoes in a single layer on the prepared baking sheet and bake, turning once, until deep golden brown and crisp, 30 to 40 minutes.
If you want to, you can sprinkle some of the reserved chopped garlic over the potatoes 5 minutes before taking the tray out of the pan. This is a little spicy, so if you want to cut the spice, adjust the amount of freshly ground black pepper and red chilly powder.
Serve with your choice of dipping sauce.
If you know of any other interesting ways to cook up potatoes, let me know. I'd love to hear it.
I've been in awe of people who can knit and crochet, ever since I was a little child. I had always wanted to learn to do this amazing stuff too. I remember on one birthday, my dads sister presented me with a crochet kit. I must've been about 8 or 9 and as much as I wanted to get started with it I couldn't figure it out. No one in my household could crochet. My mum knew some basic knitting but hadn't done too much of it. So the most I could do was long swatches of knit and purl.
A few years ago, I was on a trip with my husband (who was then my fiance) and his sister. She has a good hand at crochet. So I took this as a sign and decided to learn crochet. She was in the middle of a project but was kind enough to take the time to demonstrate the basic stitches. I had a go and tried them out myself and it was ok. But as luck would have it when I returned from the trip and tried it out again it was a harried attempt. So I put that on the back burner yet again.
Then a couple of months ago, a very dear friend told me that she and the family was moving to Canada for good. I was determined to give wool work another go and make it a success. Since knitting was familiar territory I decided to try my hand at a scarf. I was very pleased with the outcome. You can find the pattern here.
Since this project turned out well, I took a chance with crochet. Armed with video tutorials on You Tube, I made these –
1) Little Girls' Favorite Throw – Click here for the pattern.
2)A couple of ponchos. The green one was made by my sis-in-law – I don't have a pattern for that one. I made the cream one and you can find the pattern here.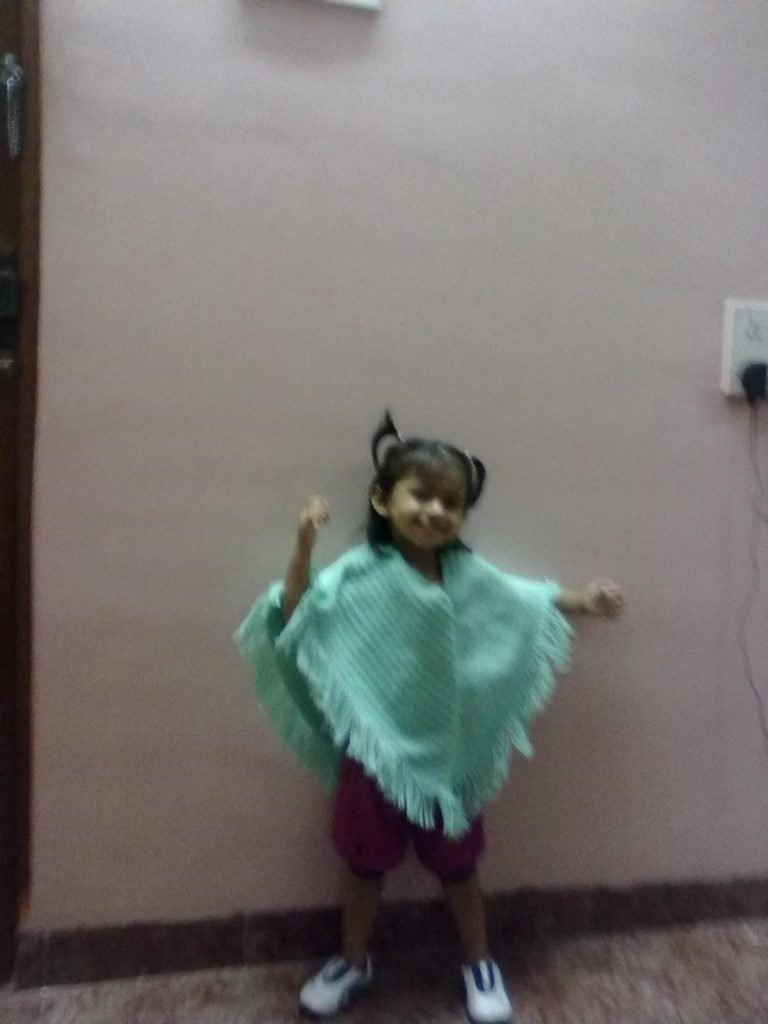 The green poncho was made for this little doll and the cream one was for her mum. I'm already missing the both of them loads *sniff sniff*.
3) A little cap
After this, I've decided that I definitely prefer crochet. Crochet projects finish so much faster than knit. Though I'm pretty sure that if I find something adorable in knit, I'll surely give it a go. All these projects got worked pretty fast. The throw and the cream poncho took me about 3-4 days each and the cap took a couple of hours.
I've been baking for the last 6 years. I've come a long way since I first started out. I can proudly say that I can whip up some mean baked goodies all from scratch. However, these mostly comprised of tea cakes, pies and cookies.
Last weekend I had to throw together some goodies for a birthday party thrown for 2 of my favourite nieces. It was a costume party and my elder niece decided that she wanted to dress as a mermaid while the younger one wanted to be a little dalmatian puppy. I obviously couldn't take them a tea cake and had to look at doing something a little more fancy. My next challenge was to figure out how to put a mermaid and a little puppy on the same cake. Since I couldn't figure out how to merge both characters on one cake, I simply decided to bake them a cake each. Here's a peek at what they looked like. These were unfortunately taken using my mobile phone as my camera battery had died out. But their dad managed to get some good shots. Will update those as soon as I get them.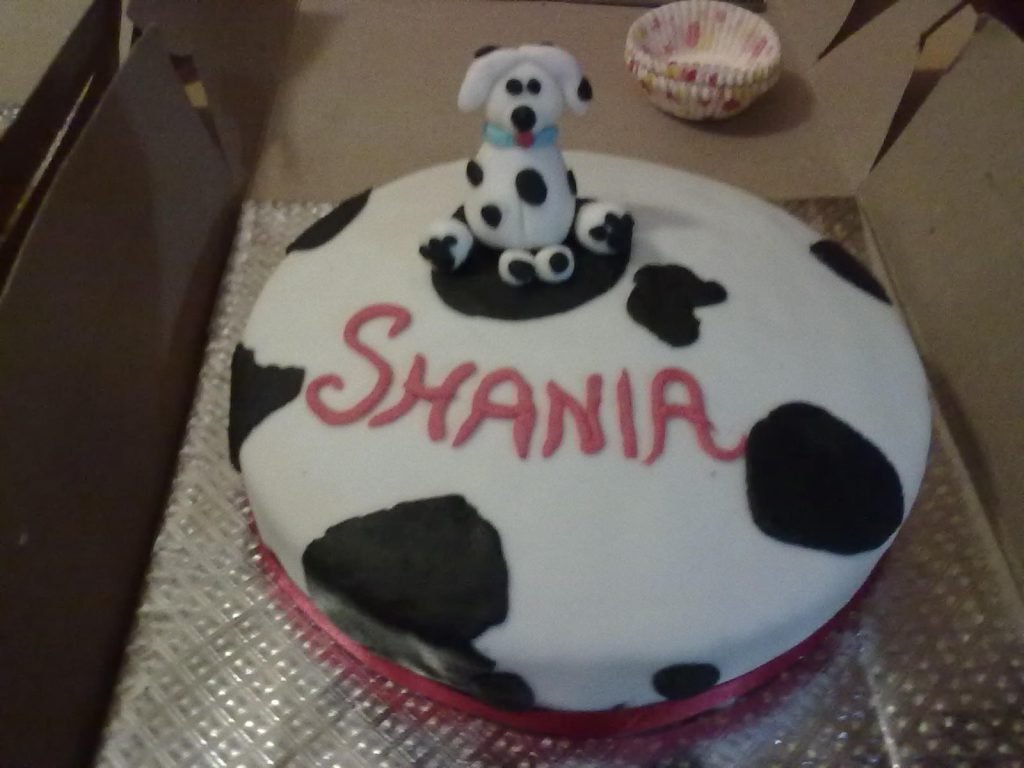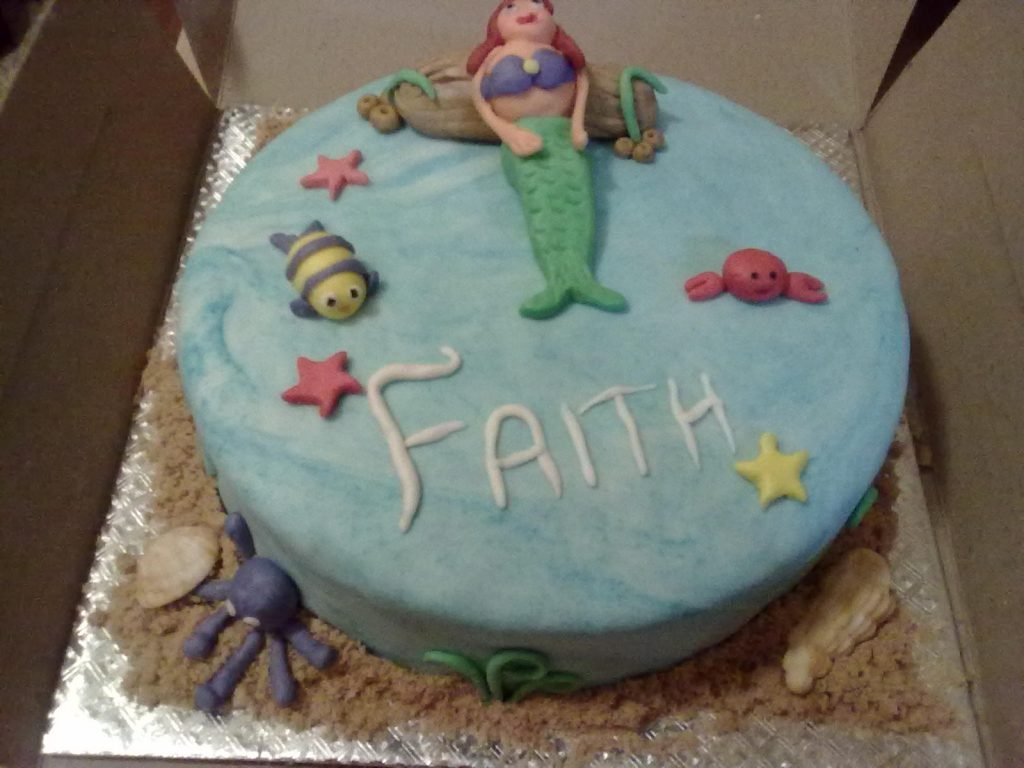 Both were chocolate cakes made using Nigella's Old Fashioned Chocolate Cake recipe and were covered in fondant. All the little characters were also made of fondant. So here you go. These are my very first fondant covered cakes with little characters all made from scratch. Both designs were inspired from images seen on the web.
This recipe has been linked to –
Treat to the Eyes – Series 2
Welcome to My Hobbie Lobbie. Baking, cooking and crafting and some of the things that I've enjoyed doing for a while now. I've also spent many hours admiring the wonderful world of blogs and have always wanted to start one of my own. Today I've finally taken the plunge and decided to get going with it. Over the next few months I'm hoping to test out as many new recipes as I possibly can and document the process and the end result. Its seems a little overwhelming right now but looks like its going to be a whole lot of fun too!